During the turbulent first six months of 2020, the world really has belonged to e-commerce. With bricks and mortar stores and markets closed, the retail section has moved almost exclusively online.
Although this is great news for those running eCommerce businesses, increased traffic means a demand for more tools to help you manage. Luckily, there are plenty of tools for eCommerce brands to choose from and, I'm working my way through the best of them so that you don't have to.
In this Omnisend review, I'm going to be delving into this eCommerce marketing platform, to give you the lowdown on one of my favourite London based tools.
Omnisend is the perfect marketing automation platform for eCommerce businesses looking to grow. By adding Omnisend to your workflow, you will be able to communicate with your customers via email, SMS, web push notifications, and more – all in one seamless message.
Omni-Who?
Launched in 2014 as Soundset, an email marketing software, Omnisend offers e-commerce a full and comprehensive suite of features to help streamline and improve marketing activities and your marketing automation workflows.
Who uses Omnisend email marketing software?
With a staggering 50,000 customers, Omnisend's client list reads like a who's who of the eCommerce platforms including Greene King PLC, WSI Sports and LifeVantage Corp.
Thanks to a choice of reasonably priced packages, Omnisend is suitable for businesses of all sizes who are looking to supersize their online marketing.
How does it work?
Omnisend allows users to combine all of their channels including email, SMS and push notifications into one online platform to save time and hassle. Users can manage their marketing activities through the online platform on a membership basis.  
Why should I sign up with Omnisend's?
There are lots of good reasons for getting onboard with Omnisend. Much more than just an email sending gizmo, Omnisend is like an email marketing assistant, or automation platform who is one step ahead of you when it comes to ways of optimising your online marketing or omnichannel marketing.
Omnisend can help you to build your customer relationships by automating messaging, sending push notifications, resending emails and clever features such as abandoned cart. Omnisend can also help you to attract new leads by creating landing pages, creating games and coupon codes and putting together responsive forms and pop up boxes.
While all of these features may not seem overly exciting by themselves, the fact that Omnisend hands them all over in one affordable package makes this a tool that you at least want to try (and, with a free trial available, why not?)
Sign me up!
Opening your Ommisend account is easy peasy and, shouldn't take more than a few minutes of your precious time. Don't believe me? Give it a go; we'll start this review with a step by step guide to getting started:
Scoot over to https://www.omnisend.com/
Click onto 'Start Free Trial'
Enter your email address
Click onto 'Get Started'
At the next screen, enter your name and choose a password
Agree to the pesky terms and conditions and and click 'I'm not a robot' (unless of course you are, in fact a robot}
Enter the name & address of your business plus the website address (your laptop will probably autofill this stuff for you)
Tell Omnisend what industry your business is in
Omnisend will let you know just how happy it is that you've entered everything correctly
You'll receive a verification email from Omnisend
Click onto 'Verify My Account'
Your Omnisend account is now ready to rock
After taking you through a quick introduction to some of Omisend's features, you'll then be able to connect your online store to the platform – Omni send supports Shopify, BigCommerce, Magento1, Magento2, PrestaShop, WooCommerce, OpenCart, ZenCart, DrupalCommerce, UberCart, Oxid Esales and more.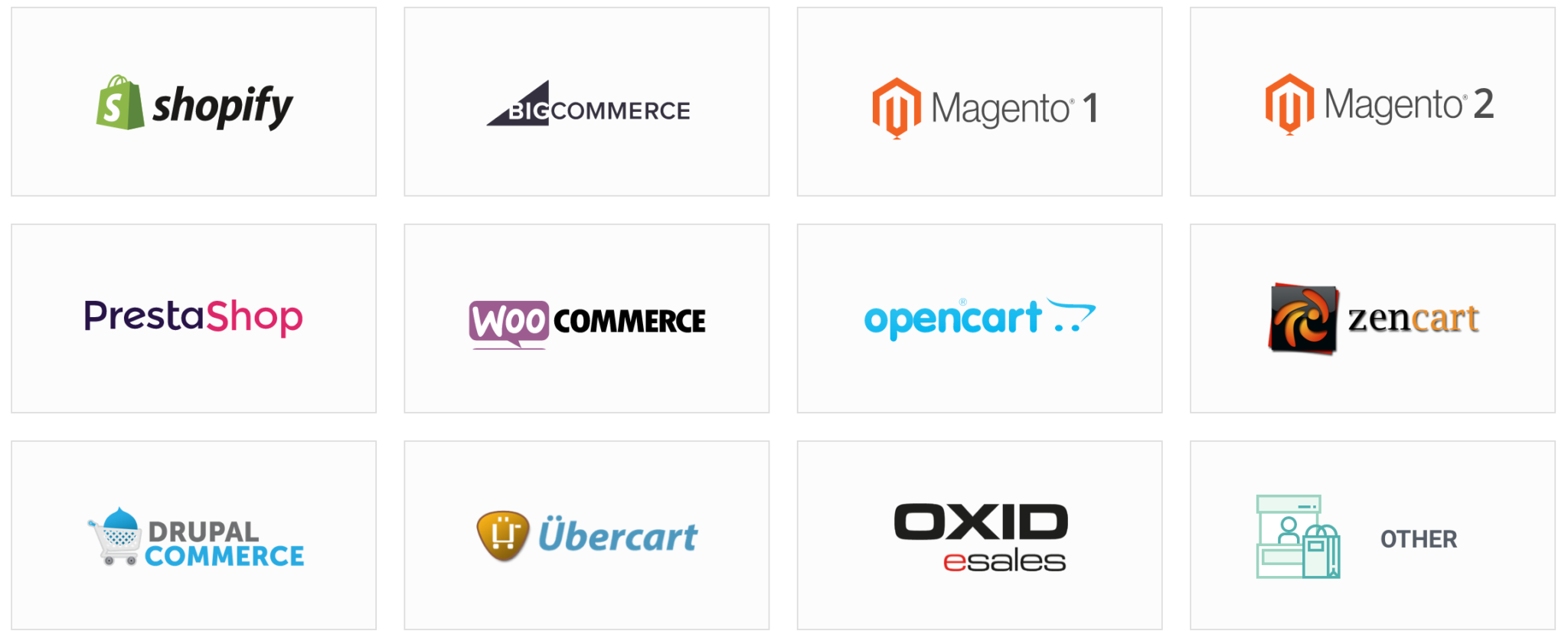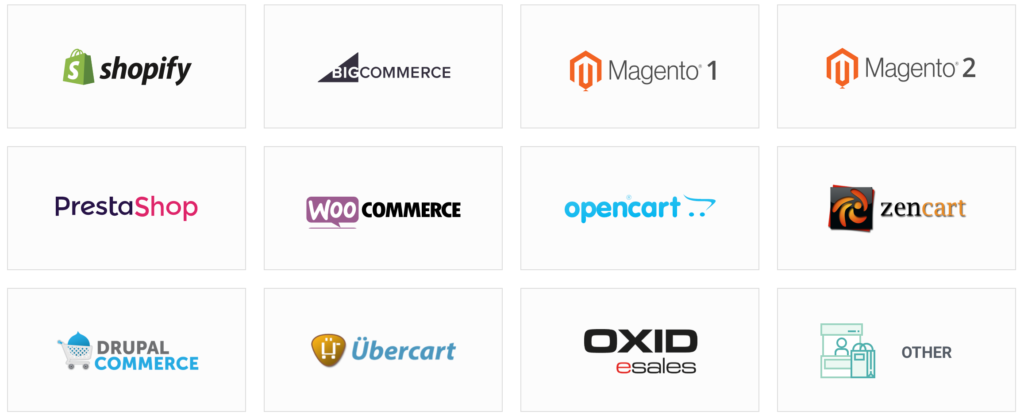 About those features
There's no denying that Omnisend is all about the features – and there's plenty of 'em so, buckle up and let's take a look:
Omnichannel Marketing Automation Platform
Omnisend makes it easy to put all your eggs in one basket or, in this case, all of your channels on one platform. You can quickly and easily add your email, SMS and social media into the mix for straightforward management.
Facebook Messenger Marketing
It's said that missives through Facebook Messenger have an 88% open rate – which makes this feature a particularly valuable one for e-sellers. Using this channel lets you dial direct for optimum results with customers.
Email marketing and newsletters
The platform also includes lots of handy email features including;
Abandoned cart emails
Welcome emails
Automated email follow ups
Birthday emails
Customer reactivation emails
Order confirmation emails
Order updates
This massively comprehensive feature makes managing your email marketing incredibly straightforward and saves tons of time.
Segmentation
This handy feature lets you create various sub-lists within your databases of contacts. Why? Segmenting your lists allows you to create ever more personalized emails and messaging; for example, you can segment your lists by age, location or interests.
Omnisend then lets you add segment tags which, in turn, allow you to create entire campaigns to be targeted at particular segments of your database.
In 2020, most eCommerce marketers are aware that sending one message to a huge number of people in a kind of scattergun approach simply doesn't work and, this great feature lets you create much more intelligent campaigns for your customers and improve your targeting.
Product Picker
This feature lets you personalise your newsletters.
Push Notifications
This great feature allows you to effortlessly keep your brand in the forefront of your customers minds. Push notifications are short and sweet targeted messages which can be sent to your whole datalist of a segment of your list.
Forms
Love 'em or hate 'em, online forms are here to stay and, Omnisend makes light work of these with features such as: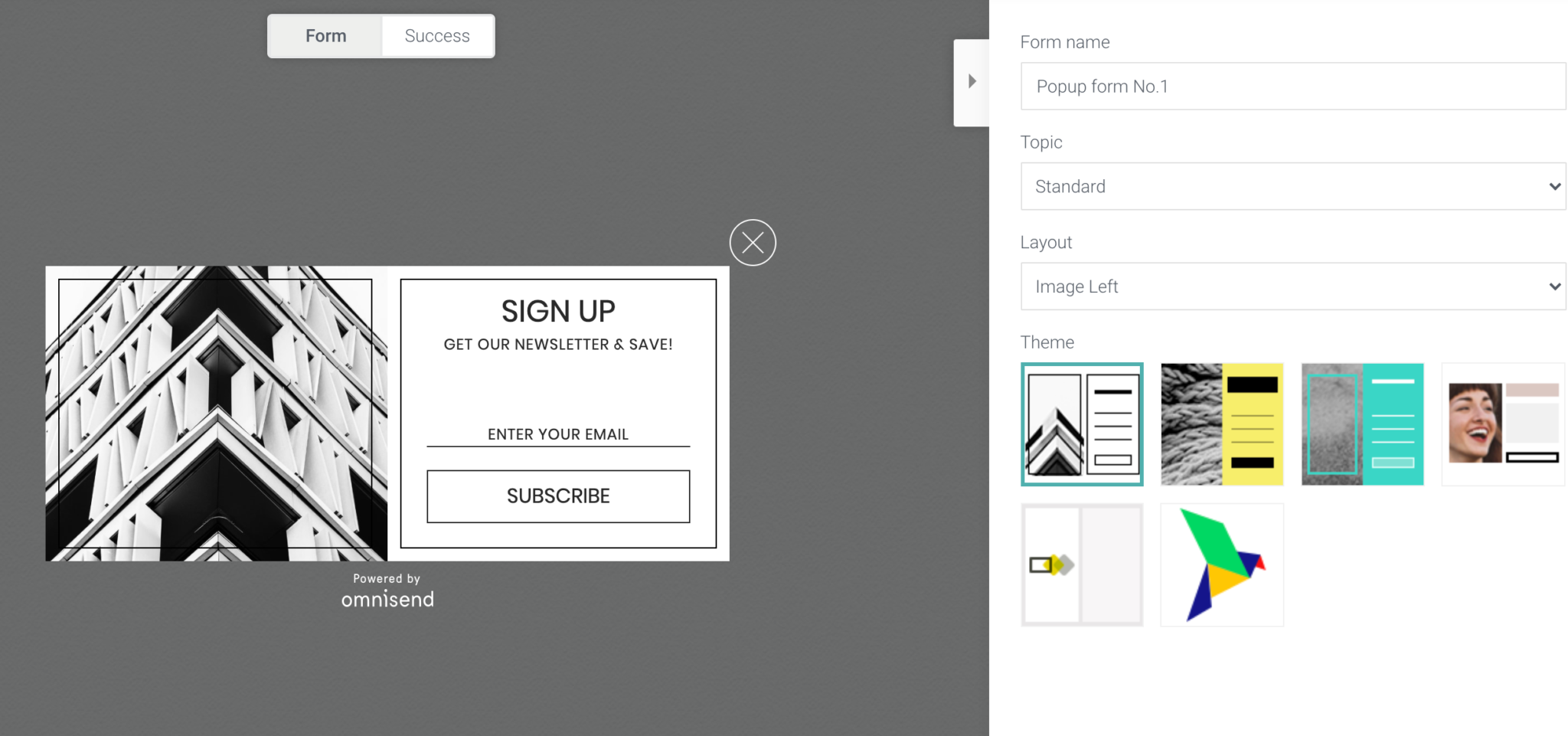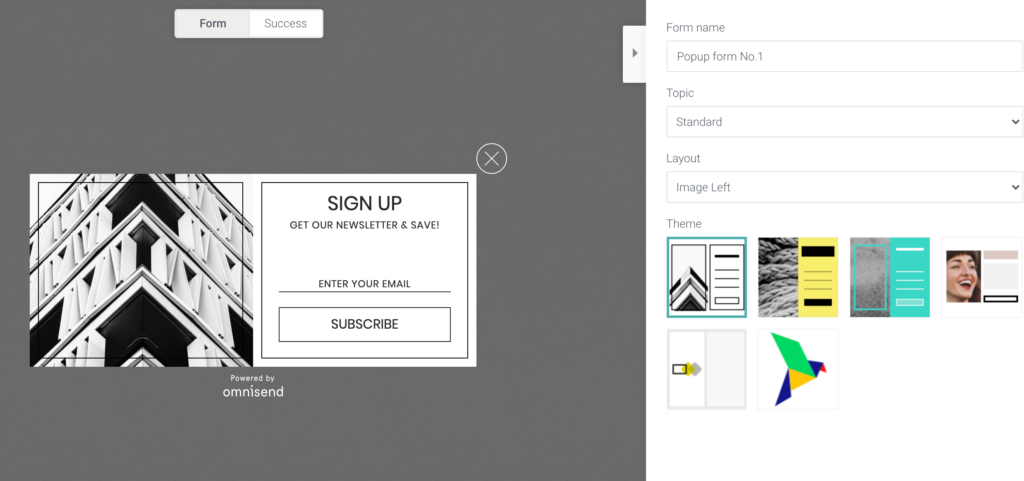 Pop up sign up forms
Signup boxes
Embedded customer feedback forms
Form reporting
Wheel of Fortune
Forms can be personalised to make sure that the content is consistent with your brand and image. With some packages users can also add branding including logos for further personalisation.
Gamification for lead capturing
I don't need to tell you that gaming is hugely popular and, Omnisend allows you to create / include games in order to nab those new leads.
Landing pages
As great as your website may be, a landing page is essential for funnelling customers through to a specific action. Use this feature to set up reactive landing pages for your business to be attached to the channels on your account.
Cross selling
Having all of your ducks in a row (or your channels on a platform) lets you boost your marketing efforts by cross selling across multiple platforms.
Analytics
Omnisend has really good bunch of analytics which can help you to get the full story on how your campaigns are performing. These all important analysis tools offer real in-depth insights which, along with A/B testing, let you see just what is and isn't working for your customers.
Reporting
Omnisend's advanced reporting allows you to get a really clear view of the performance of your campaigns through customised reports. The platform also includes Clickmap to let you see how your newsletter campaigns are doing.
Integrations
Omnisend's generous array of integrations means that most customers can get started without having to make changes to their existing infrastructure. For example, Omnisend Shopify is a quick and easy integration.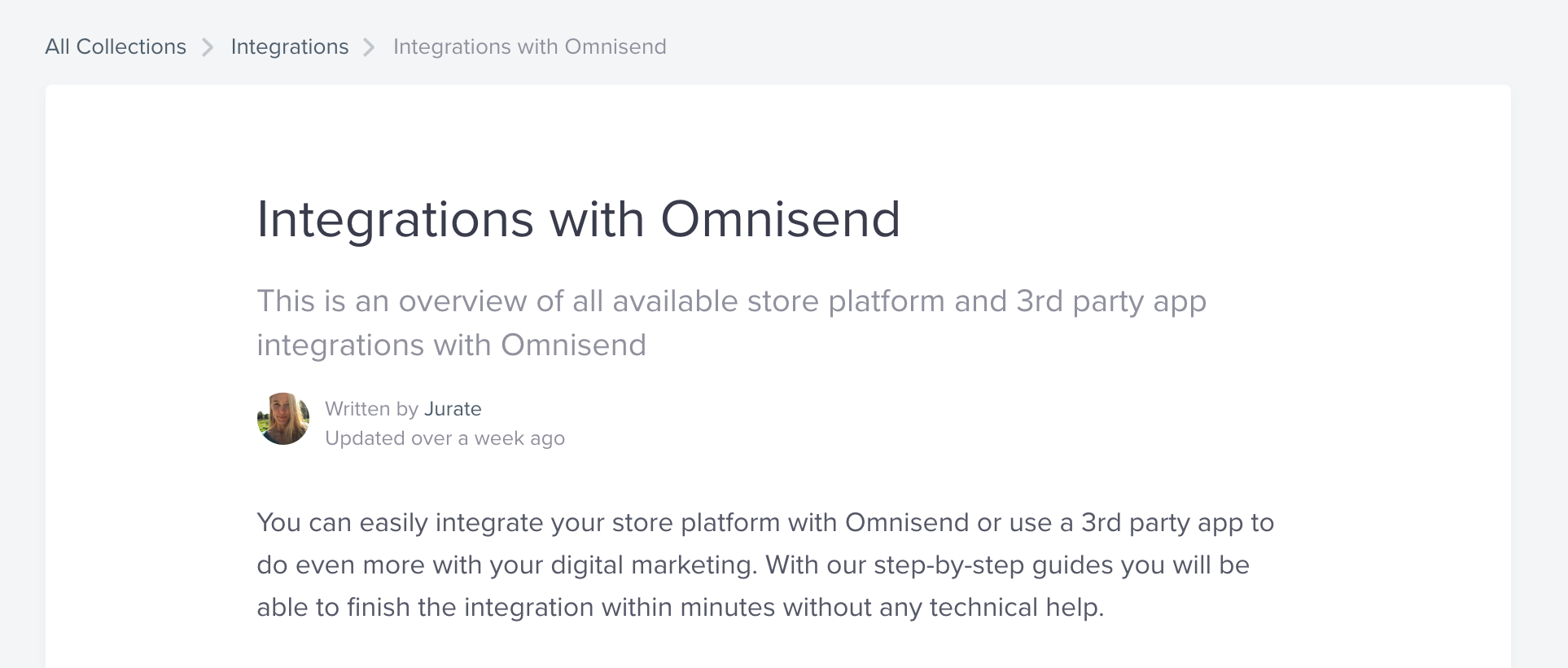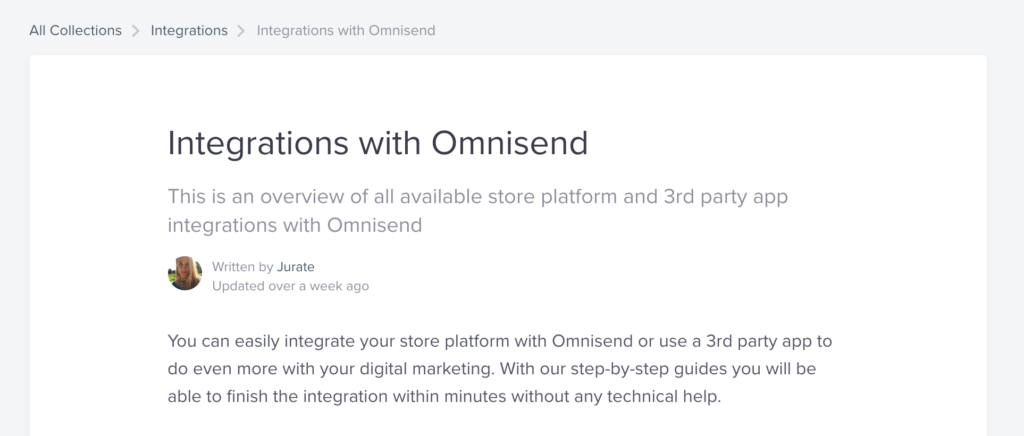 A/B Testing
Anybody who has ever worked on email marketing knows that testing is incredibly important. When optimising email marketing, it's vital that you try a few different campaigns to see what works best for you. Omnisend makes it really easy to A/B test your campaigns to quickly decide on your best bet.
Smart Triggers
This clever feature helps you to make sure that your customers receive highly relevant emails and messaging – at the right time; for example at the browsing and purchasing stages. This helps to nudge the customer through the process, all the way to the checkout.
How much does Omnisend cost – a guide to Omnisend pricing
Apart from a custom option (which we'll ignore for now), Ominend offers three separate price packages for customers and, these are the plans with starting prices:
Free $0 per month
500 emails/mo
Up to 60 SMS
Up to 250 contacts
Up to 500 web push
Professional looking email templates
Pre-built automations & workflows
Popups & signup forms
Standard $16 per month
With this plan, you will get everything from the free package, plus:
Up to 500 contacts
6,000 emails/mo
Up to 60 SMS
Unlimited web push
24/7 chat and live support
Pro $59 per month
The Pro plan comes with all of the features from the Standard package, plus:
Up to 500 contacts
Unlimited emails
Up to 3,933 SMS/mo
Unlimited web push
Advanced reporting
24/7 priority support
To see the full lists of features and pricing details visit this website.
The price of the Standard and Pro packages changes depending on how many people you are sending to. The Standard package can go up to $1,120/mo and the Pro plan can cost up to $1,650/mo. If you want to send to more than 150000 people a month, you will receive a custom price.
Bring It On or Return To Sender
So, we've had a look at Omnisend's impressive menu of features – but it doesn't stop there. Now it's time to take a closer look into the good bits and bad bits of Omnisend.
Bring It On
Price – In comparison to other similar tools, Omnisend is incredibly reasonably priced. Both the Free package and the Standard package starting from $16 a month are great for brands just starting out with their omnichannel marketing. For those looking for a bit more, the comprehensive Pro package offers excellent value for money.
Features – It would be almost impossible to find a tool with more high-value features than Omnisend. Although you need to shell out for the Pro package to take advantage of the full set of tricks, the other options certainly have enough for you to get started.
Onboarding training – Understandably proud of its platform, Omnisend is keen for its customers to get the most out of their accounts and, the excellent onboarding training is a great way to get yourself acquainted with the system.
Landing pages – This one is worth a mention in the hall of fame due to the fact that it's a high value feature which saves you money on buying a separate tool.
Customer Support – Omnisend's customer service is rock solid, reactive and, most importantly, runs 24/7. As well as handy tutorials and tours, you can usually get hold of the support team quickly and easily – which is super important when time isn't on your side.
Coupon codes – Being able to offer discounts and incentives is essential for an online business and, even absolute beginners are able to generate customer coupon codes on Omnisend's platform in order to increase sales.
Gaming – Omnisend's capacity for creating games and scratch cards is invaluable for the proactive marketer. Again, you really don't have to have a huge amount of technical knowledge in order to get onboard with this great feature.
Campaign booster – Any kind of a boost is a good thing and, this feature is no exception. Omnisend's campaign booster allows you to resend emails without so much as breaking a sweat.
Dashboard – Omnisend's common sense and user-friendly dashboard allows for a real-time view of your activity and is presented in a clear and sensible way for at-a-glance information on your campaigns.
Automation Workflow – Omnisend has more automations than you can shake a stick at – all of which are designed to keep customers trucking through to the checkout. Some of these eCommerce automations include:

Cart recovery
Shipping confirmation
Personalised marketing
Sales options
Omnisend's automation workflows work hand in hand with your existing channels so that you can spend more time on putting together that fabulous content.
Ease of use – Omnisend is notoriously easy to use.
Return To Sender
With Omnisend, it's a lot easier to pros than it is to find cons, however, in the interests of fairness, we'll take a look at the areas in which this tool could use a little improvement.
Customisation – Although Omnisend does include customisation options, many of the advanced ones are only available through the Pro package. You can, however, add a custom logo to your account which is a definite bonus.
Customer Support – Although day to day customer support is readily available with Omnisend, you may have to wait a little longer if you need more in-depth technical support.
Single Shop – At the moment, customers are unable to add multiple shops to one platform – which means that those with more than one store may have to open separate Omnisend accounts.
Reliability – I found that some of my customers claimed not to have received the emails sent through Omnisend, although this was the exception rather than the rule.
Alternatives to Omnisend
They say that oranges are not the only fruit and, similarly, Omnisend is not the only email marketing platform available. Although I think it's a pretty good one, I'll take you through some of the other options out there.
Mailchimp
One of the most well known email sending / marketing platforms, Mailchimp has been around since 2001 and is used by over 500,000 customers. An all in one marketing platform, Mailchimp is extremely user friendly and includes a good range of templates.
Although nowhere near as comprehensive as Omnisend, Mailchimp's ease of use makes it popular with users. Mailchimp costs between £0 and £39 per month.
MailerLite
A suite of advanced email tools, MailerLite was created in 2010 in Lithuania by Ignas Rubezius. Features include drag and drop editor, custom HTML editor, newsletter templates, photo editing, rich text editor and e-commerce campaigns. MailerLite costs between $0 and $50 per month.
Boston based GetResponse has grown in popularity in recent years and is now used by over 350,000 customers across 183 countries. GetResponse has some fairly advanced features including drag and drop editor, over 1000 iStock photos, responsible email design, A/B testing and video email marketing. GetResponse costs between $15 and $65 per month.
Campayn
Little known email marketing platform, Campayn, is based in Sydney, Australia and, has been around for 16 years. Campayn allows users to create, share and track emails and newsletters and, the free plan lets you send 20,000 emails to 2000 people per month. As well as the free plan, a paid plan is available for $10 per month.
SendPulse
With over a million users, Big Apple based SendPulse is a multi-channel email marketing platform which features chatbots, forms and web push features. Launched in 2015 by Constantine Rozenshtraus-Makarov, SendPulse costs between £0 and £14.40 per month.
Sendinblue
Paris is home to this platform which was launched in 2007. Features include email, SMS and chat options and, Sendinblue costs between £0 and £39 per month.
Sendy
Sendy may not have the most imaginative name in the world but, what it does have is a large number of customers worldwide. Based in Kenya, Sendy has mixed reviews among its customers and offers features including email sending and marketing. Although Sendy's site claims to be cheaper than other platforms it, bizarrely, fails to actually include its pricing on the site.
TinyLetter
Specialising in newsletters, Brooklyn based TinyLetter doesn't have a huge number of features but, what it does have, it does well. Responsive and, with some great design features, TinyLetter is ideal for those who simply want to send out well put together newsletters. TinyLetter costs between $5 and $45.
Conclusion
Omnisend really is a case of 'what's not to love'. This is probably one of the most comprehensive email marketing tools I've ever come across and, the affordable pricing makes it an absolute steal.
As I've said, if all you want is the ability to send out professional looking emails and newsletters then the Free package will do you just fine. If, however, you're after a tool which does everything but go out and prod the customer for you, the paid options are well worth the price. For me, the best bits of Omnisend are:
Ease of use – Omnisend takes you by the hand and walks you through the site so that, even the biggest technophobe can find their way around without too much bother.
Landing pages – For me, landing pages are massively important as I find that much of your hard marketing work is wasted when you send a customer from social media to a website home page which doesn't mirror the social media's content. I would always advocate getting yourself a tool with which to create landing pages and, happily, the fact that this is included with Omnisend saves you time as well as money.
Coupon creation – I don't know about you but, my customers really reeeeeallly like money off coupons and I love the fact that I can knock these out straight from the Omnisend platform.
Gaming – I'm always after finding new ways of attracting customers and, Omnisend's gaming and scratch card feature is fantastic for adding a little extra something to your marketing.
Cross marketing – Like most people, I don't have a huge amount of time to play with and so I really like the fact that I can juggle all of my channels from one platform and duplicate content and imagery between campaigns.
This is a really solid, reactive tool and I wouldn't hesitate to recommend it. I would, however, strongly advise new customers to take the time to go through the online tours and tutorials as this really does save a lot of time in the long run.
Although I have, in the interests of fairness, included a list of decent Omnisend alternatives, for the price, I really don't think you'll do better than this platform.