Email marketing is the first defense for any company and, yet, so many brands are still not making the most of it. In 2020, writing a 'salesy' email and throwing it out via your business address simply doesn't cut it.
Have no fear though, you can now get your hands on some great and affordable tools which will help you to put together professional-looking emails to supersize your email marketing. We're doing our best to tell you about as many of these as we can and, our star of the day is GetResponse – here's what we thought of it!
GetResponse is not only an email marketing platform, but it is also excellent for lead generation, nurturing leads, and sales. With GetResponse you can easily send emails, automate repetitive tasks through workflows, create beautiful landing pages, and design custom forms.
What is GetResponse?
In case you weren't listening, GetResponse is an email marketing tool – an email marketing app to be precise – which takes you by the hand and guides you through the process of email marketing automation.
First launched in 1998 in Poland by Simon Grabowski, GetResponse has since evolved into an all in one marketing platform for newsletters, emails, and ads. The 'right now' version of GetResponse has loads of fantastic features and added extras that take it to the next level of online marketing tools.
Who uses GetResponse?
GetResponse currently has 350,000 customers across the USA and Europe and is aimed at businesses of all sizes. Some of its customers include:
Crazy Egg
iMoney
Mu London
Platinum Success
The Interior Edge
Yoonla
The app is suitable for a small business, a medium-sized one or an enterprise alike. If you're an affiliate marketer, it may come in handy as well.
How do I get started?
It's really quick and easy to get started with GetResponse and, here's how to do it:
Take a trip over to https://www.getresponse.com
Click onto 'Sign Up For Free'
On the left hand side, you'll see a form headed 'Start Your Free Trial Now'
Fill in your name and email address and choose a password
You'll then be asked to verify your email address – to do this, you need to go to your email account, access the message from GetResponse and then click onto the 'Activate My Account' button
You'll now be whisked back to your GetResponse account page and will be asked to complete some more details about your company, including your address
Your GetResponse account will now be ready and waiting for you
How much does GetResponse cost?
GetResponse pricing works on the number of subscribers that you have – and so the price increases, the more people you have on your list. To get started, you'll need to choose from one of three price packages (to which the cost of extra subscribers will be added).
All three packages include the features from GetResponse Free, which are:
Unlimited newsletters
Website Builder
Connect your domain
Signup forms and popups
SEO-optimization tools
SSL certificates
Up to 500 contacts
Predesigned email templates
If none of the three paid packages satisfy your needs, you can choose one of the two plans for mid and large companies. Those packages have custom pricing and all of the features you need for your company. To get a quote, contact GetResponse directly.
Needless to say, the more expensive the package, the more additional goodies you'll receive in terms of advanced features. GetResponse also offers a 30-day free trial for you to check all the features out.
To see the available packages and full lists of features, visit this website.
How does GetResponse work?
As we've mentioned, GetResponse is delightfully easy to use. Once you've got your account set up, you'll have your very own GetResponse dashboard to play with. From your dashboard, navigating to different tasks is really easy – and tutorials and support is available to help you on your way.
The app will guide you through a number of actions including adding your subscribers and creating an email or landing page, all the way through to sending and reporting. If you get stuck, GetResponse's website will set you straight with its generous tutorials and videos as well as hugely responsive customer support.
What are GetResponse's features?
Where to start? GetResponse has more features than you can shake a stick (or a mouse at). Let's take a look at them:
Templates
When it comes to a choice of templates, GetResponse is more superstore than corner store. The email marketing platform contains over 500 templates for emails, newsletters and landing pages and, these are presented in a sensible, easy to view way.
As you would expect, there are lots of different fonts and useable images to help you create really professional looking communications. If you're keen on video email marketing, then GetResponse is your friend here, too.
GetResponse was a trailblazer in introducing responsive templates which make automatic adjustments to the device being used, including optimisation of fonts. The app's templates are also super easy to customise for the more personal approach. Sending personalised emails to your mailing list becomes hassle-free with GetResponse.
Landing page creator

We all know that it's pointless to have a great set of ads and social media content if you don't have an equally great landing page to send your customers to. The editor is child's play with a drag and drop feature.
GetResponse's creator also has a really well designed data capture form to help you get more responses from potential clients. Although the landing pages creator is only available with the more expensive packages, it's absolutely worth it if you're committed to grabbing customers from your social media pages.
Data capture and forms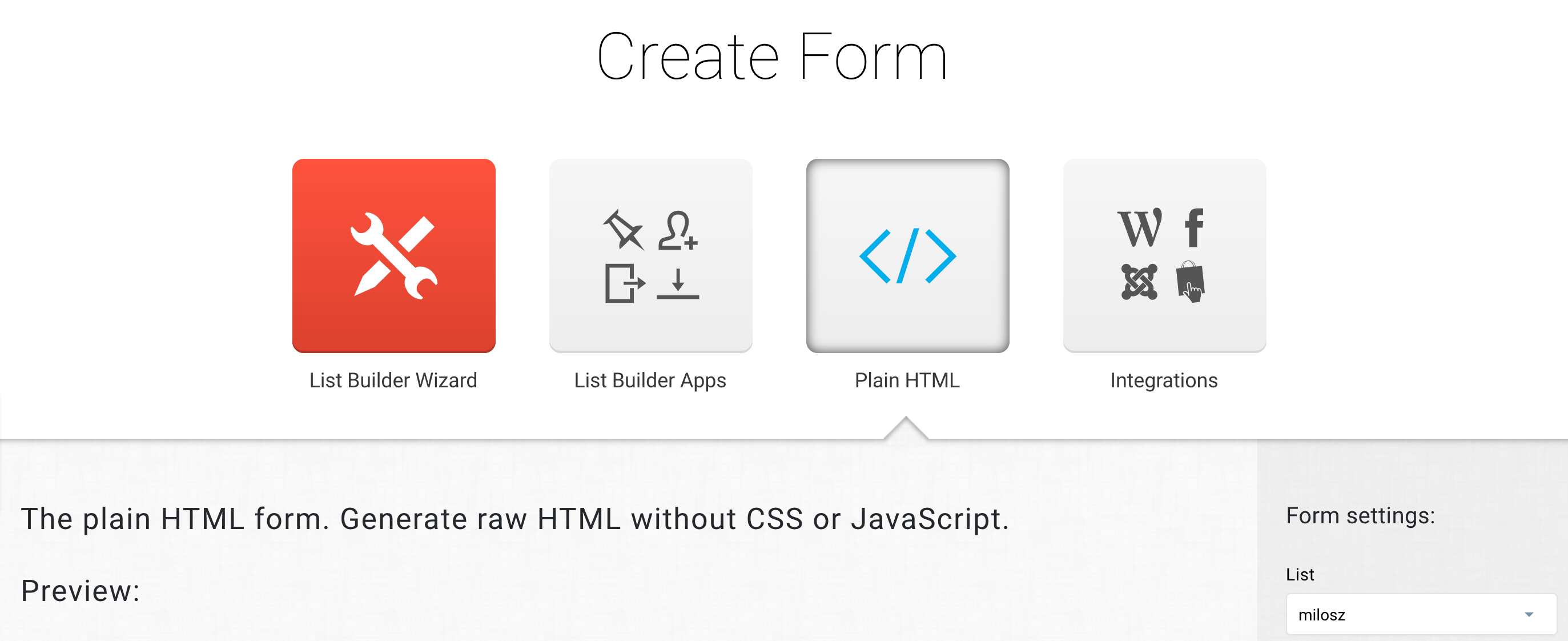 With GetResponse, you have two options for forms – you can add a HTML designed by yourself or, alternatively, you can choose one of the app's ready made designs and then customise it as you see fit.
Data segmentation
This incredibly useful tool allows you to split your data lists up into different segments. This means that you can, for example, send to just the female subscribers or, just to those in a niche industry, without having to start up a separate subscriber list.
GetResponse's data segmentation tool works by a really simple tickbox system. It allows you to create your segments for including or excluding different subscribers fairly easily and conveniently.

Webinar creator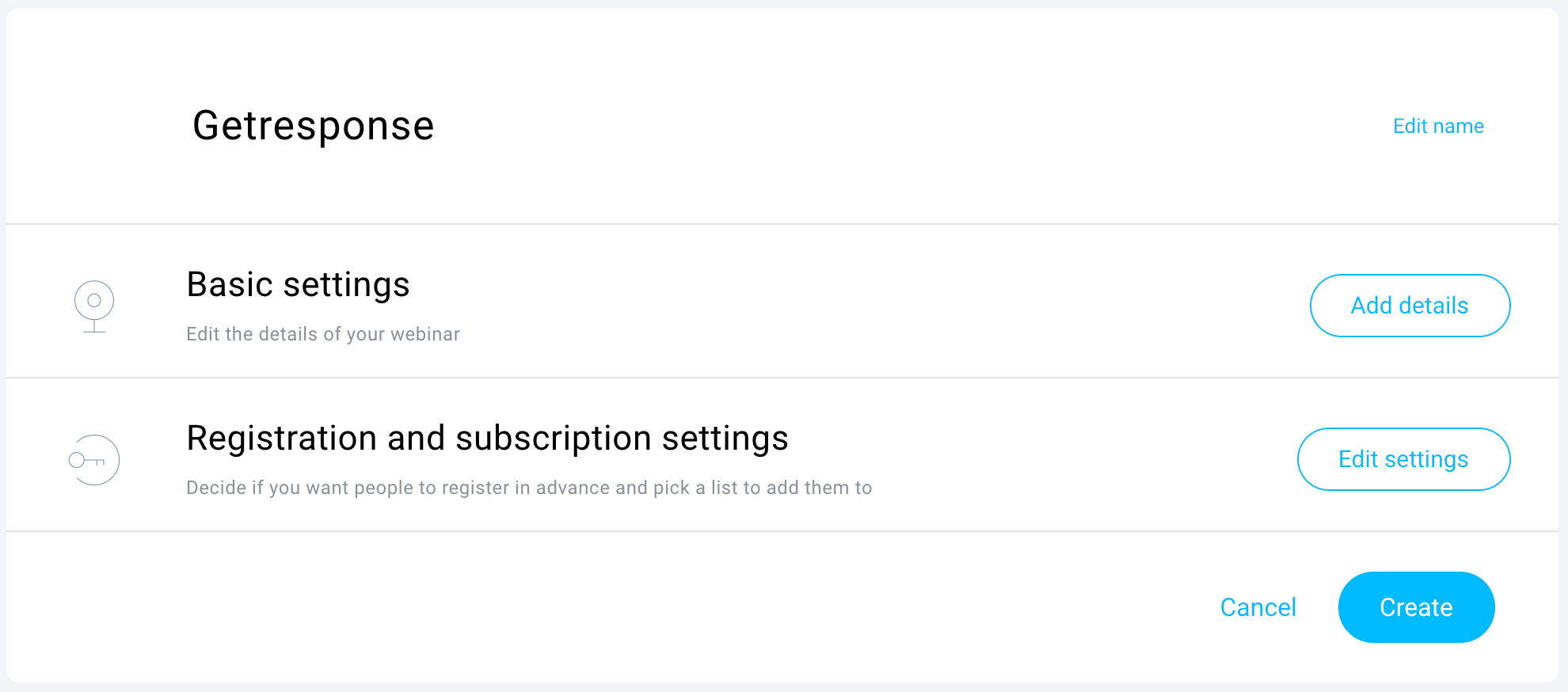 With social distancing in place, there's never been a better time to tap into the webinar market to make sure that you can connect with customers even if you can't be in the same room.
GetResponse's webinar creator is competitively priced and lets you invite up to 100 attendees on the Plus Plan and 500 on the Enterprise Plan. The app guides you through the process of set up so, this function is suitable even for those who have never held a webinar before. The feature includes one click recording, screen sharing and online storage.
Opt in process
GetResponse allows you to choose from single or double opt in. Put simply, this means that a subscriber can get on board by just hitting the sign up button (single opt in) or, by pressing the sign up button and then clicking onto a verification link sent by email (double opt in).
This feature is important as, a double opt in process helps you to keep your mailing lists clean and free of fake email addresses.
GDPR
As you're most likely aware, governments have recently got tough on data responsibility. GetResponse includes clear information on your data responsibilities as well as handy GDPR fields to help simplify the process of logging consent and, therefore, staying within the regulations.
E-commerce with Conversion Funnel
One of GetResponse's newest and most exciting features, Conversion Funnel feature basically turns your email system into an e-commerce platform. It does this by allowing you to create product catalogues, run adverts and create landing pages as well as the ability to receive and process payments. This can also be integrated with your existing e-commerce platform (for example Shopfiy or Etsy).
Analytics
Anything but basic,
Advanced analytic features allow you to view exactly when your mails are viewed, where viewers signed in from and, email campaign comparisons, as well as email deliverability.
Split testing
It's always a good idea to know which of your email campaigns are working and which aren't. For this reason, GetResponse's A/B testing feature is comprehensive and allows up to five comparisons at a time.
CRM
After a recent update, GetResponse's CRM (Customer Relationship Management), is integrated with its email marketing functionality. This means that you can add users to a CRM pipeline based on that user's activity. This activity can include opens, purchases and even form completions) and is a great way to manage your subscribers.
Automation


Last but certainly not least, GetResponse's automation tools let you set up an 'automation flowchart' whereby you can tell the email marketing platform what to do when a user performs a certain action; for example, when the user clicks on a certain link or opens a certain offer.
Pros and Cons
A review wouldn't be a review without a pros and cons section so, here it is!
GetResponse – Got It
As is traditional, we'll start with the good bits – and there's plenty of 'em!
Pricing options – GetResponse has a really good selection of price options; meaning that there's something to suit every budget and, every size company.
Features – You really would be hard pressed to find an email marketing system with as many great and innovative features as GetResponse. Features such as the landing page creator, the webinar creator and the automations set this email marketing software way ahead of the competition.
Deliverability – GetResponse's deliverability rates are pretty darn superior compared to its competitors, making it a really reliable choice.
Support – Although GetResponse has recently stopped providing telephone support, the customer service is still pretty great. Customer support is available by email, live chat and tutorials which are available in English, Polish, German, French, Spanish, Russian and Portueguese. Waiting times are short and, the support itself excellent.
Google Analytics Integration – you can easily connect your GetResponse profile with Google's Analytics tool to make it even more powerful.
GetResponse – Don't Got It
Apparently, you have to take the bad with the good and, so, here are a few downsides to GetResponse:
Clunky interface – While most of the interface is pretty user friendly, it could use some tweaks here and there. Especially the user interface for landing pages.
Compatibility – Although GetResponse adapts to different devices, it seems to struggle with display issues in some cases; specifically the Gmail mobile App.
Useability – GetResponse's newsletter tool could use a bit of a redesign as it's currently quite tricky to get the hang of and, we found that it is easy to accidentally delete content or undo placement.
Who are GetResponse's Competitors?
As we're sure you know, GetResponse is not the only game in town so, let's have a look at some of it's competitors:
Aweber: Boasting 100,000 customers, Aweber is a cost-effective email marketing tool which offers a free trial and paid plans ranging in price between $19 per month and $149 per month.
Mailchimp: One of the most popular email marketing services, Mailchimp is an easy to use email, newsletter and ad creator and costs between $0 and $299 per month.
Moosend: London based Moosend is marketing software with automations and costs $0, $10 and $20 per month making it a hugely cost-effective option.
Campaign Monitor: Email marketing solution, Campaign Monitor, offers a free trial and price packages at £9, £29 and £139 per month.
Conclusion
So, what you really want to know about GetResponse is whether or not it's all that it's cracked up to be. And, the answer is, that, heck yes, it is. If your only decision-making criteria is the price, then there's no doubt that you can find a cheaper option than GetResponse.
In fact, a lot of providers offer a free version and, you don't get much cheaper than that! If, however, you're looking to commit to an email marketing tool which gives you a bit more bang for your buck then GetResponse is for you.
The endless list of features, responsive tools and, innovations such as the webinar creator means that this is so much more than a gizmo to create and send emails with. In my opinion, these exceptional features alone make GetResponse well worth the price. I believe that it's arguably one of the best email marketing solutions on the market.