Let me make a huge claim before I go any further. Out of every 100K emails I send out to my bounce rate is always less than 5% and yet I can prove it 😉 What is yours?
I bet you've heard people say, that emails are slowly dying and that soon no one will be using this channel as a form of communication. Well, that's bu***it! Just look at the numbers: in 2014 every day 191 billion emails were sent, by 2016 it was already 215 billion emails daily,
and at a yearly growth of 4,6%, it is estimated that in 2020, 258 billion emails will be sent every day! (according to Radicati Group). It doesn't seem like slowing down anytime soon!
That is why you need to make sure that your email marketing is well implemented within your growth strategy. One of the most important aspects of email marketing is your email deliverability and sender reputation. Taking care of your bounce rate and your email list must be your top priority. That is why you should use an email verification tool!
Bouncer is one of quite a few tools available on the market however, it is the most recent that I was using, therefore I will provide you with a full review of this product within this article.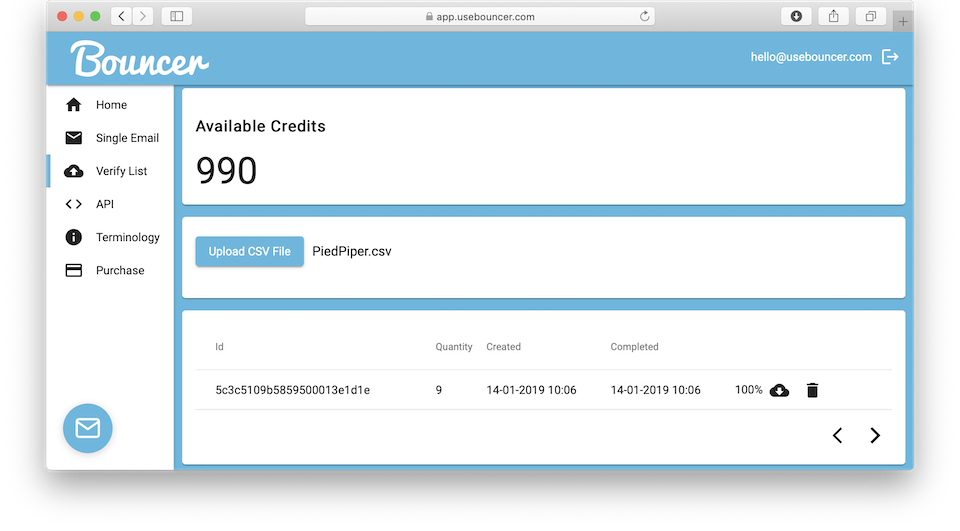 What is a bounce?
Before the review, I will whenever your email cannot be delivered to your recipient's inbox, it's called a bounce. There can be multiple reasons why your email bounced, which usually you will find in the content of a 'return to sender' message that you will receive.

Email bounces are classified by two types: soft bounces and hard bounces.
Soft bounces
Soft bounces are basically a temporary issue. It's either
out of function
the message size is to large
spam content was detected
mailbox is full.
It also happens when there is a server failure. What's important – soft bounce does not automatically indicate that the email address is inactive or invalid.
Hard bounces
Hard bounces are the ones that senders really hate. It is a permanent delivery failure. In most cases, hard bounces are
caused by recipient email address
domain name that does not exist
a recipient email server that has completely blocked delivery
mistyping of the address (for example gmil.com instead of gmail.com)
permanent delivery failure.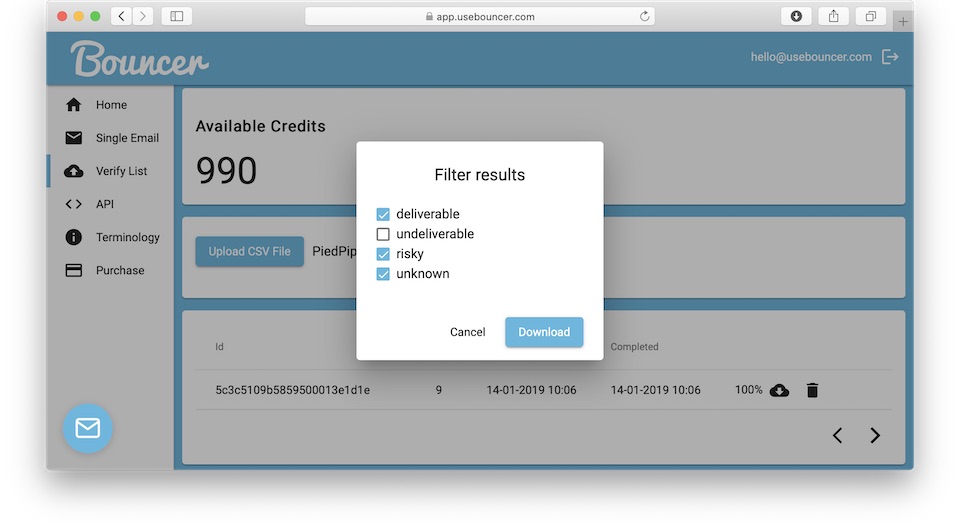 Bounce rate is the rate of rejected email in reference to all that you've sent. If 10 emails out of 100 would bounce, then bounce rate equals 10%.
Higher bounce rate can be a signal for ISP's that your methods are nasty. You might get your IP blocked or your message will get to the SPAM folder. Sure, everyone can dream of 0% bounce rate, but it's close to impossible. A healthy opt-in list should be seeing bounce rates of between 2-3%.
If you are regularly generating higher bounce rates, it's important that you work out why and take action to reduce the number of bounces. And here comes Bouncer, a tool that will take such issues away 🙂
What is it?
Bouncer is a company that provides the email verification solution in the form of API and application for your verification needs.

Bouncer promises to secure your sender's reputation by sanitizing your email addresses' database, ensure continuity of the communication with your customers and partners by catching not-existing email addresses in the moment of their entry.
And also to maximize reach to your customers and partners by segregating low-quality email addresses from those of high value.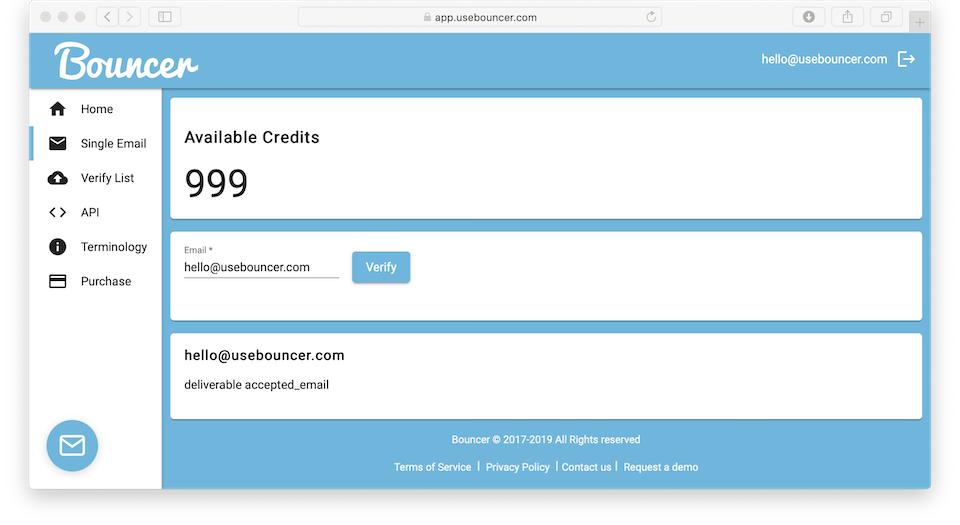 The use
The website seems straightforward, pricing available on their main page, and their policies are very clear on how they'll deal with yours and your customers' data.
What's important is that they are fully compliant with GDPR.
Once you sign up, you will receive 100 free credits for a start, and if you'll send them an email, stating who you are and why you need email verification, they will add additional 1000 credits, free of charge 🙌
So they give quite a room to test the tool, before purchasing. The UI is easy to navigate.
You can either verify a single email in real-time (so you get a reply within a few seconds) or verify a whole list in a batch request. Just need to convert your file to CSV format and upload (maximum of 100 000 requests at one request).
You can see explanation and all the possible results in the terminology section (access them from the application view). What is super useful, is that they allow you to download the results by the type of status – either deliverable, undeliverable, risky, unknown or all (some explanation on the meaning of the results later on in this text).
They add extra columns with your verification results and statuses to your original file – so none of your data will be lost during the verification process.
Usebouncer is fully GDPR compliant – first of all, it will anonymize submitted emails in their logs, then they give you an option to permanently remove your requests from their system, plus if you don't, it will do it automatically after 60 days.
I really appreciate this fact, as it makes easier for me to keep up with the GDPR regulations.
The speed of verification is reasonable, however, for me, it is the quality that matters. My verification results were so far correct in around 97%, which makes me a very happy bunny!
The results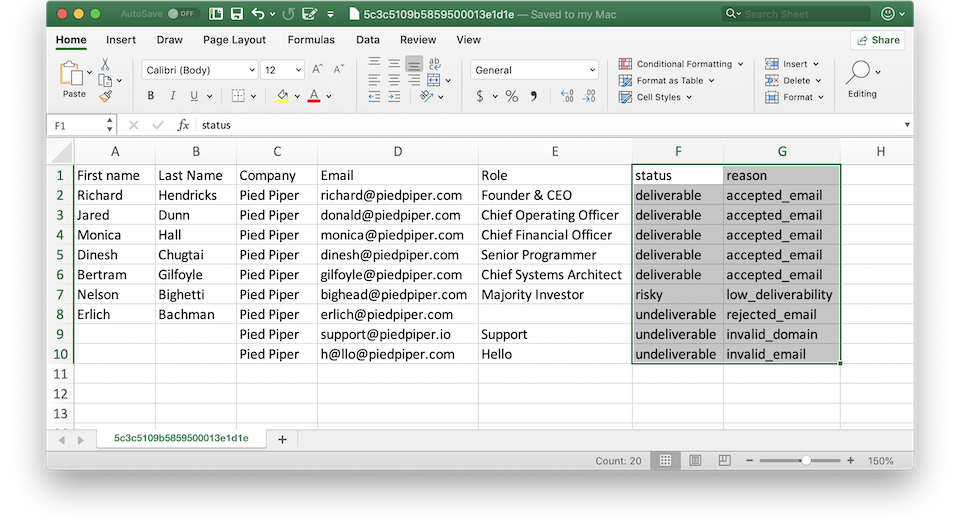 Okay, so you've verified your lists, now it will be good to understand what your results mean. As long as the undeliverable and deliverable part is easy to get, the risky and unknown emails are the tricky ones.
Unknowns are the ones that Bouncer was unable to verify and give you the result, for various reasons.
What is really cool, Bouncer will never charge for the unknown emails 🤟
Now the more difficult one: the risky emails. You will either receive, risky; low quality or risky; low deliverability.
The low-quality ones mean that the email is of low value, usually a temporary email.
So the low deliverability means the email might be deliverable, but it can not be guaranteed it will reach recipient .
In most cases, it is due to domain address configured as a Catch_All.
"A catch-all email account is an address that is specified to receive all messages that are addressed to an incorrect email address for a domain".

Godaddy
I've asked the Bouncer's team how should I treat low deliverability emails, and that's their reply:
"The decision to send or not to send, we tend to leave to our customers, as it varies from their circumstances (what do they use to send emails and their overall quality of the list).

The percentage of catch_alls directly corresponds to the amount of "Invalid" emails within their list. The higher the undeliverable rate is, the more likely the catch_alls are to bounce.

If you have a mostly clean list, the catch_alls are more likely to be deliverable".

Usebouncer Team
Pricing
UseBouncer's pricing is based on the pre-paid model. The prices start at $2 per 1k, of course, the more you buy the cheaper it gets 😍
The credits never expire, so I would recommend purchasing a higher number that you actually need, to get it cheaper.
From what I've seen, the cost seems to be quite fair comparing to other verification players. Surely you will find cheaper solutions.
They are even free verifiers available, but please before using any of them, check their data policy!
Quick interview with the CEO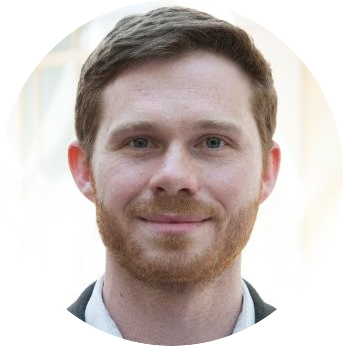 1. What motivated you to create Bouncer?
While working on my previous assignment, we were struggling with the problem of mistyped (and thus undeliverable) email addresses. Soon after that, I have learned that there are many people who suffer from invalid or already obsolete email addresses.
I knew there has to be a solution… what if there was a way to verify email address while capturing it and just before sending an email?
So I gathered a small team and we've started with a proof of principle project, that later expanded to proof of concept and finally lead us to Bouncer.
2. What made you interested in the industry?
I believe that when people communicate, great things happen.
Plenty of communication, in nowadays world happens over an email and it's just a pity that mistyped or obsolete addresses may affect our abilities to share our talents and skills with those who need them.

3. What makes your tool different from others on the market?
There are many email verification service providers, but there is only one Bouncer. Our solution is powered by the newest technologies, that make it powerful and reliable.
But it's the flexibility and having a user experience in the focus, that makes both our API and App so easy to use or integrate. Not to mention, it's GDPR compliant by design.

4. How do you feel your tool benefits those that use it?
Regardless whether you are using our App or our API, you can spend less time, energy and your talents on invalid emails, so you can focus on what you do the best, and nurture your connections with your customers.
Conclusion
If emails are an important part of your business, you know that you must keep your lists clean.
Now that I have told you a little bit more about Bouncer, you might want to test it out and see for yourself how well it works. Sign up for your free account, and give it a go!
Use special promo code: MILOSZ, to get 20% off your first purchase 🤩
I am definitely staying with Bouncer and will let them protect my business, as they have so far earned my trust by both their product and their attitude towards customers.