Bouncer is a user-friendly email verification app trusted by thousands of companies from 6 continents. It lets you clean your email lists quickly and easily. It has a fast and easy-to-integrate email verification API that gives your company limitless possibilities to validate emails.
Emails are still the way forward!
I hear a lot of people suggesting emails are not the way forward. They're fools! Emails are definitely still on the up. Here's some proof.
Back in 2014, there were 191 billion daily emails sent around the globe. Now – there is expected to be 269 billion in 2020 (according to Templafy). In only 6 years, the number of daily global emails is expected to rise over 40%. Yes – 40%.
And people say emails are on the way down? Yeah right – they're wrong!
Bouncer is fairly new to the market
I send a lot of emails and work with a lot of clients who send a lot of emails. Therefore, I was instantly drawn to Bouncer. It offers an exciting value proposition, so I thought I would give it a try and report on my findings. Testing email verification tools is what I do!
And here you have it, a review of Bouncer that covers services, features, benefits, reviews, clients and pricing. But firstly, let me remind you about bounces – both soft and hard.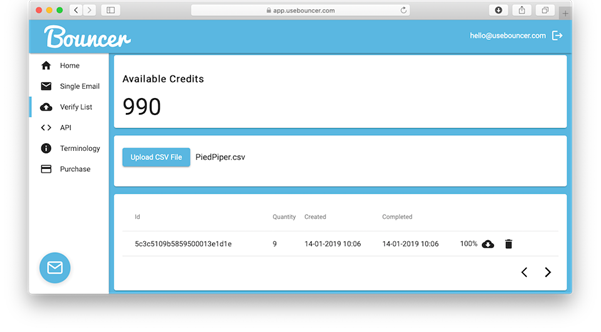 What is a bounce?
Email bounces can be a real pain in the a""e. Before I review, let me explain what a bounce is.
Have you ever sent an email and been notified it didn't arrive? That is a bounce. There can be handfuls of reasons why emails bounce. I quickly summarise soft bounces and hard bounces.
Soft Bounces
Soft bounces are pretty much just a temporary problem. They are usually caused by:
Email size being too big
It is out of function
Mailbox is overflowing
The email was picked up as spam
Soft bounces do not mean the email address is inactive or invalid – so don't worry too much if you see a soft bounce.
Hard Bounces
Hard bounces are a bigger problem. They can cause the hair on senders' heads to fall out. They're caused by:
Recipients email address
The domain not existing
The recipient's email server has blocked the email
The email address has been mistyped (ever accidently put an extra '@' in an email? We've all been there).
A permanent issue and delivery failure
So, what is the bounce rate?
The bounce rate is the number of bounces you have out of the total number of emails you have sent. It's easy to work out. Say you send 100 emails – 10 of these then bounce. Your bounce rate is 10%.
If you have an opt-in list, a healthy bounce rate to be between 2-3%. 0% would be great but let's be realistic. If you have a high bounce rate, your IP address could become blocked or emails could be diverted to the dreaded SPAM folder.
If you are generating a high bounce rate, you must address why this is happening. How do you do that? You use an innovative email verification tool like Bouncer.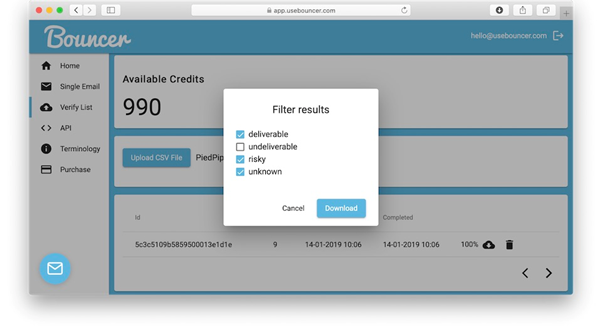 Why use Bouncer?
Founded in Poland by Radek Kaczynski (CEO) in 2017, Bouncer is exciting software and technology that sets out to enable their "clients to maintain undisturbed communication with their customers."
They are tip-top at solving email validation issues. How? With a neat application and API for verification objectives. I chat with Radek at the end of the review – check it out.
Bouncer has a small but highly qualified team with some really funny and snappy online bios. I catch up with the CEO later in the review. It's always awesome to chat with someone who has a passion for low bounce rates and modern email marketing practices. I like using it when I'm trying to reach an editor on HARO directly.
Oh, and I must mention early doors – they are fully compliant with GDPR – as you would expect.
It's designed for international companies of all sizes
Bouncer's SAAS (or simply email address verification tool) could be a real asset to your external email strategy. It's designed to lower your bounce rate and can be used by businesses of all sizes.
One hell of a portfolio
I had a quick peek at their client list. It's pretty special. MindFire, Mulberry Media, VipeCloud, Active Pip, Airbnb, bigmailer, petmarkt, SimilarWeb, and others all use Bouncer right now! Yes they're big corporations, but Bouncer is also suited to small and medium businesses.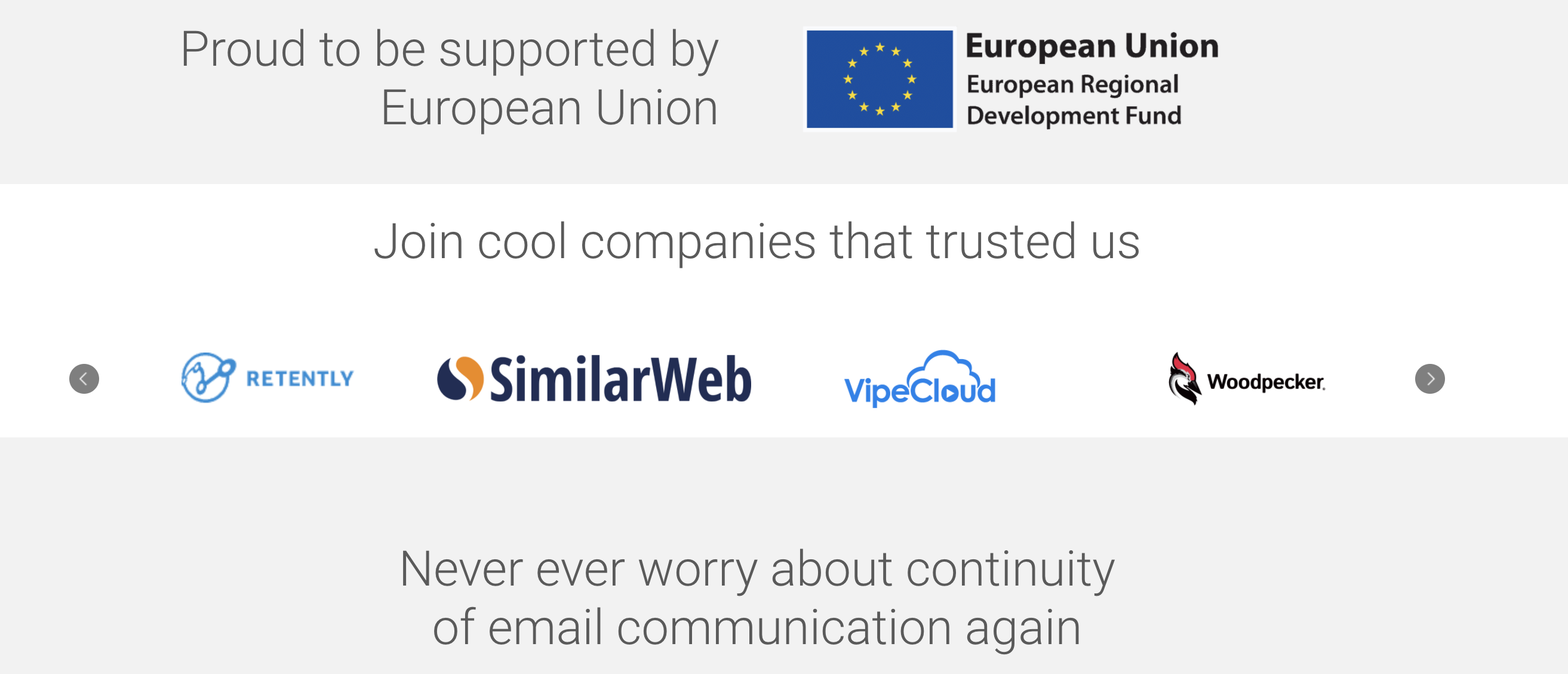 Bouncer makes things easy
Bouncer is a tool that is designed to simplify email verification. And, separate high-quality email addresses from low-quality and risky email addresses.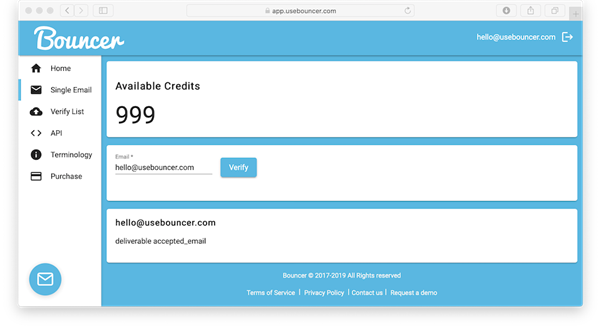 According to their official website, Bouncer:
"Protects your sender's reputation, decreases bounce rate and improves your deliverability, by not allowing a single undeliverable, risky or unknown email address to sneak into your email list."

Bouncer
When you are sending emails, plenty of questions will come to mind. But, to put it bluntly, the most important should be; what is your email list hygiene and how healthy is the list in front of you? Bouncer has you covered.
Bouncer claims they are "revolutionising email verification and email validation" so I thought I would take a look for myself. If you find yourself asking questions like "how do I check if an email is valid?" – keep reading! Bouncer could be the answer to your prayers!
Some pretty nice features
Email List Verification
The Bouncer email list verifier is very advanced and is well worth a serious look. The tool will confirm the syntax of an email address. Then it runs checks on both DNS and MX records and connect with the recipient's SMTP server.
Finally, it uses Artificial Intelligence (AI) to negotiate with the SMTP servers – helping users to get the most accurate results possible. Impressive stuff!
Bouncer looks beautiful
The Bouncer Email Checker & Email Verifier App has a beautiful interface – as I have already mentioned. This makes it a dream to use all of its features! You can verify your email list really easily by simply uploading up to 250,000 email addresses at a time.
Then, you can filter results quickly – minimising the time you need to spend on painful administration! You can then download the data again in a CSV – as this could be very handy.
Keep on top of your email data
You may want to delete the data you have uploaded and as you would expect – doing so is a piece of cake. If you're in a daze and you forget about it (we've all been there). – Bouncer will delete it.
After 60 days – gone! Automatically, Bouncer give it the boot. Another useful addition!
You don't have to verify emails in bulk
Bouncer has an instant email verifier! If you come across an email id address and want it verifying, simply enter it into the tool and Bob's your uncle!
One pretty cool thing I need to mention – sometimes when verifying email address, Bouncer will come up with a few results listed at "unknown". Don't worry – you won't be charged for these.
Email quality and the results from Bouncer
When verifying email address, you'll receive, risky; low quality or risky; low deliverability. A low-quality email is still potentially deliverable, but it isn't considered a high quality (possibly temporary). In most cases, low deliverability is due to the domain address configured as a Catch_All.
"A catch-all email account is an address that is specified to receive all messages that are addressed to an incorrect email address for a domain". – Go Daddy
I've asked the Bouncer's team how should I treat low deliverability emails, and that's their reply:
"The decision to send or not to send, we tend to leave to our customers, as it varies from their circumstances (what do they use to send emails and their overall quality of the list).
The percentage of Catch_Alls directly corresponds to the amount of "Invalid" emails within their list. The higher the undeliverable rate is, the more likely the Catch_Alls are to bounce.
If you have a mostly clean list, the Catch_Alls are more likely to be deliverable".
Email Verification API
We've all purchased email lists – hoping that it is a big batch of valid email addresses. But how often have you been let down with loads of bounces – both soft and hard? I know I certainly have.
Bouncer offers a really impressive Email Verification API. The API lets you use the concept of Bouncer, but tailored to your organisation's requirements (python, java/JavaScript, php, and other code etc.).
Quite frankly, it is a revolution for developers. Though it's seriously tricky stuff for the average Joe to understand – your company's development team will love you if you treat them to it!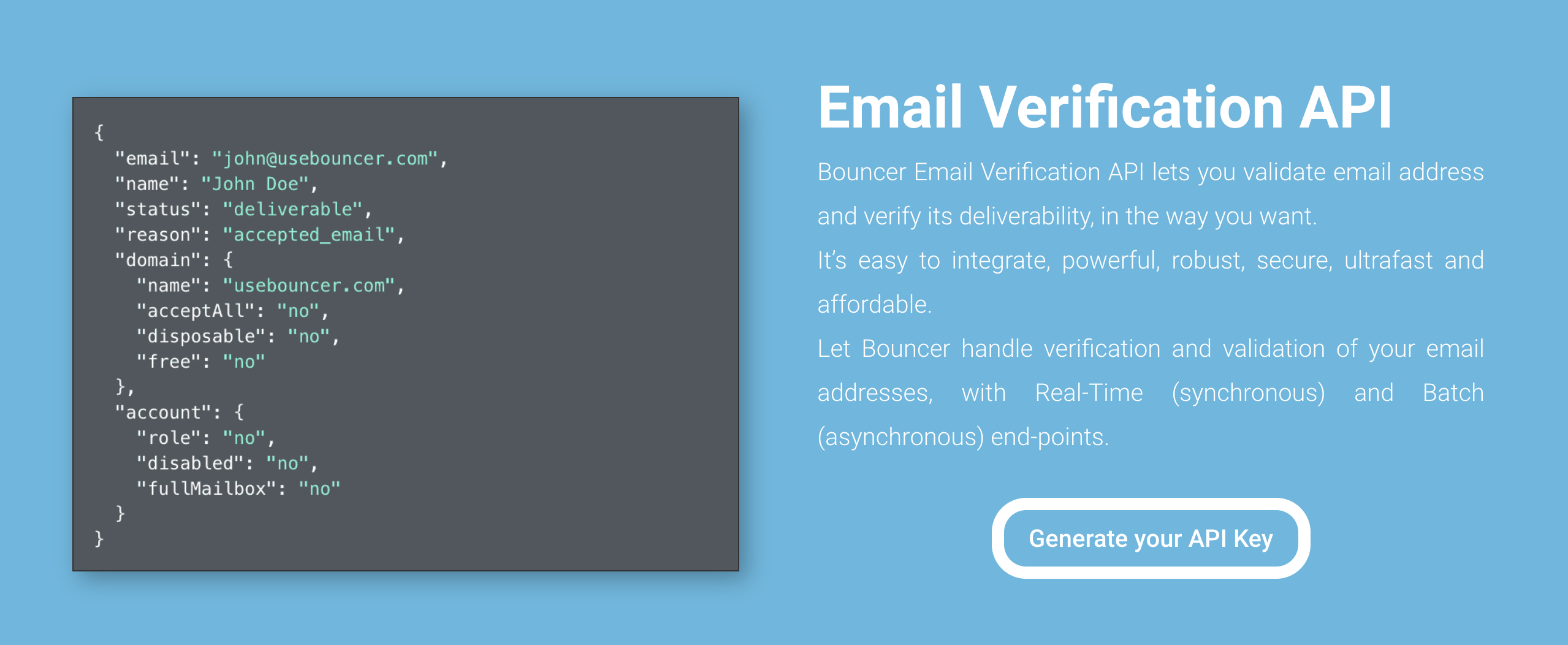 Developed for Developers, by Developers
Bouncer's API was "designed by developers" and is for developers. The website states:
"Multiple endpoints both synchronous and asynchronous will meet your most sophisticated email verification needs. As it is super secure and robust, you and your customers data are safe."
The Bouncer Email Verification API is easy for developers to integrate with internal systems. In fact, Bouncer says it can be completed and ready to use within a few hours. I guess it depends on how speedy your development team are!
They're pretty accurate
Bouncer verifies hundreds of millions of email addresses every month and boasts about "99.5%+ accuracy of the results".
Bouncer really looks like they want to build a long-standing relationship with their clients who are interested in the API.
And it looks like they offer a really exciting proposition 😍
Integrations
Nowadays, integrating SAAS with other SAAS is vital for business strategy – especially from an operations, sales and marketing prospective. Thankfully, Bouncer will not let you down.
All the big boys are covered (well – most of them)
The Bouncer website confirms that their email verification software syncs with MailChimp, Moosend, Woodpecker, Lemlist, ConvertKit, SendInBlue, AWeber, GetResponse, Klaviyo and Constant Contact.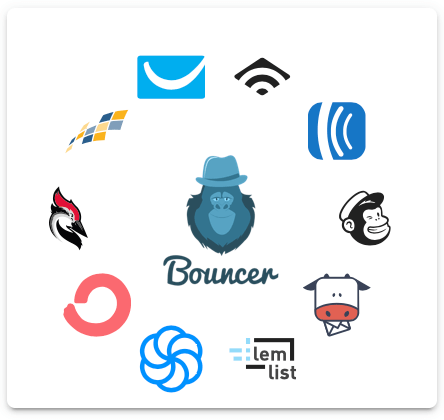 Use software that isn't on the list?
I recommend you don't worry. The Bouncer website states that if this happens – send them an email. Their developers sound on the ball and arranging new integrations is probably a key part of their business development plans.
Send them an email and await a reply – [email protected].
Bouncer Features in abundance 👍
I've said it before, I'll say it again. It looks fab
The layout of Bouncer is simply stunning, from the dashboard to the numerous features. The software has been designed to look sexy – and it is. It's minimalist – but sweet as a nut to use.
It is amazingly user-friendly and within minutes you'll be able to navigate your way around the software and unleash all of its features. Hats off to the Bouncer design and user experience (UX) department – you all deserve a beer!
Bouncer is a SAAS with many features
Firstly, they claim to have at least 99% accuracy with their email verification app. They also validate emails from around the globe, so whatever the format or domain, Bouncer can do the job at hand.
Syntax validation is listed as a feature and why not – it is quite important as part of your email plan. Domain validation is also included in their service and the email containing inactive or invalid domains will be highlighted for you to deal with accordingly.
Finally, the app will validate MX records so that you can identify which email addresses are real and which are fake. All good stuff!
Bulk uploads
You can upload and download .CSV documents with thousands of email addresses. Just remember to ensure you've converted your file to .CSV and you're ready to go (maximum upload – 250,000).
There is Real time option too! And single email checking.
Want to know how much Bouncer will earn you?
Here is an unusual but awesome benefit – calculating your own Return on Investment. This is not a joke!
The Bouncer website has a calculator that allows you to work out "the ROI to end users when verifying emails at the point of capture such as a web-form." Seriously – I'm not joking. Go and see for yourself!
It's made for everyone
Oh, and this is fairly obvious, but whether you're a business owner in a Mexican city, you live in a secluded region is the south of India or you move from nation to nation printing magazines – you'll be able to use Bouncer.
Bouncer customers come from over 100 countries and 6 continents. Whatever your location, they're genuinely international and can cater to your needs!
How much does it cost?
Bouncer is priced very competitively and there is a discount on at the moment, almost guaranteeing value for money.
You can actually sign up for free and you get 100 credits just like that. Fancy emailing them and asking for more? They'll deliver for you.
I also got a sweet gesture from the chaps at Bouncer. They added an extra 1000 for me when I explained why I needed Bouncer. This was a very nice touch 🤑
Affordable pricing
At the time of writing, there is a range of pricing that looks like this: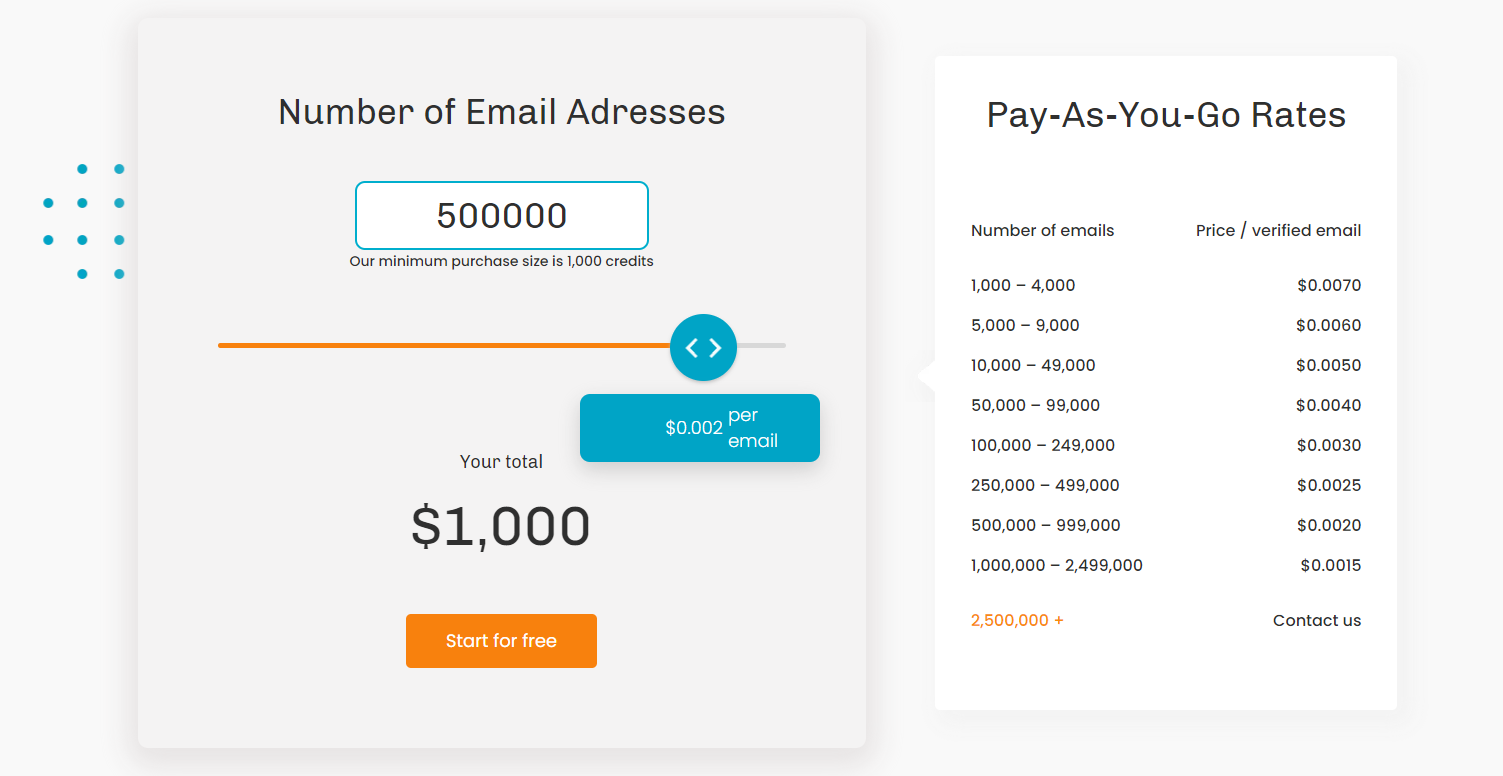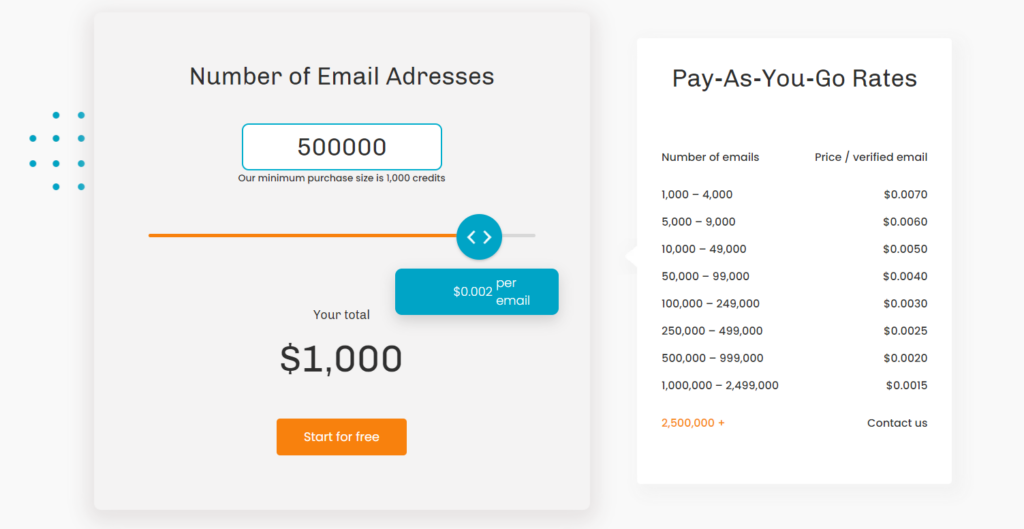 Award-Winning Email Verification Software
Unlike most SAAS, Bouncer can boast about a number of impressive awards they have received from G2. What an awesome achievement.
What have they won?
Easiest Setup (Winter) – 2020
Fastest Implementation (Winter) – 2020
Leader (Winter) – 2020
Leader (Small Business – Winter) – 2020
Best Est. ROI (Winter) – 2020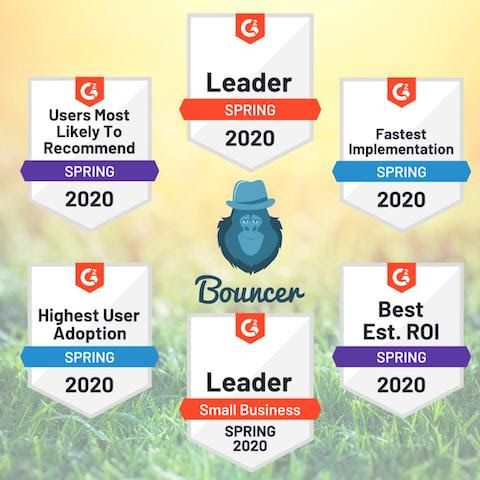 What a brilliant haul and surely a sign of things to come!
Customer Reviews
Bouncer is smashing it on G2
Not only do they have awards, they have some banging reviews too! After 28 reviews, Bouncer has a stunning score of 4.9 out of 5 and places it as one of the best email verifier software's on the website.
Among their clients are known companies such as Woodpecker, ActivePipe, VipeCloud, and BigMailer.
What are other clients saying?
Check out some of these review titles. Really impressive.
"Great quality for a wonderful price!"
"Exceptional support at shocking price." Please note, it is a "good shocking" reference here – the gentleman gave 5 out of 5!
"Finally, an affordable email verification software."
"Bouncer solved serious trouble."
"Quick and cheap email verification service."
They're on Capterra too
I did manage to find a second selection of Bouncer reviews online on Capterra. Bouncer also has a sweet 4.9 out of 5 score after 24 reviews. Please take a look for yourself! There is no question that user experiences with Bouncer are seamless and worth boasting about.
Competitors
There are lots!
The email verification software market is a fairly saturated one. There is no secret that there are loads of providers out there.
It sounds frank but it really is down to you to choose the SAAS that is a perfect fit for your organisation and business objectives.
According to an article on Accu Web Hosting, some of the top 10 and major "email verification" players are: Zero Bounce, myEmailVerifier, Million Verifier, QuickEmailVerification, EmailListVerify, MailboxValidator, EmailMarker, towerdata, DataValidation, and finally, Xverify. These are considered to be some of the best email verification tools on the market.
Support
Old-school but reliable support
The support on offer from Bouncer if you have any questions is pretty old school – phone and email only. However, the team look so friendly and reliable that surely this won't be a problem.
I would expect you to get a reply within 24 hours of raising a query via email and the reviews for the SAAS speak for themselves. It looks like you're in safe hands.
Regarding the phone network – they have a small team so I cannot be certain how likely it is that you get through immediately. But they advertise it – so why would they lie?
Oh, and I must mention the live chat that is available on the Bouncer website. This may be useful – who knows!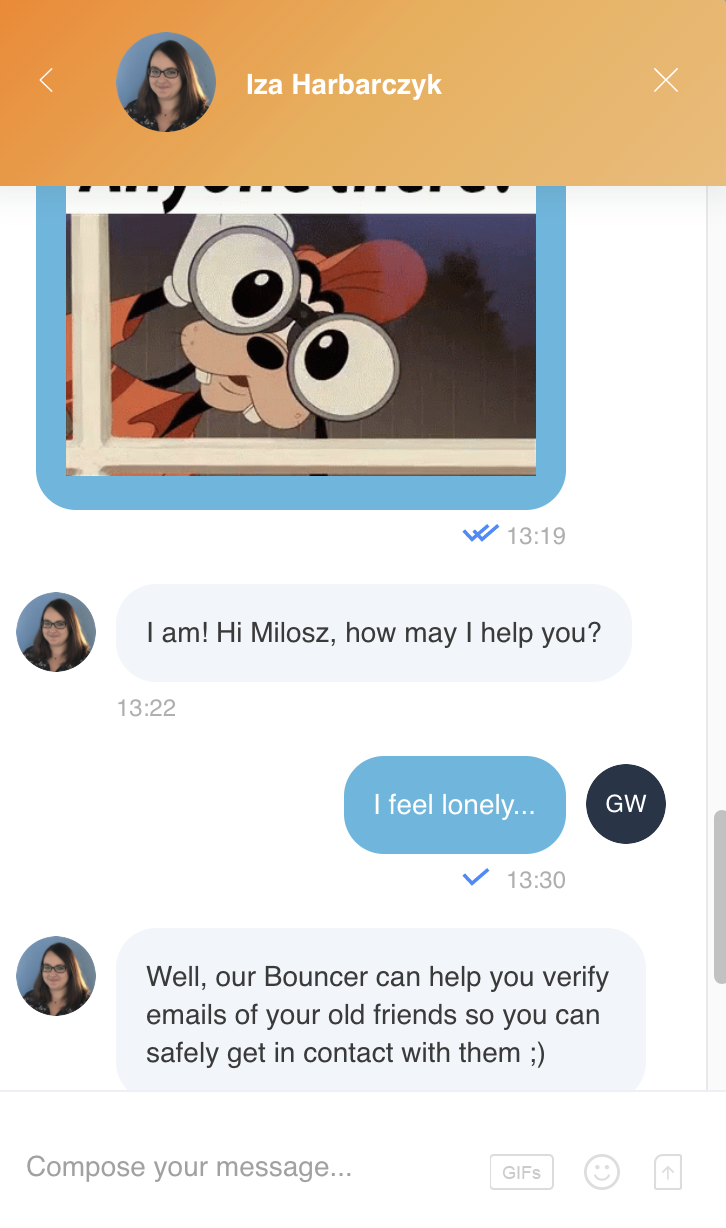 The results are in and we have a conclusion…
As far as email verification software goes, Bouncer is pretty new, having been founded in 2017. Therefore, you won't find it appearing in many articles on software review platforms such as FormGet and TrustRadius.
But, despite only being around for three years, the reviews on G2 are phenomenal and very well justified. Just look at some of the comments from happy customers that I have quoted above!
Amazing value for money
If software is to be successful, it must offer a brilliant value proposition and as you would expect – Bouncer does just that.
So, what is the best email verifier tool? I believe that Bouncer offers a compressive email id verification tool technology at a fraction of the price of some of the major competitors. Therefore, I'm going to commit – the answer is Bouncer.
It certainly shouldn't be ignored when you're next looking for a SAAS to eliminate external bounced emails. Your soft and hard bounces will plunge with Bouncer. It will aid your marketing strategy.
If you achieve less bounces then you will get more opens and more clicks on your emails. More opens and more clicks should result in more conversions. Sending content to the best data lists out there will ensure you're on to a real winner.
I have been very impressed with Bouncer and I recommend you give it a try for yourself.
Good luck!
Catching up with the CEO at Bouncer
I was recently able to catch up with the CEO at Bouncer for a quick chat. Here are the questions that I put to him.
What motivated you to create Bouncer?
While working on my previous assignment, we were struggling with the problem of mistyped (and thus undeliverable) email addresses. Soon after that, I have learned that there are many people who suffer from invalid or already obsolete email addresses.
I knew there has to be a solution… what if there was a way to verify email address while capturing it and just before sending an email?
So I gathered a small team and we've started with a proof of principle project, that later expanded to proof of concept and finally lead us to Bouncer.
What made you interested in the industry?
I believe that when people communicate, great things happen.
Plenty of communication, in nowadays world happens over an email and it's just a pity that mistyped or obsolete addresses may affect our abilities to share our talents and skills with those who need them.
What makes your tool different from others on the market?
There are many email verification service providers, but there is only one Bouncer. Our solution is powered by the newest technologies, that make it powerful and reliable.
But it's the flexibility and having a user experience in the focus, that makes both our API and App so easy to use or integrate. Not to mention, it's GDPR compliant by design.
How do you feel your tool benefits those that use it?
Regardless whether you are using our App or our API, you can spend less time, energy and your talents on invalid emails, so you can focus on what you do the best, and nurture your connections with your customers.
Conclusion
If emails are an important part of your business, you know that you must keep your lists clean.
Now that I have told you a little bit more about Bouncer, you might want to test it out and see for yourself how well it works. Sign up for your free account, and give it a go!
Interested in trialling Bouncer? Use the special promo code: MILOSZ to get 10% off your purchase 😊
I am definitely staying with Bouncer and will let them protect my business, as they have so far earned my trust by both their product and their attitude towards customers.