Looking to up your SEO game? Surfer SEO might just be the answer. This powerful tool provides a range of features that can help boost your website ranking. From analyzing your competition to identifying optimization opportunities, Surfer SEO has got you covered.
We live in an age where the digital world often surpasses the physical one, and having a basic understanding is no longer good enough if you want to come out on top.

Michal Suski Surfer SEO Co-Founder
There's no need to despair though, as the excellent tool Surfer SEO tool can help you to reach every corner of your website, optimising it and ensuring that it can be seen across the globe.
It's really simple to use as well, something that this post will make clear for you. Here's a Surfer SEO review.
What is Surfer SEO?
Surfer SEO is a cloud-based on-page content intelligence tool. It gives you the opportunity to analyse Google Search Engine Result Pages on a deep level, and one that is not often offered by other tools.
This allows you to really fine-tune your pages so that you can have the best possible ranking, ensuring that you are using the correct and best keywords, and it will compare the key on-page factors of over 40 of the top ranked web pages within your sector. Surfer SEO makes the work a walk in the park.
Surfer SEO is used by plenty of recognizable companies, such as FedEx, ClickUp, Opera, Shopify, and many more.
It's full of great features to make your life easier, something that I go through in the next section.

Surfer SEO has built an excellent list of clients as it made its way into the international market; and there is the option to go through with an $1 trial before you purchase the full plan (more details on pricing can be found later on in this review).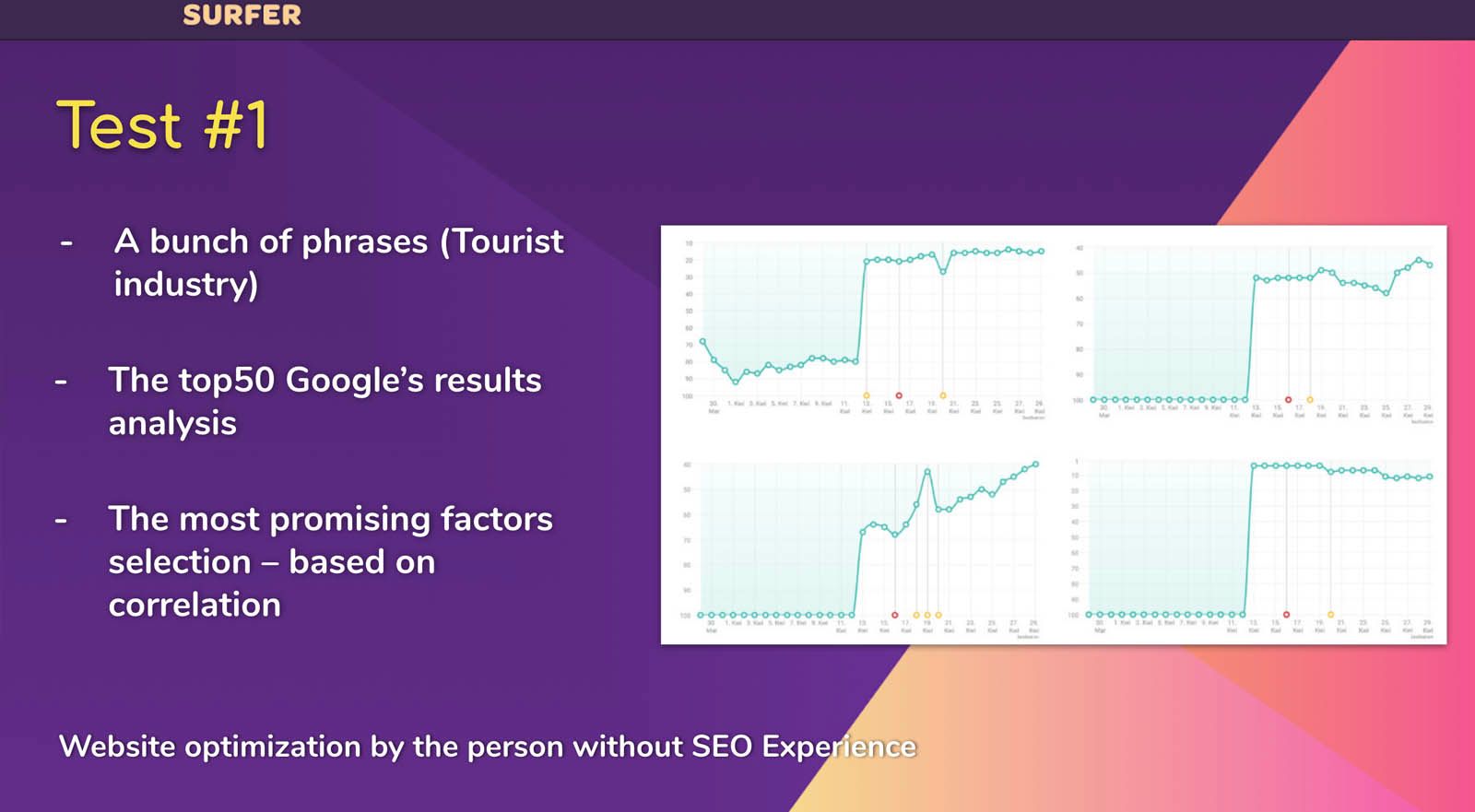 Surfer SEO Review – Tools and Key Features
Surfer SEO has a huge number of features that are incredibly useful and innovative, which is part of what makes this tool so brilliant.
I have taken the top, and most important, features and listed them here so that you can see what makes Surfer SEO stand out from the crowd.
1. Easy Content Editor
Now that is a beast of a gadget. This content optimization tool makes writing a SEO-friendly blog post like a walk in the park. You can provide a brief for your writer without manual analysis, looking at boring charts and notes of terms to use in the content. This also comes in handy if you need to edit content to re-optimise your posts enabling you to rank higher.
As a result, it frees the content creators to focus on writing great content and not worry about all that math that comes with it.
All you need to do is select the keywords you want to optimise for, choose the websites you want to model on (you should pick the ones that are similar to yours), define the length of your article and start writing. In other words, the Content Editor will:
Calculate keyword usage
Choose the words to use
Calculate the word count
Tell you how many headlines, images, paragraphs, and bold words you need – basically the whole content structure
Provide you with example questions to answer when writing.
All of that with live verification if your content is appropriately optimised and in any language. You can even use it in Google Docs or WordPress with a Chrome extension. If you're a copywriter who wants to put the SEO factor in his content – it's never been easier! Or, if you're an agency that hires copywriters, all you need to do is share the unique link with the Content Editor and you're golden!
Example: South London parks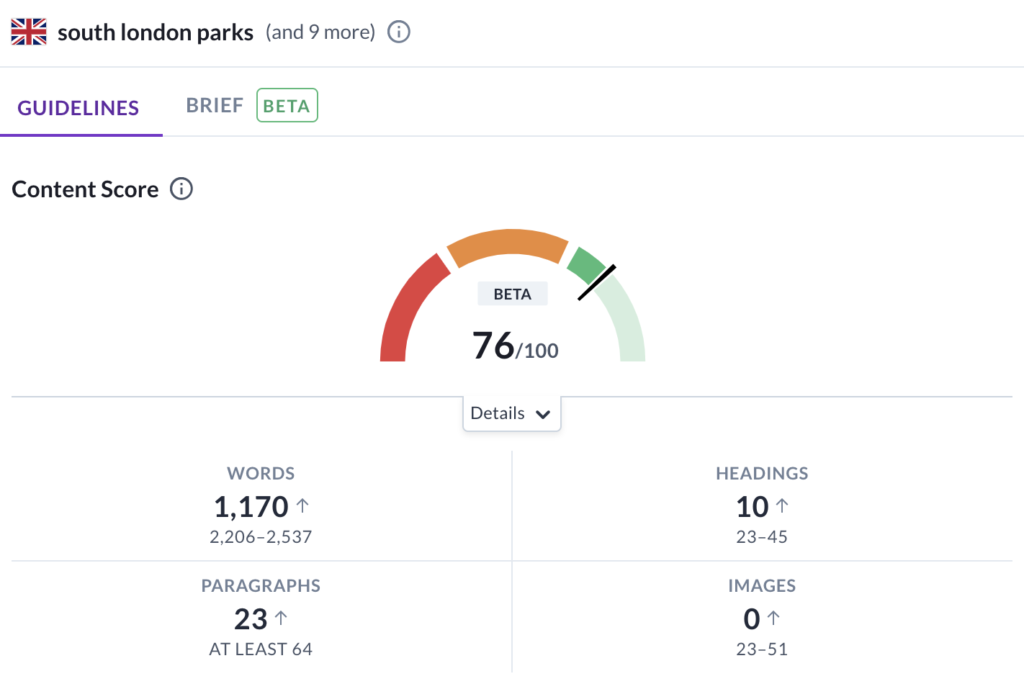 Surfer SEO Content Editor suggestions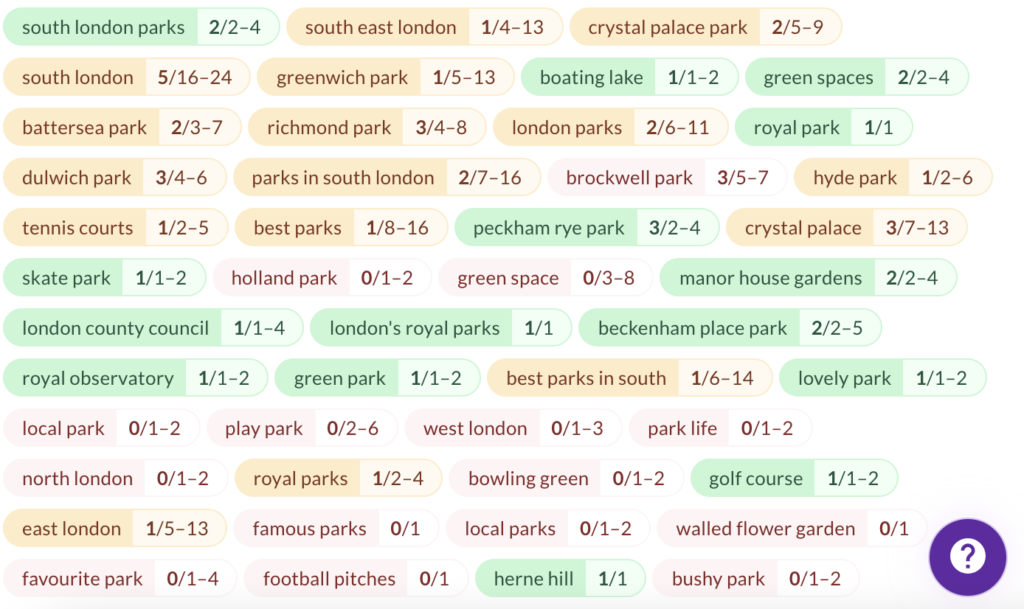 All of these suggestions make total sense for an article describing South London parks.
Example: Product marketing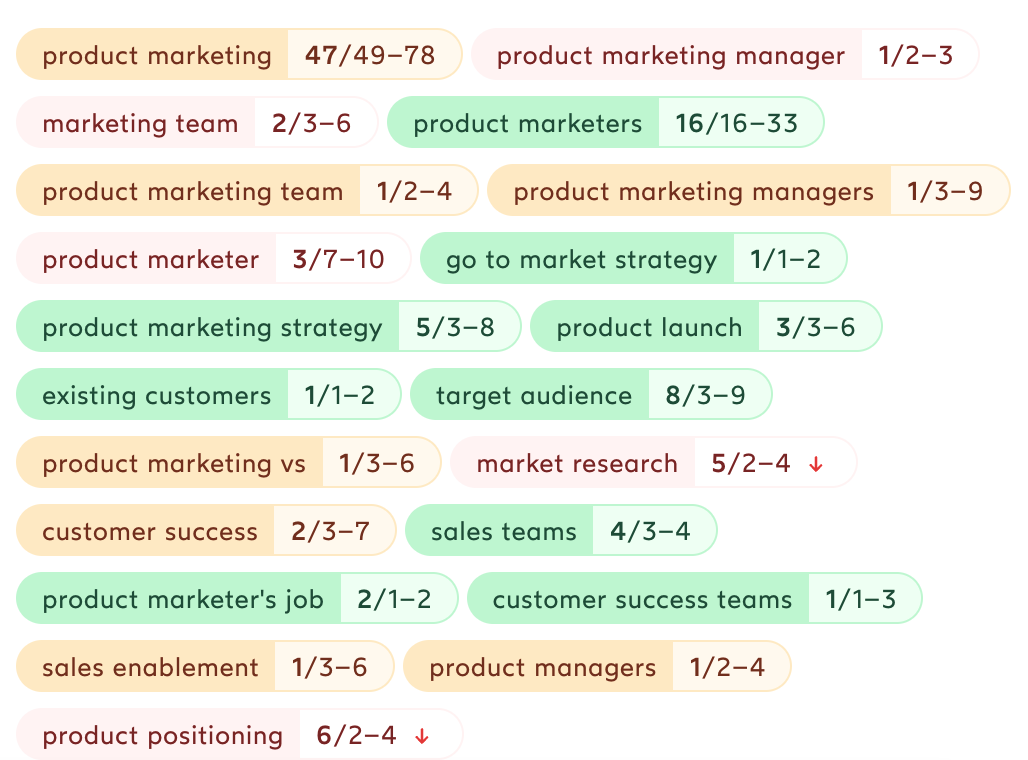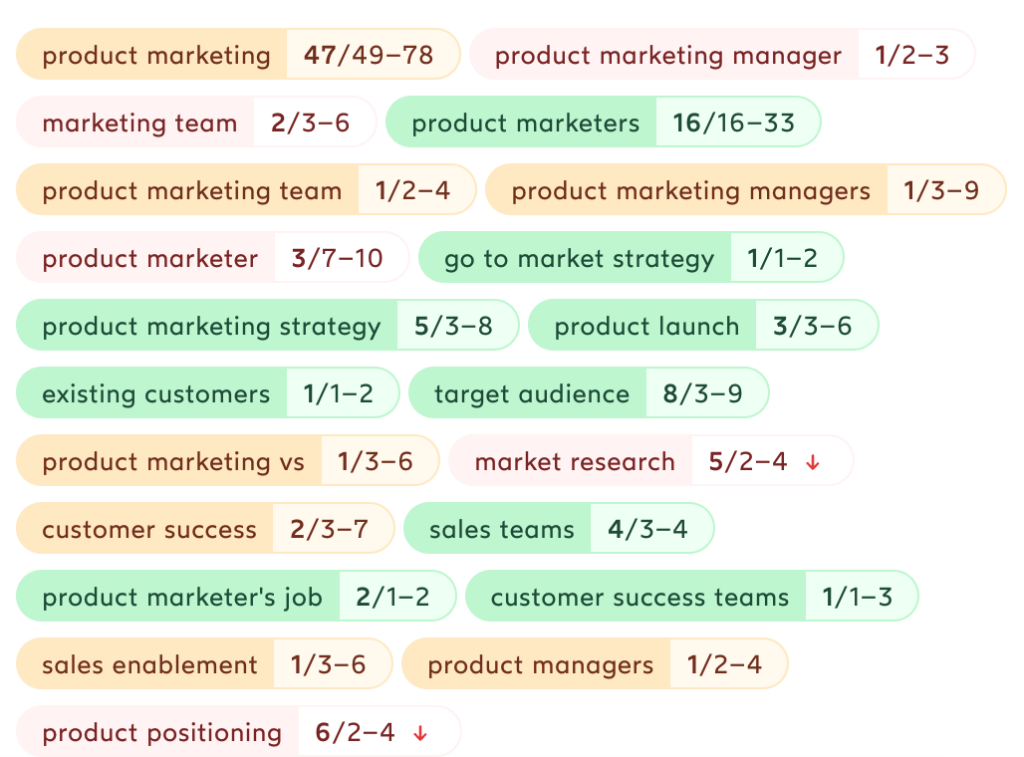 This is just a snippet – there are dozens more keywords. Surfer suggests keywords that are easy to insert stylistically and grammatically. You don't need to sacrifice content quality for performance.
Are they any good in practice?


You tell me!
2. Surfer's Keyword Research Tool
Another highlight, this makes it possible for you to keep the keyword research limited to just one platform – Surfer SEO. You can choose the best keywords Surfer SEO suggests, then analyse your Search Engine Results Pages and optimize content without switching to a different tool. It's as easy as putting in your desired keyword in the search bar.
Then, you instantly get valuable data on each keyword you put in – information such as similar keywords, related searches, keyword difficulty score, or queries containing the same terms. Moreover, it allows you to keep your preferred keywords in a convenient clipboard.
3. Technical insights via SERP Analyzer Tool
This feature allows you to reveal strategic technical advantages quickly and accurately, with the tool examining high-ranking pages from across the globe so that you are able to target location rankings from anywhere. This makes the on-page SEO optimization process simpler and takes a lot of the hassle out.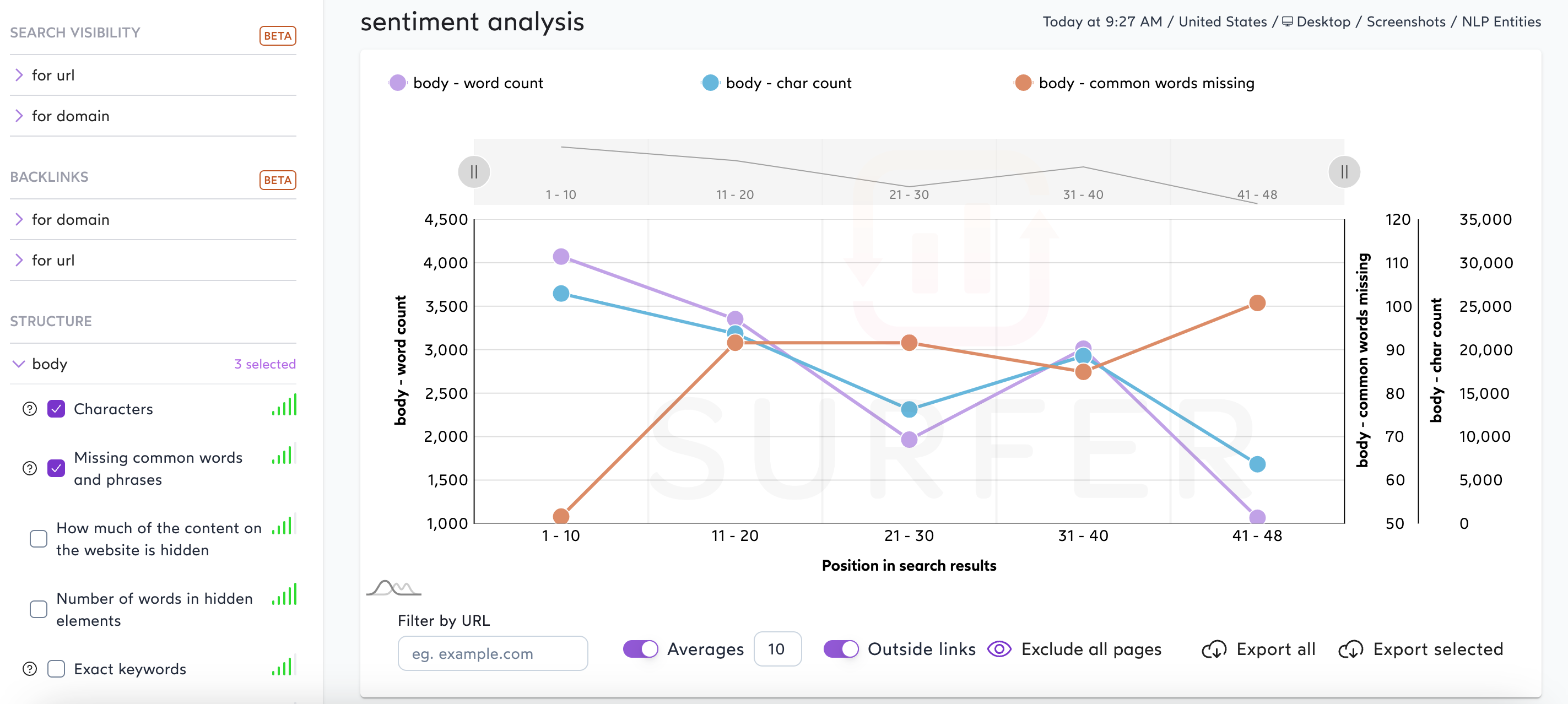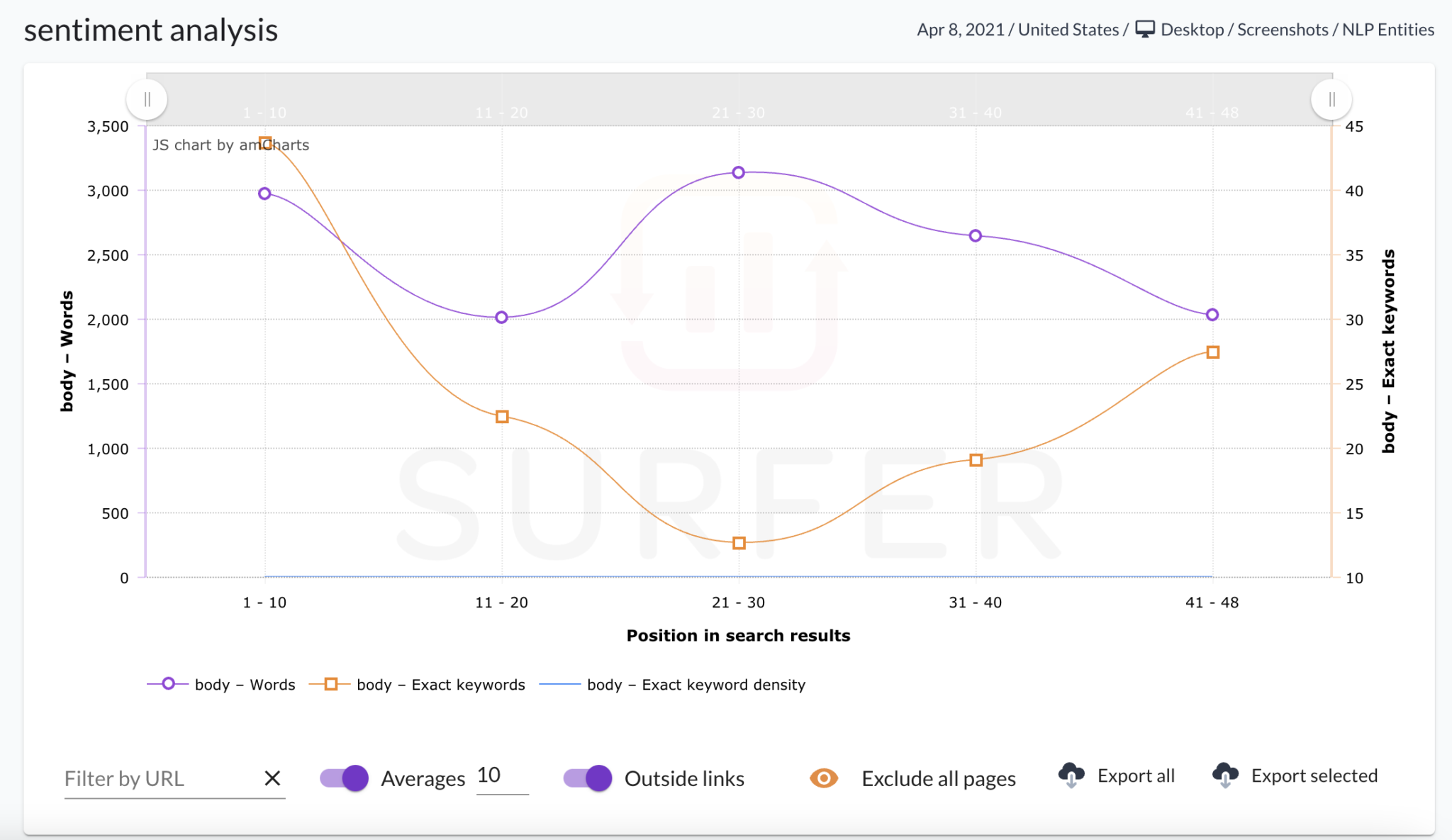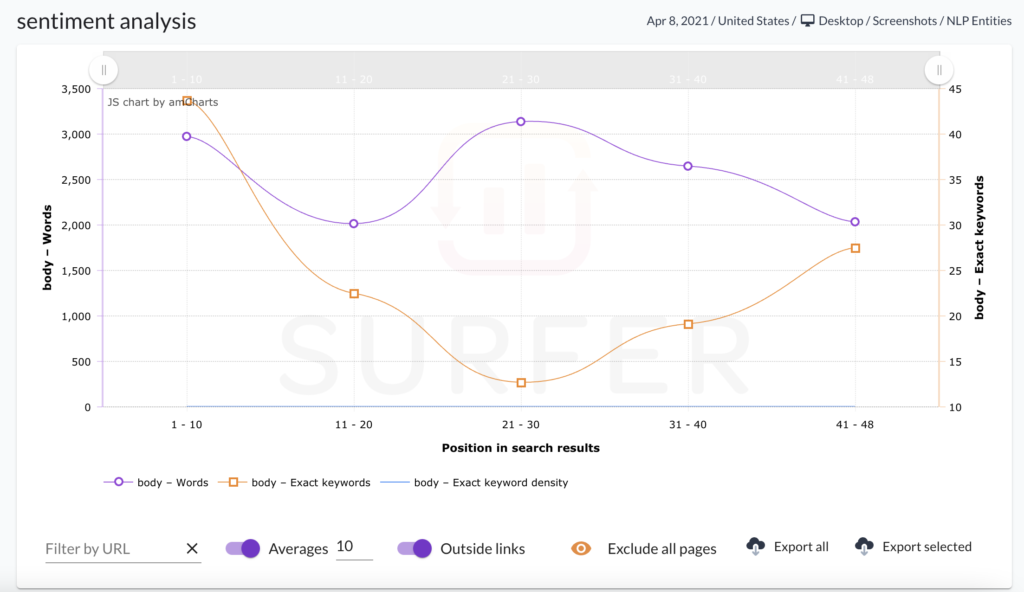 You can also compare your page directly to the top-ranking pages of your competitors: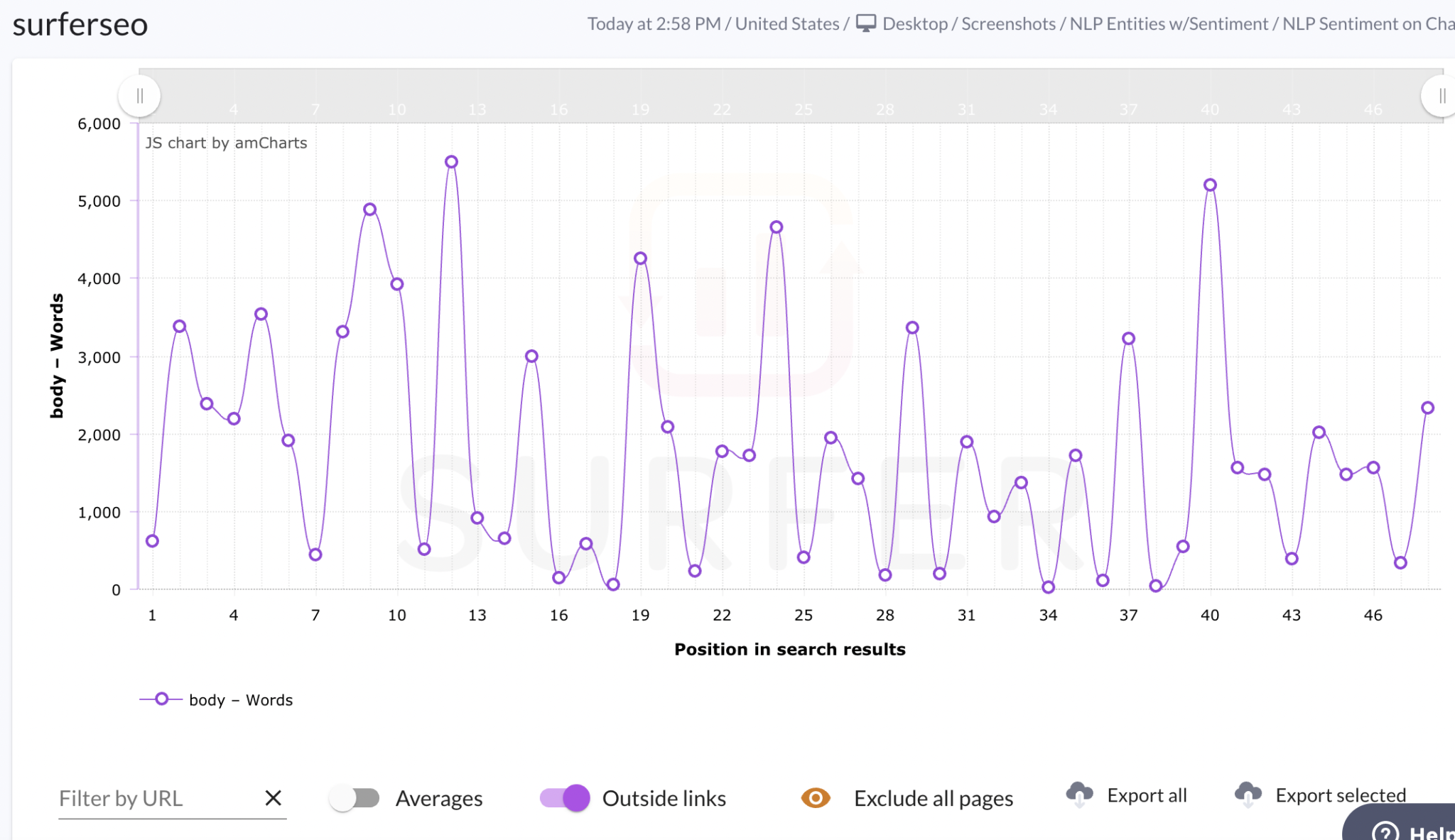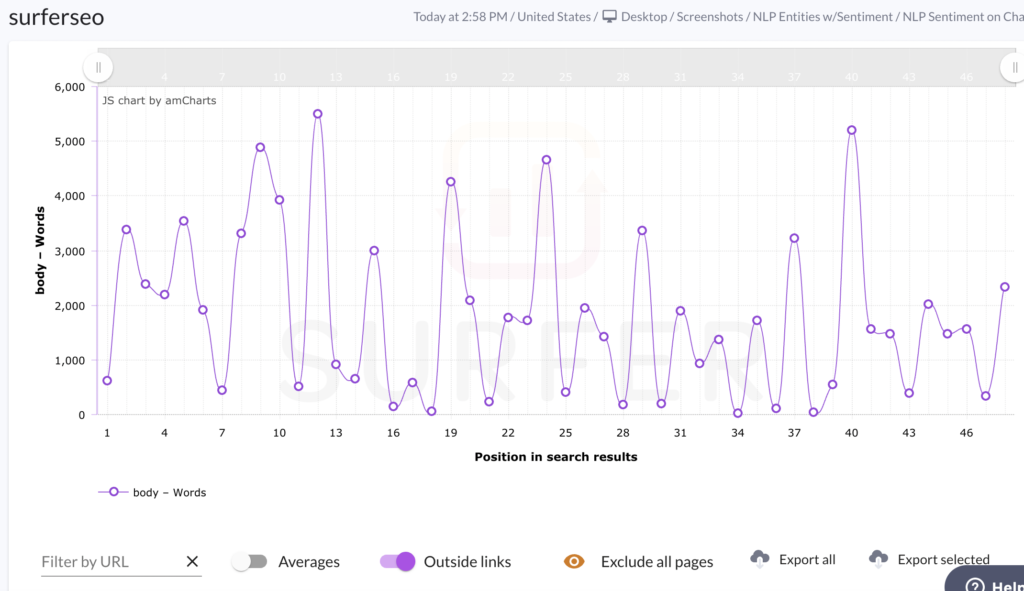 4. Surfer SEO Audit Tool
The audit provides full data about your page:
Missing common backlinks,
Internal links,
Terms to use,
Questions to answer,
Exact and partial match keywords,
Metatag length,
Alt text,
Anchor text,
Page loading speed issues.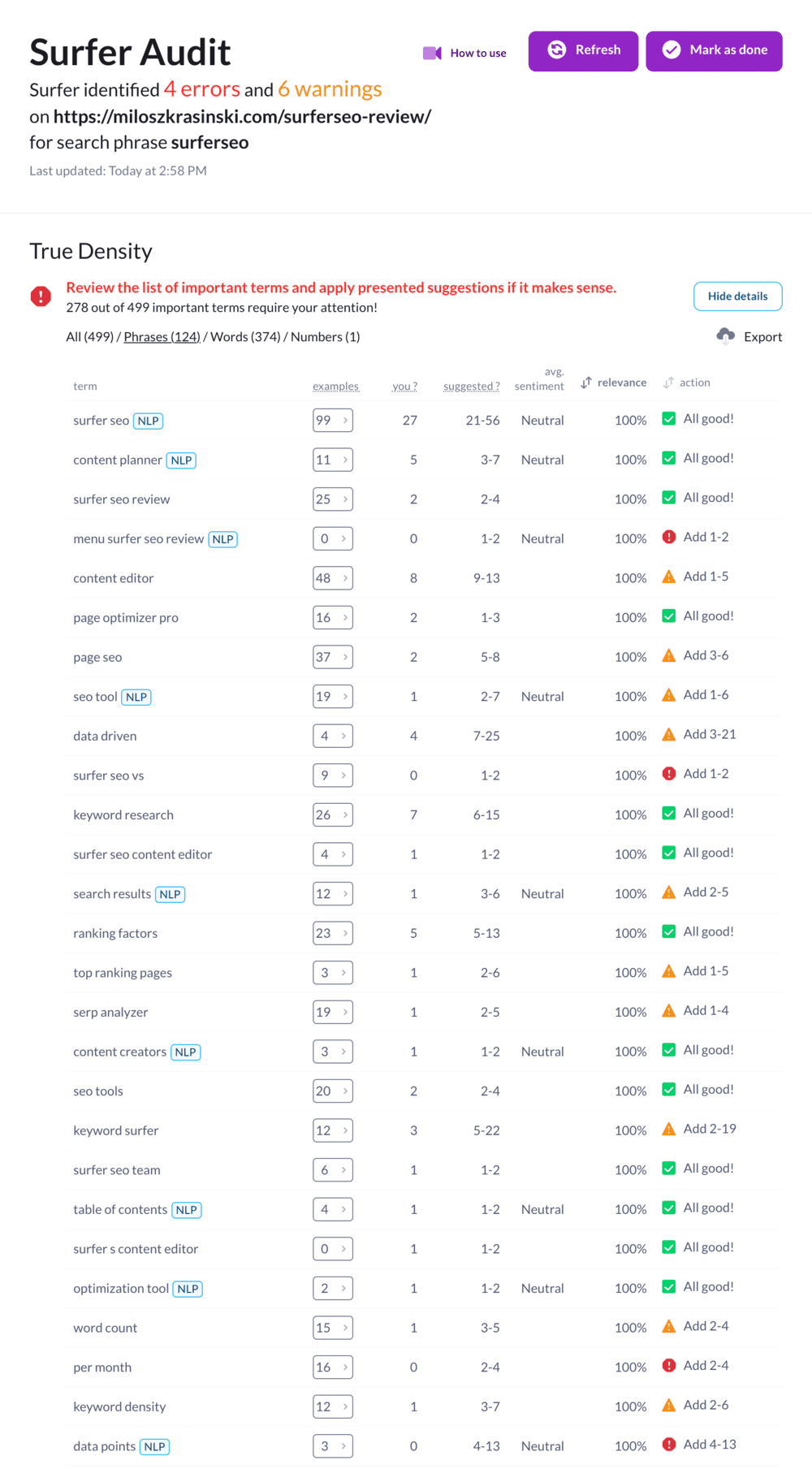 You can improve your own content, and analyse your competitors to find any low-hanging fruits.
5. Content Planner
The so-called Content Planner is truly one hell of a tool. Its main purpose is the creation of topically relevant keyword clusters. That way, it's possible to have a powerful topical relevance among your articles, which is, as we all know, vital for the performance.
Content Planner creates lots of keyword clusters related to the main focus keyword. This, in turn, allows you to create a content plan for months ahead. Here's an example content planner for the target keyword "sentiment analysis":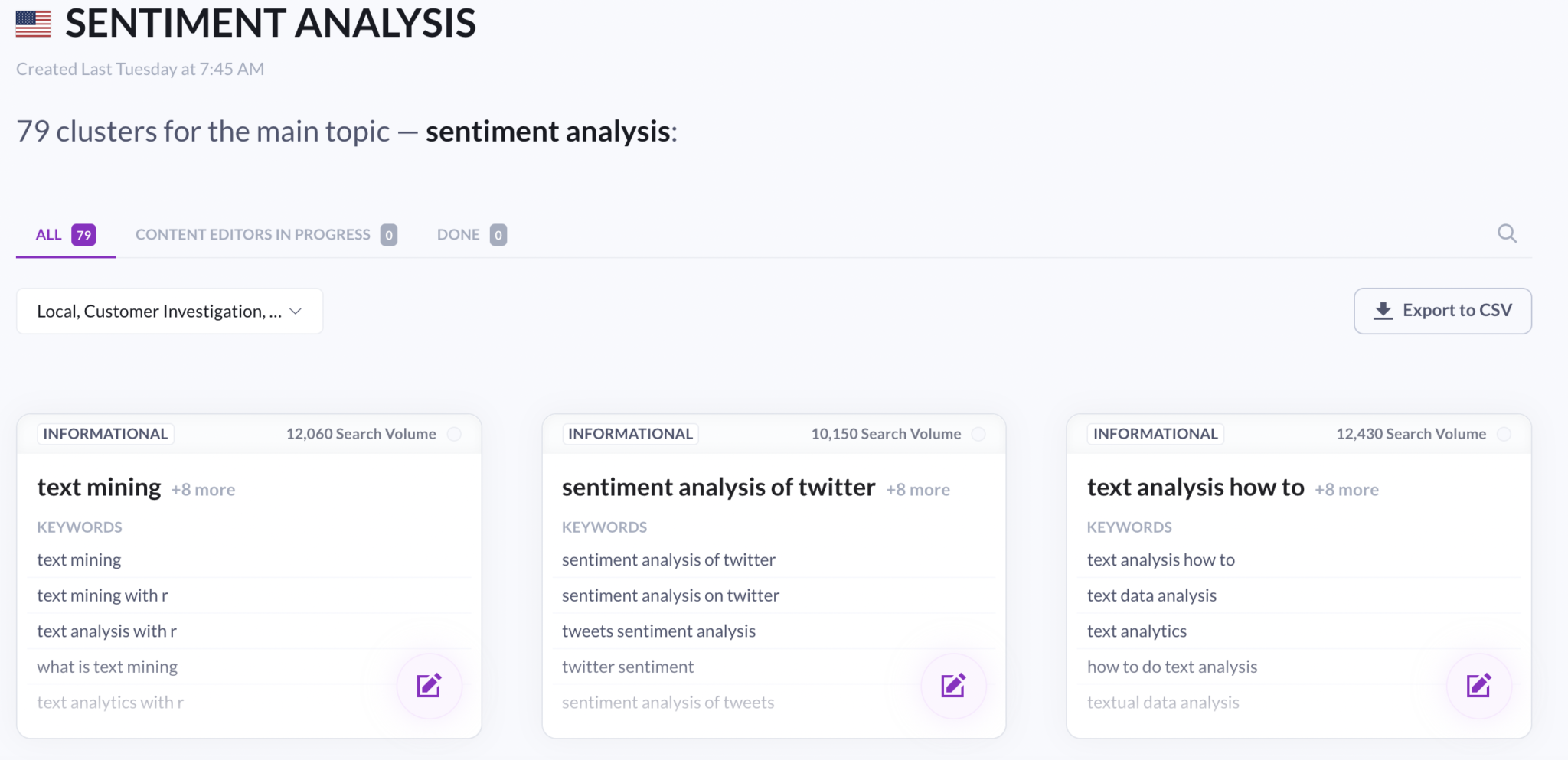 As you can see, 79 topical clusters were created. The clusters are then further divided into topical target keywords. Each of them can be used to make a content editor guideline.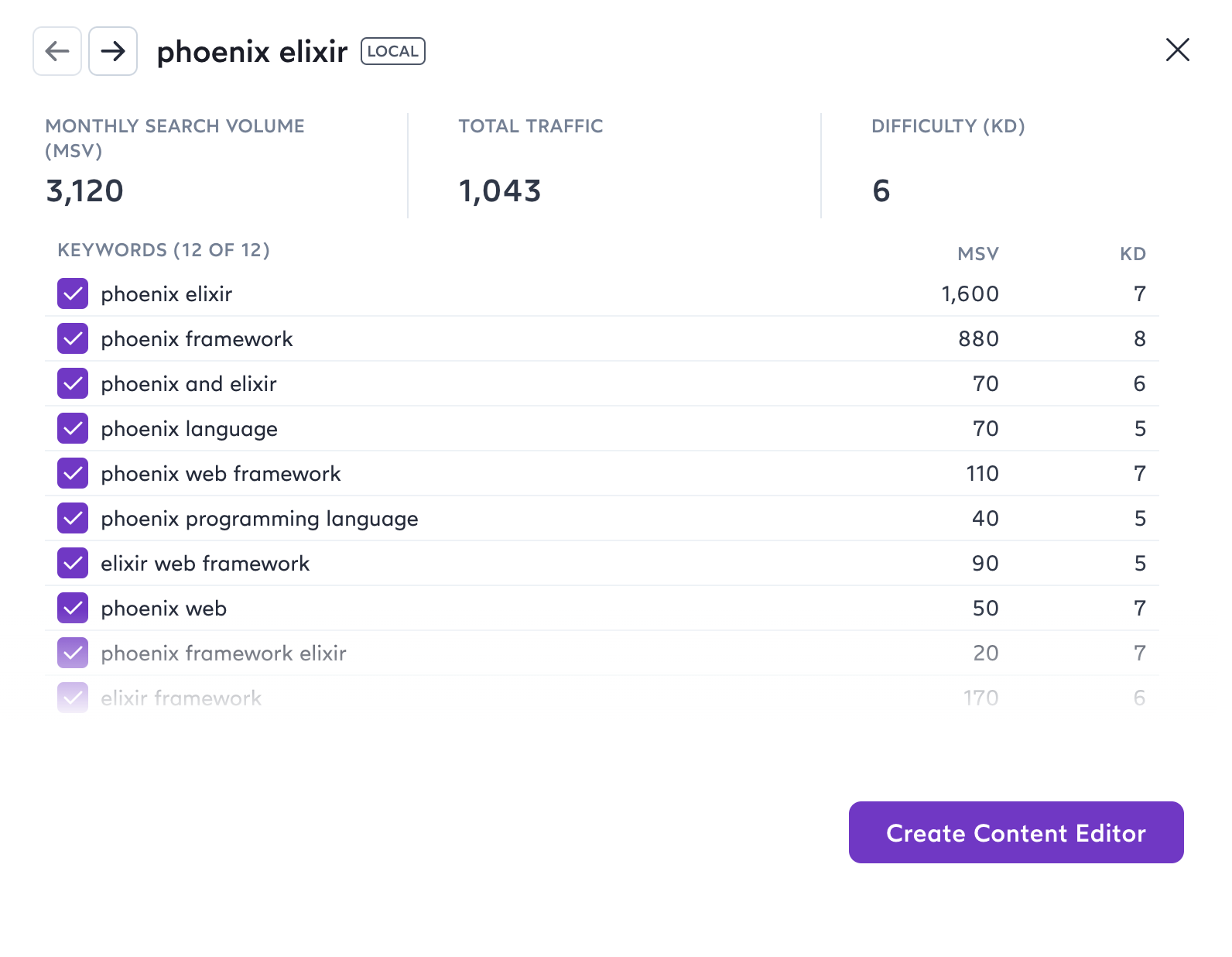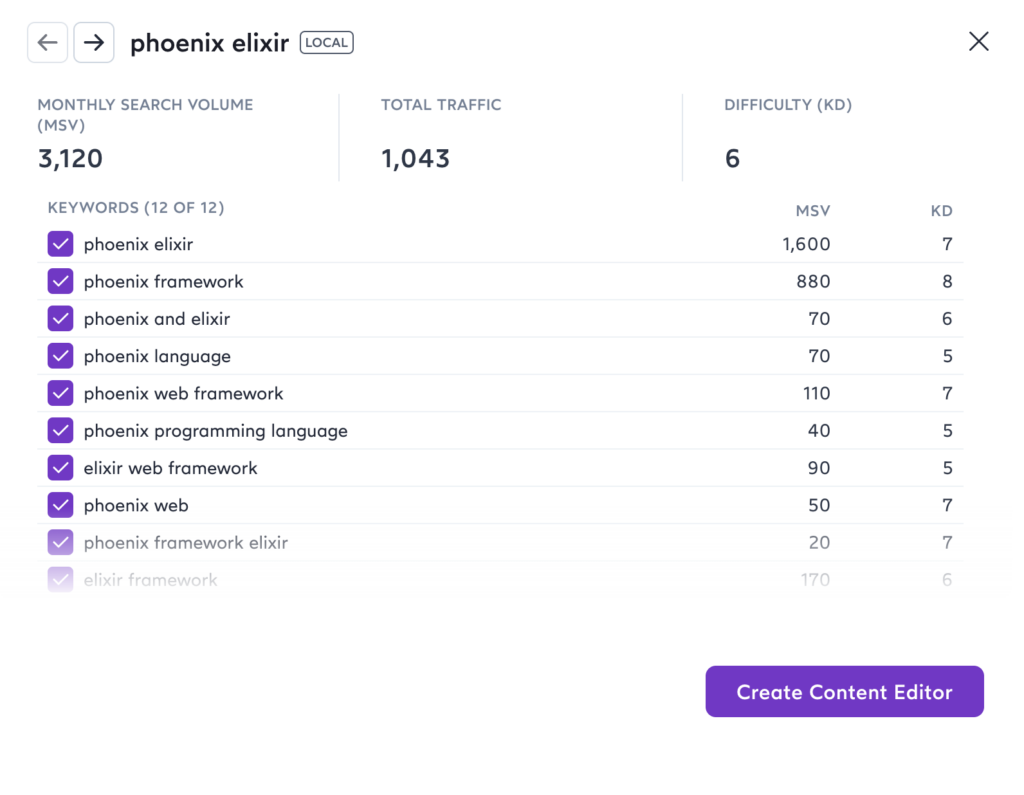 It shows the search volume, search intent, and traffic. I believe that this is a huge addition to the Surfer SEO arsenal. Content Planner saves you hours upon hours of work by building the clusters via machine learning technology. And I'll tell you, it works beautifully. It only takes a couple of minutes for Surfer SEO to come up with content plans even for niche, local keywords.
6. Grow Flow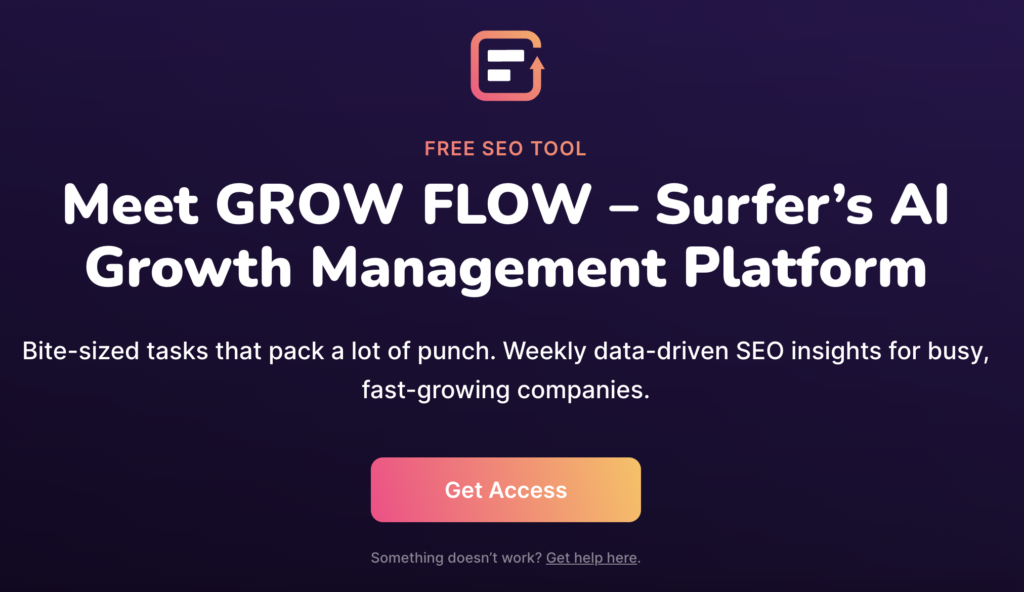 Grow Flow is a newly-introduced freemium feature by the Surfer SEO team. Each week, Grow Flow will give you tasks to complete. You get a complete report as to what to do next, be it writing an article, adding some keywords, internal linking, or acquiring backlinks. It also features a never-before-seen integration with Semrush whereby you're handed new backlinks your competitors have gotten.
All you need to do is connect your Google Search Console to Surfer SEO and you're all done!


The results speak for themselves.
7. User-friendly interface
User interface is incredibly easy to navigate, with a clear display that will allow you to switch between sections quickly and efficiently.
Everything is so well laid out; you won't find yourself stressed out over where to find things because it's been designed with you in mind. It doesn't really take much to learn to use Surfer SEO.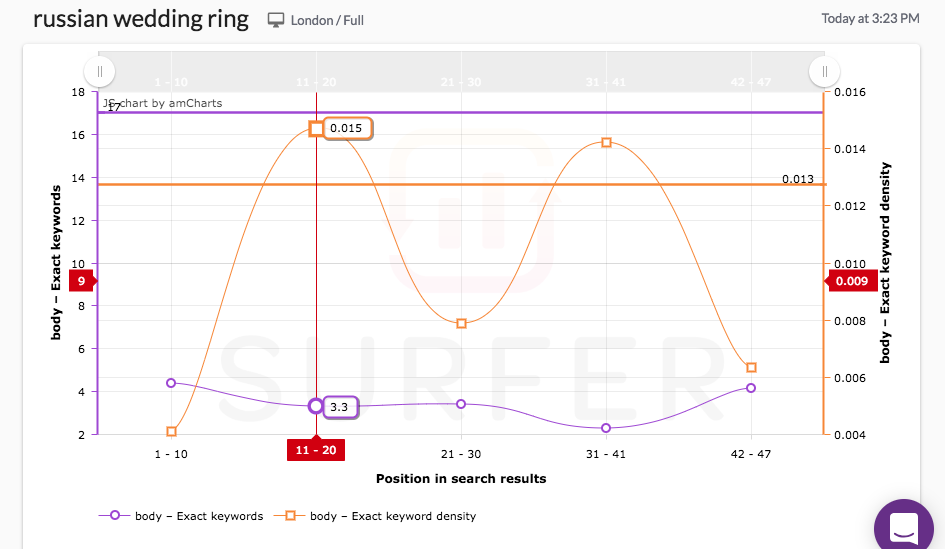 8 Over 500 ranking factors
This is incredibly detailed information, letting you get right down to the core of your ranking issues so that you can get the best possible results from search engines.
With over 500 ranking factors available, you can rule the web effortlessly.
9. Easy to learn
The whole system is incredibly simple, despite the fact it digs so deep into the world of SEO.
This means that you can spend less time learning and more time figuring out how to make the most of your new SEO tool.
Surfer's founders made the tool with the democratisation of SEO in mind. According to their About page, "At its core, Surfer SEO aims to make SEO accessible to anyone and everyone regardless of geographic location or educational background; to democratize organic traffic with user-friendly, data-backed, on-page search engine optimization."
10. Helpful for freelancers, agencies and even copywriters
No matter your profession, Surfer SEO can help you to enhance your business, create new leads, and make sure that you rank high above your competition.
All it needs is your hard work combined with the instant power provided by this tool.
11. Top support team – email, chat, hangout, and webinars.
The tool might be amazing, but the customer service is equally important, and this tool comes out on top again. I found the Surfer SEO team to be the most responsive compared to any other customer support.
Even if you are struggling with the smallest aspect of the tool, the team will help you through it via email, chat, or even a walk-through using Google Hangout.
Surfer SEO also has a Facebook group where users can ask questions or discuss the various usages of the tool. The community is currently flourishing, with over 3K members. You can easily contact the support team via the group as well.
Also it's worth discovering their specialized SEO Surfer webinars.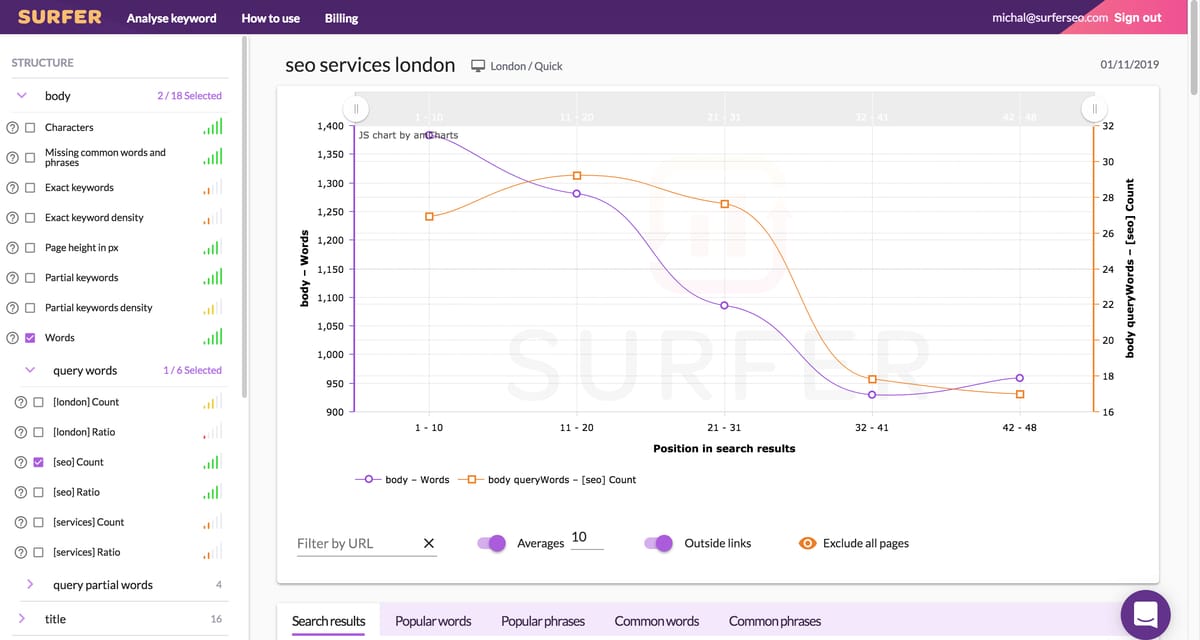 12. The new algorithm for Content Analysis
Surfer is the only tool on the market that can, with this new update, assess your content with never-before-seen precision and reliability. Most importantly, it not only evaluates if there is the right amount of a given keyword in your content. It also covers the aspect of prominence. Prominence is a value you can give to a keyword on a given position on the page.
The aspects Surfer covers while making an appraisal of the keywords are placement, font parameters such as size, weight, decoration, opacity, hidden terms, links, contrast, all-caps words, and headings. All of those parameters let Surfer assess whether a keyword is prominent enough or not.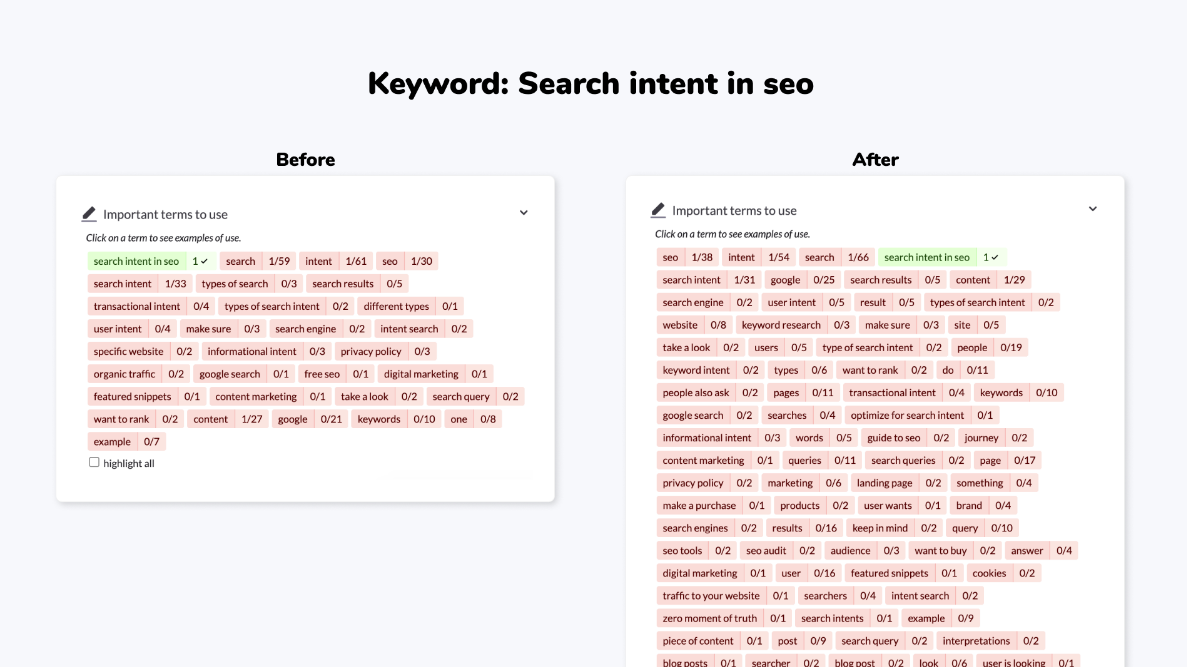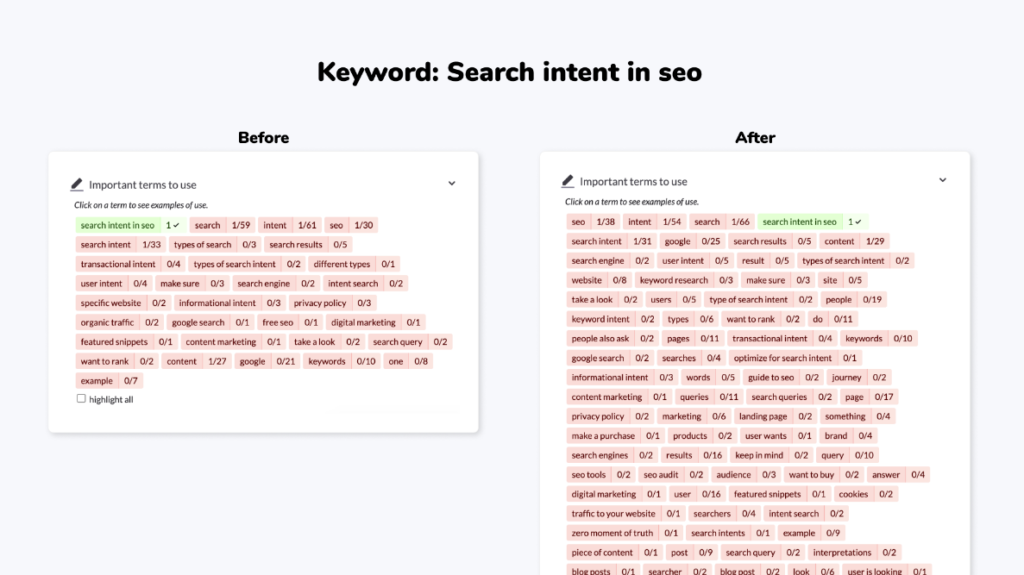 13. Similarity score indicator and related questions
This feature grants you the ability to easily see what queries are similar to your keyword and represent that in a number form. Firstly, it gives you other keywords that result in a similar SERP. And secondly, it also provides real related questions with the volume of searches.
It therefore makes for easier, more effective keyword research and takes the tedium right out of it.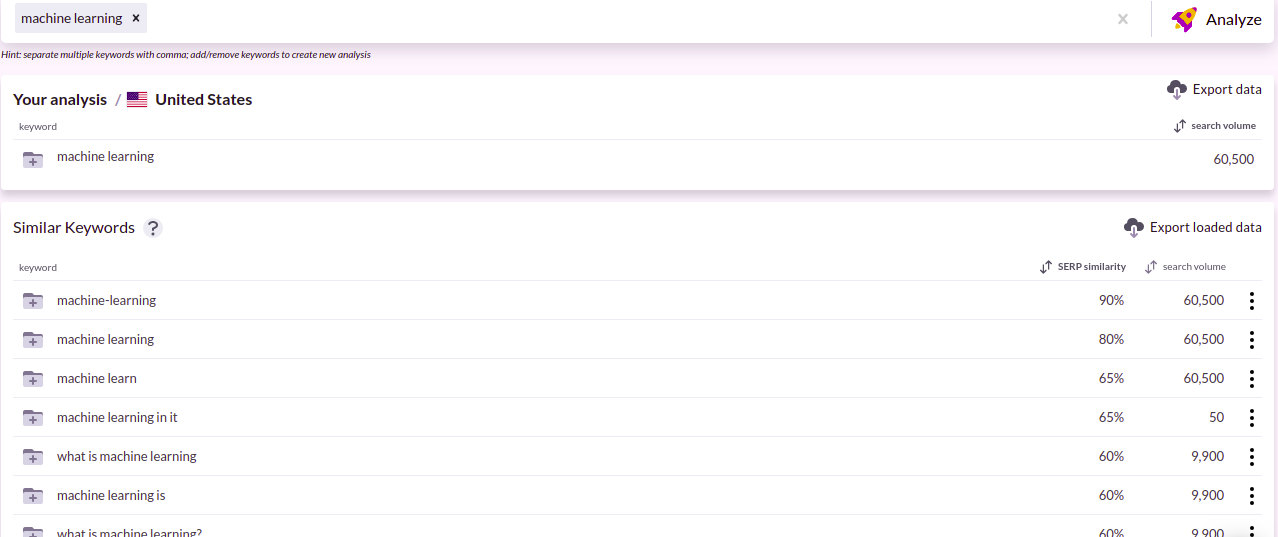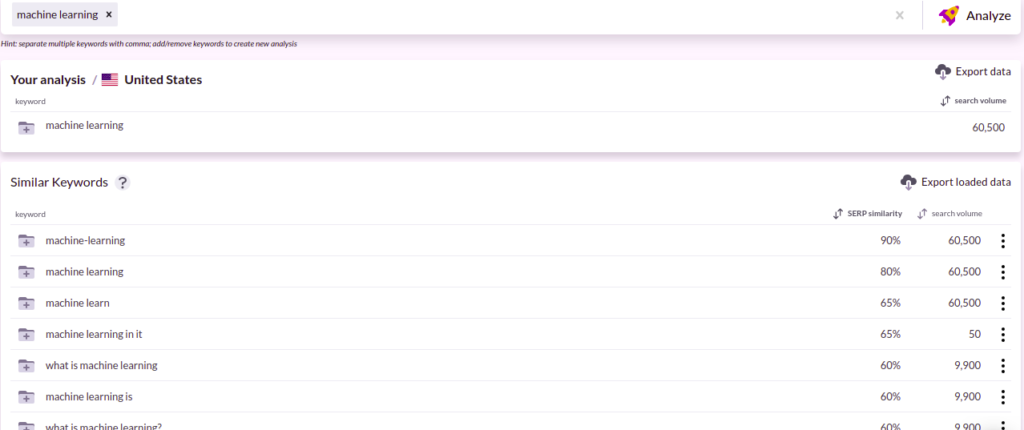 14. Structured data analysis
This one provides you with the option to analyse your schema markup and fix it. You can for instance see what type of markups your competitors are using and make changes accordingly.
You can compare yourself with others and find the right markups to fix without much hassle, while it previously would take ages to stray across hundreds of schema types.

15. Free Keyword Surfer browser extension
This simple tool allows you to see valuable data from the level of SERP – you get a box containing all of that information just to the right of the results. It contains:
Search volumes for a given phrase
SERP similarity
Number of backlinks
Estimated organic traffic from the search results
How many words are on a page.
Now you can do basic keyword research directly from the SERP. If that's not convenient – I don't know what is!
16. Exclusive Content Score
Surfer introduced what they call the most accurate metric for assessing your on-page SEO on the market. In other words, it ranks your content on a 0-100 scale and takes into consideration factors such as:
Content length and structure
Images
Keyword density
Title and headings
Usage of relevant phrases.
One content score is an evaluation in the context of only one query, as different keywords produce different results. This data can help you make out if the content you write for your site is on a good enough level – without any hassle and therefore achieve a higher spot in the SERP.
What is a good score in Surfer SEO?
It all depends on your competitors. If their content is ranked lower than 50, then going above that could be enough for you to appear higher up in the SERP. However, if your competitors have a score of 70 or higher, you should try your best to beat it by using the correct number of keywords and adjusting the structure of your content to have a chance to take on even the big players.
Remember that the content score is an internal feature of Surfer and while it correlates with ranking, it's not something that Google respects. Don't stuff the content with too many keywords as it will come across as unnatural. Write for humans, not for Google.
17. NLP (Natural Language Processing) analysis
Surfer is connected with Google and IBM Watson NLP APIs. It enables you for sentiment analysis that you can conduct on a graph just like any other factor. Surfer compares you to the top pages from the SERP and helps you get an understanding of your position among them.
The Google NLP API also tells you the context of your sentiment is mentioned in. It can either be positive, negative, or neutral. Surfer sends out the top ten results to Google, and that in turn can provide you with a certain system of terms and cover entities that are essential to rank for each query. You can get NLP Credits as a part of the pro plan.
Quite recently, Surfer has implemented their very own NLP feature which works even better than Google's API, proposing entirely new LSI keywords for the chosen seed keyword far more accurately than third-party apps.
18. Integration with Jasper.ai
Surfer has quite recently made the move to integrate their tool with Jasper.ai, formerly Jarvis. It's an AI writing assistant that can generate natural-looking text based on input. The integration with Surfer allows for seamless on-page SEO analysis by simply switching the mode to SEO. It puts Surfer Content Editor into Jasper.ai's writing app, and that's it. You know the rest.
Keyword suggestions, on-page analysis, word count – exactly what you need!
From there, you can create guidelines for your copywriters or run a SERP analysis, too.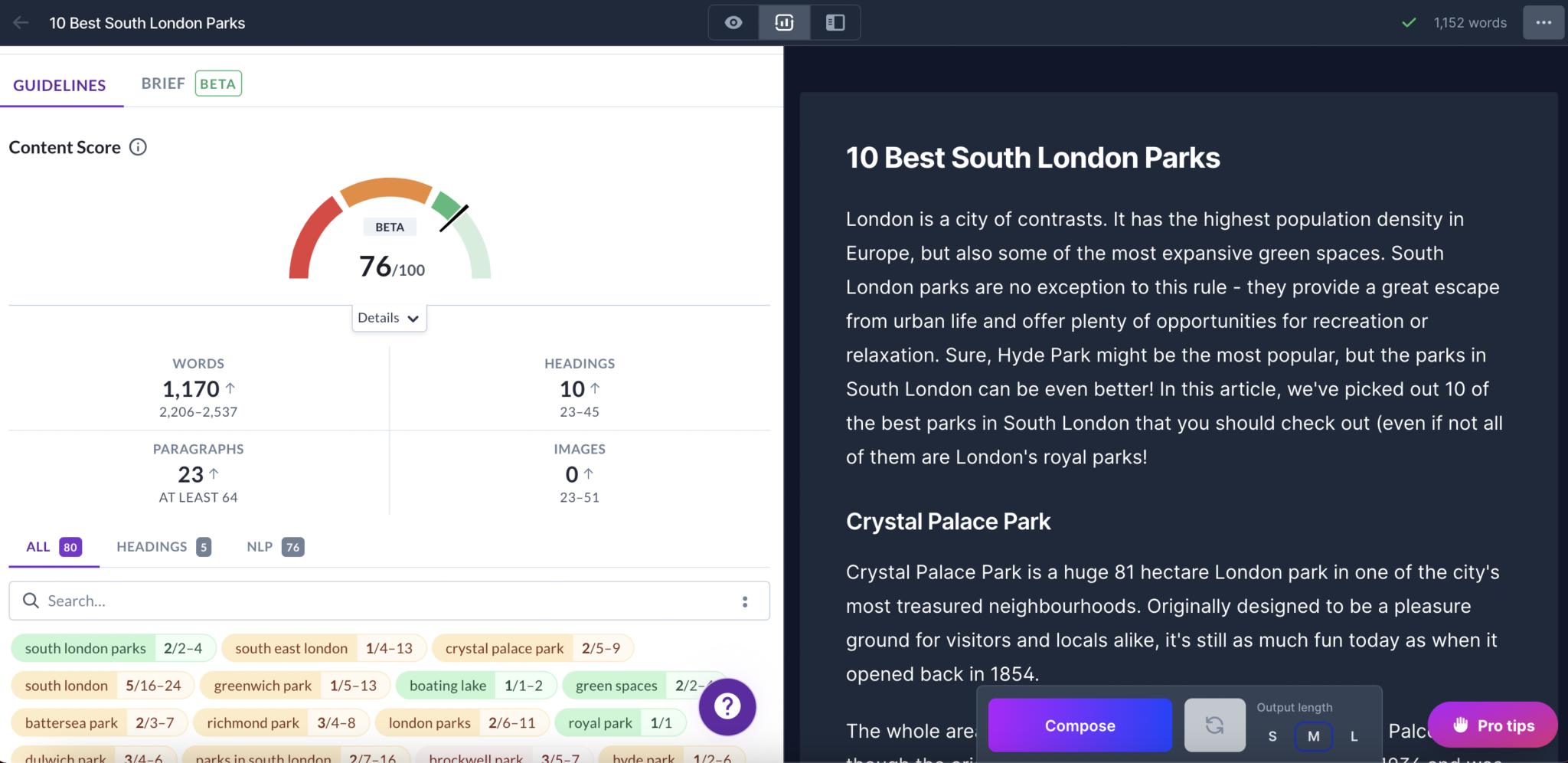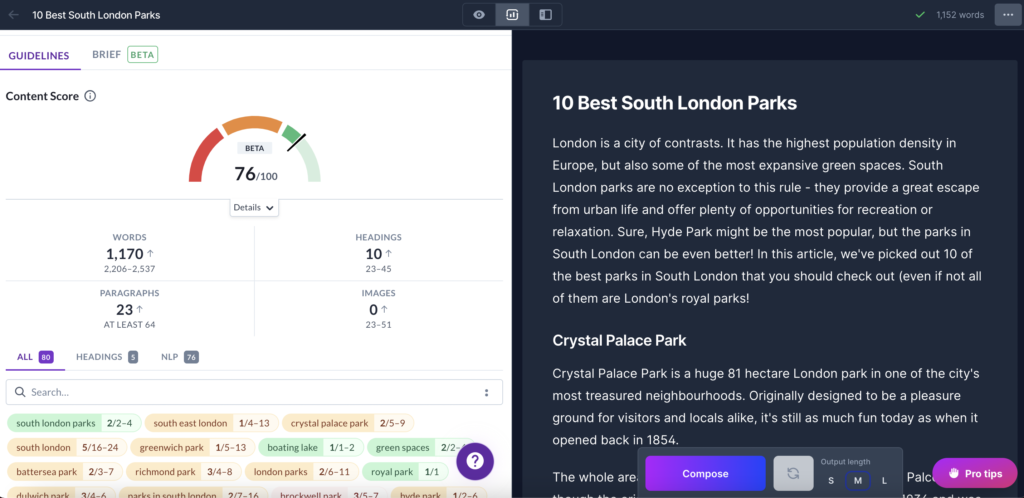 Okay, this integration is the bomb. If Surfer wasn't one of the best on-page SEO tools prior to that, it is now. Currently, I believe that it's best for both to write new and optimise existing content. I mean, there are other SEO tools that can do that, too, but Surfer does it so much better!
Surfer SEO Cost
Surfer SEO has a really good pricing selection, and there is something to suit every type of user – including an $1 option that lets you try some of the key features out.
Below, you will find each of the price tiers and everything that each of them come with, allowing you to discover the plan that suits both your needs and your budget.
| | | | |
| --- | --- | --- | --- |
| Free | Basic | Pro | Business |
| $0/month | $59/month | $199/month | $239/month |
| Grow Flow | Grow Flow | Grow Flow | Grow Flow |
| N/A | Track 1 websites | Track 5 websites | Track 10 websites |
| Unlimited early stage websites | Unlimited early stage websites | Unlimited early stage websites | Unlimited early stage websites |
| Get topic suggestions for content | Get new tasks every 7 days | Get new tasks every 7 days | Get new tasks every 7 days |
| TOOLS | TOOLS | TOOLS | TOOLS |
| N/A | 10 Content Editor credits/month | 30 Content Editor credits/month | 70 Content Editor credits/month |
| N/A | 20 Audit credits/month | 60 Audit credits/month | 140 Audit credits/month |
| N/A | 1 team member | 3 team members | 10 team members |
| N/A | NLP | NLP | NLP |
| N/A | N/A | N/A | Customer Success team |
| N/A | N/A | N/A | Shared links and reports white labeling |
| N/A | N/A | N/A | API Access |
Note: The free Grow Flow plan applies to websites with fewer than 100 daily impressions. Each additional website is $13 a month.
Surfer SEO Alternatives
Surfer SEO vs Cora
As one of the biggest competitors for Surfer, Cora is an SEO tool that provides precise measurements of your page with up to 2040 ranking factors. It's perfect for the more experienced SEO marketers and analysts as it lacks the user-friendly UI and shows the results in a table.
It's very reliable, as it uses mathematics to come up with the best suggestions for your page. In addition, It adjusts the ranking factors automatically with each Google Algorithm update, which is quite convenient because there are a lot of those.
It comes with additional tools such as Cora Diff, which enables you to compare reports from different updates and Cora Trends, which lets you see which keywords have something in common.
However, it's quite expensive as the pricing starts from $250 a month.
Surfer SEO vs Page Optimizer Pro
Page Optimizer Pro or POP focuses on on-page SEO. It runs an analysis of a given page and provides you with recommended changes you should make for your site to be at a better spot.
It's simple and effective, and they have their browser extension to make it even more straightforward.
Large brands have put their trust to them, such as HubSpot, Salesforce and SurveyMonkey. The price is very fair too, starting at $20, up to $39 a month for their Unlimited plan.
SEMRush is a massive, one-in-all platform for internet marketing. It contains tons of SEO tools for improving your insights and analyses of your site.
It can track keywords used by your competition, conduct an SEO audit of your page's content, look for backlink opportunities, do keyword research and many more things. In addition, it's trusted by over 6 000 000 marketers all over the world.
The pricing starts from $99.95 monthly.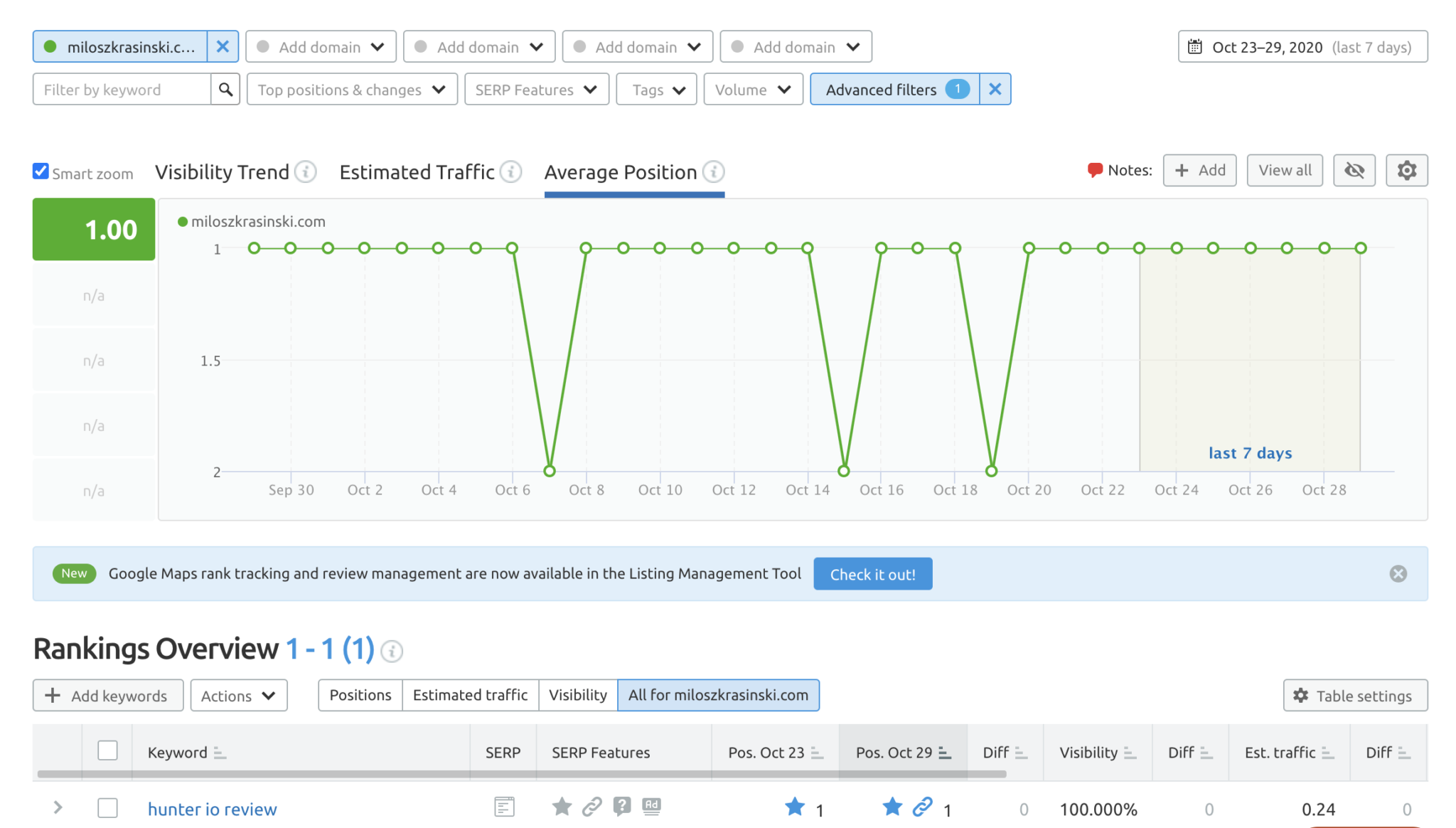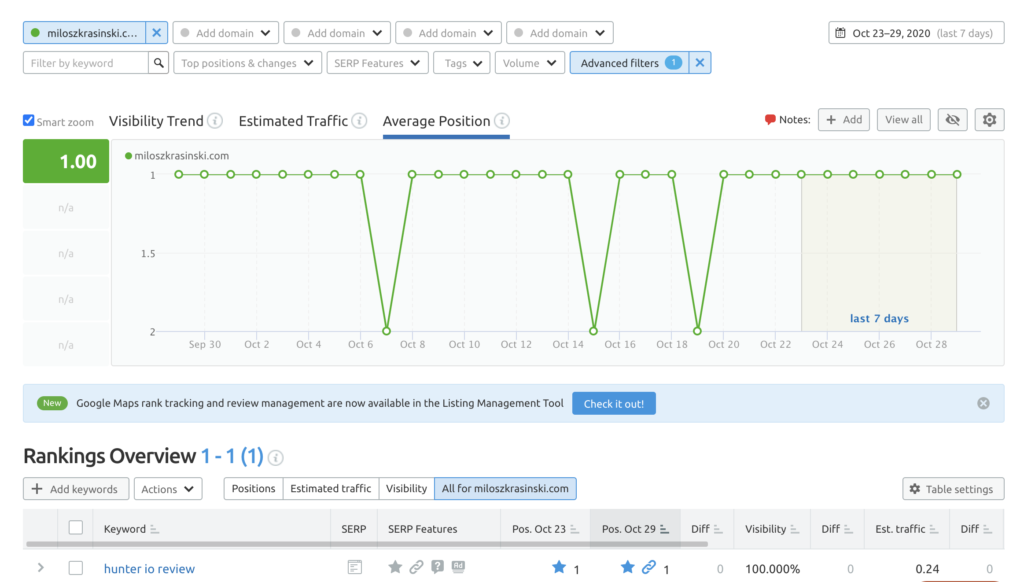 Surfer SEO vs Clearscope
Clearscope is an AI-powered, content-orientated tool that helps you bring more organic traffic to your page. It assesses best performing organic content to then on that basis give you recommendations on appropriate terms, length and type of your content, readability and more. Apart from that, they have WordPress and Google Docs plugins to help you produce the best content more comfortably.
The pricing starts from $170 a month.
Surfer SEO vs Frase
Frase offers a comprehensive solution that helps you with every stage of your content workflow, from research and briefing to writing and optimizing. And because they use proprietary technology instead of relying on third-party providers like IBM or Google, we can offer a more focused and effective solution. Frase's focus on analyzing the top 20 results on the SERP instead of the entire internet means that we can provide higher quality results and analysis, helping you to create better content faster.
Frase's pricing starts from $14.99 a month for one user, 4 article briefs, and 20,000 AI words.
Surfer SEO vs WriterZen
WriterZen is the perfect tool for content writers who want to create compelling, original content. With WriterZen, you can easily find the right keywords for your content strategy, research new topics, and construct articles with ease. Plus, with WriterZen's AI writing assistant, you can be confident that your content is unique and original.
The pricing starts at $27 a month and lets you unlock all of WriterZen's features.
Surfer SEO vs Outranking
Outranking is a tool that helps you to automatically generate content briefs for your website pages. It does this by taking into account the keyword strategy that you have set for your website, as well as the authority gap and topic clustering that are relevant to your industry.
This means that Outranking can help you to prioritize your SEO efforts, and ensure that your content is focused on the topics that are most likely to dominate the SERPs. In addition, Outranking can provide a first draft of your content, saving you time and effort in the SEO process. And because Outranking uses AI to generate its content briefs, it is constantly learning and improving its ability to help you outrank your competitors.
While Outranking is quite pricey, it offers unlimited AI generation, 10 articles, and a keyword strategy generator for just $99.
Surfer SEO vs MarketMuse
MarketMuse is an AI-powered suite that speeds up content creation, remakes the way marketers increase their organic search rankings and pushes the expertise in their industry. It analyses tons of pages and articles, revealing keyword gaps and opportunities to create content that's the most relevant both for the audience and for the Search Engine alike.
On the other hand, the software is pretty costly, as the price starts from $325 a month, although there is an option to get a free month-long trial.
Surfer SEO Review Conclusion
So, now that you know more about Surfer SEO, I hope you will give it a try to see if it is able to help your business grow and thrive.
It offers quality services, and ones that help you reach right into the very core of things so that you are able to create a system where your site always comes out on top in terms of Google (and other search engines) rankings.
With SEO having the power to give you all the success, this is not an area to skimp on, and definitely, something to maintain with the help of excellent tools like Surfer SEO. Great tool, great value, and quite cheap for what it can accomplish.
FAQ
Is Surfer SEO free?
Surfer SEO offers a $1 one-week trial, but it is not a free tool. After the trial they will need to choose a paid subscription plan to continue using the tool.
Is Surfer SEO any good?
Yes, in my experience, Surfer SEO is an excellent SEO tool. It provides comprehensive analysis and optimization recommendations based on data from top-performing pages in the search results, which has helped me improve my website's search engine rankings and drive more organic traffic.
What are the benefits of using Surfer SEO?
As I mentioned, Surfer SEO offers in-depth analysis and optimization recommendations for keyword usage, content length, backlinks, page speed, and more, allowing users to optimize their content to match top-performing pages. The tool's user-friendly interface and customer support also make it easy to use and get the most out of.
Is Surfer SEO worth it?
Absolutely, in my opinion, Surfer SEO is worth the cost for website owners and SEO professionals looking to improve their website's search engine rankings and drive organic traffic. The benefits of using the tool, such as improved SEO performance and increased organic traffic, outweigh the cost for me.