"My rule of thumb is to build a site for a user, not a spider."

Dave Naylor, Bronco.co.uk Managing Director
Running a business is hard, and there is no shame in admitting that. It doesn't matter what kind of company you have; you still need to put masses of time, effort, and love into making it a success. However, without enough traffic, no business is able to survive. Driving people to your website is not an easy task, and it can be one of the most difficult things about running a business.
Digital marketing is essential if you want your website and business to survive. It's a competitive world, and if you don't stay on top of things, you could end up being lost in Google searches.
It may seem like a difficult process, but it doesn't have to be, especially if you decide to give SEMrush a try. It works to make the process of analytics, keywords, and organizing your digital marketing so much easier, and all for a pretty good price.
That's why I'm here to introduce you to your new best friend. Here's a SEMrush review.
SEMrush is an SEO tool that allows you to research keywords, analyze competitors, and optimize Google Ads. It provides digital marketers with the data they need to make informed decisions about which keywords to target for organic search traffic and Google Ad campaigns.
What You Will Learn
What can you expect to learn in this review? Well, I plan to take you through the basics of what SEMrush is and what it offers. I'm also going to talk about the ways in which their key features are able to help you bring in more traffic and better understand your business. Here's a brief rundown for faster navigation:
What SEMrush is
Who Benefits from SEMrush
How SEMrush can help to optimise your website
How SEMrush can help you keep track of the competition
How SEMrush can help you up your advertising game
How SEMrush can help with keyword research
How SEMrush can help improve social media
How SEMrush can keep you in the loop
How SEMrush can get you updated for mobile
SEMrush's pricing
What is SEMrush Anyway?
SEMrush is a global company that is made up of over 800+ specialists that are located in four different countries around the world (USA, Czech Republic, Russia, and Cyprus).
The company was created to build and provide the best competitive intelligence solution for digital marketing across every sphere. They are a company that are not only experts, but also always in search of new methods and ideas, what keeps them on top of the game and allows them to offer the latest marketing trends.
SEMrush provides a marketing toolkit to its customers, and it originated as an in-house toolkit that was used by their own marketers. Since then, they have honed and developed it so that people across the world can benefit from it. Essentially, it is a piece of kit that was created by marketers for marketers.
Large suite of tools
It can be defined as an all in one marketing toolkit, providing you with everything you need to boost your brand. Various SEO tools and data help online businesses and digital marketers to make informed and forehanded marketing and business decisions as a result.
It doesn't take too long to get the hang of either and, once you become a pro, you will be an unstoppable force of nature. Seriously, it has the power to change your life.
SEMrush allows you to search keywords, optimize your website, bring new organic traffic in, and even keep an eye on your competition. Think of it as a crystal skull; your key to infinite knowledge.
Not only a source of information, a guide too
It doesn't just give you the information though, it also shows you exactly how to use it in order to build a strong strategy of your own. It's a supportive friend that wants to see you succeed, and it will do everything in its power to ensure this.
It's a whole new way of looking at marketing, and while it might seem complex now it has actually never been easier. Enough of me getting excited though, let me take you through some of the ways in which SEMrush is able to help you break through the glass ceiling.
Who Benefits from SEMrush
There are a number of different people that can benefit from SEMrush and its included features. One of these is business owners. Not every business owner understands technical SEO or PPC, and SEMrush works to make the process of monitoring every aspect of your online marketing nice and simple.
It is easy to undertake competitive analysis, and there are a number of tools that will directly integrate data from Google Analytics or the Google Search Console so that everything is kept in one location. The power of SEMrush lies in the countless features, and so many different specialists can benefit from it.
SEO marketers
SEO specialists will be pleasantly surprised by how much versatility there is with the toolkit, as well as how in-depth it goes. They can use SEMrush to conduct market research, but also take a look at the competitive analysis of a website's closest competition on the SERP.
The reports are detailed and list everything you would expect to find, and the data provided allows you to make an easy keyword map for you to organically target the website. These are only some of the features that an SEO specialist will find appealing.
PPC specialists
This toolkit can also be very beneficial to PPC specialists. It allows a great deal of PPC research and competitor analysis to take place, so they can plan and track the performance of paid search and paid social campaigns. There is an advertising research feature that offers an extensive report on past advertisers and the campaigns of competitors.
It is possible to outline the framework of a Google Ads campaign, set up keywords, ad groups, negatives, create, launch, and manage ads within the Facebook family and so much more. With the ability to track multiple domains at once and with an extensive list of tools, it is a PPC specialist's dream.
PR and Content Creators
PR specialists will also find this toolkit useful, as they can use it to discover new opportunities that suit them and their campaign, as well as follow up with the latest trends in the marketing community. Plus, the Brand Monitoring tool is able to track keyword mentions across the web.
Content specialists include everything from content writers and bloggers, to content marketers and content strategists, and they can all take advantage of what SEMrush has to offer. There are some great keyword research tools that will help to generate ideas for blog posts and topics.
However, there is also the option to analyze backlinks, not to mention the SEO Content template or SEO Writing Assistant that's included. These are just some of the great features content specialists could benefit from.
Social Media Managers
Such specialists can get a range of features to analyze their performance and take a look at competitors' metrics, activities, marketing campaigns and best posts. Meanwhile, SEMrush provides a feature for creating posts planning and program posts on various platforms as Twitter, Facebook.
A great combo of analytics and planning which helps a Social Media manager not only organize his posting activities but also define his strategy and report the results.
How SEMrush Can Change Your Life
What I mean here is that it will show you everything that is wrong with your own website, as well as the things that are right. It's a great way to look at the ways you can improve and build something that customers actually want to visit. SEMrush features:
Site Audit Tool
The Site Audit tool is there to give you a clear image of what your website looks like in terms of its general qualities. You just need to fill out a small form for the audit settings, and then you can proceed with a crawl of your site. The results are given clearly, highlighting errors and warnings within the site and telling you why they have been marked as such.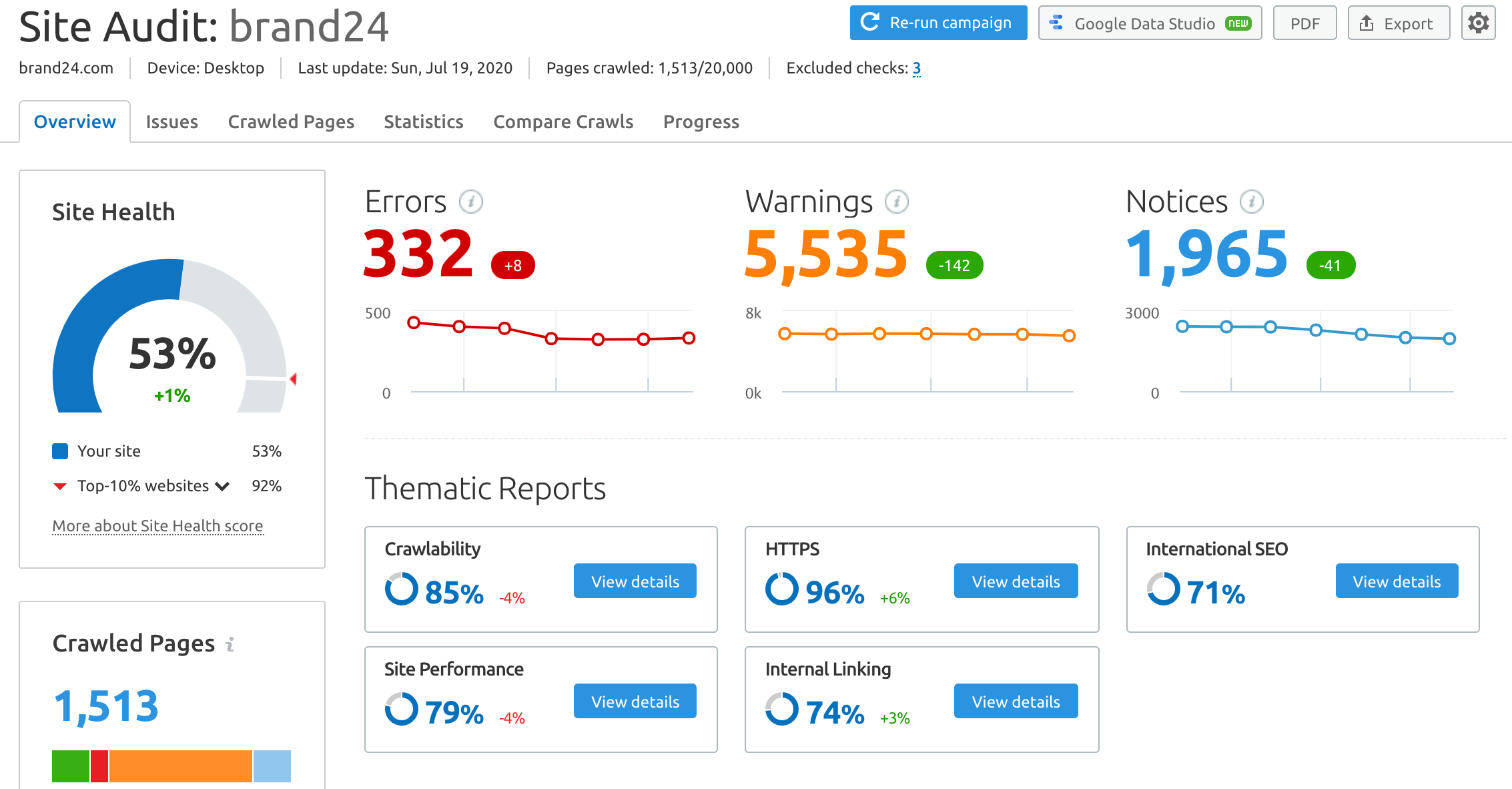 The tool allows to check your website's health and fix SEO issues, control waste of crawl budget, find and fix amp and hreflang mistakes, ensure the security of your website with HTTPS checks and migration of your website successfully and track your progress.
You can even save the results as a PDF for your reference and records. You can also get a great and detailed overview of your site's overall performance so that you can see the areas you are excelling in, and those that could do with some improvement.
On-Page SEO Checker
The Checker is also exceptionally handy to use because it actually analyses your website's pages and then gives you valuable advice. It will tell you how to improve your SEO and rankings, and the ideas it offers are superb.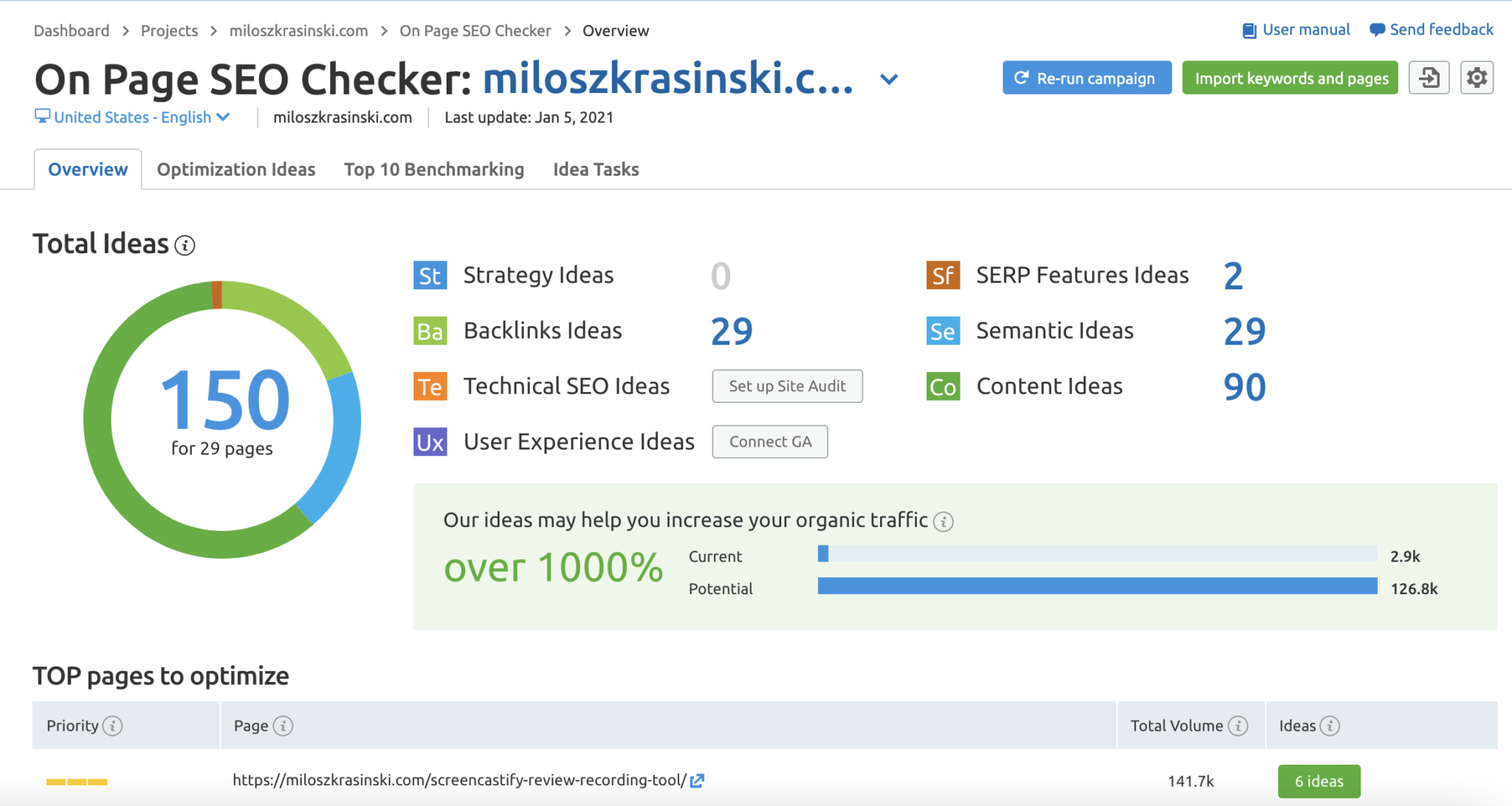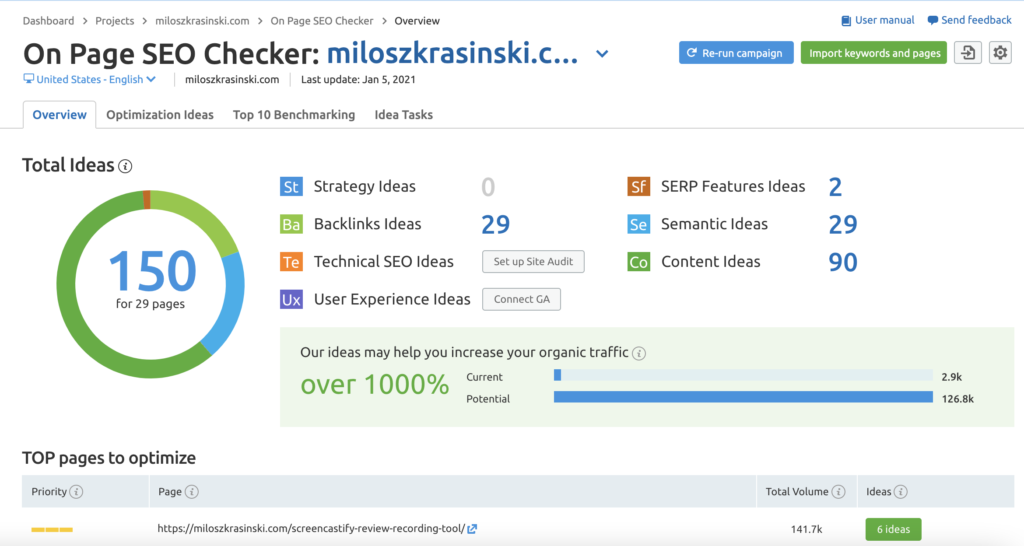 The tool provides you with information which signals affect your website's performance, gives you actionable recommendations based on collected data and in-depth comparative analysis of Google's top 10 performers. This information helps to reconsider your SEO strategy and improve your onsite and offsite efforts, as well as your content quality.
Brand Monitoring Tool
You've also got the Brand Monitoring tool. You can track your mentions across the web (including Twitter and Instagram) to see what people are saying about you and your company or products.
As the tool includes sentiment analysis, you are able to see if they are saying positive or negative things about you, which helps you to better understand your audience as well as improve the way you engage with them for a better response.
You may find out a lot of things you never knew about… The tool helps to manage your brand online reputation and discover new opportunities to expand brand visibility, identify new sources of link building opportunities and compare your results with your competitors.
Thorough backlink analysis
Backlinks database in SEMrush is huge now (I mean, it has 29T backlinks). Backlinks are important, but they can sometimes do more harm than good. SEMrush has an excellent Backlink Audit tool that can show you which links might be holding you back.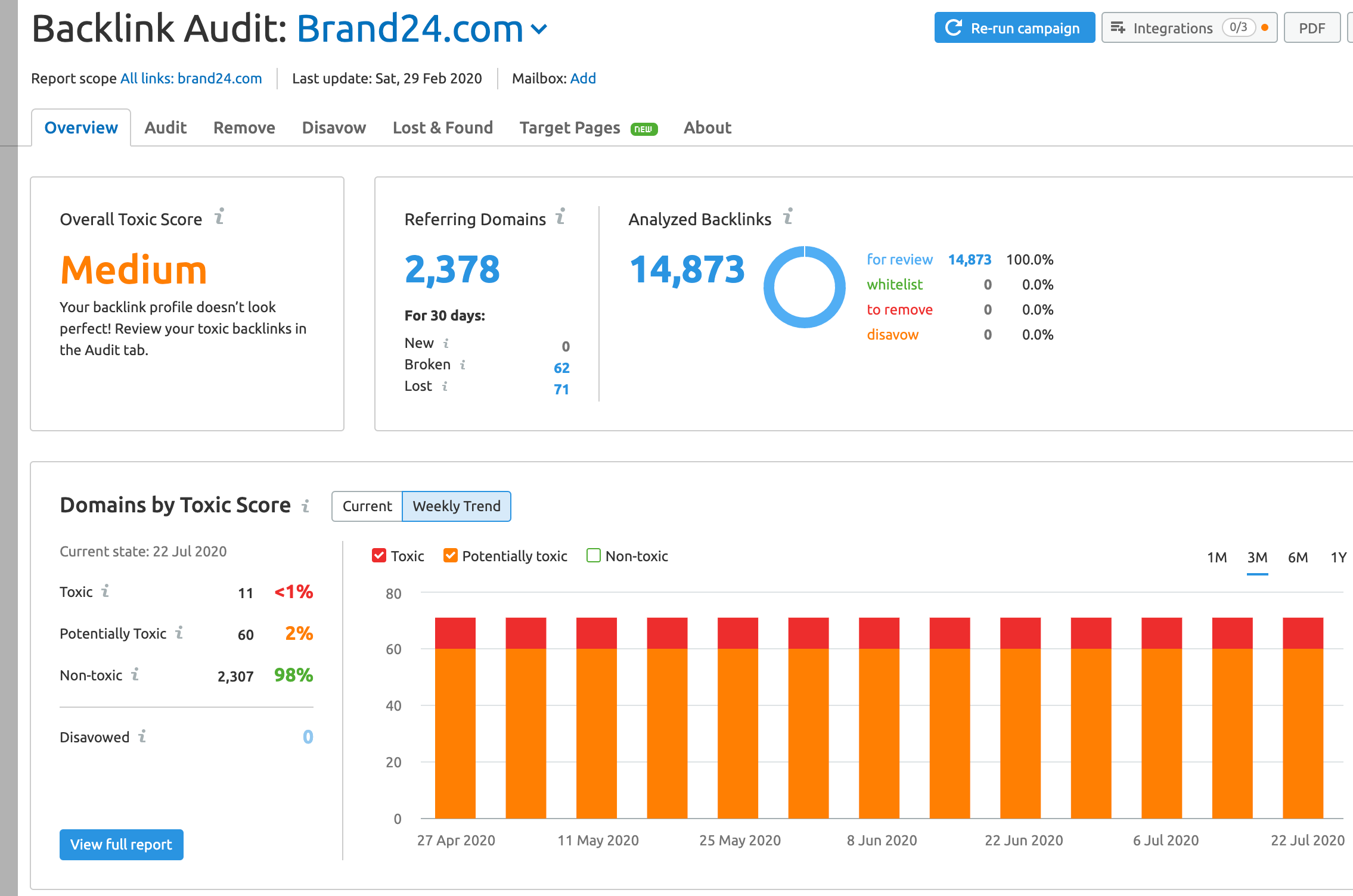 It is the ideal way to get more information about how successful your link building endeavours have actually been. It will also be sure to provide you with all the details as to why it is a bad toxic link so that you are better educated on the topic.
Connecting your GSC or Majestic accounts you will be able to evaluate a big picture of your current backlink profile and identify toxic links to get rid of. The tool gives you an opportunity to easily reach out to website owners if you want them to remove a toxic backlink and prepare a disavow file directly in the interface.
Track your position
Position Tracking Tool allows you to launch global campaigns for evaluating your website visibility on the SERP, as well as gather all of the necessary metrics for your competitors, keyword rankings, positions, occupied SERP features, and SEO efforts, all in one easy to access location.
The tool also allows you to discover local competitors in organic or paid search, track your search visibility on different devices and in location (country, region, city, hyper-targeting by zip codes) and avoid cannibalization for your website pages.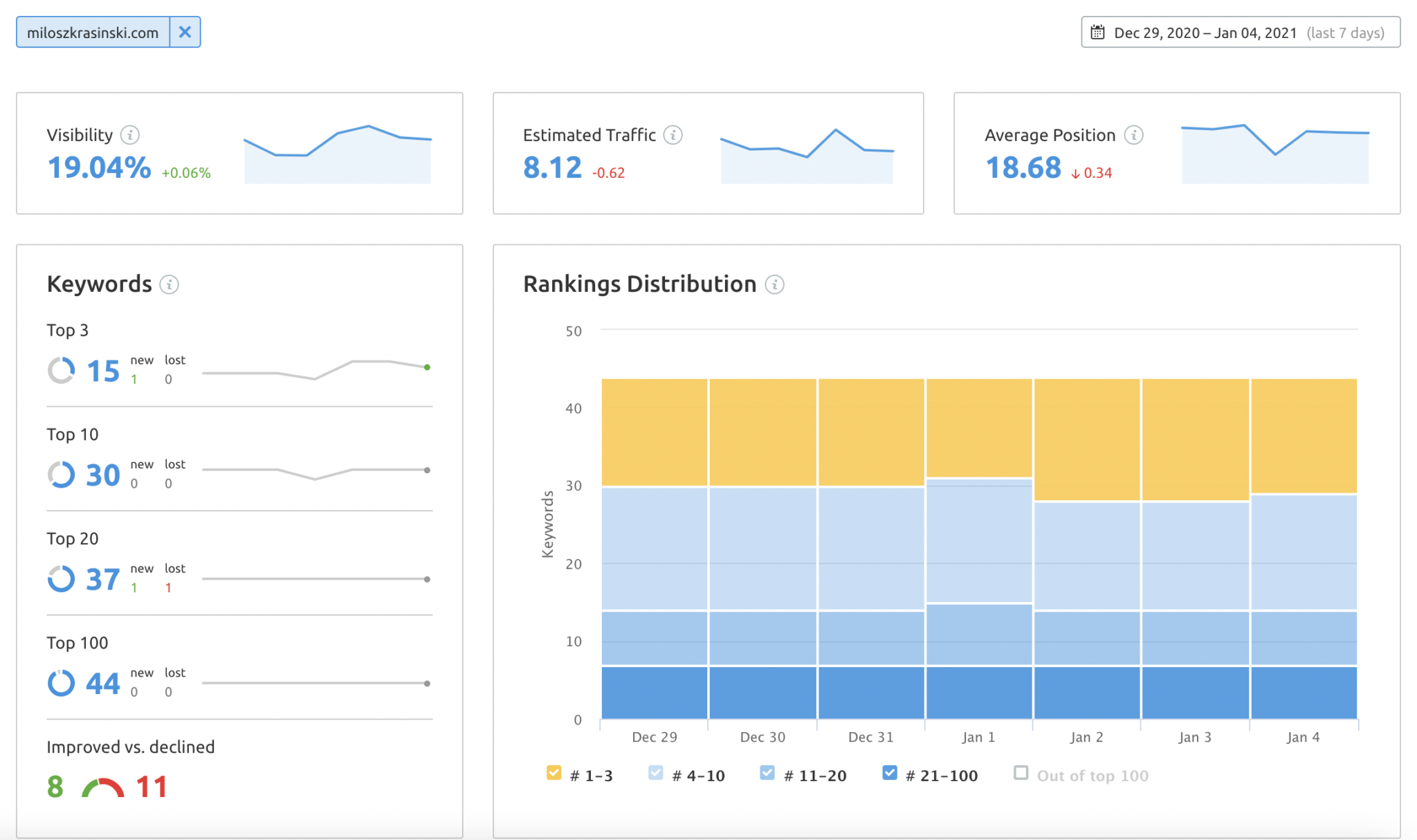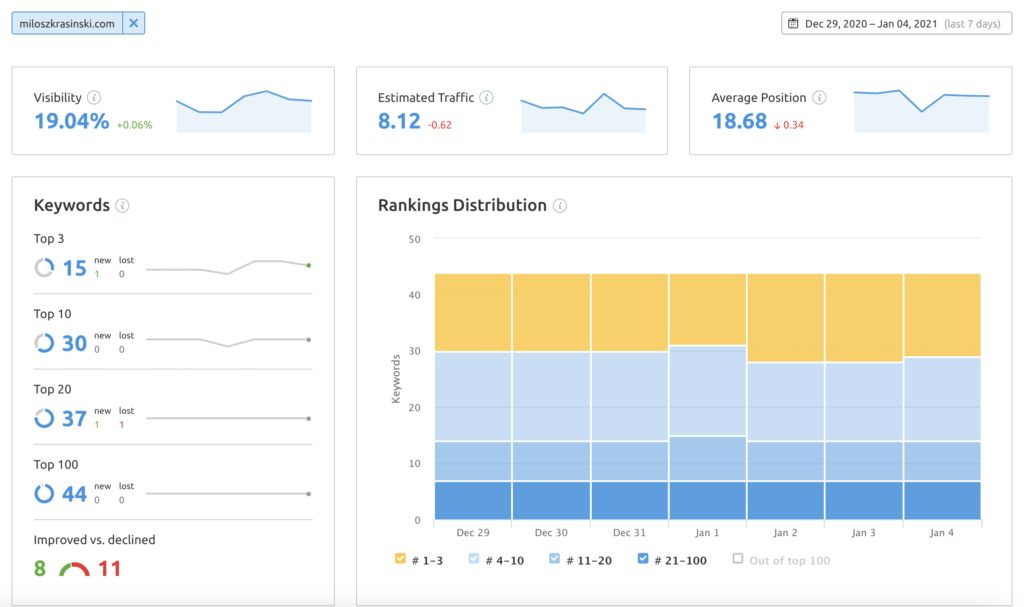 Content marketers in SEMrush can measure the performance and output of the content published externally and analyze the website's content performance. Comparing the performance of different content pieces allows identifying the best topics and content optimizations and give it a second (or more!) life and thus increase the website's online visibility again and again.
Keeping Up with the Competition
You should always keep an eye on the competition to see what they are up to, where they are succeeding, and also where they are failing. It is one of the ways that you can grow yourself because you are able to learn from others.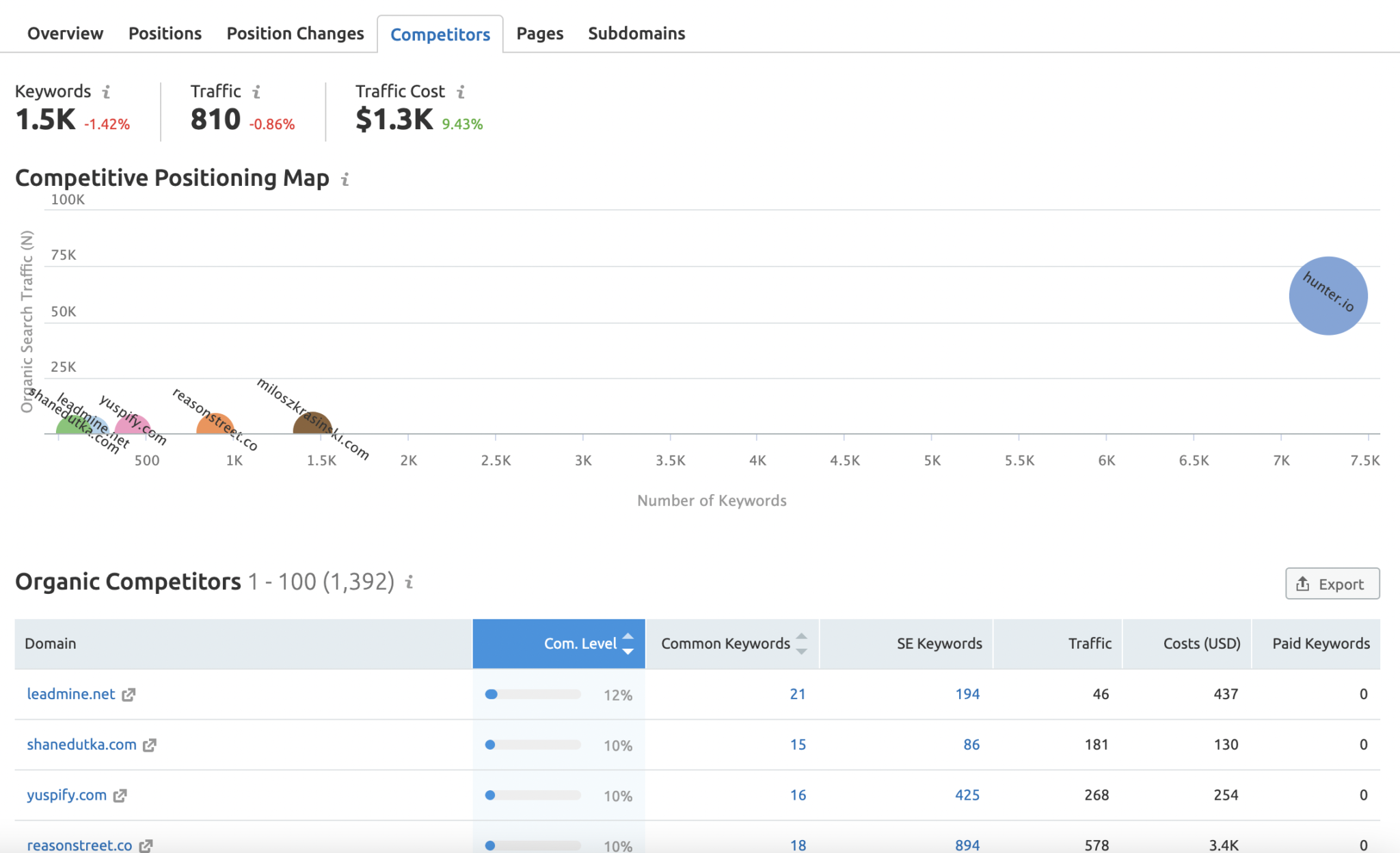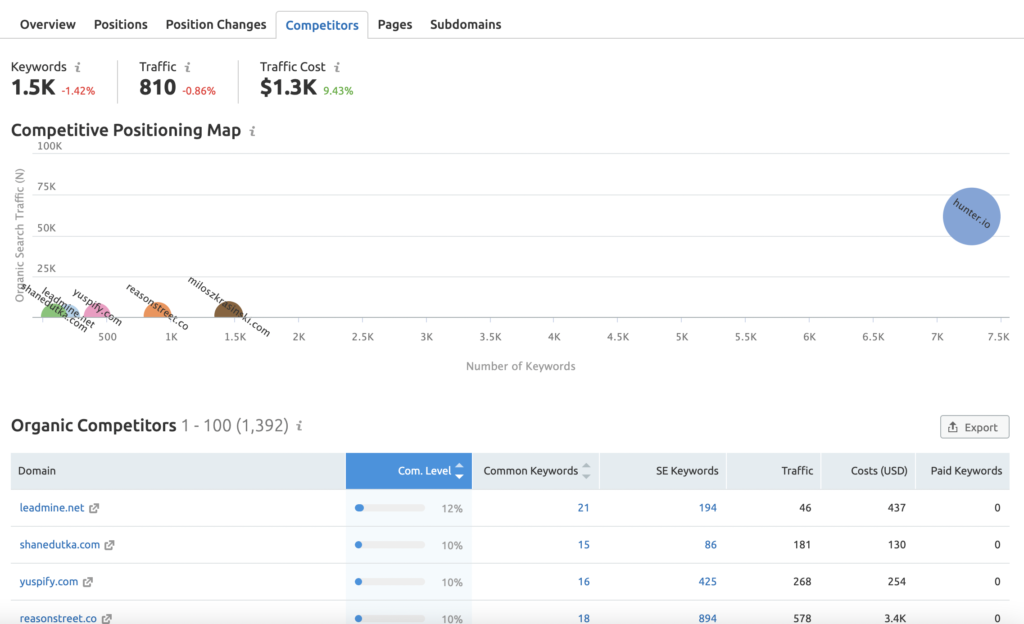 First, however, you need to identify who your top competition is. All you need to do is go to the competitor section of domain analysis and enter your domain name. The results will come up and break it down as follows:
Who your organic search competition is
The level of competition
The keywords that you have in common
The traffic that the competition has
Clear visual representations of how you stack up
Creating your list of competitors and keywords
You are bound to find quite a few competitors that you never even knew existed, and this could be the first step towards better success. You can even get a domain overview for them that looks just like your own, showing you their organic reach, backlinks, keywords, and more so that you have a clear idea of where they are succeeding in the marketplace.


The organic search performance of your competition is quite important as well, and not just because you are able to see their reach. You are also able to view when they are about to launch a new campaign, found a new keyword, and even created better content that might be catching up to yours.
This brings me on to the keyword search option that you have because using strong keywords is how you achieve better reach and results. It will show you which competitor keywords are performing the best, what they are ranking for, and also what they are trying to rank for.
You can even filter out the branded keywords if you want to refine the search results. It may give you a few ideas for new keyphrases that can increase your rankings.
Content monitoring
Content is king, and that's something we all know by now. You need to keep an eye on the kind of content being released by your competition so that you can stay ahead of the game. As you are in the same niche, you can use them to learn more about the content that performs the best for your audience, tailoring your own so that it becomes more appealing to them.
The tool will show you the highest performing pages that your competitor has, as well as an estimated traffic percentage for each of them. Combined with the On-Page SEO Checker, it becomes a powerful feature that will give you a steady stream of content ideas that are SEO rich and sure to engage your target market in content marketing campaigns.
Analytics reports
Analytics Reports allows you to gain further insight into your competitor's strategies when it comes to display advertising, organic and paid searches, and link building. These allow you to cross, combine, and visualise the data that you receive from SEMrush so that you can compare competitive domains.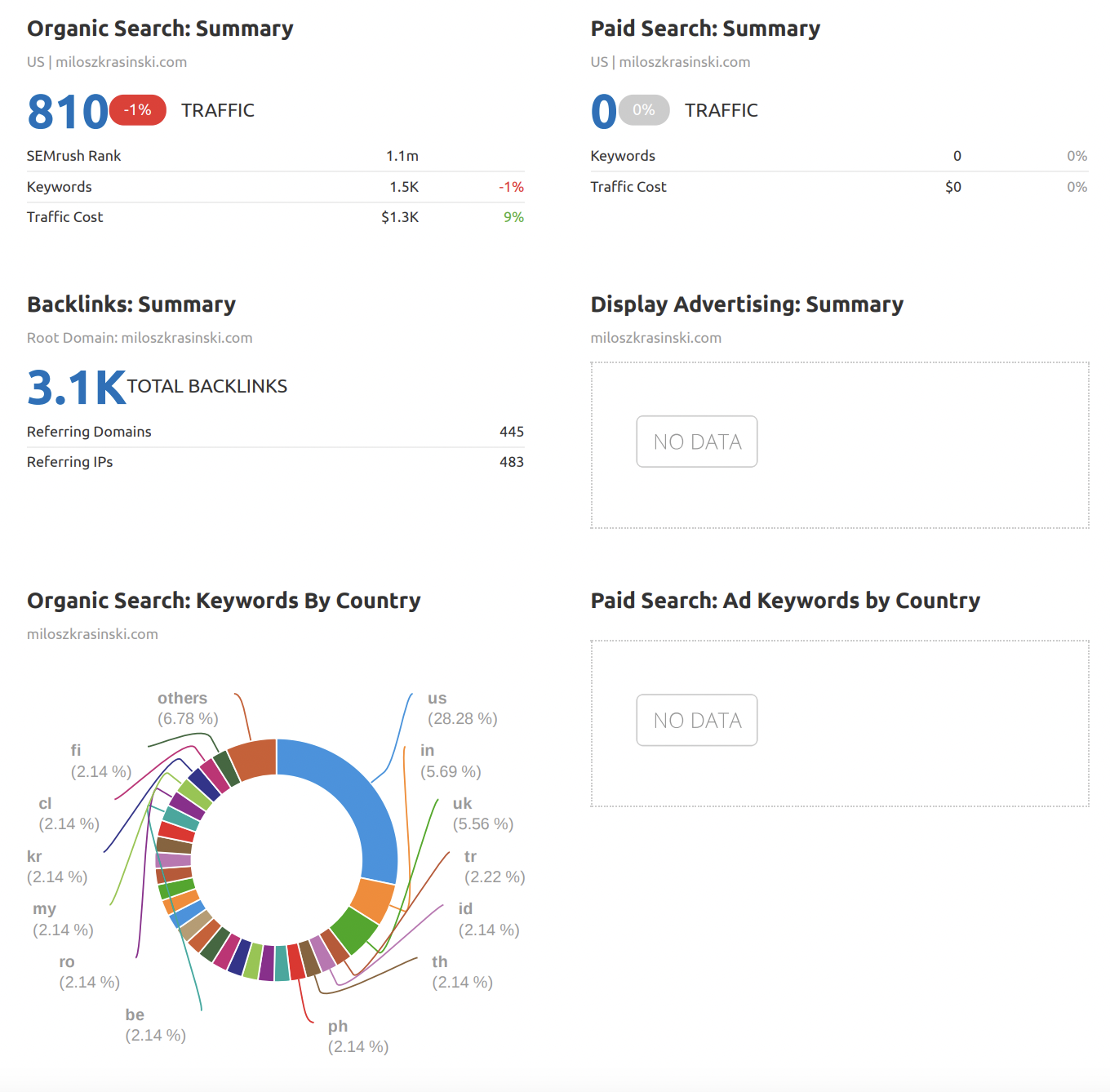 Keyword Research – Organic reports
Organic Research reports allow you to see competitors' best traffic-driving phrases and gain a quick understanding of them, check trends in rankings and observe position changes of domains. There you can also discover new organic competitors and compare their position with your visibility.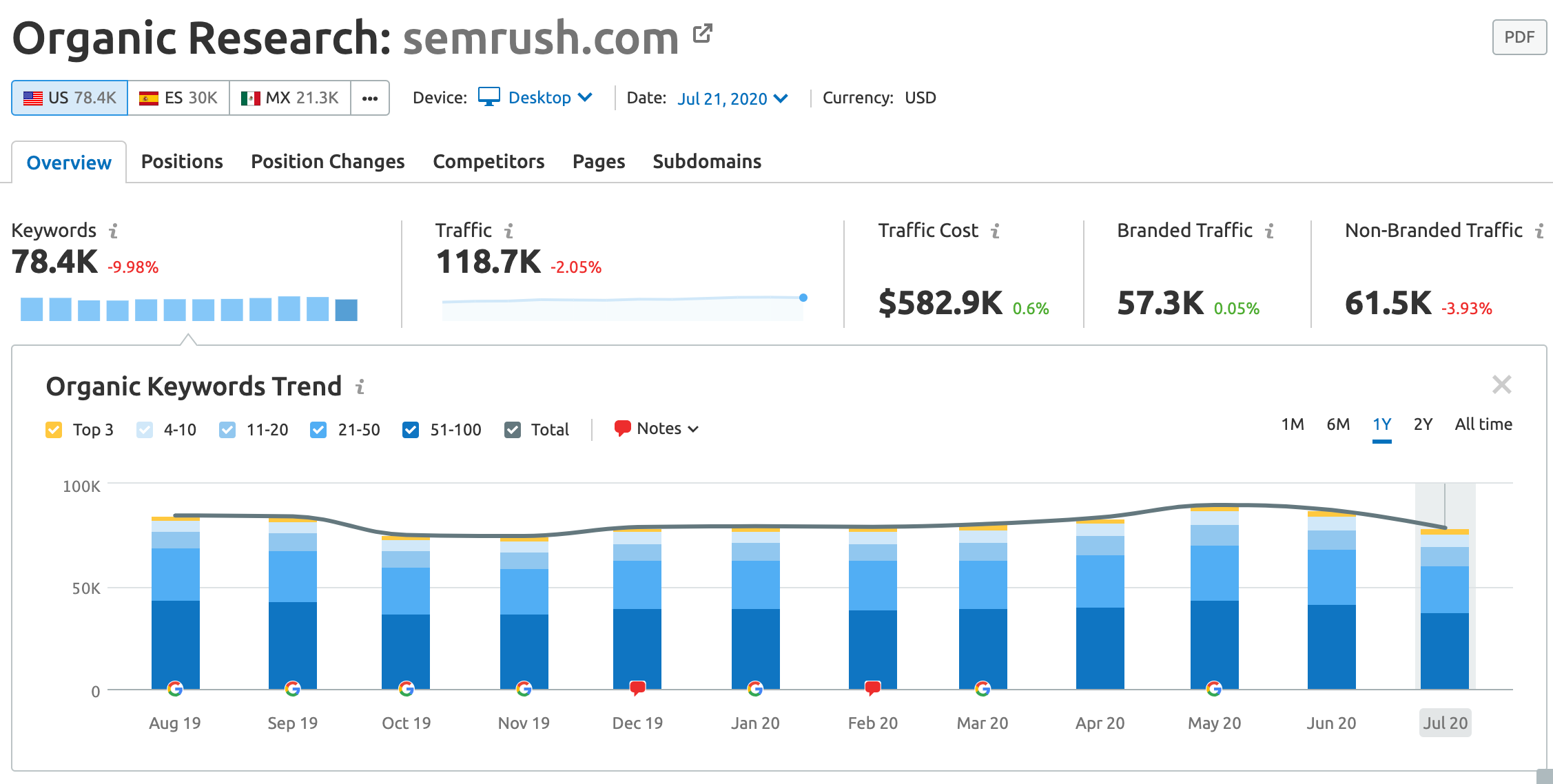 Advertising Research reports
Advertising Research reports give you an opportunity to uncover competitor's ad strategies and budget spent on their ad campaigns. You can analyse the real ad copies and keywords your competitors use in Google Ads and discover new opportunities in paid search as well as competitors in paid search we've never been aware of.
Google Shopping campaigns are so widely used by e-commerces, so analyzing Product Listing Ads is an important point for e-commerce digital strategy.
SEMrush PLA reports help to define competitors product listing ads, check your competitors' best-performing PLAs and get insight into competitors' Google Shopping product feed: see real ads visuals, texts and product price offered in competitors ads. There is so much information to take into consideration and adjust your own strategy in a winning way.
Keyword Research – Gap analysis
Using Gap analysis you can actually set side by side domain comparisons, see the common and unique keywords for each domain, and identify for which keyphrases you rank organically. You can also see your competitors' bid or take positions in Google Shopping results, see the referring domains which point to your competitors' website but still didn't put a backlink to you, creating a link building opportunity. And this data can be easily visualized.


Display advertising
Display Advertising is a huge opportunity to advertisers. Google Display Network is the biggest source to make your ads visible online: on other sites, Google products, Youtube, etc. While running or planning your display ads campaigns you need more data and understanding what is on the web and how you can have an advantage there.


SEMrush Display Advertising reports allows you to see top publishers and advertisers, spot new publishers, analyse your competitor's display ads but moreover identify display ads for a specific term as sometimes you have no idea what can work for a product or campaign. All the data in SEMrush Display Advertising reports shows the information for different devices.
Traffic analytics
Traffic Analytics of SEMrush is a powerful tool for analysing a global situation on the markets and understanding business potential. This fantastic tool helps not only to get a quick overview of traffic to the websites but it's also a pure benchmarking tool to see trends and industry growth dynamics.
There we can find insights about traffic strategy of your competitors, which channels drive more traffic: organic, paid, social, referral, which social networks or even which referring sites bring them traffic. This is a great way to find new link building opportunities in channels which are still not covered by your competitors. SEMrush offers a quick pdf report to have it on the go and get a short analysis of analysed industry.
Traffic Analytics has an absolutely special Audience Insights report. What media does your target audience read? What other products do your customers consider? Which social network your audience prefer? You can easily get a list of websites with a similar audience in your chosen category.

Audience overlap
The Audience Overlap widget will show you the percentage of visitors' intersection of analyzed websites you entered in the fields. Understanding your audience insights helps to make data-driven strategic business decisions.
When evaluating the market, it is useful to assess the maturity of the market — how many leaders and established players it has, how companies in the industry grow, and also to identify companies that are worth paying attention to so as not to miss potential threats.
You can easily identify the market players in your niche and analyze the competitive landscape using the new Growth Quadrant in the Market Explorer Tool. One more cool feature – you can create in the Custom Market report you can check the same parameters for the companies of your choice.
Up Your Advertising
This links in with the above section a little, but it is still important to look at separately too. Your advertising campaign is only as good as you make it, and without the proper work and research, you can't expect it to achieve much. Using your competition and similar websites that are performing well, you can create advertisements that take inspiration from these sources.
Pay close attention to their messages, what they want the customer to see and hear. Watch the engagement, which SEMrush will show you, and see how customers react to it. It's all about the details. Clear imagery, clever word placement, and even subliminal placements that viewers may not immediately think about, but will linger with them even after viewing your campaign.
Strike your audience
Sticking in the minds of your customers is vital to your success, and if you are not memorable you will soon discover that it is your downfall. SEMrush gives you the ability to create new ads that are going to stand out from the crowd, and all because you have the opportunity to learn from those who are performing better than you.
One of the most important things? A catchy heading and something that grabs attention. Your advertisement headings need to be short, punchy, and straight to the point. There's no point trying to fit loads of information into a short heading because that won't stick in the minds of the consumer. There's no need to get fancy or throw emotion behind the words; just keep it simple and focus on what your product/service solves for the customer.
Competitions' campaign analysis
Not only that, but you can see how your competition is performing with their advertisements, as well as when they reduce the amount that they spend on them. This is a great way to keep an eye on market performance, customer response, and advertisement methods.
As a quick side note, you can also take advantage of the PPC Keyword Tool. The tool collects keywords through multiple channels, helps to manage and optimize keyword lists as well as get rid of cross-group negative keywords easily and in several clicks.
Ad Builder
The tool also provides you recommendations to polish your keyphrase lists. Another useful tool is the Ad Builder. This feature helps automatically create your ads by using templates of your competitors best example. You are free to adjust your ad according to your plans, SEMrush also provides you an opportunity to play with ad extensions. Everything can be exported in Google Ads friendly file.
Important note! Using SEMrush Social Media Ads Tool you can create, launch, and manage ads within the Facebook family, including Facebook itself, Instagram, Facebook Messenger, and Facebook Audience Network. The interface of the Ads tool is much easier to use compared to the Facebook Ads Manager.
Keyword Research and Implementation
"Today it's not about 'get the traffic' — it's about 'get the targeted and relevant traffic."

Adam Audette, Chief Knowledge Officer, RKG
I've already mentioned the importance of keywords, but prepare to be dazzled again as I go into further detail. One of the best tools is SEMrush's Keyword Magic Tool, and this makes the research process much easier by giving you refined and detailed results, as well as a whole load of data to back them up. It will also provide you with further information on the following: search volume, keyword difficulty, competition, SERP features.
With the Keyword Magic Tool you will have millions of keyword suggestions to enrich your SEO and PPC campaigns. The tool's multilingual database is currently 19.8B of keywords, this is like 20M ideas for a single keyword:) not bad!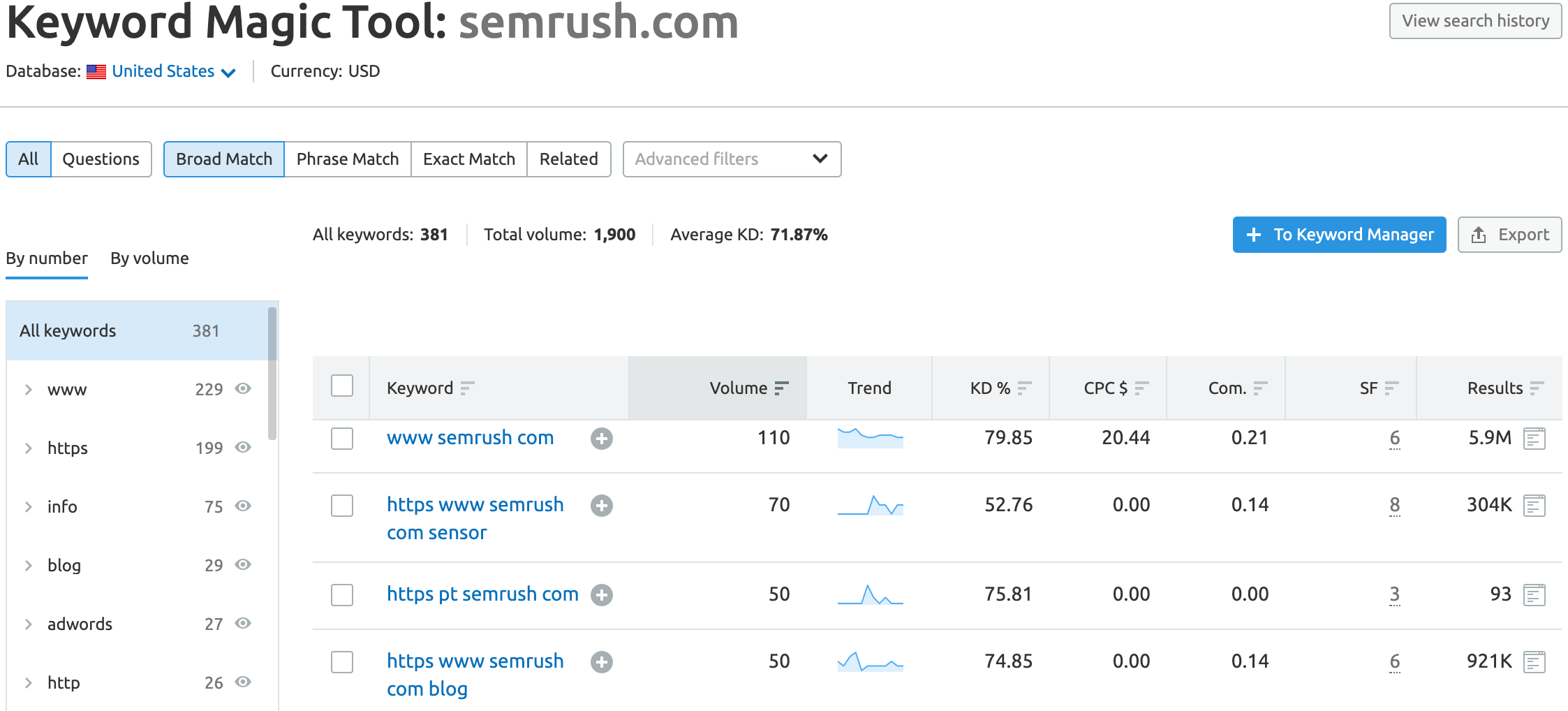 Simplicity and reliability
It is as simple as typing your desired keywords into the search bar and then hitting the enter button. All of the most relevant keyphrases are listed first, and you can even save up to a million of them in a single file and then export them. Using the keyword grouping segment you can easily organise keywords by topics and go through the most relevant groups for your keyword research process, gather phrase matches and related words with simple filters.
Add the best keywords in the Keyword Manager and get the fresh metrics on demand. The keywords you choose could be sent to Position Tracking for tracking ranking results or to PPC keywords tool to adjust your PPC campaigns.
Keyword Overview is a handy feature, and it is especially good for the longtail ones while also remaining specific to your intended target. It helps find the right keywords for SEO and PPC campaigns or explore multinational and multilingual environments. The results are always presented in the form of a detailed chart on the dashboard, highlighting the following information:
CPC data (and other ads and PLA information)
Search trends
Volume (and Global volume
Number of results and SERP features that the target keyword triggers
Current rankings
Keyword phrases variations
Related and Questions phrases
It works for mobile, too
It is even applicable to smartphone searches, which makes it a more versatile tool to use. What's more, it takes a matter of seconds for the results to come up. You will be able to discover which keywords are working for you, which ones might need to be dropped, and more about those you may not have considered previously.
All of these results can be used to create new and relevant content that will blow your audience away, leaving them feeling engaged and as though they are able to further relate to your brand. You are able to find the best regular and long-tail keyphrases, as well as tracking their performance anywhere in the world. The best part? There is no limit either.
SEMrush competitor research
Take a look to see how the competition is doing, how they are achieving the upper hand with keywords, and what your realistic chances of taking over are. After all, being realistic is one of the most important practices when you are trying to make your business a success.
Sometimes the competition is too big to outrank, but that doesn't mean you give up. Another way to utilise competitor analysis is to look at their newly acquired backlinks. That way, you can easily see where link building opportunities are.
You just need to find new, craftier, ways to hop up the ladder and make your way to the top. Thinking outside of the box is a good friend to marketers, and it is often the best way to achieve your goals as well as reach out to your audience.
How to use that information?
SEMrush will also show you how to use the keywords that you find effectively so that you can create the best possible campaign for your website and company. They are such a vital part of outreach and overall search engine ranking, and we often disregard this a lot more than we should.
Instead of wandering about with your strategy, SEMrush will shine a light on what you should do next — which websites are great for getting a backlink on, which HARO queries to respond to, and where you should guest post.
Using the Bulk Analysis feature on the Keyword Overview you can get a quick overview of a set of keywords to understand main metrics and define SERP features presence. This helps immensely with link building campaigns.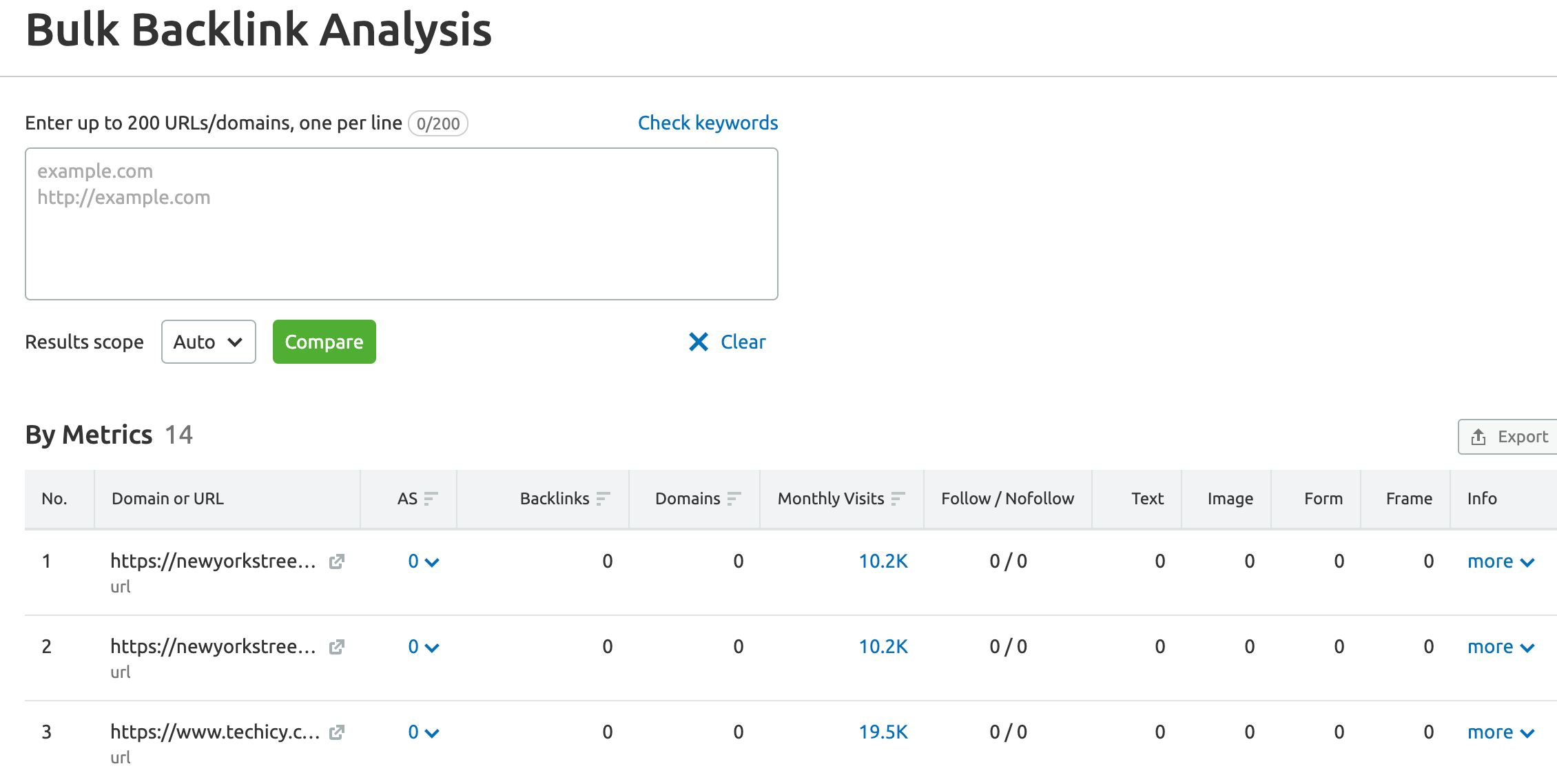 Improving Social Media
"Google only loves you when everyone else loves you first." – Wendy Piersall
For those of you who have used SEMrush in the past and are reading this out of curiosity, you might be excited to discover that their tools have been completely redesigned and are better and more effective than ever.
It's about tracking and monitoring what's happening, getting insight about best cases and successful posts and campaigns but also it allows schedule and plan your posting activities. Here are some quick examples of what you can use it for:
Tracking social profile growth through engagements
Learn about the best times to post
Compare your social media performance with your competitors
Learn from the competition and use their ideas to create your own
Schedule your posts or boost posts directly in the SEMrush interface
Social Media Tracker
With this tool, you will develop a winning strategy, track and analyse profiles and build amazing reports to compare your and your competitors' performance in various channels. You can use the tool to track your growth across a whole load of platforms, and it lays all of the data out clearly for you to read.
You are able to see your audience for each channel, the average activity on said platform, and the overall engagement across your posts. It will also show you if these numbers have increased or decreased so that you can determine how successful your recent campaigns and interactions have been.
The same information will be shown for your competitors if you want to keep track of them, and it can be quite handy to see how they are faring compared to you; as well as where you can learn from them. You can use this, and the social media tool, to determine when and what is best to post.
That is, the things your target market loves the most and when they are likely to be around to read them. Timing is everything on social media, and you need to know that you have the best possible chance of reaching them. The activity tab is a great way to monitor all of this.
So, what to do with that?
What do you do when you discover the best posts that your competition has? Steal them of course. Not word for word, that's not what I mean, but the style. Let me give you an example. Is a picture of the team together celebrating their customers drawing in a lot of engagement? Plan a post around the same kind of topic and put it out there.
Learn from their successes and take them as your own; moulding them into something new and unique that helps you to stand out. Business can be a cut-throat world and you need to become a part of it.
Social Media Poster is another powerful tool which helps you to schedule posts and manage your schedules, analyse your content performance, post to Facebook, Twitter, Instagram and Pinterest and Linkedin from one place.
Also, you have an opportunity to save time on profile management by using the advanced features and even promote your post in Facebook, Instagram and Facebook Messenger from SEMrush Social Media Poster interface directly.
Rank Tracking Reports via Email
Your website is a constant work in progress, and that is something that will never change. You should always be tracking what's happening, and SEMrush is able to do that for you.
It even generates regular reports so that you can get a detailed look at the areas you are improving in, that need work, and general customer reactions. The reports are also fully customisable so that you can create an overview that includes all of the key information that you want to see.
You will also receive monthly email reports straight to your inbox, and these are exceptionally detailed. This also includes progress for specific keywords and rank tracking data; showing you how visible you are and the areas that require additional care and attention.
It's one of the great things about SEMrush, they always make sure to keep you in the loop so that there is no doubt about what's happening in your business.
My Reports
My Reports is a super customizable feature which helps you to create a report with only the information you actually need. The tool allows you to gather all of the SEMrush data in one customisable PDF report, there are also integrations to GA, GSC and Google My Business.
That is extremely useful for reporting when you can combine the data from different sources. You can design your report using branding and commenting features or share and schedule your reports so that they go out on a regular basis to you or your clients.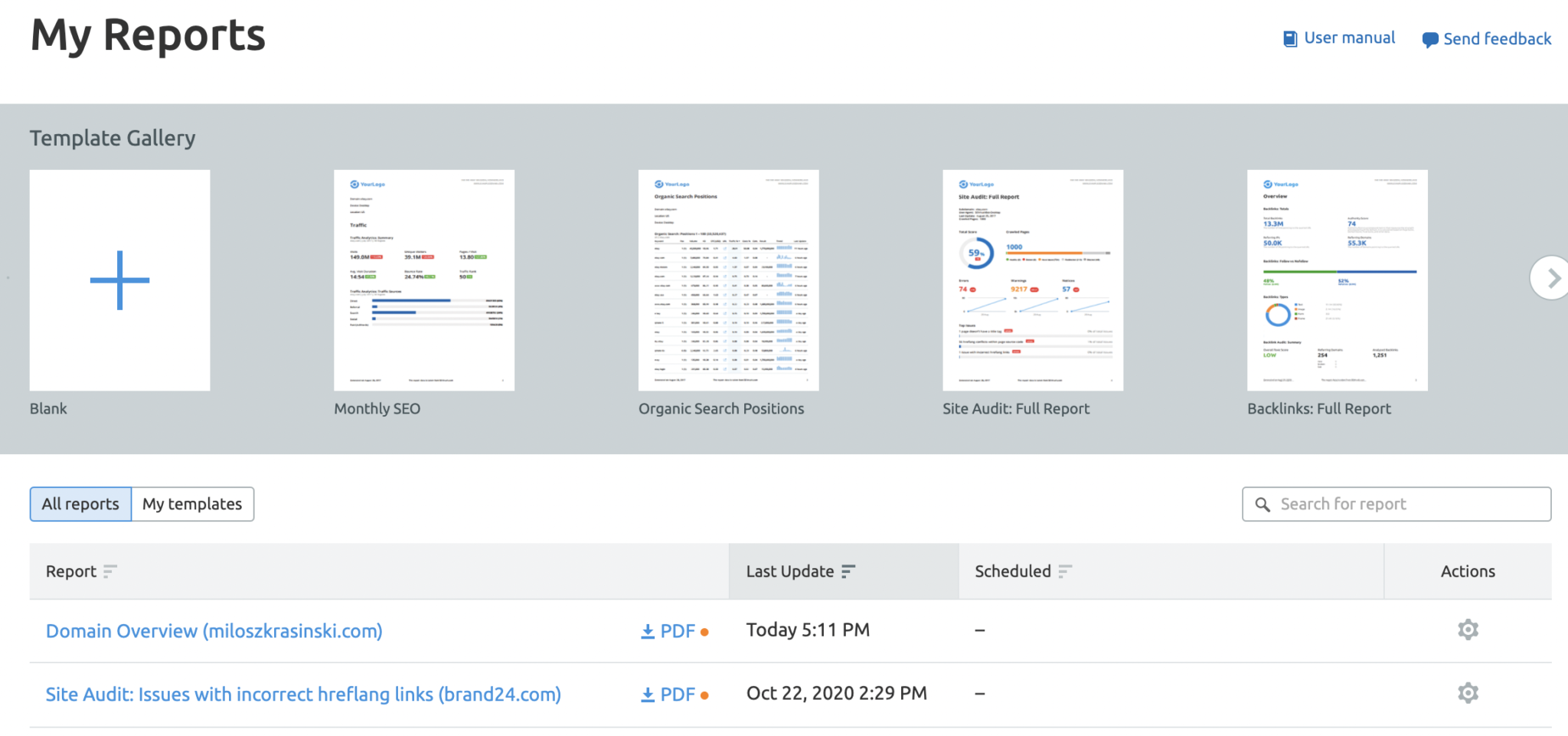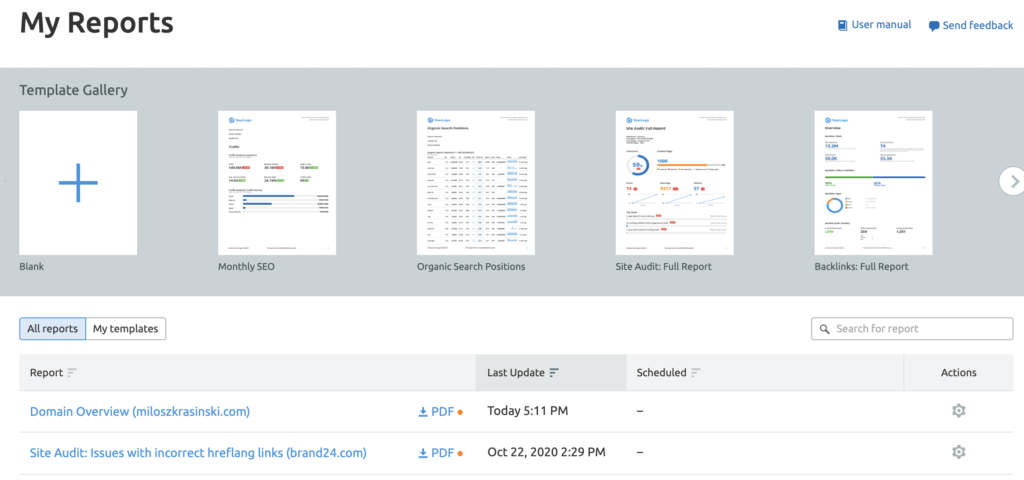 With a Business subscription to SEMrush, you can also add SEMrush data into your reports in Google Data Studio. Data can be pulled from Domain Analytics, Rank Tracking, and Site Audit.
Tools on the Side
What do I mean by this? Well, I'm talking about mobile. That's right, the thing we always forget to think about despite the fact that it is the most important. If your website is not optimised for mobile, it's worthless. Most web traffic comes from mobile devices now, so if you aren't already up to date you need to be. Don't worry though, SEMrush can help.
How can SEMrush help?
What can you actually do with this tool to boost your rankings? How about a quick rundown:
Find unfriendly domain pages
Find the mobile equivalent for all of your research
Find out where you can improve to make yourself mobile-friendly
It's so easy to do this as well. When you are searching domains and the information is being presented, you will see a little mobile tab. It's something you may have missed before, but when you click it, the world of mobile data will be revealed to you. What is the ranking difference? The keyword difference? The results difference?
Mobile vs. desktop
The comparison between desktop and mobile results is essential, and all of the above questions are answered quickly and effectively. All will be revealed to you, and the areas that you need to work on are clearly highlighted for you. See what you can do to make your website mobile friendly, and create a more efficient website that can carry itself (and your brand message) across platforms.
How you show up for mobile keywords vs. desktop keywords can be different – and this can be different for each location. SEMrush provides an option to research mobile keyphrases separately and compare them to desktop keywords. Mobile users use devices on the go and want to find things easily. Voice search is growing in popularity, so it is a good idea to aim for long tail keyphrases that resemble conversational questions.
Using Rank Tracking tool you can review positions of your domain on multiple devices and in different locations, track changes and overall trends and analyse SERP on desktop or mobile.
Mobile has become an integral part of most people's daily lives. That is why it is so important to see how many people visit the website of your interest via their mobile devices and sources bring traffic. Mobile devices usage varies greatly from country to country, industry to industry. So in Traffic Analytics, you have an opportunity to switch between the desktop and mobile search traffic data.
Extensive On-Page SEO
SEMrush also provides users with tools which allow them to create optimized content. You can find the recommendation in SEMrush SEO Content Template with a phone selected as a device for Google search targeting.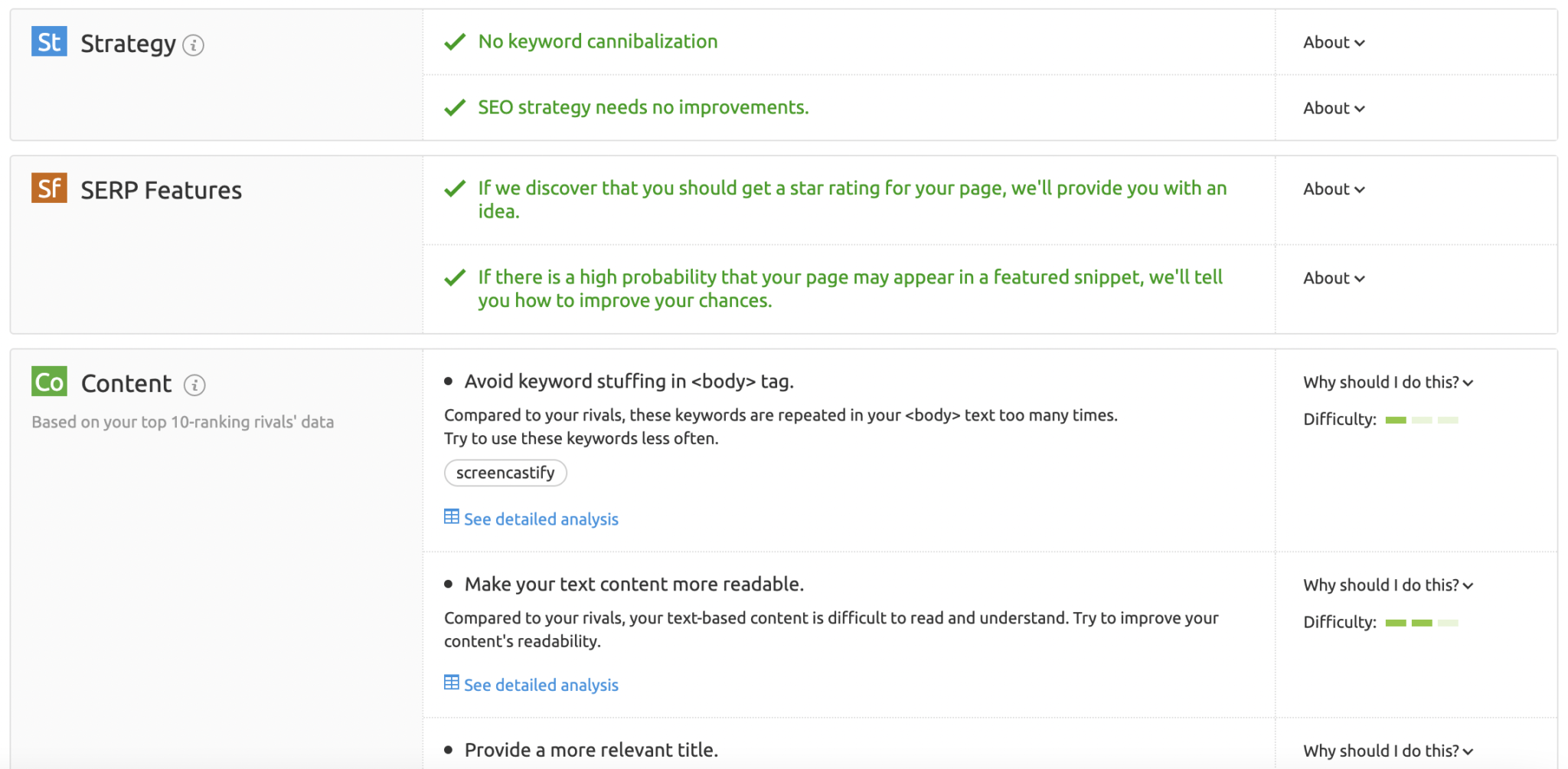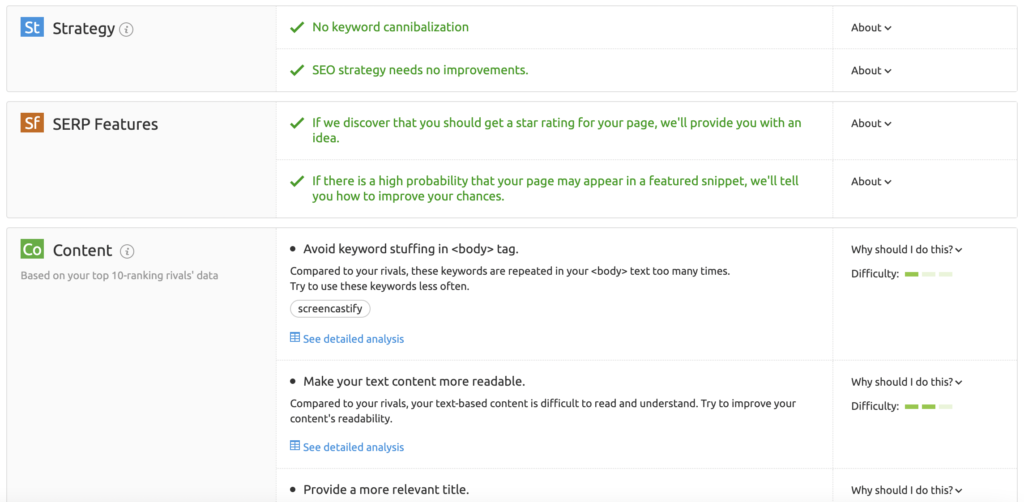 Even more detailed SEO recommendations can be found in On-Page SEO Checker where you get a list of recommendations for fixing up your page's content, semantics, user experience, and technical issues. A fantastic SEO Writing Assistant tool helps users to create 'SEO-friendly' and original content in Google Doc and WordPress directly.
Page speed was confirmed by Google as a ranking factor, especially on mobile, so it can't be ignored. In our powerful Site Audit you can identify pages with slow load and optimize them for both desktop and mobile. SEMrush Website Audit also has a unique feature which allows it to detect all possible AMP implementation issues.
There's also SEMrush Writing Assistant – a WordPress plugin that suggests recommended keyword you should use in your article based on your main phrase.


SEMrush pricing
By now I am sure you're thinking that SEMrush is a fantastic tool that you absolutely need in your life. You are also likely wondering how much a masterpiece like this is going to cost you.
Well, you'll be pleased to discover that it's actually pretty affordable; especially considering everything that it comes with. SEMRush pricing plans start at $119.95 a month. Here's a quick rundown of each pricing plan, and you can find the full details on the SEMrush website.
And it's also important to mention that there are significantly extended limits (keyphrases to track, pages to crawl, results to get, and a lot more) between different subscriptions. SEMrush also offers a 7-day free trial.
Pro; for freelancers, start-ups, and those with a limited budget.
$119.95 per month
5 projects
500 keywords to track
10,000 results per report
Competitor analysis
Website audit
Keyword research
Guru; for SMB and growing marketing agencies.
$229.95 per month
15 projects
1,500 keywords to track
30,000 results per report
Content Marketing Toolkit
Historical data
This package also includes all of the features from the Pro plan.
Business; for agencies and businesses with a large web presence.
$399.95 per month
40 projects
5,000 keywords to track
50,000 results per report
Share of Voice
PLA analytics
API access
The Business packages also includes all of the features from Pro and Guru.
Custom Plan – Price on request
If none of the above packages satisfy your needs, you can contact SEMRush and create a custom plan, which will be specifically tailored for your business.
Is it worth the price?
SEMrush pricing is actually very reasonable, especially when you take into account how much you are getting in return. They have four different price plans, the suitability of which ranges from freelancers to enterprises, and you have the option to pay on a monthly or annual basis.
If you decide to select the latter, you can save up to 17% per year on your subscription, which is well worth paying the amount upfront. If you decide to pay monthly, the prices start at $119.95 per month.
The three main plans are titled "Pro", "Guru", and "Business". The fourth option is customizable, so you have the freedom to choose more features and limits that are going to benefit you the most. Plus, you can add other features like CI add-on later if you feel you need Traffic Analytics and Market Explorer full access, so you aren't restricted by your initial choices.
Who uses SEMrush?
SEMrush has a pretty impressive list of clients, each of which has found their services to be incredibly useful. In fact, if you look at their website, you can see the testimonials that these large companies have left them. Here are some of the most notable clients that SEMrush has:
eBay
Quora
Amazon
HP
Tesla
Samsung
Booking.com
PwC
BNP Paribas
These are all very large companies/enterprises, and their trust in SEMrush and their toolkit shows just how fantastic and beneficial it could be for you.
SEMrush alternative tools
Ahrefs
Ahrefs is one of the more popular options. It's a suite that offers similar features as SEMrush. It has tons of tools to help you improve your SEO game. With it, you can run a site audit, analyse your competition with site explorer, look into what your customers search for with keyword explorer, take notes from top-performing sites and track your progress.
A powerful platform that collects keywords for your SEO and PPC campaigns, determines value of keywords and checks your webpage's relevance. Furthermore, it offers you international data so you can adapt to target countries, provides you with long tail keywords and gives you keyword combinations and suggestions.
Moz
Moz is an all-in-one toolkit that can help you build your position and relevance in the search engine. It features site audits, rank tracking, in-depth backlink analysis and thorough keyword research. It also has an API that can provide you with additional data.
To Conclude
I hope that my guide to SEMrush and the way it works has helped you understand more about how it can improve your business. Traffic is everything, and to achieve higher levels of it you need to have good search engine rankings, a great social media presence, viable content marketing strategies, and also keep an eye on what the competition is up to.
All of these little things working together lead to success, and with SEMrush in your arsenal you are sure to become an unstoppable force.
After reading through this, I hope you have a better understanding of SEMrush, how it works, and the ways in which it can benefit you as well as your company.
With an impressive set of testimonials and a range of tools that are beneficial for any business, it might be just the thing you needed to get yourself out there.