There are many different techniques for achieving the highest result in the SERP. The only way to guide your website to the top is to apply most or all of these techniques. All of those methods are added to the mix of Search Engine Optimization. There is one primary division of these techniques: on-page SEO and off-page SEO.
The first focuses on the content of your website. Using various on-page tools and methodologies can help you get more traffic. There are many factors to consider when optimizing your page's content and HTML attributes. On-page focuses on factors such as keyword density, using the right schema for your article, internal and external links and many other more subtle factors that Google's PageRank takes into consideration.
On-page SEO is all about that – the content of the page.
While off-page SEO, on which I want to focus in this guide, is the art of using techniques which are not on your page to make your site more favourable in the eyes of Google, hence the name. Building backlinks (the main topic of this guide), promoting your site on social media, local SEO and, everything that happens outside of your website and contributes to your ranking. These are the elements that off-page SEO covers.
One of the main contributors to off-page SEO is the art of link building. This is vital if you want to stay ahead of the competition. I'd say that this is one of the most important, if not the most important, ranking factors and, this is what I'm going to explore in this guide.
What is link building?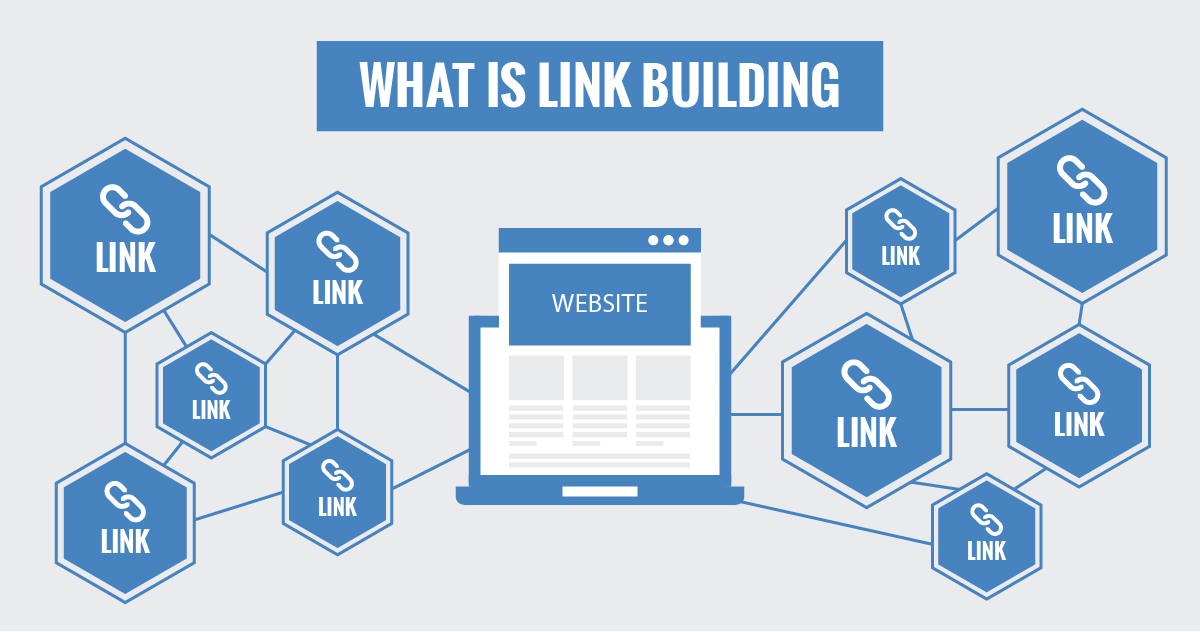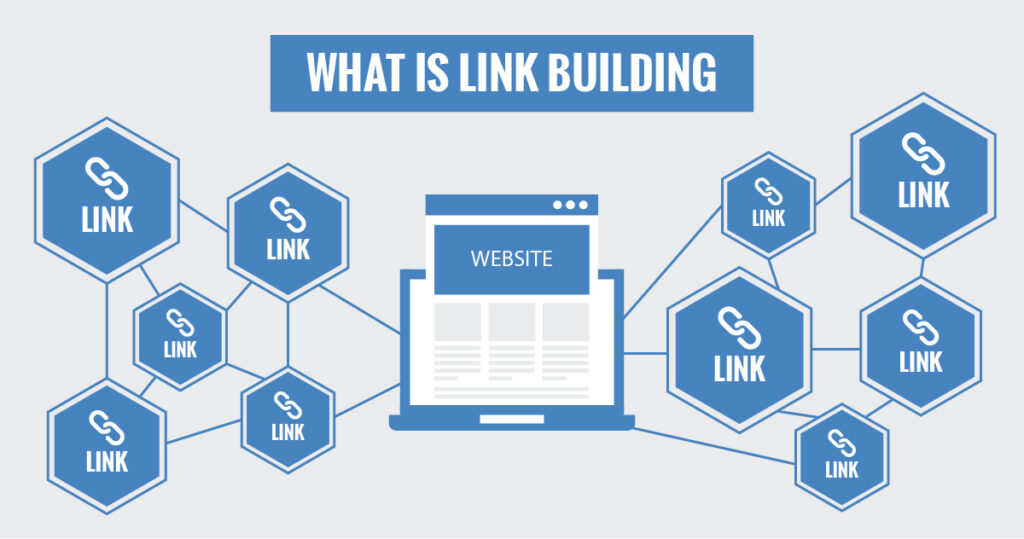 Link building for SEO is nothing more than acquiring links pointing back to your site. That seems simple enough, right. Well, it is simple, just not easy. It takes time, resources and knowledge.
There are several methods of link building. Some of these are more effective than others. Some are hard and take a lot of time, while others are easier, but net weaker results. I will cover the most effective and popular ones here.
Google uses the number and the quality of backlinks as one of its crucial ranking factors. It basically tells the algorithm, among other things, where to rank your web page. Links also help search engines to discover other relevant pages.
It wasn't always like that, though.
Google started using the backlink ranking factor back in the late 90s. It is such a relevant, effective method of measuring a website's value (among other methods), that it allowed Google to effectively control the search engine market.
It's effective because it's intuitive. Why would anyone link to another page? Usually, because that page is a good resource. Therefore, the site should be indexed higher in the SERP. Google is trying its best to provide the best information in the quickest, most convenient way. And links are a good indicator of a website's value.
Another positive aspect apart from improving the website's power is the referral traffic brought from other websites. Referral traffic is the visitors that stumbled upon your page on someone else's site and clicked the link to you.
There are four types of links.
Dofollow
Dofollow links, which do contribute to your overall score. Generally speaking, these are the links that you're after as they are the ranking factor that you should be aiming for. They are just regular links without any attributes added to them within the code.
Nofollow
The other type of links, nofollow links, are the ones which contribute much, much less to your page ranking. Here, the website adds a rel="nofollow" attribute to the link in the HTML code. If a page doesn't have complete control of the content on the page, for example a forum, it will attribute nofollow to all the links posted by visitors. This is to prevent link manipulation.
The same goes for blog comments, wiki pages and Yahoo! or Quora answers – all of those links are nofollow. Sometimes, bloggers who accept guest posts will set their links no-follow, so that they are not perceived as a backlink facilitator. These links don't add value to your ranking score. Although they can bring you some recognition, they don't matter ti Google all that much. The no-follow attribute was created because it's more convenient to just add it to all the users' posts than to manually moderate all the content.
Advertisers and the links that are paid for should also use the nofollow attribute. The main premise is that you shouldn't benefit from organic traffic through such links.
And you don't. Well, not very much anyway. This is why you need to be looking for dofollow links but, bear in mind that these need to be high quality. So, how to get quality dofollow links?
UGC (User Generated Content) and Sponsored
UGC, as well as sponsored link attributes, are a relatively new addition to the Google toolbox. These are sort of similar to no-follow in that they don't bring much value to our backlink profiles. UGC links are supposed to suggest to Google that the content has been written by the users as a comment for example, therefore naming its intent more or less.
Sponsored links, on the other hand, are ones that you buy. Or at least they should be. Say you bought ad space on some website – because the ads were paid for, the links in them should have the attribute "sponsored" so as not to affect your authority. Not marking them properly can result in Google penalising you.
Both of these attributes were introduced to improve the clarity of our intent. Sure, no-follow has worked just as well but, with these two, Google will be able to spot unnatural linking patterns more easily, as there are additional factors at play.
Internal links
Where to begin with link building?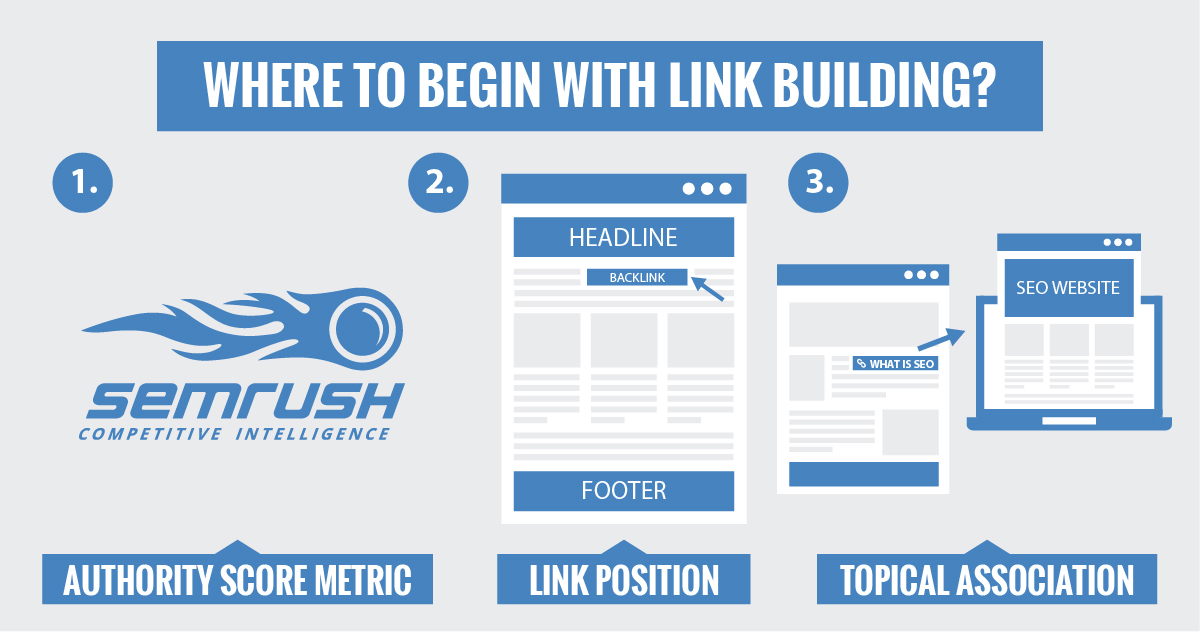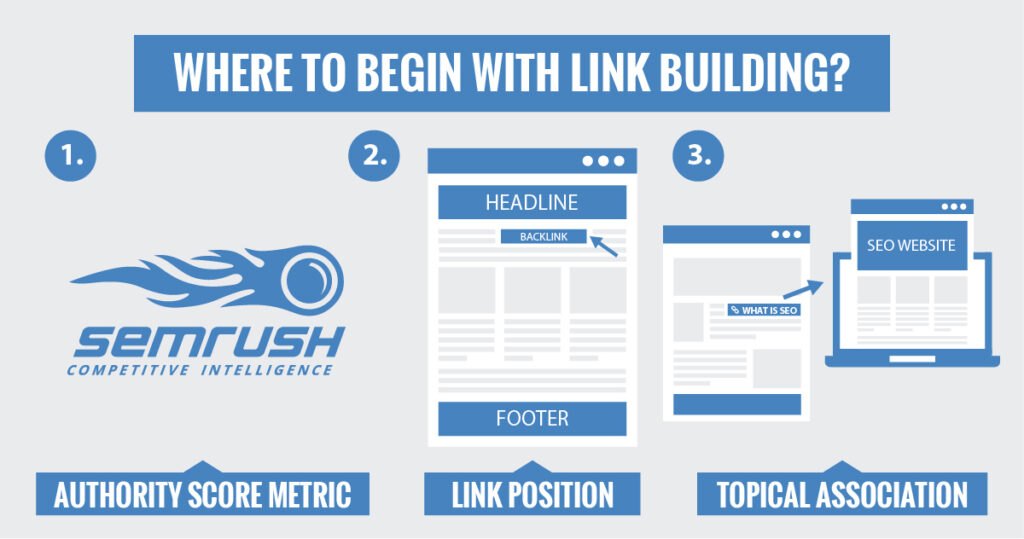 Tools are extremely helpful for this as you need to do some research to figure out if a link from a particular site might be of the desired standard. I use SEMRush for all of my internet marketing endeavours. Finding high-quality links is no different.
How to find high-quality link building opportunities?
SEMRush has an Authority Score metric. When I am looking for links, anything above 20 – if the traffic is above 1K – is of interest. If the website has an AS higher than 50, then I consider it to be an excellent page to acquire a link from.
Having said that, Authority Score can prove to be a faulty metric at times as webmasters possess the means to blow it out of proportion. This is why you should also look at other page metrics such as referring domains and traffic. If a website has a high AS, little referring domains but a lot of backlinks, and no traffic, chances are that the site's owner uses some shady strategies.
Being authoritative is not enough, it's also good practice for them to be relevant to your content, too. You don't want a link from a site that's about Mexican food when you're writing about software development as this can hurt your search engine rankings. Ideally, the page should complement what you wrote and be relevant to the topic, although that's not always the case and it's not always that bad.
For instance, getting a link from a site like CNN, which is not really about software development, is still very much valuable and viable. If a website is large and has good AS and traffic, it's just as good as one which is more relevant content-wise. Even if it's not that relevant topically.
For some time now, Google has been able to recognize whether the links you get are topically matched to your page. There was a time when you could get a link from just about any website with a high AS and get good results from that. These days, this doesn't work as well.
Things to take into consideration with link building
Another contributing factor is the position of the link. You don't want your link to be hidden somewhere in the side menu or the footer. Such links are of less value than those which are inserted into the body of the text.
If your link was placed there naturally, then bravo, good for you. This is called a natural editorial link. Your site seems to be a good resource for the writer. Such links are worth the most in terms of Google as they are organic.
You can also get links in other ways – and ones that are editorial, too. They may not be as natural, but you can make them appear so. For this reason, you want topical similarity. I will discuss the methods for obtaining these later on.
Unnatural links can be considered a violation of the guidelines, according to Google.
Referring domains is another factor that matters. This differs from the number of backlinks, as it counts only the root domains which link to us. If a website is linked to you from three different articles on one domain, that would count as three backlinks, but only one root domain. Referring domains are an even more powerful signal for Google, as it's much better to have a varied link profile. Basically, It just looks weird if all of your 600 links to your site come from five or ten domains.
The anchor text matters too. This refers to the text on which the link is inserted. It has to be topically associated too. It's risky to build too many links with the exact keyword, though; in fact, it's better to use many different but related versions of that keyword as Google's algorithm considers this to be much more natural. Apart from anchor text, a nice, natural distribution of no-follow and do-follow links is something to consider as well.
Using a link analysis tool such as Linkody, you can adjust your backlink profile to fit better with the guidelines. You might encounter some malicious people using black-hat strategies to hurt your rankings. This is where the disavow tool comes in handy. If you're sure that the links hurt your rankings, then you should perhaps get rid of them.
Well, now you know what links to look for. But how to get them? Where to build links?
White-Hat Link building strategies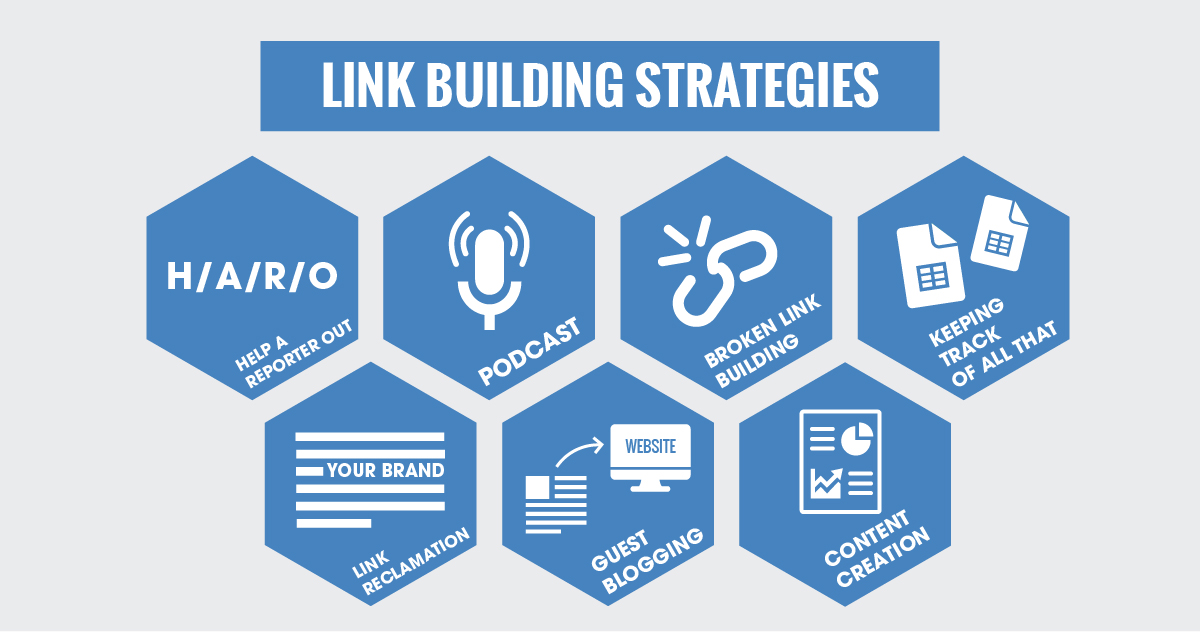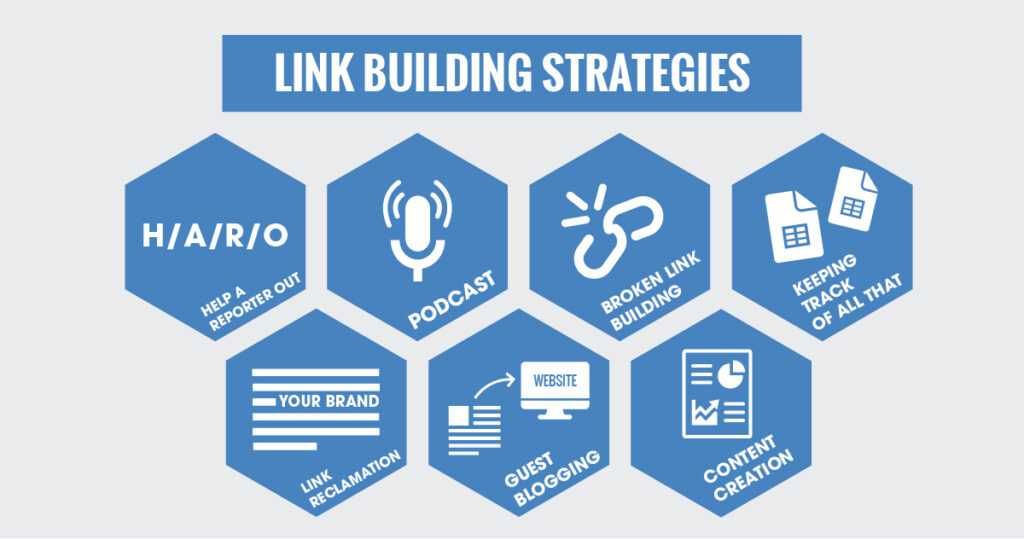 Outreach
This is arguably the most popular link building tactic of all.
To do this, you will first need to reach out to people, hence the name.
You will need to find the right bloggers, reporters and other resources to connect with. Sites whose topics are relevant and similar to yours are the right way to go. Additionally, its a good idea to check out your competitors to see where they get their links from.
By using SEMRush, you can navigate your way through your competition's backlinks easily and find exactly what you're looking for. Remember the authority guidelines, too. SEMRush shows all of this. Alternatively, you can just search manually for bloggers whose area of content is related to yours. A good way to look for such bloggers is to search for lists of top blogs about a particular thing. I'd advise you to combine the two methods – it's more effective, efficient and is easier.
Now that you have your database of people you want to write to, what next?
Here's the deal:
So, now its time to write your emails. You create personalized emails using tools such as FindThatLead. A template might look something like this:
With these tools, you can create personalized emails to be sent to hundreds of people without that much effort.
Additionally, scheduling your emails for the afternoon is always good practice, as that's when people tend to receive the least emails. If your email lands in their inbox in the morning, it will get buried by lots of other emails that were sent through the night, in the evening or in the morning. By the afternoon, people have most likely cleared their emails.
Be very careful when using such tools, though. If you make a mistake in your message, all of the recipients will receive the mistake. And there can be hundreds. For this reason, always make sure that the email addresses are verified, your email is correctly written / composed and doesn't have any minor syntax or technical mistakes.
People sometimes take ages to respond. Or they don't respond at all. But don't get discouraged. Send a follow-up email and then wait a little longer. A large number of people are open for collaboration, and they will usually, eventually, answer.
Even if you get negative replies, don't just ignore the email. Reply to that too. You could perhaps propose some collaboration on the next piece they write. By ignoring the email you decrease your chances of a relationship with that person substantially. If you send a polite reply, they might contact you sometime in the future, who knows?
A good practice is to ask for feedback as to why they declined the cooperation. Maybe ask them what type of content is needed for the industry or, ask if they know anyone who needs your kind of content. Better to ask the way than to go astray. That way, you can get some actionable insights virtually for free.
People won't be willing to link your page if they deem your piece to be poorly written or factually incorrect, be it your homepage or an article. Accordingly, make sure that you have produced some great content. Outreach has proven numerous times to me that it's the most effective link building strategy if done right.
Another method I use is HARO.
HARO or Help A Reporter Out
HARO is a platform on which journalists and bloggers post queries and ask experts to comment on it for use in their articles. I always answer marketing or business queries, as they are in my area of expertise.
Even when I tell the reporter that our website is chillifruit.com, which looks like this:
I still get the links.
They are willing to use my comment and link back to my website. Even if it has no content. Of course, you have a much higher chance of scoring such links if your website is somewhat linked with the topic. You can, however, aim for a lot of diverse queries, as long as you can answer their queries correctly. Here's an example where I got a link:
For the amount of work I put in, which normally is about 10-20 minutes per comment, it's a pretty good way of link building.
Here's an example query from one of the reporters:
All you need to do is to write a comment which adheres strictly to the poster's guidelines. Some reporters are more specific, some are less so you need to make sure that you read the post carefully. This query doesn't provide many guidelines, but a good rule of thumb is to keep your comments to less than 200 words long, unless it's specified to be longer. The reporters get lots of responses, so it's hard for them to read all of them, even more so if they're long.
This has been one of the most effective link building tactics I've ever used.
Link reclamation
Another technique I use is link reclamation. By using software which tracks mentions of your name or your brand name online, you can get a picture of where the mentions go along without a backlink. Then, you can reach out to the people that mentioned you on their website. You can create a database of links to reclaim, and again, go with the template.
Here's an example of an unlinked mention of my name – I could write to the article's author to include a link to my blog on my name as an anchor. I found this one using the Brand24 mention tool:
Sometimes people will give you the link and sometimes they won't. Mostly it's a shot in the dark, but nonetheless, it's worth a try.
Podcast link building
When you start to gain some recognition, this is a good time to turn your hand to podcasts. This is a really easy way to score a link, as there are hundreds of podcasts that you can take part in. There are podcasts virtually on any topic, you just have to look. These will almost always guarantee a high-quality link. You can write pitches for podcasts, just as you would with guest posting.
Guest blogging
As for guest posting, you can find websites which allow publishing your piece of content within their guidelines. If you think you can write good content and pitch it the right way, go for it.
You can begin guest posting by searching Google for your keyword of choice + "guest post guidelines" or "write for us". For example, if you want to write about SEO, search seo + "write for us". That way you can find websites that accept guest posts.
Next, you have to analyze the website's content. Take a look at what might be missing from their site by searching site:example.com "topic of choice". If you find something you know a lot about that's missing and relevant to the site, go for the pitch. Try to think of at least two topics and reach out by email.
This website, for example, lacks an in-depth article on search intent, which is a topic that all prominent SEO websites have covered in detail. They could use one here, and this presents an opportunity.
Despite the following comment by Google's Head Of Webspam:
"Stick a fork in it: Guest blogging is done.",
it's still a viable way to build your links. While Google has deemed guest posting not as effective as it used to be, that's not, in fact, the case. If you're not spamming, and choosing relevant websites to guest post on, this is still very much effective. However, you do need to make sure that you provide good content, not spun, recycled and thin articles.
Another way to look for websites to post on is to look at the backlink profiles of your competition. To clarify, this means checking which domains link back to your competitors. Next, see if there are topical matches. Even if those websites don't specify that they accept guest posts, hit them up anyway. Then, tell them that you can share some insights on topics they don't have but are vital to their business. Alternatively, you can ask to become an additional reference by providing a comment, in the same vein as with HARO.
Go ahead and put a link or two to your other posts or to your whole blog in the message. Again, you can do this manually or by using software and appropriate email templates. Finally, if the website's content editor deems you worthy of guest posting, you can now go ahead and write your article.
If you don't know your competition, SEMRush is here to help you find them.
By using software such as FindThatLead, you can find relevant emails on the site. You should, preferably, write to someone who's a content editor for the website, or a content manager. People within these kinds of roles are the most likely to respond to your request.
Guest posting can't be the only technique you use. If you misuse it and post thin, recycled and low-value content, there's a chance of a penalty from Google.
Broken link building
Another good method of link building is to look for broken links. Broken links are links that take you nowhere. You've most likely seen these as web pages which display a 404 error. This means that there's nothing there.
Using the right tools, such as SEMRush's backlink analytics, you can find these broken links. Look at your competition and their referring domains. By matching the topic the broken link leads to, you can propose to the website owner that your content fits there and they can fix their link. People are more than willing to fix the links they are missing in order to keep their website afloat.
Content creation
Creating content such as infographics and whitepapers and posting them in your articles is a good way to earn links too. Chances are, someone will take your infographic and use it in their own article. You can use reverse image search to look for such occurrences and message the editor. You may feel like they stole from you, but you should be happy as this is a free link opportunity.
If you have some white papers, data visualisations, videos or how-to guides, you can reach out to influencers who can promote your content. If it's good enough, you can earn tons of links from such practices.
Despite the fact that this may seem like a lot of work (it is), creating exceptional content can be a top technique in link building. Although it takes a lot of time and talent on your part. In the end, the benefits it brings are worth it.
By writing some great, unique content, you can even get people to link back to you totally out of the blue. These links are the holy grail of link building. They are the most natural and the best in the eyes of Google.
Keeping track of your link building campaign
An Excel spreadsheet or a Google Sheets spreadsheet are both good ways of keeping track of your outreaching endeavours. It's very important to keep track of what you're doing because, in all likelihood, you'll be reaching out to hundreds of websites. You wouldn't want to get lost in that.
Trading links with particular blogs which are topically related to yours can be a good strategy, too. Find blog posts that complement your content and hit the bloggers up. See if they'd like to add a link to your blog post and vice versa. You shouldn't be overusing this though – less is most definitely more.
What to be careful about with link building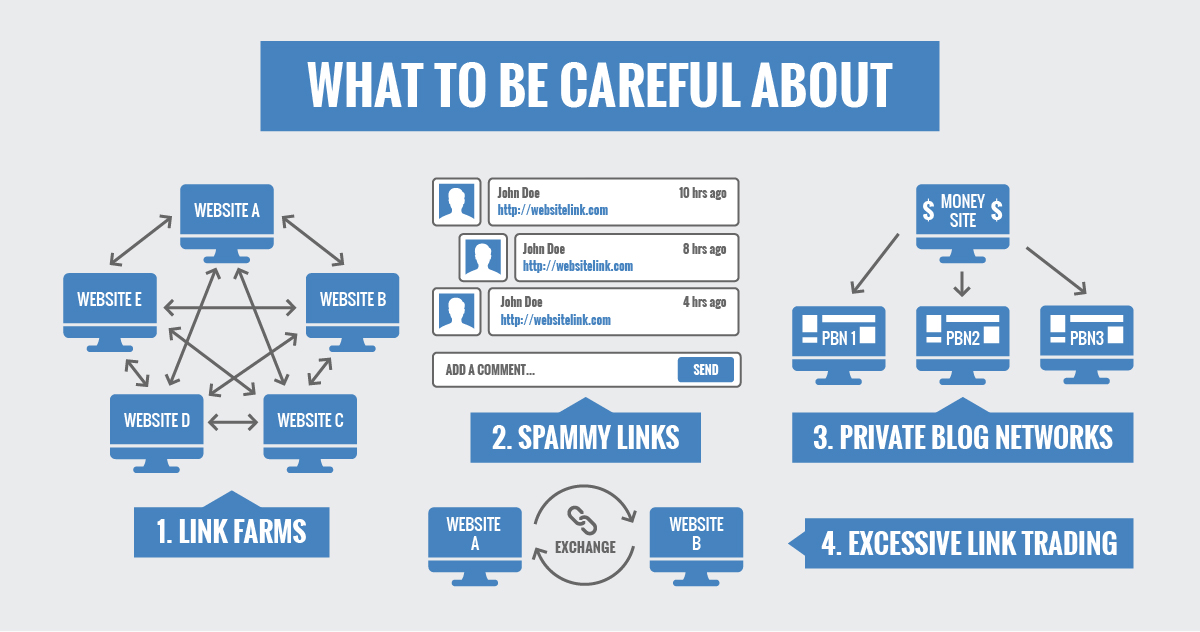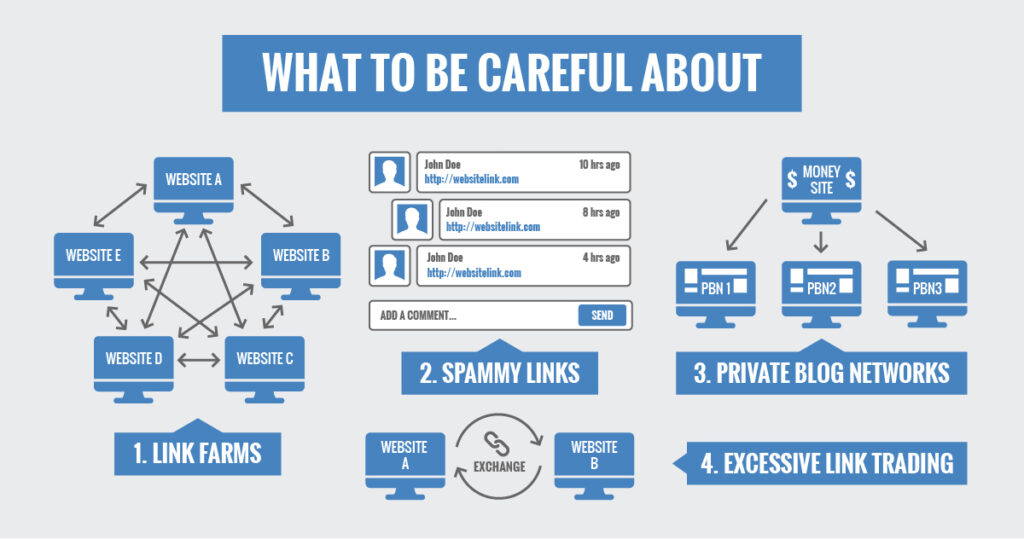 Some link building techniques are "banned" by Google, as people have started to overuse them. SEO specialists started to abuse link building, but for a while now, Google has a penalization system for those who don't follow its guidelines. Despite this, there are still cases of SEOs manipulating Google.
Google was – and still is – making an effort to find better ways to seek out pages that manipulate its algorithm. They roll out regular updates, trying to always be a step ahead of the SEOs who are trying to misuse some techniques.
If you get penalized by Google manually, then you're in for trouble. As a result of this, your website will be deemed poor, and your rank in the search results will suffer. Of course, there are ways to mitigate the penalty, although such things take some time and resources to fix. Therefore, it's better to stay within the guidelines.
A few examples of Black-hat SEO link building strategies
Link farms.
Link farms are sites where a large part of the content is made up of links. There used to be times when you could rank well for specific keywords with just about any links. Right now, if Google notices that you have gained a large amount of low-quality links in a short period of time, they can, for instance, hit you with a penalty. This is a red flag to them that a site might be using a link farm.
Spammy links in blog comments.
Regular links in blog comments aren't half-bad, even though they're nofollow. In fact, they can give you some recognition. Nonetheless, you should avoid spamming blog posts with links, though. This is a practice which can land you with either a penalty or a bad name among internet users.
Private blog networks.
These networks have only one purpose – link building – just like link farms. Such sites have a high authority, although not very good content. To clarify, this happens when you buy a domain which already has some amount of authority built up and, then, you turn it into one of blogs in a PBN.
When you buy such links, each PBN site then links to the page that SEO professionals want to give a boost to. This allows for quick, rapid rise in authority of a page, but Google is getting better at recognizing such blog networks and penalizes anyone who uses them.A few examples of such techniques
Excessive link trading.
This is a technique that was viable in bygone days. For instance, you could message a website owner and tell them that you would like to exchange links. Link to me and I'll link to you. It's fine to trade links, but not too much and mostly with relevant websites. This technique can be abused to the point where you're trading with virtually anybody, which is not a good practise at all. You need to make it seem like you have a good reason for linking someone and that someone linking you. This way, you can dodge any penalties from Google.
Google Guidelines
While Google makes its guidelines in terms of positioning your website readily available, these are not always conclusive or easy to interpret. To clarify, these guidelines often provide ambiguous instructions for link building. Google's John Mueller has said it himself – "I'd avoid link building in general." This sparks discussion and confusion among SEO professionals. Should they ditch link building altogether? Is this even considered legal by Google?
In case you're not familiar with who John Mueller is, he's a Senior Webmaster Trends Analyst, who's been one of the more active Google employees and, is more than keen to give advice and answer questions from SEO specialists. He makes regular appearances on a podcast where he answers webmasters' questions. So, instead of providing you with easily digestible instructions, Google refers to a podcast where some of the questions get answered.
Mueller's answers have sometimes been inconclusive to say the least, which has occasionally stirred the SEO pot quite a bit. Now, I'm not saying that John Mueller is bad or does this consciously, it's just that he gives short answers to long questions at times. This, in turn, spins the wheel as search engine blogs write the news as a press release. All of this then gets shared, and so on and so forth, until somebody, or even John himself, contradicts his words, or everybody forgets about it.
This brings me to the other side of the coin – the SEO bloggers and their entries. John Mueller's words are often provided without the required context, which makes it seem like he contradicts himself. This leads people to sometimes interpret Mueller's words as misleading or ambiguous, while his comments are pretty on point. I believe that such authors want cheap sensation to get the clicks. Most people won't really dive deep into the comments provided by Mueller, so they choose to believe the bloggers as the information is right there and is easy to digest.
Besides, who goes on the internet and tells lies or manipulates the facts? 
There was a case when Mueller discouraged disavowing links – which has been Google's policy since the beginning of the disavow tool. He assured that Google can handle it on their own in each answer to the multiple questions on the topic. At one point, he said something along the lines of "If you wanna do it, do it."
Guess what? New articles titled "Disavow is helpful for Google, blah, blah, blah" emerged not long after. Mueller says that the only situations where you'd disavow any links would be in the case of a manual action from Google, or in the case where you know that a manual action would be undertaken. He never said that Google can't handle ignoring some questionable links, nor has he said that it's helpful to disavow them. At least that wasn't the point of his comment.
I think that John Mueller's sometimes ambiguous and inconclusive comments aren't at fault here. You can't expect him to answer each question in thorough and minute detail, as he has limited time. He can't share everything about Google's algorithm either.
When asked about search engine ranking factors, he said that each factor has different power for each query, which I totally agree with and I don't find this inconclusive or misleading at all. I read an article where the comment was quoted with the description of being ambiguous.
To this I say – of course the answer is ambiguous. You can't expect the man to delve into the analysis of all the possible queries. Each query has to be approached differently – there isn't a tried and tested way of ranking for every one of them. Sure, there are some principles that don't change (such as the fact that links are one of the most powerful factors), but the difference will always be there in the nuances.
My advice here is this – stick to the strategies that you know are working. In the case where you're new to the link building game, seek advice from professionals. Authority Hacker, Matthew Woodward, Steve Toth, One Hour Professor – these are the guys you want to look up to.
Conclusion
Link building is as popular, powerful, and effective as ever. However, even given its strength and potential, it should always be combined with the proper optimisation of your on-page content. This way, you will get the most out of the whole SEO deal. I believe that the strategies that I have here listed will absolutely help you get your website to the top – if done correctly. Also, remember to be careful and steer clear of shady techniques, as these can land you with a penalty.
As for the Google guidelines – you can see them for yourself and tell me if they're not a bit of a mess. I think that they're not very clear and don't explain some corner cases that need to be explained. It seems that referring to John Mueller can be tedious at times as well, but still, it's way better to watch the stream yourself rather than reading his comments on other websites. If you still have trouble understanding what he's saying, refer to online guides, either on my blog, or some other ones that I have listed before. Keep on building and keep on improving – remember, SEO is a long game!