If you're not yet familiar with HARO, you should be – particularly if you're looking for a really effective and pretty straightforward way of taking your digital marketing and SEO to the next level. HARO (Help A Reporter Out) is a unique platform that allows reporters and media writers to reach out to a wide range of people in order to gain extra insights for the articles that they're working on. In this article, I'll walk you through the ways in which HARO, as an SEO strategy, can help you to build some really good backlinks and increase your referral traffic and ranking.

What is HARO?
Launched in 2008 by Peter Shankman, HARO began its life as a humble Facebook group but quickly grew into a popular platform claiming in excess of 800,000 sources for their stories. The Cision platform is now a go-to for journalists looking to get an extra angle on an article or news piece. HARO features journalist requests on a number of different topics and these are separated into categories as follows:
Business and finance
High tech
Biotech and Healthcare
Energy and Green Tech
Lifestyle and Fitness
Sports
Entertainment and Media
Public Policy
Government education
General
Giftbag
Travel
UK
This means that you'll get plenty of opportunities to express your knowledge. Believe me, following just two categories, can sometimes prove to be hard to manage.

Who uses HARO?
HARO is used by over 55,000 journalists and bloggers as well as a whole host of specialists from a number of industries looking to add their expertise to the mix. Sites like HARO are growing in popularity due to the ease with which large amounts of information and insights can be accessed. SEO professionals that specialise in link building strategies find HARO to be especially useful for getting media coverage along with links.
How does Help A Reporter Out (HARO) help with PR and building links?
It does this by giving them access to a wealth of expertise and knowledge – all on one platform. You can check out some HARO reviews HERE. HARO competitors include Critical Mention and Muck Rack. While these are decent alternatives to HARO, they don't have the same clout in terms of the number of requests available.

What is HARO link building?
There's no better way of gaining visibility than getting your brand's name into the mainstream press and other media. Unfortunately, journalists are notoriously hard to get hold of and tend not to respond to cold emails.
This isn't because they're not interested in insights from third parties but rather that they simply don't have the time to wade through tons of cold emails. As a result, most people will quickly give up on the idea of reaching out to journalists as the success rate of doing this is slim to zero – until now.
HARO turns the journalist/marketer relationship on its head by allowing reporters to seek insights on a specific topic or question – and allows marketers and business owners to pitch responses.
For a marketer, this means that you have the opportunity to place yourself in a journalist's eye line by showcasing your specific knowledge and expertise.
Once the thread is closed, the journalist will choose the most helpful comments to be used in their article and, the best bit for the marketer, is that, if they are chosen, their name and website link will be included in the article – meaning that you are likely to reach a huge number of people in a fairly passive way by becoming part of this expert database for journalists. This makes it an excellent way of content marketing.
For a marketer or a PR professional, this is also a pretty good way to find journalist email addresses to add to your own database.

So, how do you get started with HARO?
The good news is that its completely free to sign up with HARO and become a content reporter, and it's done just like this:
HARO sign up
Head on over to https://www.helpareporter.com/
Click onto the blue 'I'm A Source' button
Read the rules and click on 'Sign Up' in the top right-hand corner
Fill out the usual details and assure HARO that you're not a robot
You'll then be asked to verify your details and, that's it, your HARO account is up and running
How to respond to a HARO query
Once you're a bona fide member, you'll receive HARO emails three times per day – usually at 5.35am, 12.35pm and 5.35pm (Eastern Time). It's now up to you to peruse the requests in these emails to find the ones which match your area of expertise or personal experience.
Once you've selected the requests that are the best fit for you and your brand, it's time to send your pitch and connect with journalists (we'll come to this in a moment) along with a short bio and contact information. The email address you send your reply to is always listed in the query. Now, all you need to do is sit back and wait to see if your response has been chosen by the reporter.

Pitch perfect
Before we get started on writing the perfect HARO pitch, there's one thing that I can't stress enough. Do not, under any circumstances, decide to pitch every single response that is ever sent to you.
Why? HARO's journalists looking for stories are interested in experience, expertise and thought leadership and it will soon become fairly clear that you're just trying your luck if you're responding to something that you know nothing about.
While your response will simply be discarded the first time, this may well come back to bite you as, on subsequent pitches, the journalist may recognise your name and choose to discard your pitch without reading it. So, let me repeat – only respond if you at least know a little bit about the subject.
Now that we've got that out of the way, let's get on with writing your pitch. The first thing to keep in mind is that HARO journalists are not usually looking for War And Peace – what they're after is a concise, well thought out response that offers an insight that may be useful for his or her article.
Be sure to include the query's title in the email subject line of your pitch. You can also answer the HARO queries via their website, but I find it more convenient to do it via email. Still, the replies get recorded there, which I find to be particularly useful.
Your first step is a quick introduction explaining why you feel that you're qualified to respond to the query. Again, the reporter isn't looking for your life story, just something which will give an indication as to your experience. There are cases where it isn't necessary, though, and the reporter accepts the comment basing on the content.

Read the fine print
The second – and most important aspect of your pitch to pay attention. Always read a request properly and thoroughly to make sure that you know what's required. Often, a journalist will include specific questions in the request and you'll need to make sure that you cover these within your response.
A good practice is getting to know the media outlet the blog post will get published in. See what type of language is used, whether the post is likely to be, say, a round-up, a story, or a press release and respond to the queries accordingly.
At times, a journalist may specifically ask that you answer questions in a certain format and you must make sure that you do this in order to be in with a chance.
Your penultimate step is to show off a little – put in the effort to formulate a response that is a little bit left field. Chances are, the journalist will be ploughing through multiple responses which all say the exact same thing so if you really want to stand out, it's time to think outside the box.
As far as the form of your written text goes, ensure that your response is clear to read. Divide your paragraphs, be correct grammatically, and have your comment in a state where it's ready for publication. You can add bullet points for extra clarity if necessary.
Finally, nail that Call To Action. We know that the whole point of HARO is that the reporter is supposed to respond to you but it's worth hammering this home.

Lead by example
As I've mentioned, most journalists are short on time and you'll stand a much better chance of success if your response is snappy and ready to go, meaning that all the journalist needs to do is to cut and paste your response.
The following is an example of a winning response to the query 'Landing Pages That Convert':
Hi, I'm Milosz, Managing Director at web consulting company, Chillifruit. I consider landing pages to be one of my brand's most effective tools and so I know a fair amount about these.

A good landing page is the ultimate weapon for any business looking to supersize its conversions and there are a few tricks to make these super-effective. For a start, keep it simple. You may have a lot to say but too much text is confusing and distracting to the customer.

Always make sure that the content of your landing page matches that of the post that the customer has clicked on – this is important as the customer has been attracted by one thing – if this isn't mirrored on the landing page, there's a good chance that they'll lose interest and scroll away. Think of your landing page as an extension of the post which is designed to gently lead the customer to the call to action.

If you'd like to talk to me further about this subject, please don't hesitate to contact me at xxxxxx
As you can see, this is short but sweet and includes all of the information needed as well as a little personality and a proper CTA.
When pitching work to bloggers, I usually advise people to send one or two follow-ups, however, this is not a good idea with HARO. Reporters are busy and really don't want to be bothered with whiny messages so, if you haven't been chosen, move on and try again another time.
The one concession that I will make is that I'll allow you to look up the journalist on Twitter and follow them in order to build up a rapport – this will help your name to be familiar to them next time that you respond to one of their requests. It's also a good idea to hook up with the HARO Twitter page.
If, however, your response is chosen (congrats!), always be sure to a short, polite thank you note because hey, manners never hurt, right? Take some time to bask in your HARO success and, don't forget to shout about it on your social media platforms in order to cement your position as a thought leader in your industry and to be a source on HARO.
When you help a journalist, it's likely to be remembered so don't be afraid to blow your own trumpet a little. When a reporter decides to contact media for help, honing your skills will make sure that you're always first in line.

Things to know about HARO
Time is of the essence – Often, HARO requests have pretty tight deadlines so you need to check these out before responding (once the deadline has passed, your response won't be accepted so you'll have basically wasted your time). It's a bit different than other link building strategies where you can leisurely send out emails and build links anyway.
Categories – HARO requests are sorted into various categories depending on the topic and, as well as choosing your professional niches such as finance or business, its also work hooking yourself up to the 'general' category as, often, these requests will fit your professional or personal experience. The platform is great for small businesses, as there are endless amounts of queries that regard just that. You could always do a bit of a white lie and respond to non-relevant link opportunities.
Be selective – Not all media outlets are created equal and it's a good idea to check out the media outlet first to see if the readership is worth a response in terms of numbers and of topics. Make sure to check out the parameters such as the Domain Authority and organic traffic of the website so that you won't waste time on low-level responses. HARO links can be just as wonderful since they're editorial as they can be terrible. It's not nice finding out that the site you pitched to doesn't have any traffic after the fact.
Transparency – In a lot of cases, the name of the publication and the journalist will be included in the request. This isn't, however, always the case and, nine times out of ten, if the publication isn't named, it means that this is a big hitter such as a national newspaper or mainstream publication – which means that the stakes are pretty high! Sometimes it is some low-rate website, so it's up to you to respond.
Live examples of successful high-quality HARO backlinks
By using HARO outreach, we've acquired quite a few extremely powerful, high-quality backlinks, some above DR 80, as well as relationships due to the fact that we've become a source for journalists. Here are some stories of how we got the links either for myself or the clients:
Alright, so first, let me talk about my pretty recent catch from November. The query looked like this: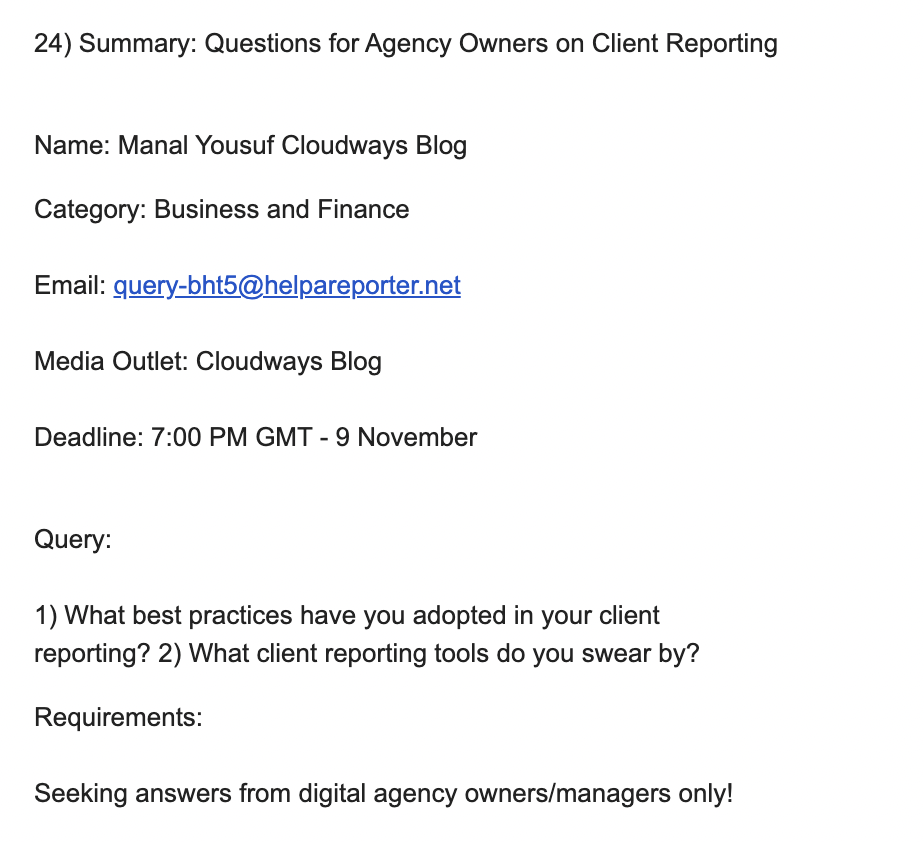 As you can see, my persona applies here as an expert as I do, in fact, own a digital web consulting agency. In the subject line of the HARO email, I included the query's title. So I went ahead and quickly wrote a short response to the query: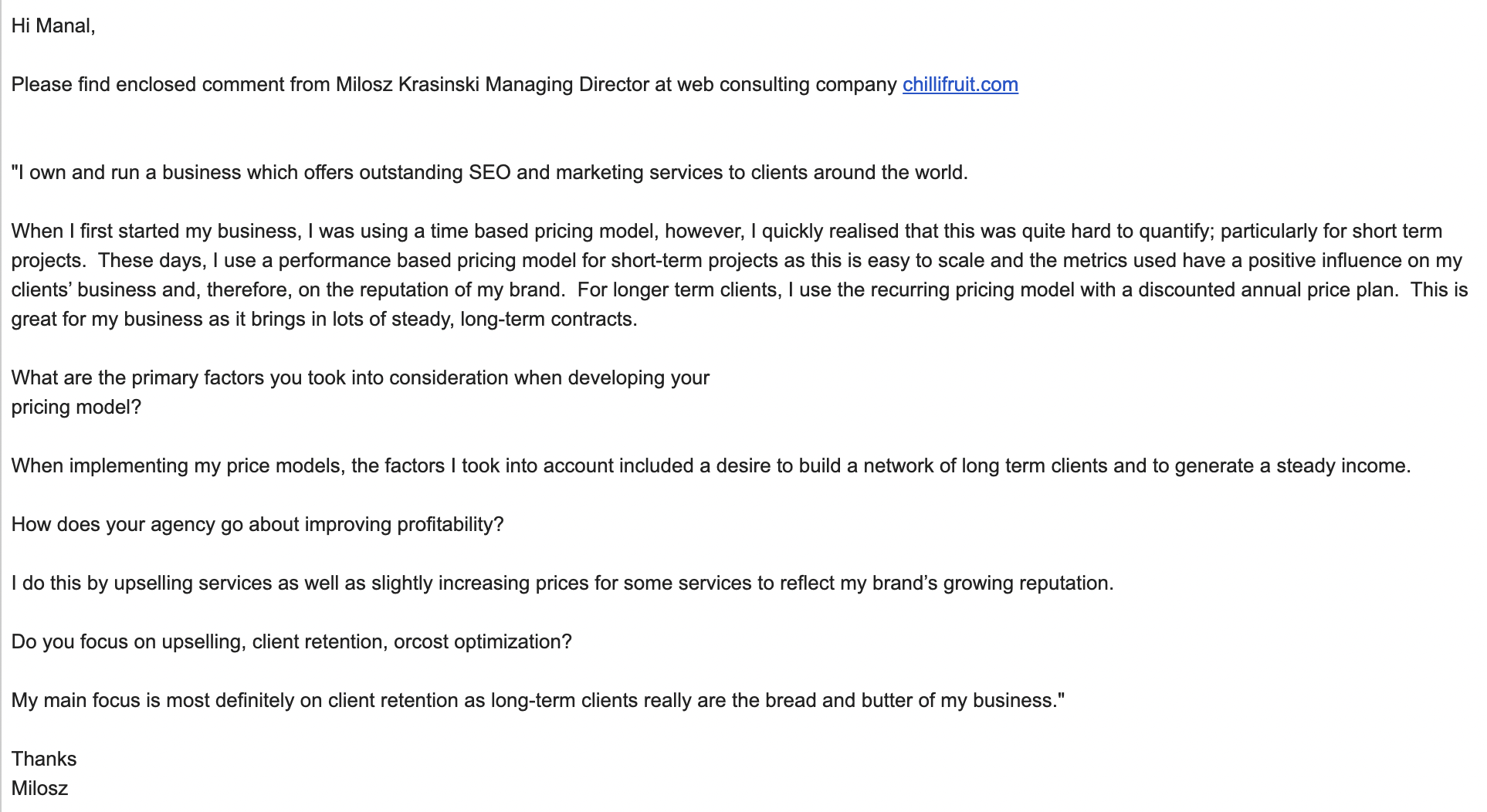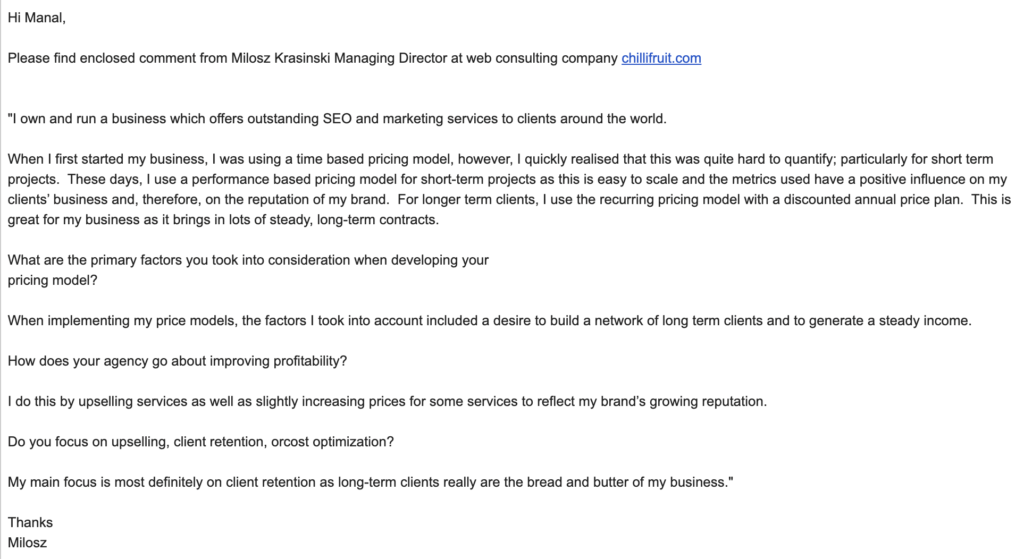 Needless to say, Manal seemed to like my entry and decided to publish the article with my comment along with a link. Here is the article.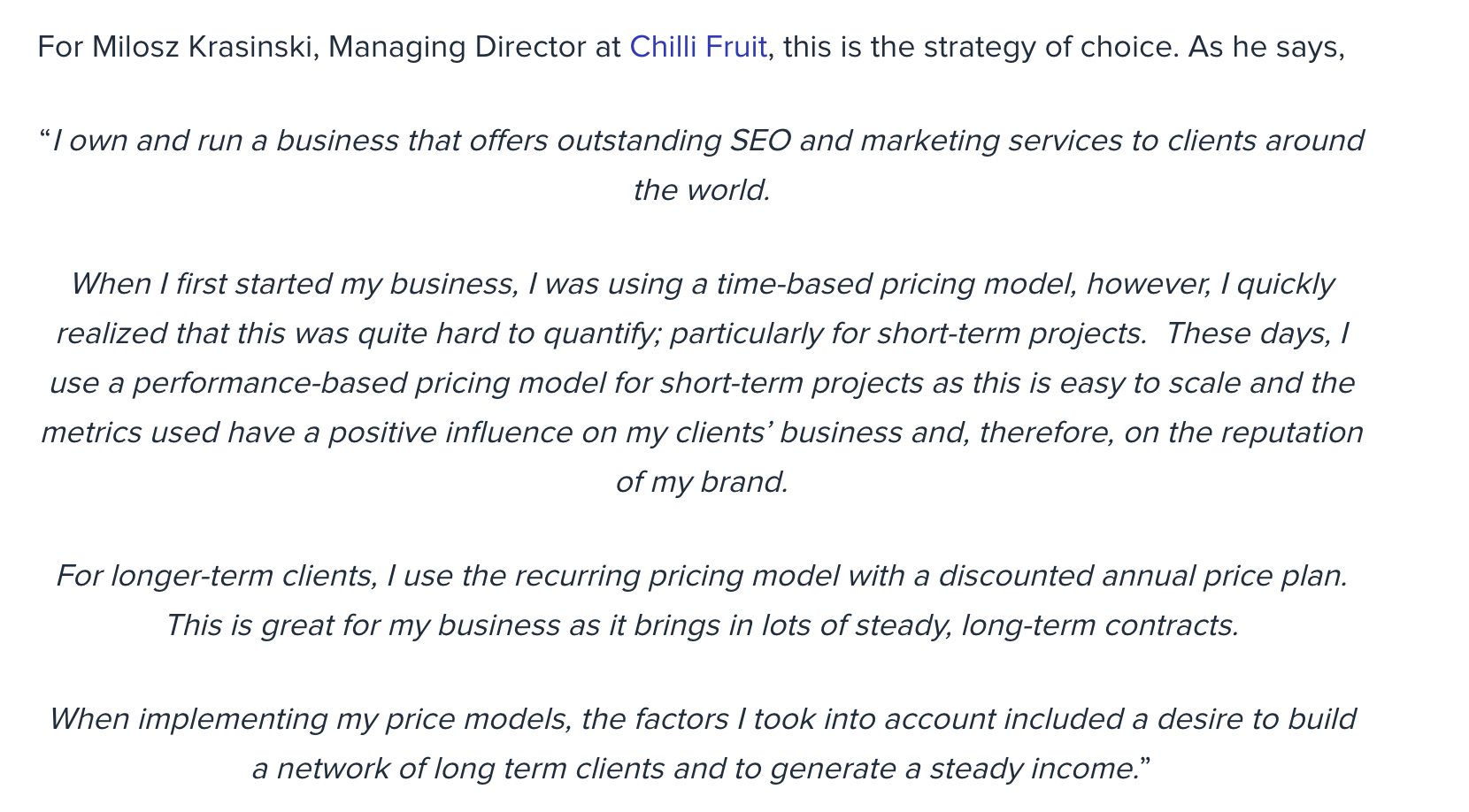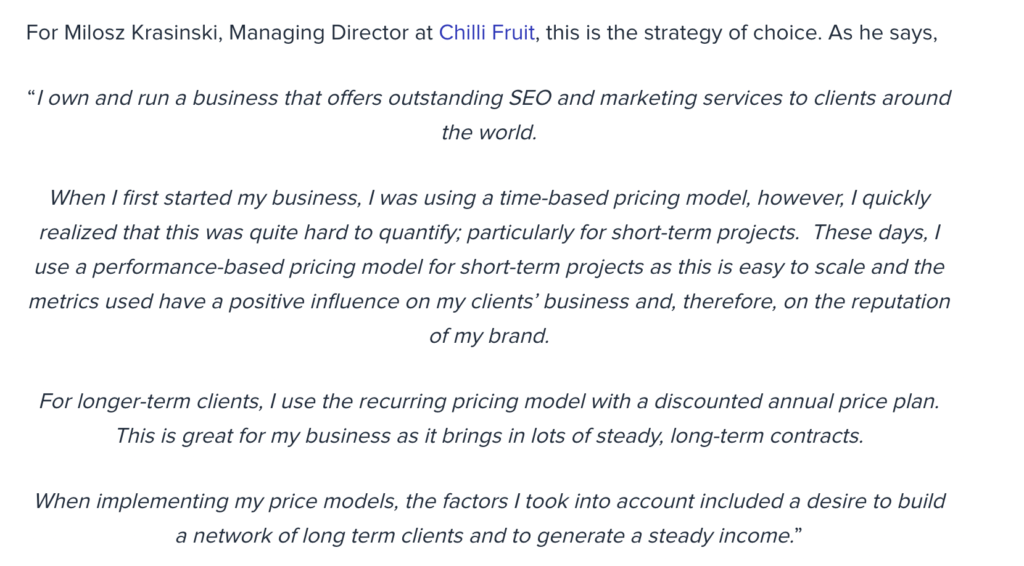 But the story certainly doesn't end there! Along with a link to the article sent via email from Manal, I received an invitation for an interview! Needless to say, I agreed, as I saw that as a great opportunity not only to gain a link but to promote my personal brand, which was the primary objective to be fair.
Cloudways is a reputable website so I couldn't just let that slide. Not so long after, I got a questionnaire which I quickly filled, and soon, on December 10th, the interview was published. Of course, I shared everything on my social media profiles, further increasing the reach.
Another one is a business.com entry my agency scored for my client. See, depending on the relationship we have with our clients, some of them let us write comments in their name. This is a service we provide. I can't find the query, as it was quite a bit of time ago, but I recall that it contained a lot of relatively specific questions regarding Big Data.
Our response included answering to all of the questions posed by the reporter.
Future Processing is a software house, so my client fit right in there with what was listed in the requirements section.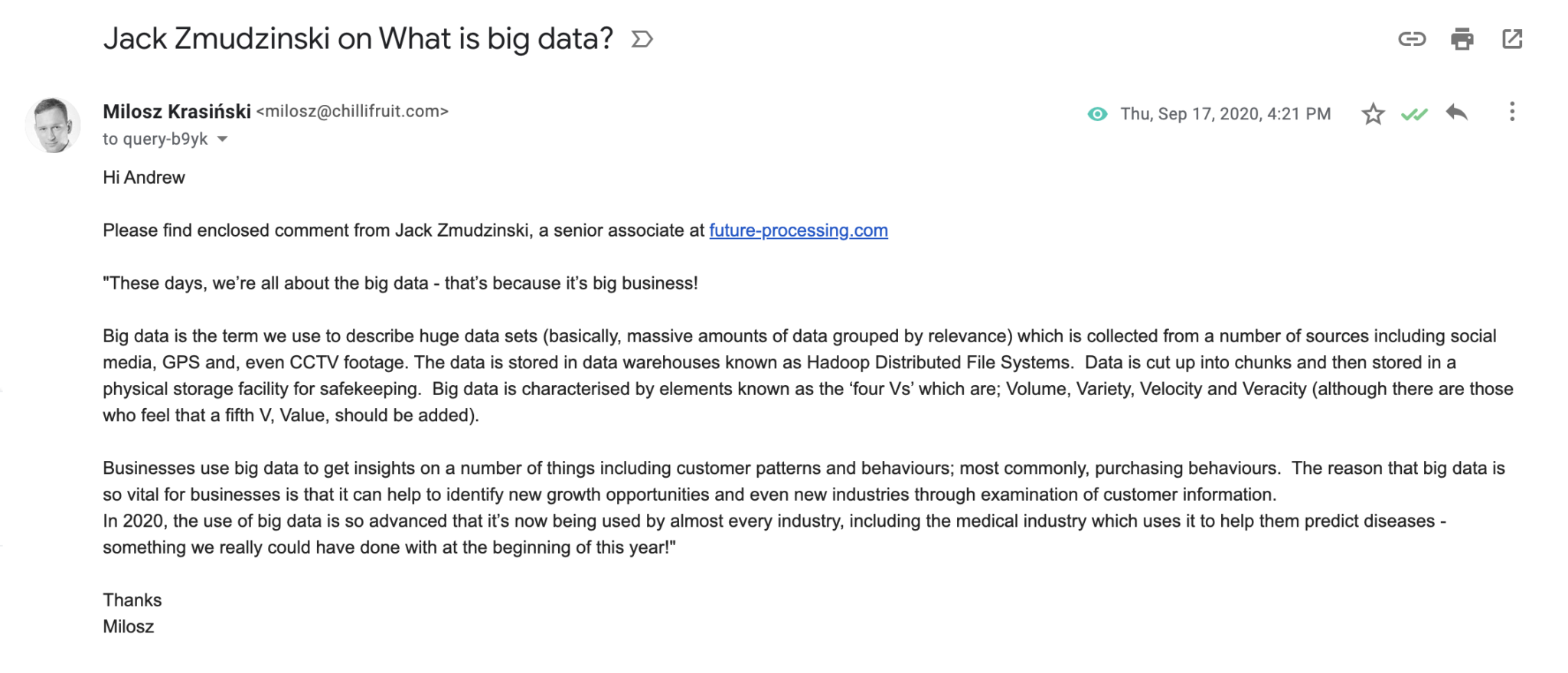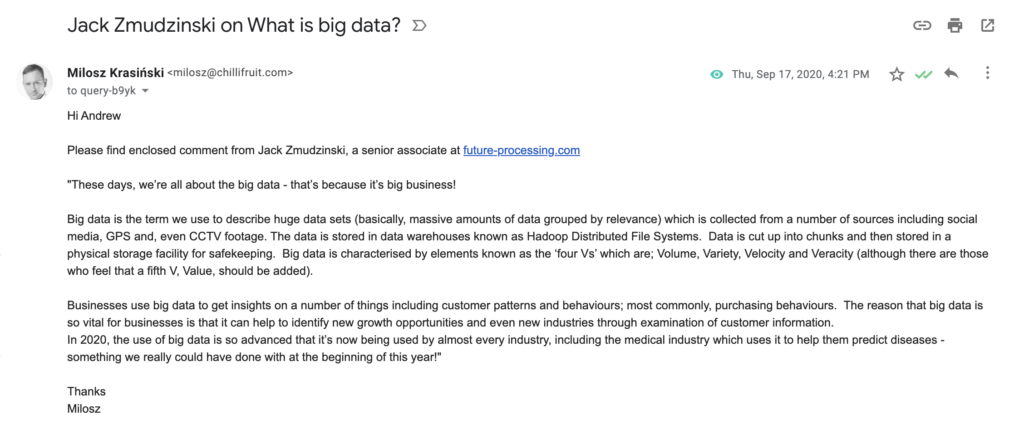 As you can see, no bio; just the comment. It's not even specified what kind of a senior associate Jack is. So as you can see, contrary to popular belief, in some cases, the reporters don't really care about the background.
Still, the pitch got accepted, and six days later the article was live, along with a do-follow link to my client's website.


Note how the writer used only a small part of the entire comment. Two sentences – that's it. About 20%. I see such situations fairly often, but that's not to say you should write such short replies, though. It doesn't really matter how much of our text is used by the writer. They could use one word for all I care, just give me the link.
This is the case of a score where I didn't get notified at all. It's pretty often that reporters either forget about writing an email to us altogether, or they just don't care. Chances are that I would never find this one. For this reason, I use the social listening tool, Brand24. I have many cases where it helped me document my efforts by sending a notification of a new mention.
There are cases where the writers publish the article after a month or more, though these are pretty rare. Imagine the surprise when you get a backlink from a month-old query. Also, the reporters sometimes follow-up for extra information after you pitch them, so be ready for that:


Another one is the interesting case with Mediatoolkit.
Here's the query:
The email response I wrote looked similar to the other ones. Needless to say, it was accepted, and I got notified via HARO:


This doesn't happen all that often, email notifications are more common.


Johan is another one of our clients, in whose name we sometimes write.
Again, only a fragment of the response was used. Still, this is an interesting case for another reason.
Soon after the publication of the article, we reached out to Iva, the author. We asked if she would like some extra comments to use in her article, and along with the question, we sent her a tip about brand reputation.


Soon after, it became an addition to the article: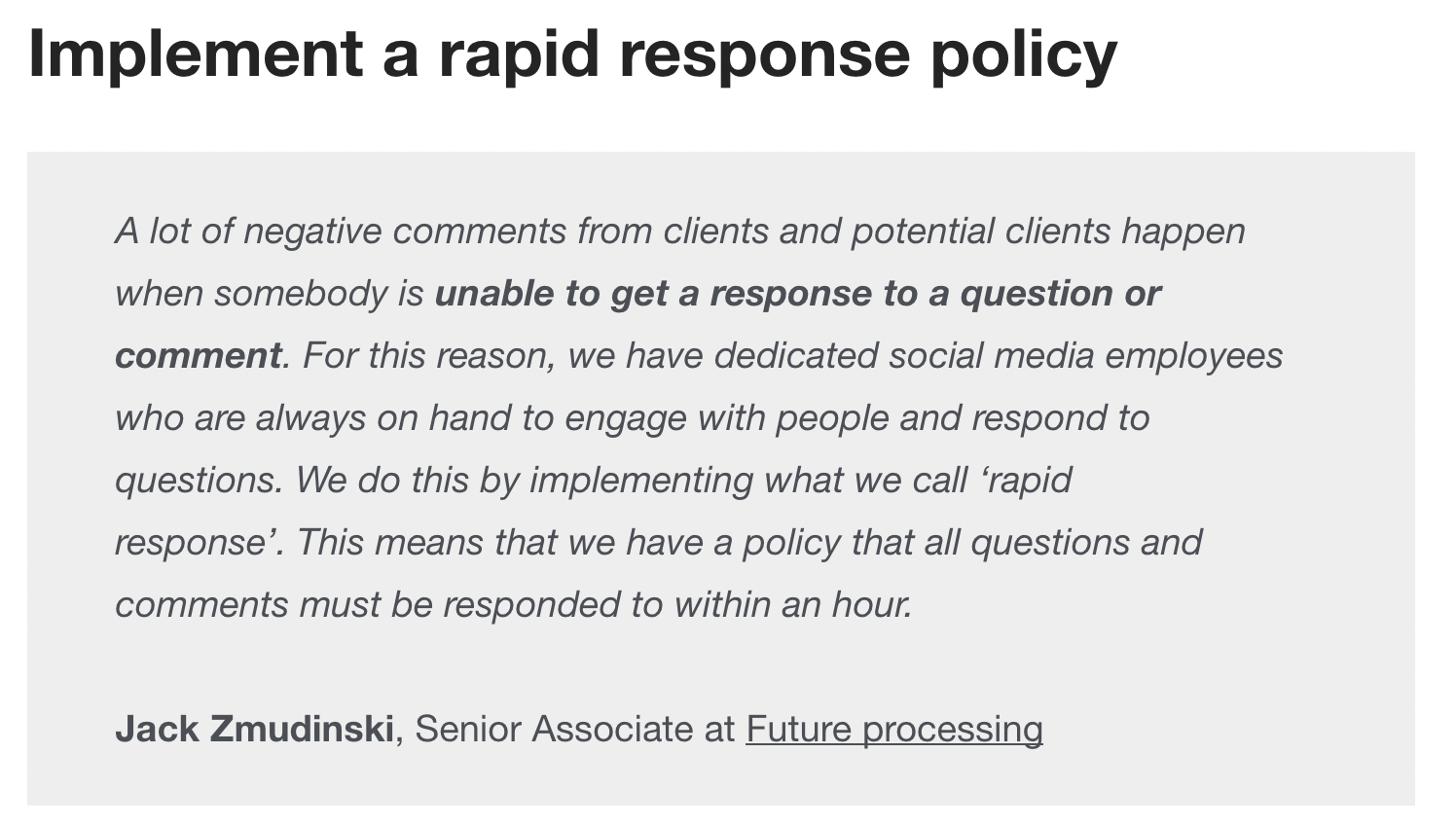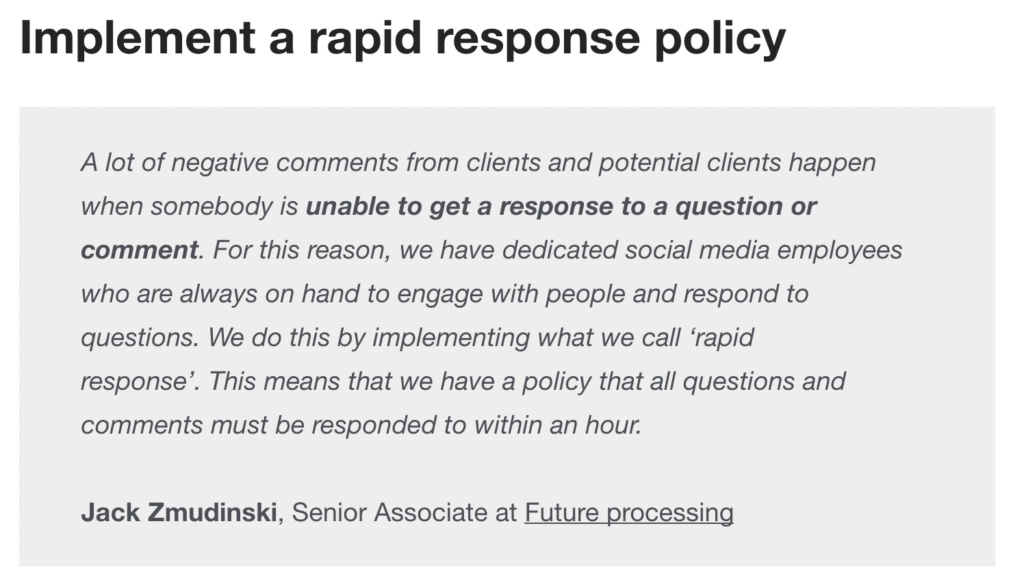 Such follow-up emails rarely result in success, but sometimes it's worth a try. You get the bonus of building a relationship with the writer, too.
And last but not least – the biggest one we got to date. This one landed on American Express, so it's kind of a big deal.
The query looked like this: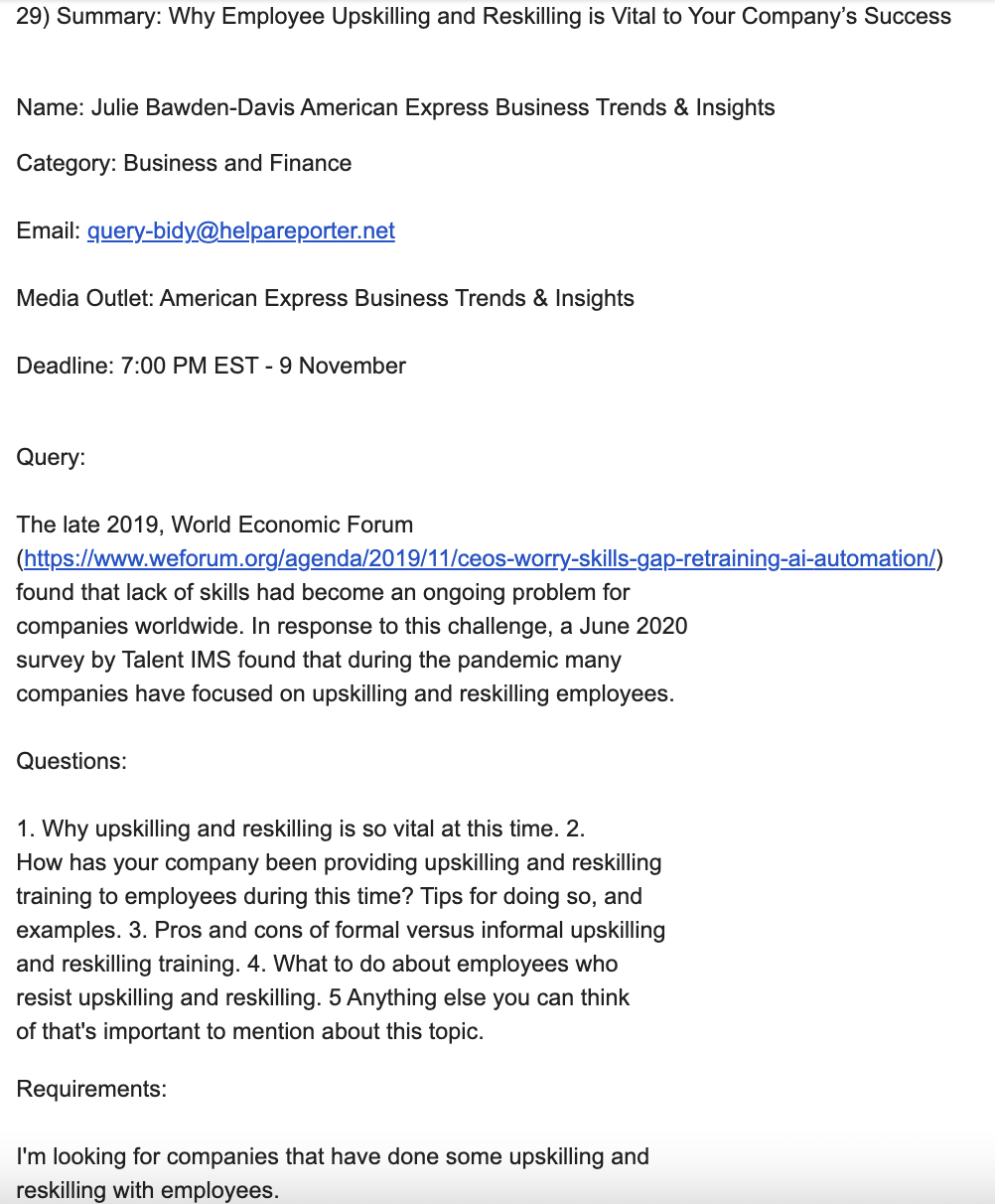 If you see queries like this, do your best to answer all of the questions.
We managed to produce a response to each question which boosted our chances of getting featured. Again, we got notified only via Brand24, no reply from the writer: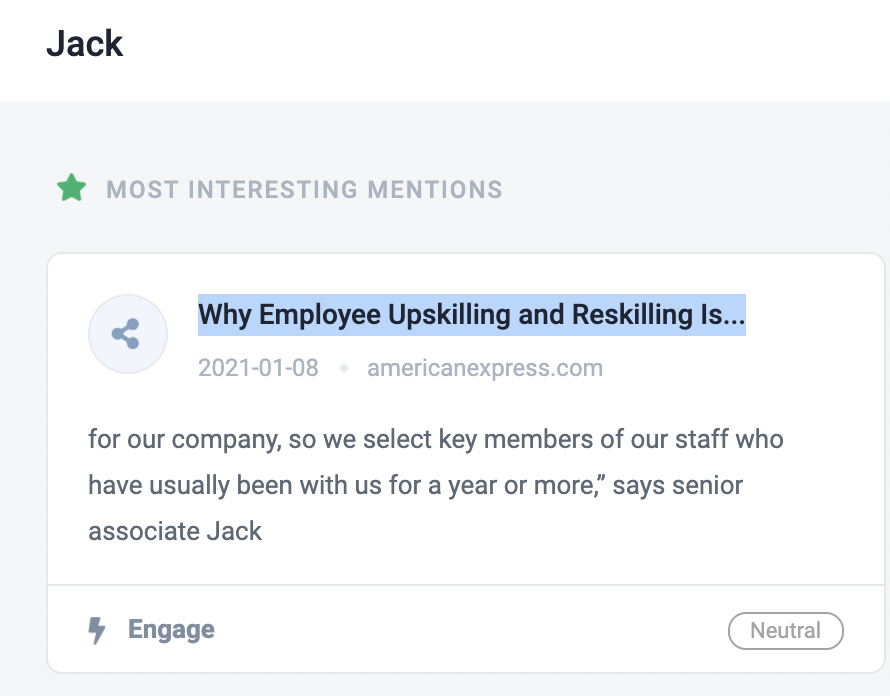 Keep your eye on the prize
If your pitch has done the trick and your response has been accepted, you'll generally receive an email or HARO notification to let you know that you've been successful but – yep, you've guessed it, reporters are busy – and so this may not always be the case.
For this reason, it's a good idea to set up Brand24 for your name and the name of your brand so that, if the journalist forgets to let you know, you'll be alerted by Brand24 should your name appear in the article.
Achieving success as a HARO correspondent takes a little bit of time and effort but can pay dividends in the long run. Gaining that first win when a response is accepted is only the start – the same journalists tend to appear time and time again in HARO requests and, once you've had your first HARO response accepted, the door is wide open in terms of building a relationship with a particular reporter. Journalists tend to be a close-knit lot and, you'll often find that, once you're 'in' with one outlet, others will follow.
Always bear in mind that, with HARO marketing, it's quality over quantity every time. This means that, even if you know your onions on a certain topic, there's no harm in doing a little extra research on the response source media request in order to make sure that your response is as comprehensive and unique as it can possibly be.
Getting a link on Wall Street Journal, Business Insider, Entrepreneur, New York Times, or American Express is surely worth honing your pitching skills.
Finally, repeat after me; 'We don't stalk the nice reporters'. It is absolutely more than possible to build some really strong, great relationships on HARO but you need to allow these to grow naturally and organically – I can guarantee that sending lots of annoying follow-up messages will achieve the very opposite to what you're hoping for.
As for link acquisition, don't limit yourself just to using HARO. While it is effective, make sure to go for guest posts, outreach, or other techniques.
And for a bonus tip – keep a spreadsheet with your HARO endeavours! It works wonders to have a master list to peek into anytime you want.
Cision's platform can help you get inspired by some of its success stories and case studies if I still didn't convince you to use HARO.
So, there you go. This is how you build backlinks with HARO. Overall, I believe that it's the best link building strategy in terms of editorial, high-quality links. While there are plenty of link builders that already use that technique, it's still not nearly saturated enough for you to not be able to achieve success.