Google ranking – for many businesses, the only benchmark that counts – and for good reason. With 4.54 billion people using the internet worldwide, that's a lot of Google searches and, figures show that the number of people who search beyond page 1 falls of a cliff to a teeny 6% between pages 2 and 3.

It's no surprise then that brands spend an extraordinary amount of time on their SEO in an attempt to reach the holy grail of page one of Google.

When it comes to powering up your SEO, there are lots of tools to help you on your way and, we've tried some of the best (and the worst) of them. Here's what we thought about popular keyword research tool, Serpstat.
Serp-what?
Launched in Odesa, Ukraine, in 2013
The platform is affordable and contains more features than you can shake a stick at – which explains why 200,000 people around the world are currently on board. Serpstat's heavyweight customers include Samsung, Canva, Uber, Shopify and Lenovo.
How does it work?
Serpstat combines a number of features, including a database of five billion keywords in order to help brands to make the most of their SEO by identifying, analysing and tracking their keywords – and those of the competition. It also contains loads of extras including backlinks tools to turn it into a really useful box of tricks for brands.
Getting started with Serpstat
Starting out with Serpstat is a doddle and, shouldn't take you more than a few minutes:

Click on over to https://serpstat.com/about/#dialog_sign_up
Enter your email address, telephone number and choose a password (or sign up through your social media accounts) – then assure Serpstat that you're not a robot before clicking onto 'sign up for free'
The folks at Serpstat will then send you an email with a verification link
Click onto the verification link to get your account up and running
Spotlight on Serpstat's features
Far from just a keyword tool, Serpstat has a lot of useful and intuitive features – what are they? Let's dive in:
Keyword Research
OK, we've said that Serpstat is more than just a keyword tool but, it would be remiss of us not to start with this key feature. Serpstat's keyword research feature is super easy to use and is one of the best on the market today.

The feature allows you to search for oodles of related keywords and view their 'difficulty score' to see the word's chances of ranking in the top 10 results per country. The feature also includes a PPC (pay per click) option for Google and Yandex adverts.
Content Marketing
We don't need to tell you that, these days, content marketing is where it's at for marketers and, Serpstat has a really handy feature for this. The content marketing tool digs into the ways in which users search for specific keywords to help brands gain a deeper understanding of their audience.
Website Analysis
Rapidly becoming one of Serpstat's most popular features, the website analysis tool allows for multi-domain comparisons as well as serving up positioning for associated keywords and tracking search engine visibility.
Brands can easily snoop on competitors to see what common keywords are shared and cost of each keyword. You can even view the precise search engine adverts that your competitors are using and, the associated keywords.
Rank Tracker
A firm favourite, Serpstat's Rank Tracker lets you draw on top keywords and view a map of how a target website ranks for the keyword on a daily basis. This is important for brands as it gives a real time view of how your competitors are performing on particular words.
Traffic Sharing
Want to know how much traffic a domain receives from a particular word? This is the feature for you. This tool helps you to see who your competition is and presents results in an easy to read bar graph.
Backlink Analysis
Pretty straightforward, Serpstat's backlink analysis feature shows you – at a glance – how many domains are linking to your site as well as letting you track them and view your anchor text analysis.
Site Audit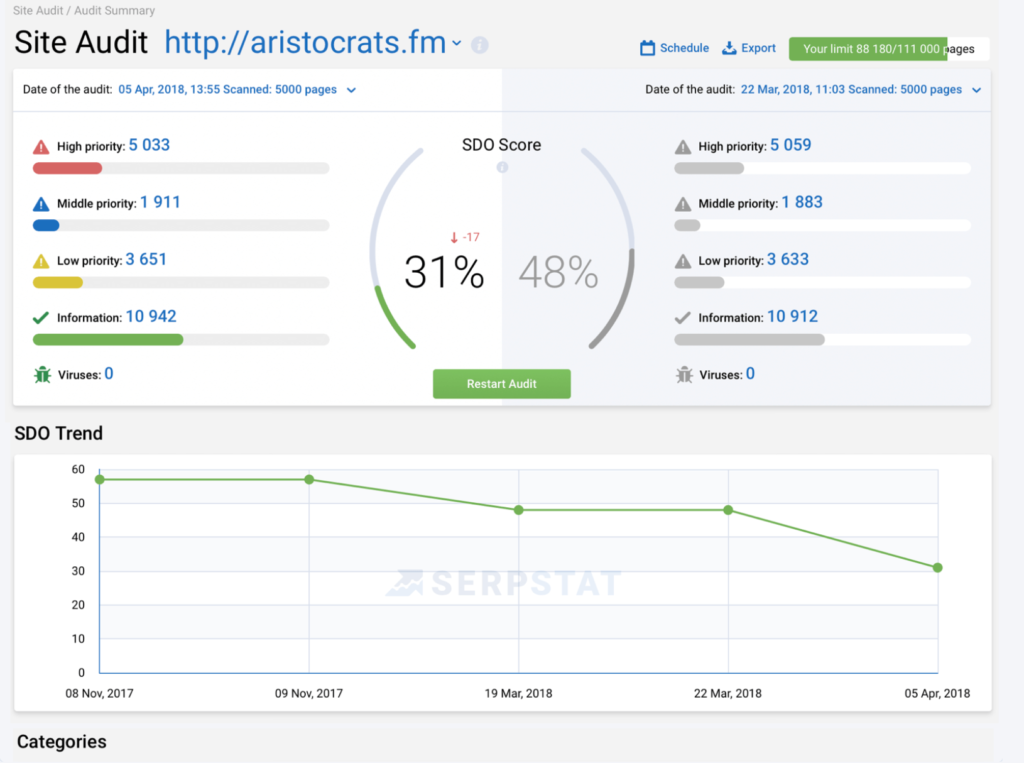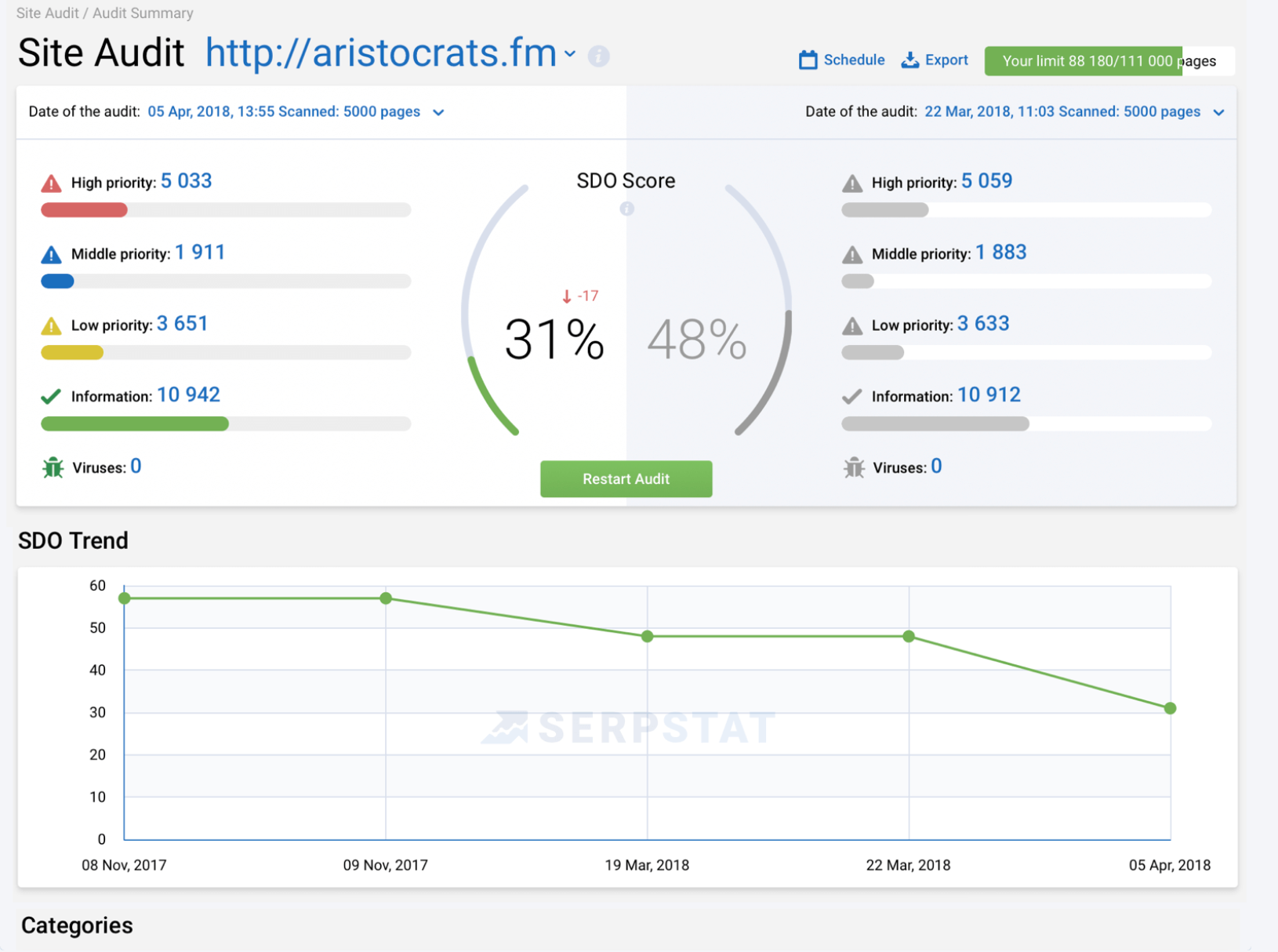 This handy feature zips round your site to identify possible harmful issues including broken links, vanished meta tags and any search engine indexing problems. Although by no means a unique tool, this one is important for keeping your site healthy and active.
User Interface
You can never underestimate the appeal of a user friendly interface and, Serpstat's is one of the best. Serpstat's menu and dashboard make it really easy to access features, create projects and templates and keep track of all of your tasks.
Integrations
Serpstat has some really good integrations including Oviond, Reportz and Google Analytics.
What about the wonga?
Serpstat offers three common sense pricing packages and, these are:

Lite Plan $69 per month ($662.40 per year)

What do you get? 4000 search queries per day, 15000 position tracking keywords and, 500 backlink queries
What don't you get? Team management features and telephone support

Standard Plan $149 per month ($1340.40 per year)

What do you get? 5000 search queries per day, 60000 position tracking keywords, 1000 backlink queries and, 10 API queries
Advanced Plan $299 per month ($2870.40 per year)

What do you get? 8000 search queries per day, 150000 position tracking keywords, 1500 backlink queries, 10 API queries, telephone support, chat support and customer success

Serpstat offers a basic but useful free trial to help you decide whether this is the right tool for you.
Serpstat – The Superheroes and Sinners
By now, you've probably got a pretty good idea of what Serpstat can do for you (if not, you clearly haven't been paying attention!). In this section, we'll take a look at what Serpstat does well – and not so well.
The Superheroes
Serpstat has a lot going for it and, some of the best bits are:

User Interface – Serpstat really does have one of the most user friendly and easy to navigate interfaces that we've ever come across. Set out in a common sense format, it allows you to easily navigate every part of the platform.

Keyword Ranking – One of our favourite parts of Serpstat's keyword feature is the day to day positioning table which allows you to drill down for more accurate and time sensitive results.

Analysis
Price – With Serpstat, you get a heck of a lot of features for your hard earned cash which is good for your brand – and your bank account.

Support – Serpstat offers support on all paid plans and, users can choose between online support or through their personal Serpstat Manager.
The Sinners
When it comes to pros and cons, Serpstat has an impressively low number of cons and, these are:

Social Media – As yet, Serpstat hasn't got on board with social media and, therefore, doesn't draw data from these all important platforms.

Backlink Metrics – Frustratingly, Serpstat's backlink metrics can, at times, be a little sluggish.
Serpstat Substitutes
We all like to have options and, if you decide that Serpstat doesn't float your boar, there are some really good alternatives out there – here are some of the best ones:

SEMrush – An online keyword and organic research tool, Boston based SEMrush is an all in one SEO suite used by five million people around the world. Available in 18 languages, SEMrush costs between $99 and $399 per month.

Moz Pro – A complete SEO toolset, Moz Pro aims to improve ranking and visibility for brands. Launched in 2004, Moz Pro currently costs between $99 and $599 per month.

Mangools – A simple but effective keyword tool, Mangools is one of the most accurate tools on the market and has gained a huge following since its inception in 2014. Mangools will set you back between 29.90 and 79.90 Euros per month and offers a 48 hour money back guarantee.

SE Ranking – An all in one marketing machine, SE Ranking offers a suite of keyword tools including research, grouping and planning. With offices in the UK and USA, SE Ranking costs between £23 and £112 per month.
Conclusion
We honestly do defy you to find more features for your money than Serpstat. Although there may be more sophisticated tools out there, very few of them match the economic sense of Serpstat.

The platforms wide range of features means that you won't need any other tools or add ons for your keyword research and, its user friendly interface makes it a joy to work with.

Our only real grumble is that it doesn't yet draw data from social media but, we're confident that this will change in the future.  If you're looking for a keyword and backlink tool which is affordable, easy to use and gives you tons of extra features then, look no further than Serpstat.