If you have a website for your business, there's a good chance that you're aware of the importance of SEO (Search Engine Optimisation). Not only will you have some knowledge of this but, you're probably also actively involved in implementing and improving your site's SEO – as any good business owner or marketing manager should. Great stuff but, how do you know if your SEO efforts are any good?
Keeping on top of your SEO can sometimes feel like trying to nail jelly to a wall and, if you don't know how you're doing, you're on the back foot when it comes to making improvements. If this sounds like you, don't despair – In 2022, there are some great site monitoring tools out there that can help you to check your SEO performance and, today, I'm going to be talking about one of my favourites – Sitechecker.
The Sitechecker tool is designed to help webmasters improve the SEO of their site. It does this by crawling the site and checking for common SEO issues. Once it has found an issue, it will provide a report that includes a description of the problem and a recommendation for how to fix it.
At first site
So, I hear you cry, what exactly is Sitechecker? The short answer to that is that Sitechecker is a nifty tool that can check your site's SEO for you. The longer answer is that it's so much more than that, with plenty of tricks up its sleeve to help you up your SEO game. Launched in 2016 in Kyiv, Sitechecker has gone from strength to strength in its mission to improve the world's SEO, one website at a time and, the company currently has around 250,000 monthly users.
Who's it for?
Sitechecker is suitable for pretty much all website owners who want to make sure that their rankings in search engines are supersized. It's used by individual SEO specialists, marketing agencies' owners, and businesses of all sizes and, some notable customers include Sony, WeWork, Airbnb, and Microsoft.
How does it work?
As a website and Chrome on-page extension, Sitechecker is a really easy-to-use platform – simply enter the domain name that you want to check into the form and click on 'Analyse' to receive your site audit with detailed instructions based solely on data – website score, critical errors, notices, and warnings. You can then use the 'How To Fix' section in order to fix errors and watch your SEO progress.
How much does it cost?
Sitechecker has three separate packages for customers, all of which include unlimited technical SEO audit reports, local and mobile rank tracking, on-page checker, website monitoring, traffic checker, and PDF reports. These packages are as follows:
Basic Package $29 per month
Perfect for entrepreneurs, freelancers, and newbies, the Basic Package gives you:
3 websites
1500 URLS per account
500 keywords per account
3000 backlinks per account
Standard Package $49 per month
For startups, digital marketing agencies, and businesses that have larger or multiple websites, the Startup Package hands over:
10 websites
5000 URLS per account
1000 keywords per account
5000 backlinks per account
Premium Package $99 per month
This package is designed for businesses that are experiencing growth and larger companies. For your hard-earned cash, you'll receive:
Unlimited websites
50000 URLS per account
2000 keywords per account
10000 backlinks per account
Enterprise Package $999 per month
The last package, designed for big agencies and enterprises, offers:
Unlimited websites
100000 URLS per account
5000 keywords per account
20000 backlinks per account
All packages offer a discount when annual packages are paid for upfront, and Sitechecker offers a 48-hour money-back guarantee if you decide that this platform isn't for you.
How do I get started with Sitechecker?
Getting started is the work of just a few moments and, here's how it's done:
Click on over to https://sitechecker.pro/
Hit the black 'Start 7 Day Free Trial' button in the top right hand corner
Enter your name and email address or register using one of the social media buttons
……And, you're done – you're now ready to get started with checking your website's SEO performance.
As always, note that, after your 7 day trial, you will need to pay in order to continue using Sitechecker
What are Sitechecker's features?
Sitechecker is all about the features – and, fair warning, there are a lot of them so, buckle up and we'll take you through everything this innovative platform has to offer:
SEO Audit Tool
The star of the show, Sitechecker's SEO score software is the clever tool that whizzes its way through your website to figure out what's going on with your search visibility. This tool is able to check for a number of things, including:
Page sizes
Titles and descriptions
H1-H6 tags
Oversized images
Images without titles or attributes
External and internal links
Desktop and mobile speed
Usability
Meta tags
Keyword density
Sitechecker's Website Audit Tool collects this information and then wraps it up with a bow to be presented to you as an easy-to-understand report. Each page will be given a site SEO score which will help you to determine if any improvement is needed. You may also want to use it to audit competing sites and gather insights regarding your competitors, which is especially useful for clients' websites.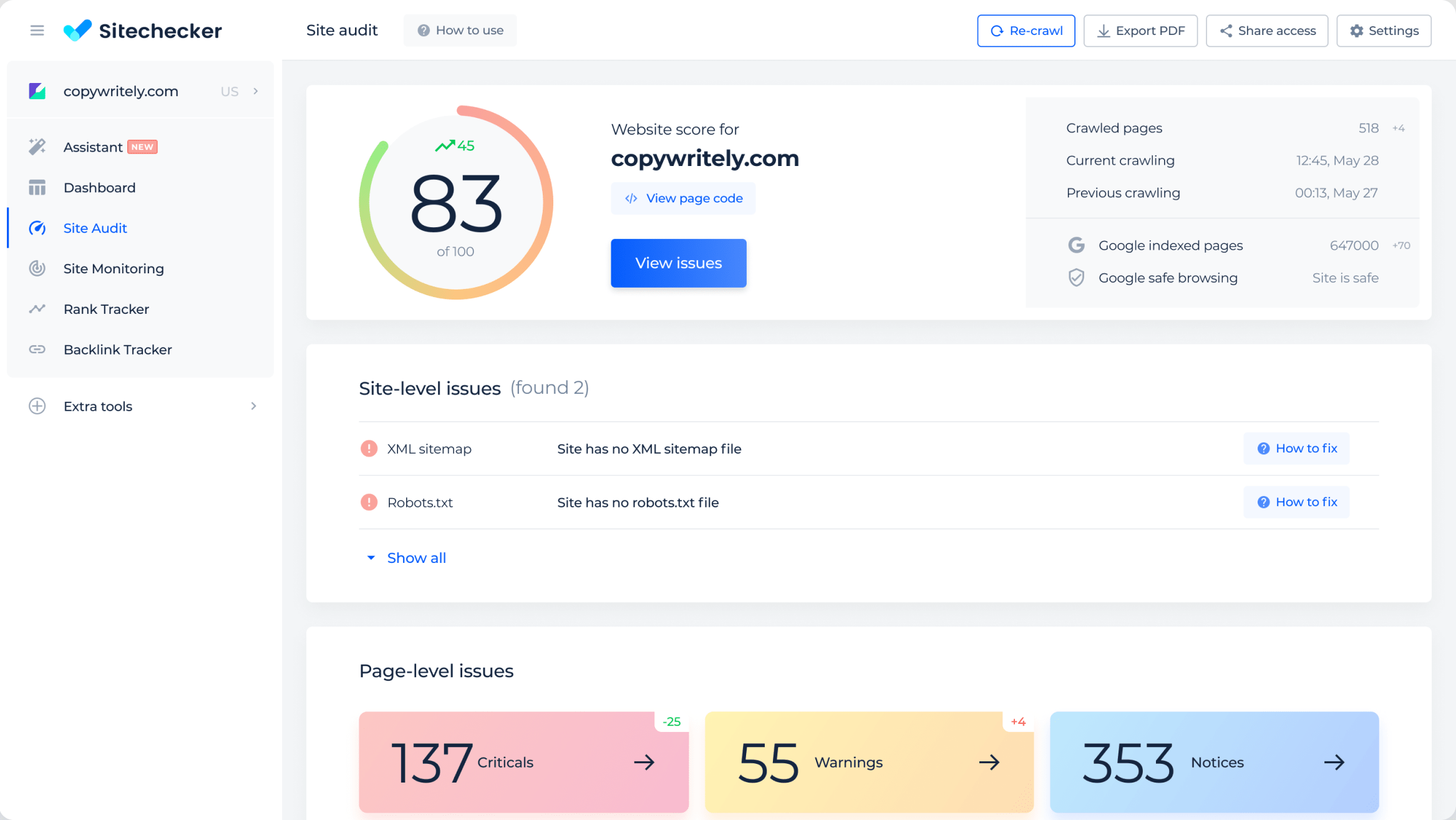 On-Page Tools
As I'm sure you're aware, content is king when it comes to your website SEO so, you need to know that yours is performing properly. Sitechecker has a site crawler that can suggest tweaks for your content:
Page size
Title tags
HTTP status codes
Length
Keyword strength
Whether it's how-to guides, a product page or a landing page, Sitechecker
Description Check
Lots of people make the mistake of overlooking their site's meta description – but Sitechecker doesn't. The tool will check the length and quality of your meta description to make sure that all is as it should be.
Rank Tracker
Sitechecker allows you to track keywords and look into their search performance.
Favicon Check
A what, you say? Favicons are little icons that are associated with a specific web page or site and serve as a visual reminder of the site's identity within the address bar. Sitechecker makes light work of checking to see if these are present on each of your pages – and alerts you if they're not.
Backlink Tracker
Sitechecker is a whizz at checking out your links, including backlinks, canonical links, and alternate links in order to give you the lowdown on their health and search performance. Sitechecker can also check for URL vulnerability, including broken links and excessive redirects – both of which can harm your Google ranking.
Indexation
Indexation is essential if you want Google to be able to view, read and analyse your page and, Site Checker's Indexation tool will help you to make sure that you stay on the right side of the important search engine.
Page Speed
The need for speed is one of the most important factors for your website when it comes to optimising the user experience and sending those customers skidding through to the checkout. Sitechecker is able to run the diagnostics on your site's speed to alert you to any sticky areas.
Sitechecker Integrations
At the moment, Sitechecker is suitable for integration with:
Google Analytics
Google Search Console
Sitechecker Pros And Cons
Nobody's perfect – and that usually goes double for online tools. Now that we've taken you through what Sitechecker can do, it's time to take a look at some of the good bits and bad bits of this platform:
Sitechecker Pros
Price – As well as offering three very clear-cut price packages, Sitechecker is affordable at any budget, whether you're a sole entrepreneur or a medium to large sized company.
Simples – Sitechecker is really easy to use, even if you're by no means a technical whizz. This is great as it means that pretty much anybody can get up and running in no time at all.
Detailed reporting – This platform offers really comprehensive reporting and the results are incredibly accurate.
Sitechecker Cons
Information overload – At times, an excess of information is offered which can make it tricky to narrow down the important stuff.
No easy fix – In direct contrast to the last point, the information on how to fix issues can sometimes be a little limited.
Update times – Once you've fixed the reported problems, it can sometimes take quite a while before your site is white-listed.
Sitechecker Alternatives
SEMrush benefits users by helping them improve their online visibility through detailed insights into the SEO of competitors. This allows for the identification of opportunities and optimization of user campaigns. In addition to this, SEMrush offers keyword research, backlink analysis, and site audit as a part of its comprehensive package.
Ahrefs
Ahrefs is an essential SEO tool for anyone who wants to improve their website ranking. It gives users vital information about their website, including backlink data, keyword rankings, and traffic data. Plus, Ahrefs' array of features – site explorer, rank tracker, and backlink checker – can really help users boost their website ranking.
SE ranking is a tool that allows users to see how well their website is doing in SEO. It provides data on key metrics like keyword rankings, organic traffic, backlinks, etc. With this tool you can track progress over time, identify problem areas, compare your website to others in the same industry and generate reports to share with clients or management.
Conclusion
I've given Sitechecker a pretty thorough test drive as my website is integral to the success of my business. The first thing to note is that Sitechecker is pretty darn affordable, even for individuals and small businesses on a tight budget. Despite the low price, Sitechecker's results are extremely accurate and reliable which is, of course, incredibly important. While it may take a while to get to know your way around the 'fixes', this platform is otherwise really easy to use with a simple, clear interface that helps you to find your way around easily. For those who want to regularly check how their site and SEO is performing, Sitechecker is a good, solid choice and I wouldn't hesitate to recommend it.