Tell me about your journey?
After two decades as a business management consultant, spending half my time on the road, I decided it was time to find something to do that would let me stay a little closer to home. That was in early 2003. Since I'd once owned and run a magazine and newspaper, the many mentions of 'copywriter" I saw online seemed like a natural progression – something I could do from home, without all those airline miles.
Looking into the possibilities, I noticed that the term "copywriter" was often preceded by "SEO" – something I'd never heard of before. As I began researching what that meant, I was fascinated by the idea of being able to not only make content interesting to humans, but also to machines.
So while I began studying this new – at least new to me – mysterious twist to the art of wearing out keyboards, I started writing content for others – mostly other SEOs. Eventually, the demand outgrew my capacity and I started a content agency – Top Shelf Copy – and built up a stable of writers.
I got increasingly involved in the SEO industry, so after a couple of years, I took on a partner to manage our copywriting operation and launched my own SEO agency, Intrinsic Value SEO. Over time, I migrated away from organic SEO campaigns and began focusing primarily on technical SEO and building customized WordPress sites.
When I started spending most of my time on technical SEO, it meant doing a lot of site audits and penalty recoveries, and focusing on site security, page speed, responsiveness and privacy compliance. Turned out that I loved that stuff!
These days, I get the majority of my work via either relationships I've built with other SEOs in the industry or client referrals, so I don't have to spend a lot of my time marketing our businesses. That leaves me more time to study emerging techniques, polish my skills and learn new ones.
And of course, spend some time stirring the pot on Facebook.
How can I imagine your day at work?
My typical day… a psychologist's nightmare, I suppose.
I usually get up around 6am, hit the power button on my desktop and go downstairs and grab some coffee and take it back upstairs to the balcony off my office. I have a cigarette with my first cup of coffee, go down and refill my cup and then to my desk to start my day.
I check my 15 email accounts, respond to any that are pressing, check my calendar for the day, touch base on Facebook, Slack and Trello to see what messages/tasks I may need to deal with. Then I hit GSC for a quick check of clients' sites, address any issues found there, and by 8am, I can usually start making calls (I try to schedule my calls in the early morning and late evening, depending upon whether the client is in the UK, US or Australia).
Next, I run any crawls I need, perform any research I need for the day, after which, I usually take a short break for lunch… around 20-30 minutes. After that, I again check my emails, Slack, Facebook, and Trello and handle any tasks or messages there. I like to spend the afternoon with my spreadsheets, referencing GSC and GA accounts to correlate any movement. I also tend to send out new proposals in the early afternoon – I like them to hit their desk before they leave for the day.
Late afternoon is for making any pending calls, handling my accounting, and performing any maintenance tasks. I generally work 'til around 7pm, break for dinner, then enjoy a movie or do some binge-watching on Netflix. By 11, I'm ready for bed, to repeat the grind in the morning.
During the day, I'll periodically check out my Facebook wall or LinkedIn, drop a comment or post here and there, just to clear my head.
That's pretty much what I do, 7-days per week, not counting showers and helping with the dishes now and then.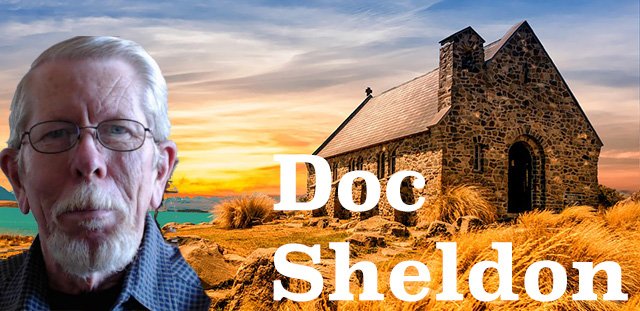 The strangest thing you had to deal on the website?
About 2-1/2 to 3 years ago, a hacker managed to break into one of my sites with an injection attack. At the time, I had around 15 sites – all on the same server. So they then managed to infect every.single.one. by back-dooring them from the server side.
It was the most sophisticated injection attack I'd ever seen. The script first copied itself into dozens of different files in the database, with a unique filename for each copy. The filenames varied by configuration and the number of characters, so there was no real pattern, finding them all was a very manual process. Just deleting a file via the cPanel just triggered another flurry of copies, too, so each file had to be manually deleted.
It was way over my head, so I enlisted the aid of an old friend who had been one of the lead tech guys at WPMU – think "God Level" tech guru. He spent many hours finding all the offending files, still more cleaning them out, and then did the back-breaking work of rebuilding all the sites. He also migrated them all to a new host for me.
That was the worst hack I've ever encountered, and certainly the toughest to recover from. We were never able to determine whether the hacker got in via a compromised plugin, a theme vulnerability or the WordPress core. But I can tell you this… it was educational!
How can you protect your business and website from being hacked?
This is a topic that I could go on about for hours! I work primarily on WordPress sites, so most of my security efforts are focused on making those secure. WordPress is a great platform, but since it's open source, a lot of hackers set their sights on various vulnerabilities that pop up with plugins, themes, and the WordPress core itself (when it's not properly set up).
It's just not as secure as it needs to be, right out of the box. I'm adding a download here, though, with a checklist of over 3-dozen security modifications that will make a site pretty difficult to penetrate.
Just remember that however well a site is secured, there's always someone out there who's capable enough to break into it, if they're really determined. The best tactic is to make entry so difficult that it's beyond the capabilities of most hackers or so time-consuming that it's just not worth their time and effort to try. Both is better.
Here's a PDF Guideline and Checklist for WordPress Site Security: WordPress Site Security Guide & Checklist Intrinsic Value SEO 
People to follow
I've been following a LOT of folks since I started, so I'll just mention a handful who anyone can learn from.
Alan Bleiweiss Alan's specialty is auditing massive sites – those with a few million pages – unearthing a depth of data to allow his clients to dramatically improve their sites' performance. Brutally outspoken, when necessary, and notoriously vocal about incompetent "asshat" SEO practitioners, he's a good man to follow – I've learned a lot from him over the years.
Aleyda Solis Aleyda is to international SEO what tortillas are to tacos… essential. Also a prolific speaker at conferences around the world, she drops wisdom bombs even faster than she racks up airline miles. Subscribing to her #SEOFOMO newsletter alone will give any SEO a constant source of great info and techniques (she's also headlining at DeepSEOcon).
Ammon Johns Ammon's been around the business longer than anyone I can think of. He started out YEARS before the term "SEO" had even been thought of. And he's probably forgotten more about SEO than I'll ever know. He may be a cranky ol' cuss, but he has the heart of a small child (he keeps it in a jar on his desk).
Kim Krause Berg Kim is another person I started following many years ago, when she was hosting her forum, Cre8pc (where Ammon, by the way, was a co-admin). She captured my heart when I found out she was nuts for horses… she kept it when I found out how much she knows about usability and accessibility.
Lily Ray Lily is someone I started following only a couple of years ago, after seeing the work she and her team did for one of their clients. Before long, I found out she was an accomplished drummer, a professional DJ and an extremely knowledgeable SEO. If you ever have an opportunity to see her speak at a conference, you'll also find that she's an incredible speaker.
Steve Gerencser Steve is one of the first SEOs I ran into, nearly 20 years ago. He was, and still is, one of the most knowledgeable folks I know in the business – both in SEO and SEM. We've worked together a lot over the years – not sure why he puts up with me. Must be my good looks.
Conferences to attend?
There are three existing conferences I've always wanted to hit, but haven't, yet: PubCon Vegas, Brighton SEO and SMX Advanced. But the most important to me is the new one that my partner, Steve Gerencser, and I are hosting in September of 2021: DeepSEOcon, in Ensenada, Baja California. We have some A-List speakers and a great program laid out, plus a deepsea fishing charter the following day, out where the trophy sportfish run.
So obviously, that one's at the top of my list.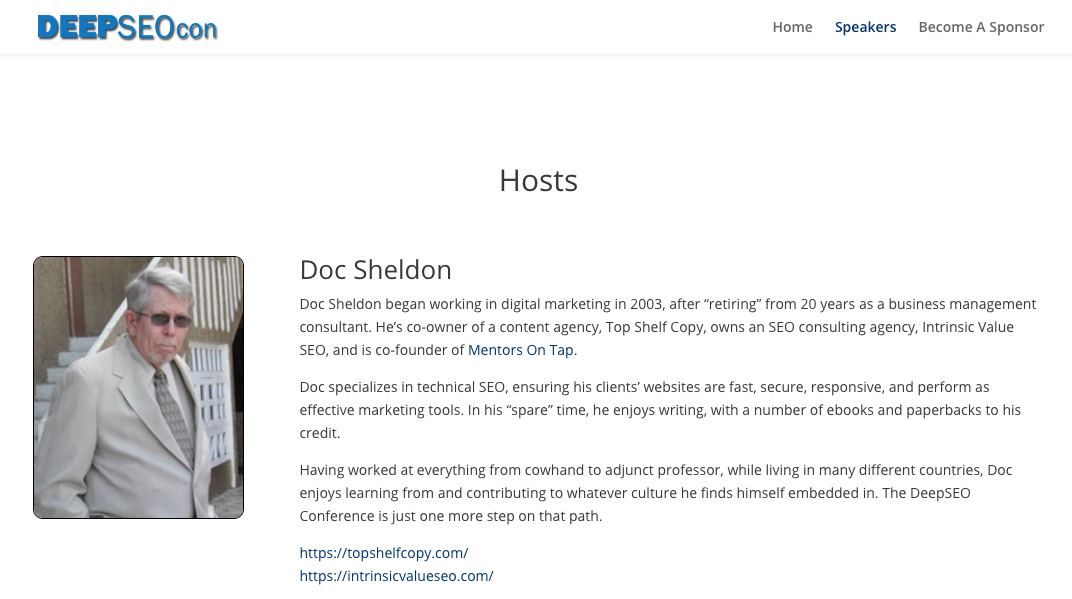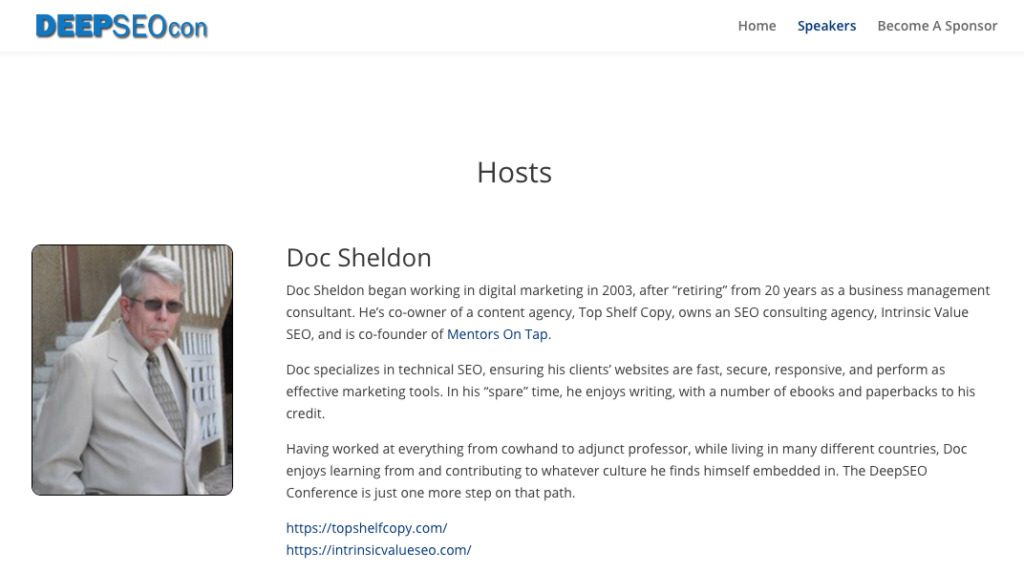 Books that changed your life?
Of those that had a dramatic effect on both my personal and professional life, I'd have to say the two by Dale Carnegie fit the bill. The others certainly improved my professional skills considerably, though.
Content Strategy for the Web – Kristina Halvorson and Melissa Rach
Google Semantic Search – David Amerland
Making Data Sexy – Annie Cushing
How to Win Friends and Influence People – Dale Carnegie
The Quick and Easy Way to Effective Speaking – Dale Carnegie
Which ones are basic?
Annie's Making Data Sexy is far from "basic". This lady could teach the developers at Microsoft some things about Excel's capabilities. I think that puts her book up in the "exceptional" category.
The Carnegie book, The Quick and Easy Way to Effective Speaking, is rather basic, by today's standards. But when his books first came out, they were somewhat cutting edge, as they departed from the more traditional methods of projection. I had the good fortune to go through the week-long clinic on speaking, too, which arguably provided me with more value than the book alone might have.
David has been a strong proponent of semantic search capabilities since the early days, and he has a very effective way of simplifying complex ideas.
If you could change something about technology what would it be?
My greatest concern about technology today is the nearly total lack of security around "smart" devices. Homeowners all over the country have installed cameras, thermostats, lights, and locks, with little or no thought to how easily the entire system can be infiltrated through any single unencrypted device. I feel such devices should meet a minimum standard for encryption and security.
If you couldn't do what do you do right now – what else would you?
I would probably be back in electrical engineering, designing secure power systems for critical facilities. I did that for many years and thoroughly enjoyed it.