SEO marketing is big – and getting bigger. As more and more businesses look to supersize their technical SEO, the need for more and better tools is growing. Ease of use, efficiency and affordability are just some of the things that companies are demanding. This increased demand means that many crawler tools are simply not up to the job……until now.
JetOctopus is an innovative SEO crawler tool which promises – and delivers – limitless crawling. To summarize, the following review is a comprehensive guide to what's so great about this effective and user-friendly tool.
What is JetOctopus?
So, in a nutshell, what does JetOctopus actually do? JetOctopus is a SaaS crawler (not to be confused with Screaming Frog), which uses Google style technology to scan your website. After that, JetOctopus will then identify any technical errors which Google may be penalising you for without your knowledge.
JetOctopus is a smart way of finding new keywords that actually work to get results and help boost your rankings by blitzing titles, meta-descriptions, page speeds, thin pages, interlinking structures, DFI, indexation management, and much more. These are important technical parameters which those clever bots analyse every time they visit your site.
Without this, search bots become ineffective – which is why you should never ignore your technical site SEO audits at the risk of limiting your site's traffic.
JetOctopus Key Features
So, is JetOctopus right for you? In short, the answer to that is all down to the features – of which, JetOctopus has tons
The features
These features include the ability to effortless crawl over 100 million pages at a speed of a staggering 200 pages per second.
Let's take a good look at some of the other features of this great tool:
#1 JetOctopus offers a top-down approach, which eliminates the need to mess around with Excel. You're given the full picture of issues on your website, all colour coded (with red as the most critical). To this end, you can also access a broader image with clickable columns.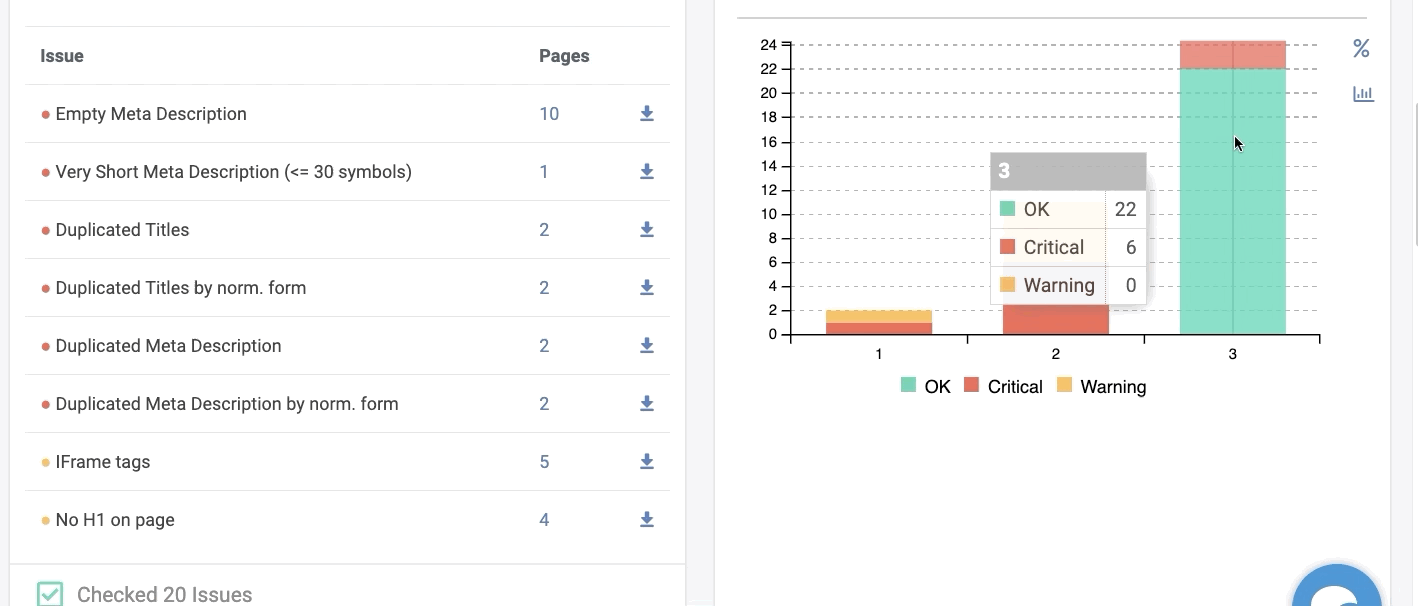 Issues can be analysed and resolved through typing into a list and applying over 150 filters (terrific!) for really comprehensive results. As I have shown, you can also export lists of problematic URLs and sort these into categories to be resolved in whatever order you choose.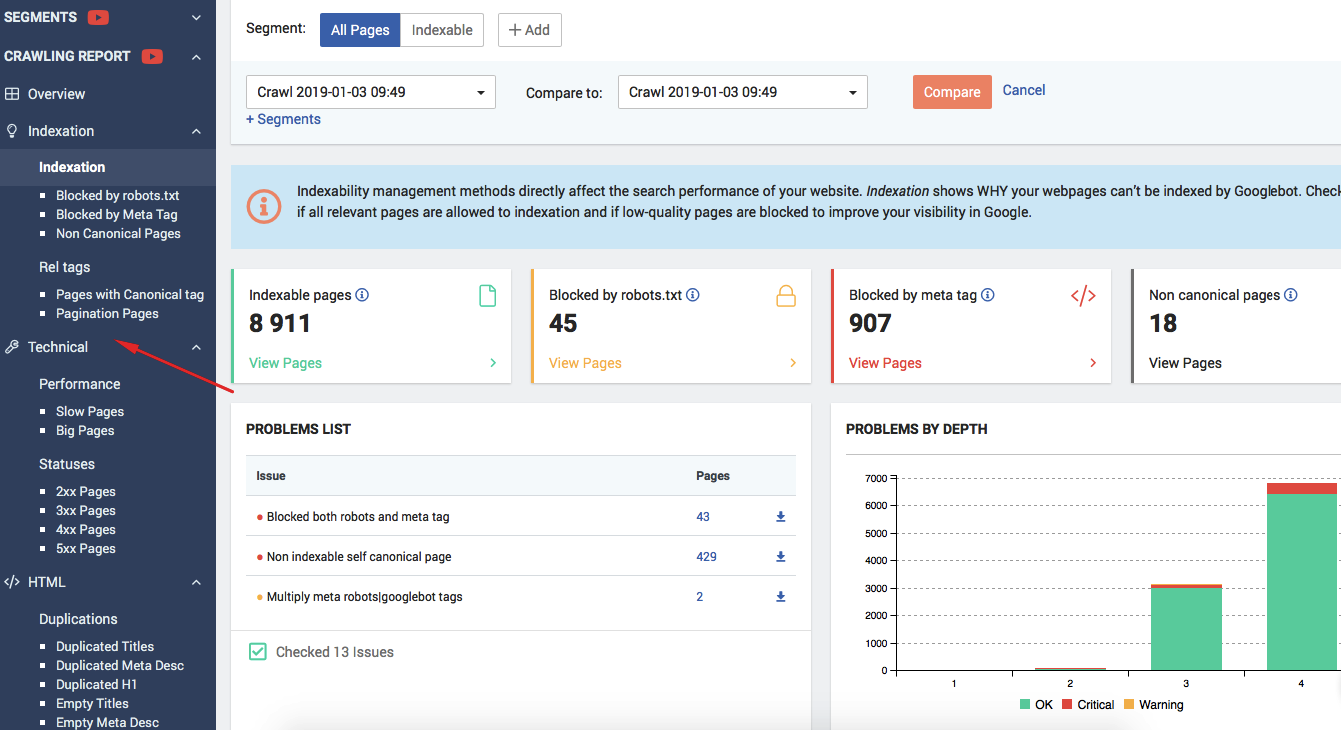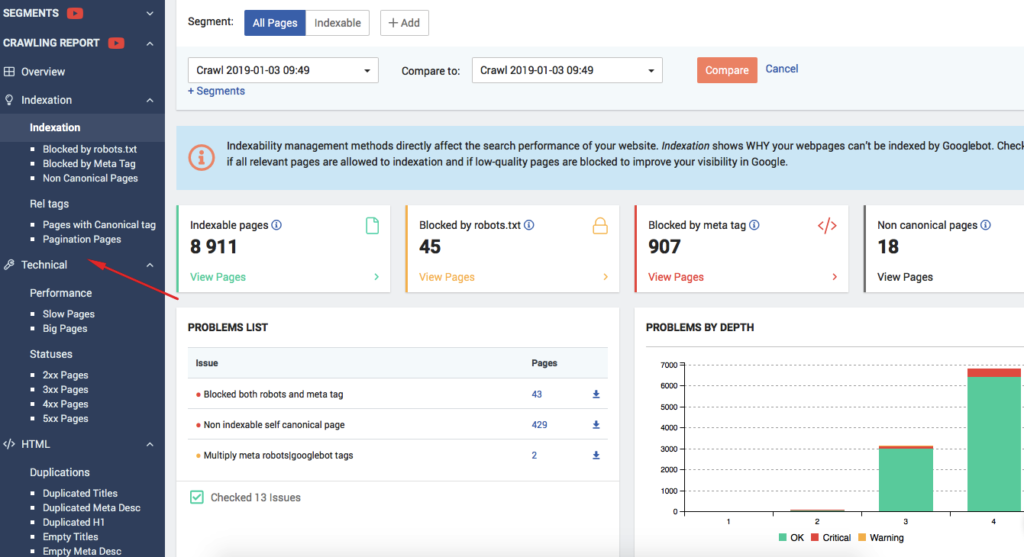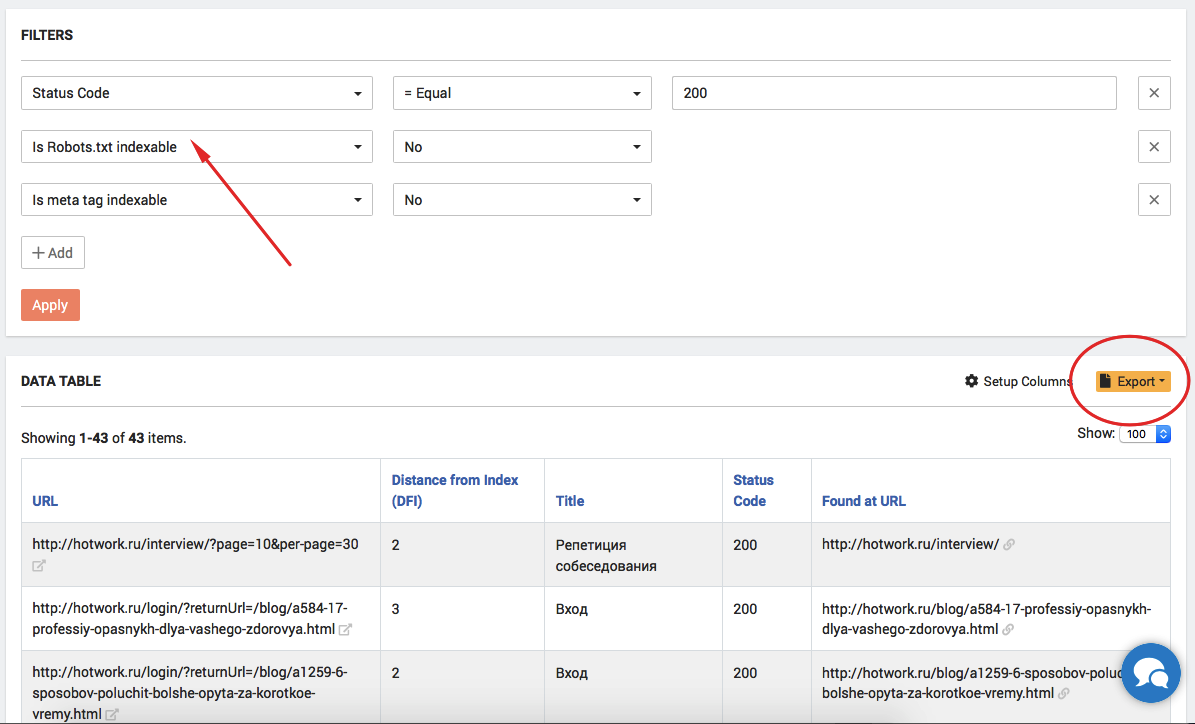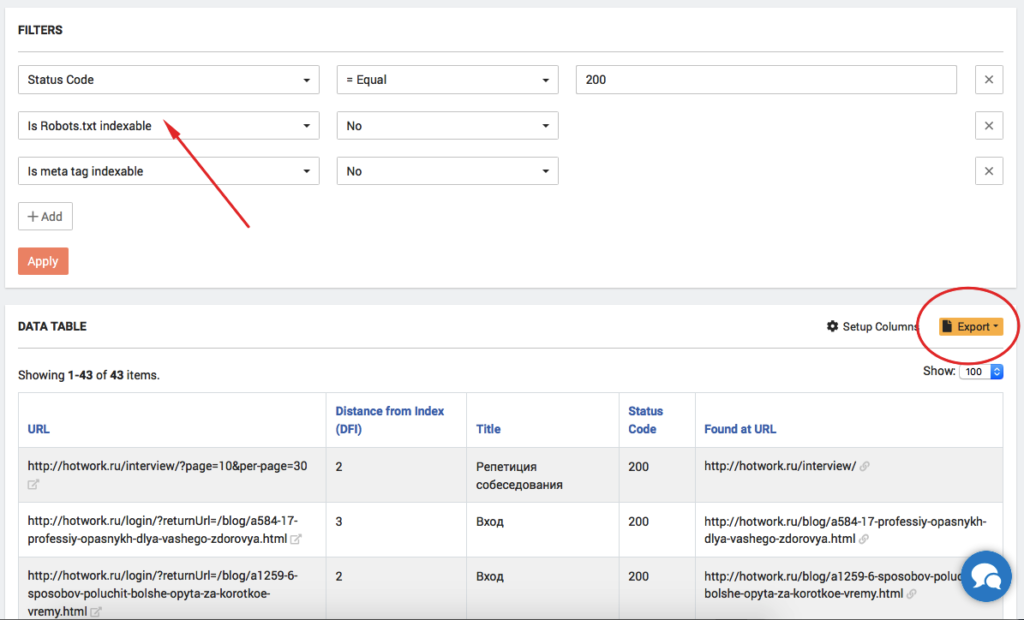 Even less experienced users can get on board with this incredibly user friendly SEO approach. With just a little bit of practice, any user can identify critical issues and prioritise site optimisation to improve speed and efficiency.
JetOctopus has flexible filters which allow for really in-depth content analysis including:
Thin content pages which require increased unique content
Long-form content. This refers to SEO with an increased number of words
Pages with large images which require increased optimisation
Pages with titles containing a specific term which will help you to find all of the content on a specific topic
Duplicate content. This includes everything from general content and titles to meta descriptions
Interlinking structure of the site including page speed optimisation and indexation management.
#2 Parameters. Total reports: 23, charts: 180, data table filters: 164, data table columns: 159. To get a close look at these numbers, you can take advantage of the JetOctopus free trial.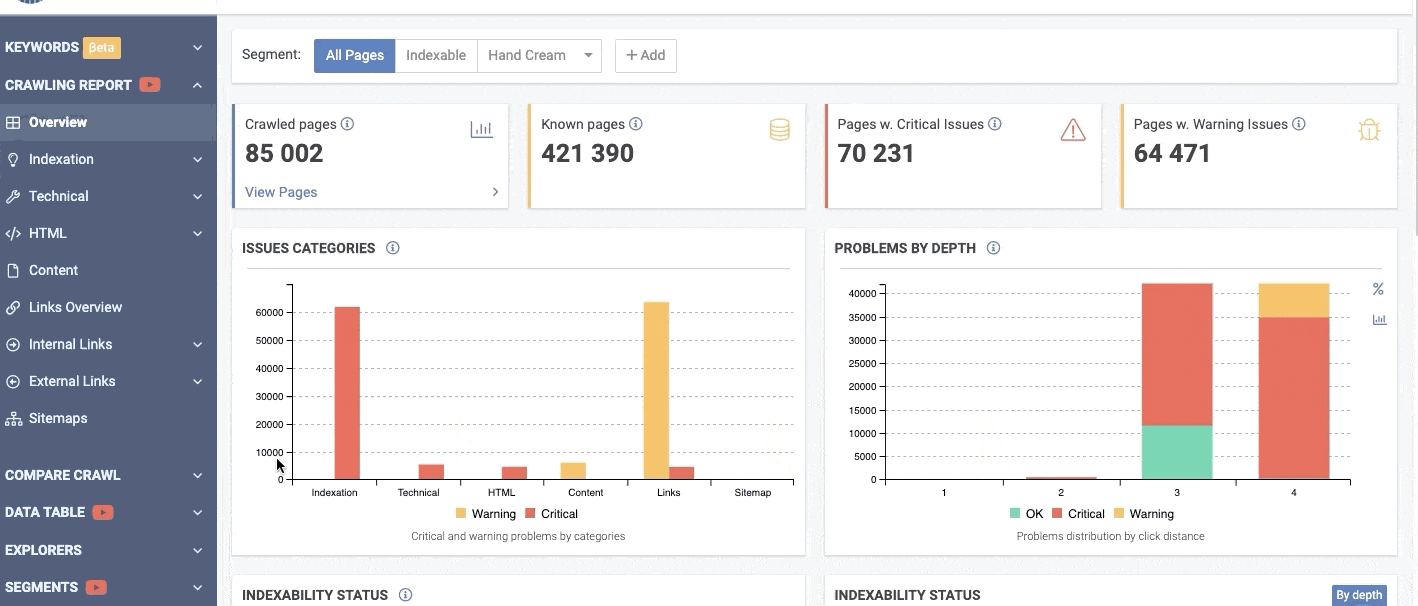 #3 Segments visualisation. This can be separated into as many segments as you need in order to view the crawling data within a specific section. Data is restored within seconds without the need for re-crawling.
Through smart technical analysis and SEO, you will be able to easily access an incredible amount of information with segmentation to help to make results clearer and more specific so no more wondering☝️
You can begin by choosing from the following options:
Pages which are accidentally blocked by Robots.txt or Robots Meta Tags
#4 Compare limitless crawls. With this clever feature, you can analyse the impact of every improvement made. You can also compare the current crawl with the previous one, even historically. It is even possible, in essence, to compare different segments to gain further insights, how cool?
#5 Linking explorer With this, you can easily analyse each of your URLs to make some real improvements to the interlinking structure.
There is no other tool out there as efficient and effective as this one for working on an individual level, OK I am exaggerating a bit now. JetOctopus allows you to view pages within your site which link to a specific page and to identify anchor text and internal links.
JetOctopus will also, as shown, check and sort your pages and links and then notify you as to the effectiveness of your page linking. JetOctopus will also alert you to any broken links.
#6 Collaboration. With a universal login for each member of your team, there's no need for any external tools. As each member of the team logs onto the system, they'll be able to access communal information and data in real time. Fast, accurate and efficient, JetOctopus becomes a valuable extra member of your team, saving you time and money.
Let's talk about something special
Lets talk about logs. No, not the ones we get from trees but those clever source data files which keep an eye on what's going on on your website. These ones allow you to access detailed info about your users and visitors. I want to talk specifically about log analysis.
A log analyzer is an incredibly important part of maintaining your site and is one of JetOctopus's most valuable features, allowing you to quickly and easily get the whole picture of the running of your site.
Log analysis works very simply, and it follows these steps:
Covert into a structured form
The most revealing and informative part of the site indexability SEO audit is the Log files analysis which overlaps with crawling data. Without these logs, you don't really get the whole story about the pages that are being visited and indexed by bots with any accuracy. These logs are an integral and important part of accessing information.
Log analysis allows you to see your site as Google does and, is based on 25 billion log lines with over 4,5 billion crawled pages. The perfect way to analyse and compare information at an incredible speed – features which are praised by existing customers.
Analyzing Logs you'll quickly improve the indexation of your site, optimize your crawl budget, find orphan pages, and detect other unpleasant errors and issues, that affect your website's performance.
In The Ultimate Guide to Log File Analysis, JetOctopus has collected a 21 point Checklist of all key parameters to pay attention to. As a bonus, 11 Tech SEO experts shared their experience in Log analysis for the guide.
So save it to your desktop and boost the organic traffic along with conversions!
Accurate and affordable
There is no upper limit on price as it all depends on the size of your site and what you need from the JetOctopus package. The more features that you access, the better the price, so the more you use, the more you save.
You can visit their pricing tab, where you can freely adjust the package to your individual needs.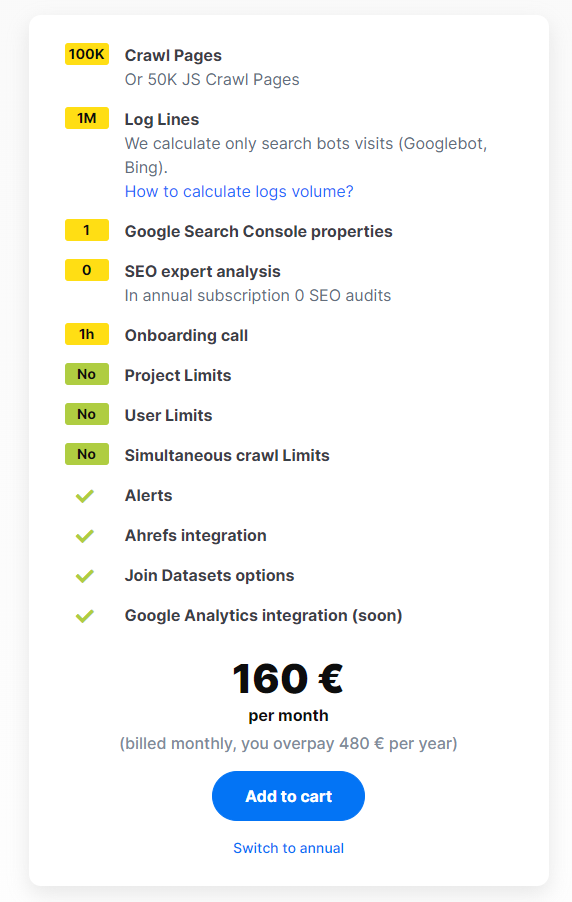 Jet Octopus alternatives
OnCrawl
Based in Montreal and founded in 2013, OnCrawl's mission is to provide the best crawling services on the market. They're an award winning tool that helps businesses ranging from SMBs to enterprise grow.
DeepCrawl
DeepCrawl is a tool that was brought to life by SEO specialists who lacked the power to optimize large websites. Founded back in 2010, they're one of the oldest and most established crawling SEO tools. They have three offices – in London, New York and Krakow.
Moz
Moz was founded back in 2004 by Rand Fishkin and Gillian Muessig. Although it's more than just a website crawler, their Site Crawl tool doesn't lag behind the competition. Apart from that, they offer an all-in-one SEO tool to optimise your business.
Screaming Frog Spider
Screaming Frog was created in 2010 by Dan Sharp, Graeme Radford, and Jason Lock. They've won quite a bit of awards since then and have grown substantially. Now their team includes 40 great specialists. Apart from the SEO services, they offer a website crawling tool.
In summary
JetOctopus really is the most efficient and fastest tool available to gain a huge amount of information and the opportunity to get to know your website properly.
It has a vast range of great features for you to use, including clever collaboration which eliminates the need for third-party communication tools. Everything from content analysis and internal linking to log analysis is included, and this makes life easier for you.
Even the most junior SEO manager can read through it and understand how it all works. It really is just such a good and effective tool, and probably one of my favourites now on that I've had a chance to road test it properly. With reasonable pricing and a free trial period, what are you waiting for?