During the last few weeks, you may have found yourself with a little more time on your hands due to government lockdown restrictions. There are, of course, lots of ways of putting that time to good use and, for many, that has meant working on their social media accounts.
Rarely something that anybody looks forward to, our social media content and sending requires a fair bit of work to keep it ticking over – but that needn't be the case. These days, we have access to some great tools which can help us to automate and streamline our social activity and, today, we're going to be sharing our review of new kid on the block, Onlypult.
With Onlypult, you can upload pictures and videos straight from your computer, edit them however you'd like, and manage multiple accounts at the same time. You can also give an SMM specialist permission to schedule posts without giving them direct access to any of your social media accounts.
What is Onlypult?
12 most popular social media are available now for posting: Instagram Facebook, Twitter, LinkedIn, Youtube, Google My Business, TikTok, WordPress, Tumblr, Telegram, Vkontakte, Odnoklassniki.
Instagram is fast becoming the go-to choice for marketers and, Onlypult is a scheduling and analytic tool designed specifically for those who may be juggling more than one Instagram account for their brand.
Who uses Onlypult?
Although Onlypult is really still in its infancy, it is used by a huge number of clients around the world, it's an especially fitting app for a social media manager. Some of these are:
Pieta
Mothercare
Samsung
New Balance
Witness Change
These five examples are important ones as they highlight Onlypult's commitment to using its powers for good.
How do I get started with Onlypult?
It's easy peasy to get started with this newbie – here's how it's done:
Zoom over to https://onlypult.com/login
Enter your email address, choose a password and, assure Onlypult that you're not a robot
Click onto 'Sign Up'
You'll then be asked to choose your language and time zone
Click 'Save'
A verification email will be sent to the email address that you provided – click onto the link in the email to verify your account
You're now ready to go and will have access to your very own Onlypult dashboard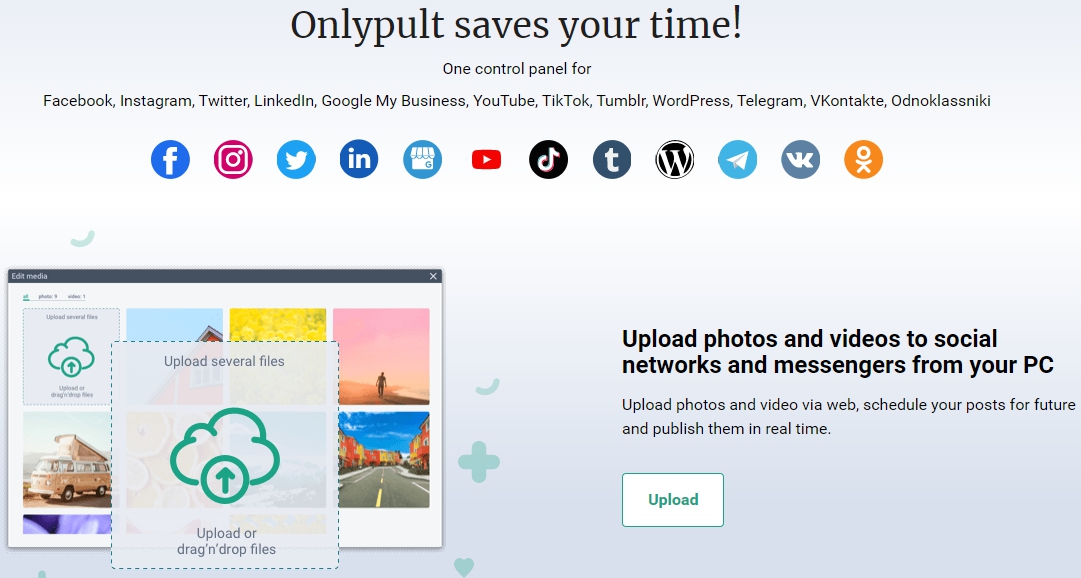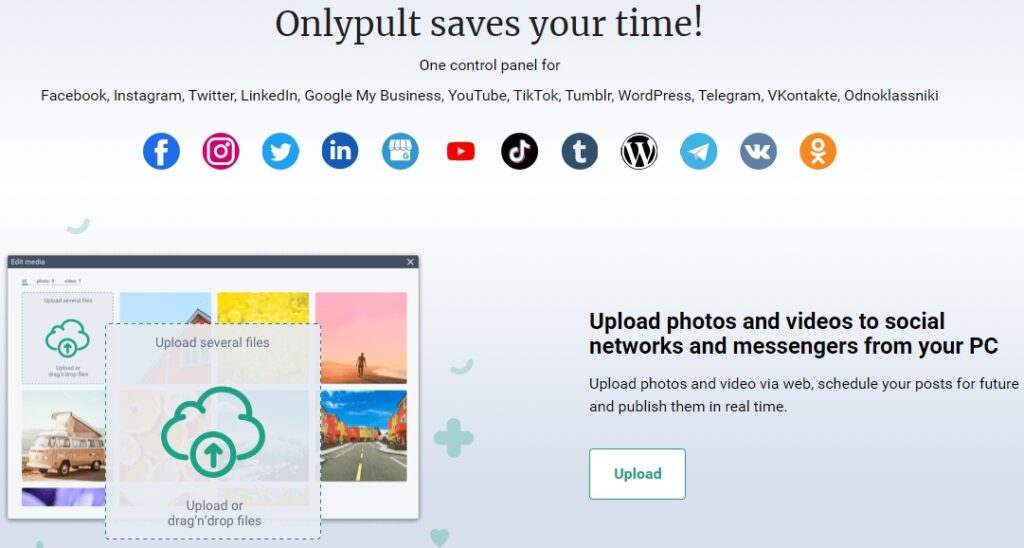 What are Onlypult's features?
Social Media Posting
The bread and butter of this tool is its scheduling feature and, so, unsurprisingly, a lot of focus is on this feature. This tool allows you to create and schedule your Instagram posts either from your computer or from your phone. The scheduling feature is refreshingly simple to use as follows:
From your dashboard, get onto your web browser and upload single or multiple images from your computer to your account
Enter all of the required fields
Add text to your images
Choose the date and time to send your posts by clicking onto the 'Schedule' button
That's really all there is to it. You can schedule your posts to go out in an hour, a week or even a month. You do, of course, also have the option to send your post straight away for added convenience.
Reposting
Not only can you create and schedule your posts for sending but, through this useful feature, you can also share content including blog posts from your landing pages or any channel onto your personal account. This feature is a great way of beefing up your content.
Multiple Social Media Accounts
One of OP's really handy features is its clever automation. Perfect for those who want to manage multiple accounts, Onlypult is a platform that allows you to manage a shopping 40 accounts, all in one tool.
Analytics
We're not gonna lie; Onlypult doesn't have the most comprehensive set of analytics but, what it does have, it does well. The simple analytics feature lets you see the whole picture of your growth and performance in a really easy to read format.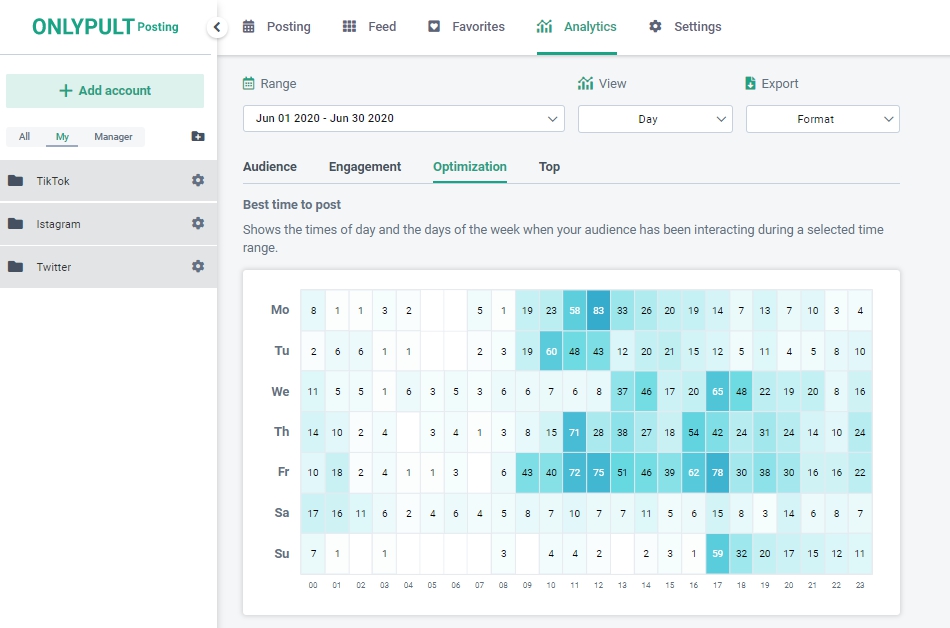 Micro Landing Pages Builder
The system allows you to create micro landing pages for your social media posts, considerably increasing your conversion rate. These are especially useful for corporate Instagram social accounts since you can't include multiple links in your profile. These micro landing pages are one-page sites that enable you to post all of the relevant links to your profiles and websites.
How much does Onlypult cost?
Customers can choose between four different pricing plans for their OP's account and, these pricing details are as follows:
Start Plan $25/mo
5 accounts
1 Manager
10 Tracked users
Unlimited posting
1 page bonus builder
300 mentions
1 project
Perfect for those who are maybe just starting out with Instagram, the Start Plan is a tiny investment for a fair amount of OP features.
SMM Plan $35/mo
10 accounts
2 Managers
15 tracked users
Unlimited posting
1 page builder
300 mentions
1 project
This plan is great value for light to medium Instagram users and, is Onlypult's most popular option.
Agency Plan $65/mo
25 accounts
3 Managers
20 tracked users
Unlimited posting
1 page builder
300 mentions
1 project
For more prolific Instagramers, the Agency Plan still won't break the bank and, 20 accounts gives you plenty of wiggle room should you decide to expand later on.
Pro Plan $99/mo
50 Instagram accounts
5 Managers
30 tracked users
Unlimited posting
1 page bonus builder
300 mentions
1 project
As with the other packages, the Pro Plan offers good value for money and is great for a project agency and brands which have lots of Instagram and social media accounts on the go at the same time.
Onlypult's packages can be paid for either monthly or annually and, there isn't currently a free trial available to new customers.
Onlypult – The Pros And Cons
Now that we've taken a peek at what Onlypult can do for your social media organisation, I'm pretty sure that now, what you really want to know is, is it any good? As is only right and proper in a review, we'll now share the lowdown on the pros and cons of Onlypult:
The Pros
Price – It's one of the cheapest social media management apps. Onlypult's hugely affordable pricing structure means that you don't have to agonize for too long over the decision to give it a try. Even if you're a solopreneur or a boutique digital marketing agency, you'll surely afford Onlypult. Even the basic Start package gives you enough to get started with this handy tool.
Versatility – Onlypult allows you to supersize your digital marketing by using images of any shape or size – not just the standard square ones commonly associated with your Instagram account.
Built in filters – These handy filters allow you to create really engaging posts straight from your dashboard – making it super convenient.
Making a hash of it – Onlypult lets you add up to 30 different hashtags to your posts – which is essential for today's digital marketing guru.
Planner – Onlypult's scheduling planner is really easy and fast to use for getting your social media posts organised and ready to send.
The Cons
As with any review, we do of course have to point out the not-so-great bits which, with Onlypult, isn't many – but, here they are:
Analytics – At the moment, Onlypult's analytics are pretty basic but they do give you an overview of the performance of your Instagram accounts.
What are some alternatives to Onlypult?
Hootsuite
Hootsuite is the most popular social media management software. It's used by 800 out of Fortune 1000 companies. It allows you to plan and schedule your posts, keep making meaningful connections and manage your team.
The pricing starts at $19 a month up to $599 for large business customers.
Buffer
Buffer is another social management platform that is quite big. It has a large suite of tools that can help you get the most out of social media. It allows for scheduling, analysis, measurement of your campaigns and building your community on using Instagram scheduling tool.
The price is as little as $15 a month for starter plan.
Zoho Social
Zoho Social is a tool that is aimed mainly at businesses and agencies. Same as the other platforms, it features scheduling, monitoring, managing, analysis and collaboration with your team.
The pricing starts at €10 a month up to €300 a month for agency plans.
Sprout Social
Sprout Social is a solution that many large businesses put their trust into. Brands such as Subaru, Evernote, Shopify and Edelman use this tool. It enables you to connect with your audience, analyse your campaigns, make publishing plans and listen to your customers.
This one is quite pricy, as the standard plan costs $99 a month.
Sendible
Sendible is an industry-leading platform. It offers a unified dashboard with all your social media presence, a simplified publishing process, the option of collaboration, real-time analytics, and listening.
It's pretty cheap at $29 a month for the standard plan.
Conclusion
If you're looking for a social networks management software that offers value for money, allows you to content plan and helps you to manage your social media traffic then, Onlypult is the one for you.
The low price and ease of use mean that this is already one of our favourite social media management tools for 2020. If you regularly need to schedule posts on a content calendar for sending, you can do no better than this great value piece of kit.