Today, there's a growing number of live-streaming platforms. And as a creator or brand leveraging video creator, quality and time are your greatest assets. You also have goals, and live streaming, like every other form of content, should generate ROI.
If you're looking to monetize your videos and distribute them online or through OTT devices, Uscreen is the perfect platform for you. With a powerful but simple-to-use interface, 11,000+ creators and brands from various industries have already made Uscreen their go-to choice. Whether you create entertainment or educational content, anyone can find success with their easy solution.
What is Uscreen?
You can share videos with the world and get paid, monetizing video streaming using subscriptions, one-time purchases, rentals, sell video bundles, pay-per-view, on-demand platform, and video hosting (just to name a few).
And that's what makes Uscreen special. If you've struggled with selling video content, the platform's built to help you do just that. It streamlines selling video online by housing payment providers, analytics, and marketing and community engagement tools. Creators, and brands can also roll out branded video streaming apps (AKA OTT Apps) for mobile and TV devices.
How Many People Use Uscreen?
Founded in 2015, Uscreen video streaming service is now home to over 11000 video content creators from 195 countries. It's also helped creators and brands reach over 8.5 million viewers globally.
Who Can Use Uscreen?
In a word: Anyone.
Uscreen customers stream everything from live sporting events to music concerts, bands, theaters, operas, ballet companies, orchestras, business events, and more.
Key Features
Live streaming platforms have to strike a balance between functionality and usability. And Uscreen does a good job of both. It's built for anyone to easily start publishing videos. And the best part: it houses features you need to not only go live but make money every time you do.
Video Streaming Business
Video monetization can be complex. How do you bill viewers for live streaming content? How do you make sure viewers are secure when paying you online? These are some of the tougher questions Uscreen answers and challenges the platform is built to manage.
Video monetization with Uscreen offers customers multiple ways to cash in on their live streams, meaning once your live event is done, you can still make money by selling the recording. Here's a look at Uscreen's monetization options include:
Pay-Per-View
Offer viewers the chance to pay for exclusive access to live-streamed content, just as large broadcasters do.
Subscriptions and Multi-tiered Subscriptions
Create subscriptions that automatically turn your viewers into paying subscribers and offer multi-tier membership plans. For example, you can offer your on-demand content as a basic plan and upsell your audience to higher plans for access to your live events.
Rentals
Rent videos for a fixed time frame and Uscreen will automatically expire access when the rental is up.
Bundles
Create bundles of video content that can be sold as one product.
Free trials
Entice new viewers with free trials to see the value available before committing.
Live Streaming & Monetization
Monetizing live streams with Uscreen is easier than you'd imagine. Setup is a cinch. Uscreen works with Stripe, PayPal, Authorize.Net, and if you're not with either, there's a Uscreen gateway available. This means viewers can pay using PayPal, debit and credit cards.
Linking your payment provider happens in a few steps. These are easy to follow and require information you have access to (account credentials), so there's no time wasted trying to figure it all out.
Monetizing Live Streams With Pay-Per-View
Many moons ago, pay-per-view (PPV) was a service only offered by large broadcasters and reserved for special events. Today, you can reach people the world over with your very own PPV live streams, and get paid.
PPV live streams are gated, giving viewers the chance to pre-register for an event. And, to build anticipation and excitement, you can add an event countdown timer.
Auto-record to VOD Platform
Beyond PPV live streaming, you also get to monetize recorded live streams. This feature is a gamechanger for busy creators and brands. Using other monetization models like subscriptions, bundles, rentals, one-off purchases, you can generate revenue from recorded live video on auto-pilot.
Live Chat
Community engagement is a big deal. People want to be part of the conversation around topics they are passionate about. To help, Uscreen's integrated a live chat feature, allowing creators and brands to connect with communities directly.
With chat, you can comment, tag, and start discussions with your community. Chat also comes with emojis to give your interactions a personal touch.
Live Streaming to Your Branded OTT Apps
Owning your own app sounds expensive. That's because it is! Building one can set you back around $30k, and that's one with basic functionality. But Uscreen's OTT platform's re-engineered the app space. You don't need to spend tens of thousands, and you can get a branded app especially for your video content.
Do you need an app?
Uscreen found that clients with apps made 30% more than those without. Apps also offer viewers convenience. They can watch content on TVs, or smartphones, and tablets, and Uscreen OTT TV apps are available for iPhone, Android, Apple TV, Roku, FireTV, and Android TV.
And if the idea of owning your own apps sounds smart, Uscreen's developed something special for Apple Watch users. Fitness content involves movement. And often, you're not close to or don't have easy access to the device you're using when you're mid-movement.
Uscreen's solved this problem with an Apple Watch app. It's designed to let users control the video player, without skipping a movement, while tracking their activities and heart rate.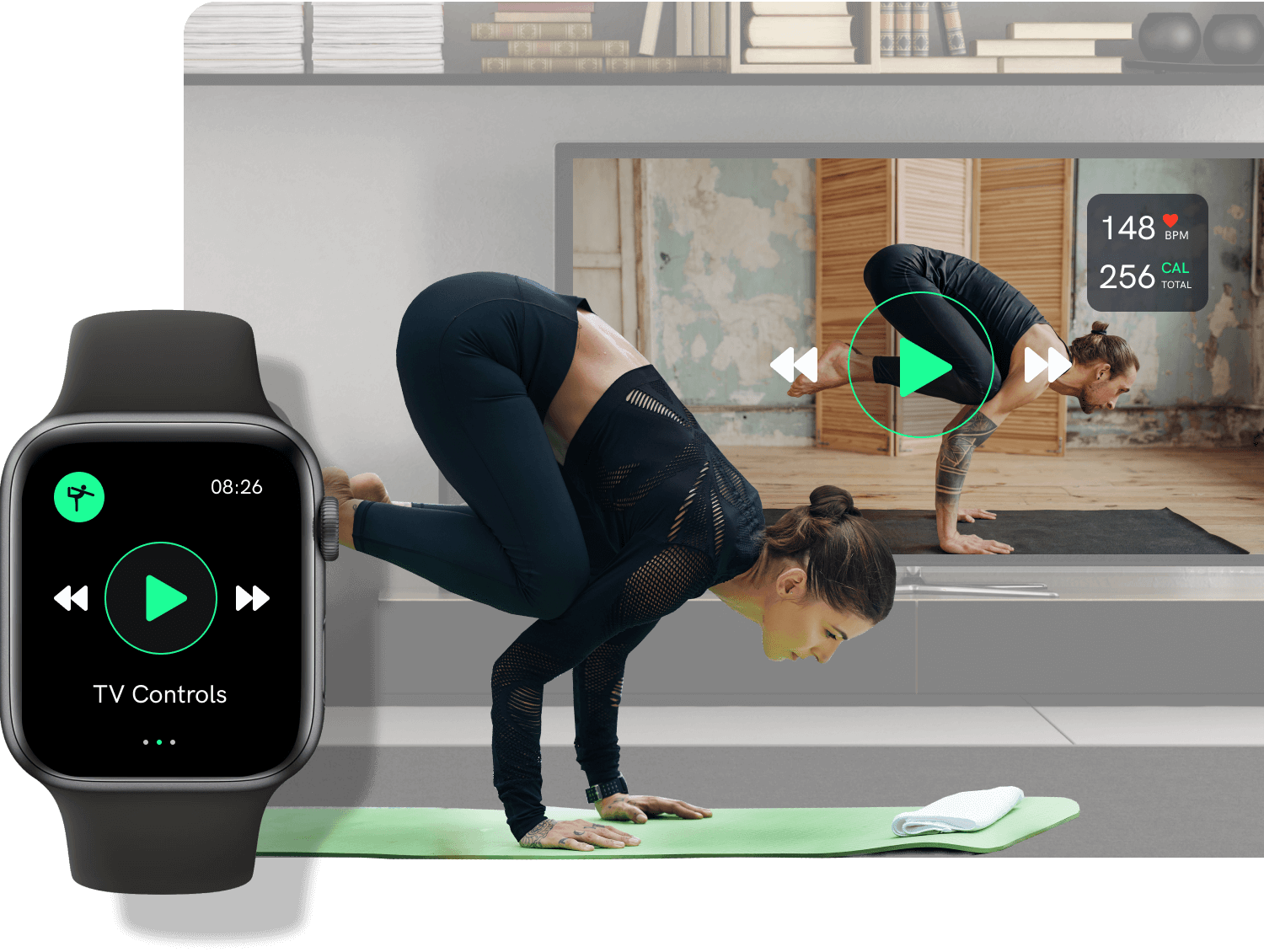 Marketing Tools
As marketing tools go, there's a lot that you can do with, and Uscreen has all you need. Here's a look at features available:
Landing Pages
Uscreen's landing page builder is one of the easiest to use. It works with editable blocks of content you can customize. Change anything from headings, body fonts, backgrounds, and sections, and delete elements you don't need.
And if you're wondering about coding experience and how much you need, you don't. Uscreen's landing pages were designed for use by anyone.
Lead Generation
Content promotion isn't the easiest thing to do. You often have to find a balance between offers and buyer interest to generate leads and sell your videos. Uscreen offers Leadzen, a built-in funnel that offers free content for a viewer's email address.
Once on your list, Uscreen's email funnel sends offers in a timely fashion, all of which you can easily edit from your account.
Coupons
Coupons are a powerful incentive tool. To offer yours, access the dashboard and set coupons with a percentage or dollar value you'd like, then choose monetization options coupons to apply to.
Gift Cards
Monetization wouldn't be complete without gift cards. You can issue these from your dashboard and allow viewers to purchase them for friends and family.
Upsells
Want to increase your average customer spend? Uscreen's built-in upsells are designed to make offers to customers when they pick a plan. They are also easy to design and quick to set up.
Analytics
Tracking your biggest business sources is crucial if you want to scale your brand. Uscreen offers integrations with Google Tag Manager and Google Analytics alongside social platforms like Facebook, Twitter, and LinkedIn to track pixels.
Video Performance
Uscreen also provides video performance stats for each video you publish. Stats show:
Watch Time
Views
How video collections perform
Which countries viewer tune-in from
How content is performing by author (if you collaborate)
Which devices viewers use
Retention Tools & Automation
Customer retention isn't something most think of when creating video content. Truth is, it can be costly, and happens more regularly than creators know. Uscreen's Churn Tool helps strengthen retention and is activated to trigger a sequence of emails with win-back offers.
You also have access to stats on how many customers are saved are also available, helping elevate your content and offers.
Integrations
Integrations are part of running an online brand. And with various apps needing to connect to each other, you'll be happy to know that Uscreen's built to work with what you have. The platform offers 12 native integrations and 2000+ additional apps that you can connect through Zapier.
Built-In Themes and Customization
While live streaming may require just a landing page to promote your event, Uscreen's made it possible to do more with a built-in website builder. It comes with 12 professionally designed themes that use the same editable block features you get with the landing page builder.
This means you don't have to stop at designing landing pages. You can build your very own website to showcase all of your live streams and recorded content.
Usability
Usability is one of the more challenging areas to grasp when shopping for a live streaming platform. To give you a closer look at what it's like working in the platform in this Uscreen review, it makes sense to focus on the areas of the platform you'll use when creating a live stream.
Setting up a Landing Page
Landing pages really are a breeze to work with. The editable blocks can be customized easily, just hover over any block to begin tweaking its look and feel.
Setting up a Payment Provider
Configuring your payment gateway isn't as complicated as it sounds. It's something you can do in less than 5 minutes. All you'll need are your payment provider account credentials, and to follow the steps in the setup process.
Streaming Software set up
If there is something you may feel a little intimidated by, that could be setting up for a live stream. Live streams rely on hardware, software, and making both work together.
The good news is that connecting your live video software (OBS, Wirecast, Ecamm, Restream, etc.) to hardware and Uscreen is simple. And if you need help, visit Uscreen's knowledge base for easy-to-follow articles on all you need to know about using its live streaming platform.
Video Player
Uscreen's player is fast and your viewers will love it. For the more technically inclined, it's an HTML5 player that's fully white-labeled, It supports VVT captions.
Video quality shouldn't be something you compromise on. Uscreen's been smart about that and uses multiple CDNs (Content Delivery Networks) around the world. This means your viewers will never have the all-too-common buffer problem.
Using Live Chat
Live chat is similar to what your experience would be on any chat tool. The interface is clean and easy to use. For those wanting a little more in the line of community features, this is likely where Uscreen underdelivers. At present, you can't create discussion groups or pin posts.
Shortcomings aside, you can still manage your community with a fair amount of control. Moderation allows you to flag and block comments, all of which you can see in your dashboard.
Auto-record and Selling Your Recordings
One of the smartest features of Uscreen's live streaming platform is auto-record. You don't need to configure it. When your event is done, you can download and edit your live video if you like, or just offer it for sale.
Uscreen Pricing
Uscreen offers a 14-day free trial. It requires a credit card, which might be an issue for some, but considering everything we've seen about the platform thus far, it's worth it.
There are three plans; Basic, Growth, and uScreen Plus. Each offers a core set of features, with the latter two including more. Pricing is structured to include a base fee (billed annually or on a pay-as-you-go monthly basis). The base fee is heavily discounted for annual payments. Here are short overviews of what you get in each plan:
Basic Plan: $99/mo (charged monthly) or $79/mo (billed annually)
50 hours of video storage
1 admin user
1 onboarding session
Email support
Customizable website
Growth Plan: $199/mo (charged monthly) or $159/mo (billed annually)
150 hours of video storage
10 admin users
3 onboarding sessions
Chat & email support
3rd party integrations
uScreen Plus: Contact uScreen for pricing
If you choose uScreen Plus, you will get everything in Growth, plus:
Mobile apps
TV streaming apps
Live streaming & chat
Live streaming analytics
White-labeled branding
Dedicated account management
API support
Subscriber Fees
Plans also come with a per-subscriber fee of $0.50, an amount charged for every active subscriber to your content, and a TVOD (Transactional Video-on-Demand) fee of 5% charges for all one-time purchases.
Onboarding
Onboarding is something Uscreen takes seriously. When you sign-up, Uscreen will assign an account manager whose goal is to help your video business succeed. And beyond the onboarding call, there are tons of amazing help articles on every aspect of the platform.
New to Video? Check out Video Business School
Video business school is one of the most valuable resources you'll find on planning, promoting, and launching your video business. Each module has a collection of lessons designed to walk you through to launch.
Uscreen Pros and Cons
There isn't a perfect live streaming platform available today, but if there is one that comes close, it's Uscreen. Where does it fall short and excel? Here's a quick rundown of Uscreen's pros and cons:
Uscreen Pros
Comes with a sleek, fast, and customizable video player
Multiple payment gateway integrations + a Uscreen option
Monetizing video is a breeze and you get six options (subscriptions, bundles, rentals, one-time purchases, PPV, and live streaming)
Auto-record for live streaming
Clean and easy to navigate interface
Video CMS comes with categorizing feature to quickly source content + allows drag and drop and bulk video uploads
Website and landing page builders deliver responsive content for all screens and are designed to be used by anyone (no coding required)
Coupons, discounts, and gift cards available as incentive tools
Has a built-in funnel to upsell customers
Includes a churn reduction tool to retain customers
Built-in analytics and reporting + Google Analytics and Google Tag Manager integrations are available
Video performance stats
Video hosting
12 native integrations and 2000+ through Zapier
Well documented online knowledge base
Email Support, a robust self-help knowledge base, and an account manager or Enterprise customers
Video Business School and accelerator programs to help grow your brand
Uscreen Cons
Live streaming isn't available on the Basic (entry-level) Plan
Ad-based monetization isn't supported
Limited number of website themes
Limited community tools
Wrapping up
Live streaming is an attractive medium but shouldn't be tough. It should be a lucrative income stream. Uscreen's live streaming platform is a good choice for ambitious video creators and brands. It brings together all the tools you need to stream live content, promote it, and get paid.