If you have a website (or even if you know what one is) then you'll probably know that getting good Google ranking is essential for your site's success. Google uses all sorts of algorithm wizardry to determine where your website is placed. Google PageRank scores a web page from 0 to 10 and this is basically everything when it comes to improving and maintaining the visibility of your site.
While a lot of people try various dastardly tricks to fool Google's algorithms, these rarely work and, often result in penalties. There are, however, some online tools available to help you to get ahead without upsetting the Google guys. One of these tools is Wincher and, today, I'm going to tell you a little bit about this.
Wincher is a keyword rank tracker tool that allows users to follow their SEO progress. With its easy-to-read dashboards and insightful data, Wincher Rank Tracker is one of the most cost-effective tools available and an absolute necessity for any online business or marketer.
Winch What?
Wincher is a rank tracking tool which can help with search engine optimisation by tracking keywords and phrases for your site and, also, the sites of your competitors.
Founded by Kim Angalid, in Stockholm, Wincher cuts through the noise to help you understand how you're ranking on Google and, what you can do to improve your position.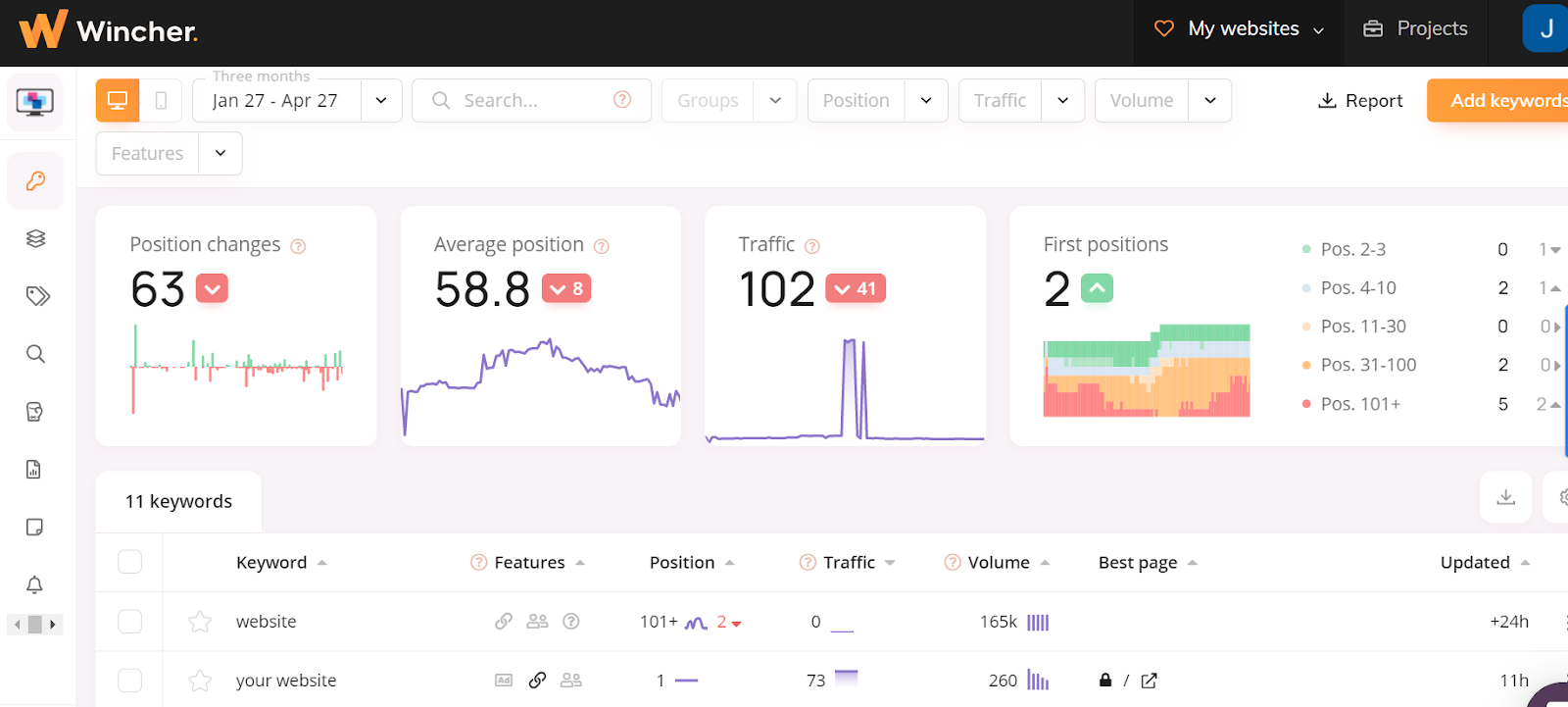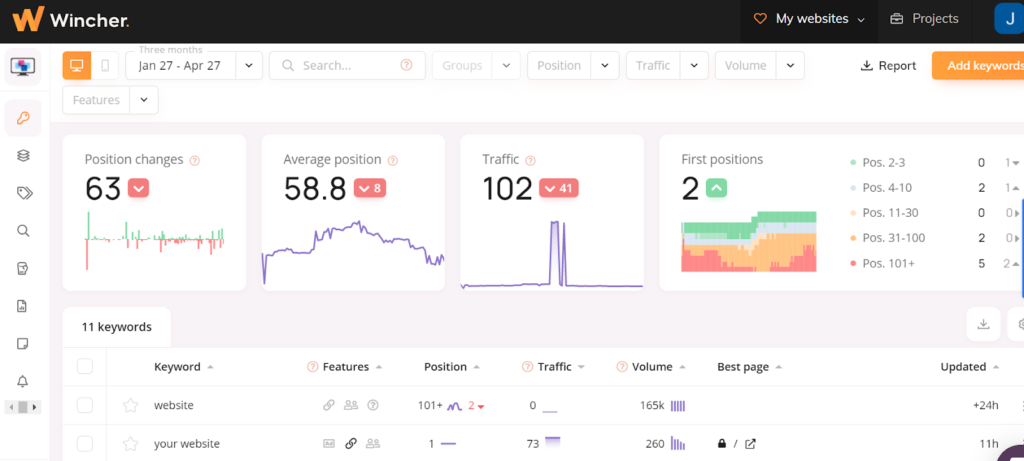 Who wins with Wincher?
Wincher is suitable for businesses of all sizes and in any industry.
How does Wincher work?
Wincher's wonderful widget works completely online and, all you need to do is open an account in order to get access to some great features.
How do I get started with Wincher?
With just a few clicks, that's how. Just follow a few steps and you're up and running:
Head on over to Wincher.com and click on "Try Wincher now" or "Try for free"
Create your account: you can leave your email address or continue with Google or Facebook
Verify your email address
Add domains and keywords
Enjoy your 14 days of free trial
That's all there is to it.  You'll now have access to your Wincher account and you're all set to start tracking.
How much does Wincher cost?
To begin with, Wincher will send a free 14-day trial winging your way. After that, Wincher's pricing is based on how many keywords you want to track and the functionality to have. If you pay annually, Wincher offers much lower prices, so the two months are for free.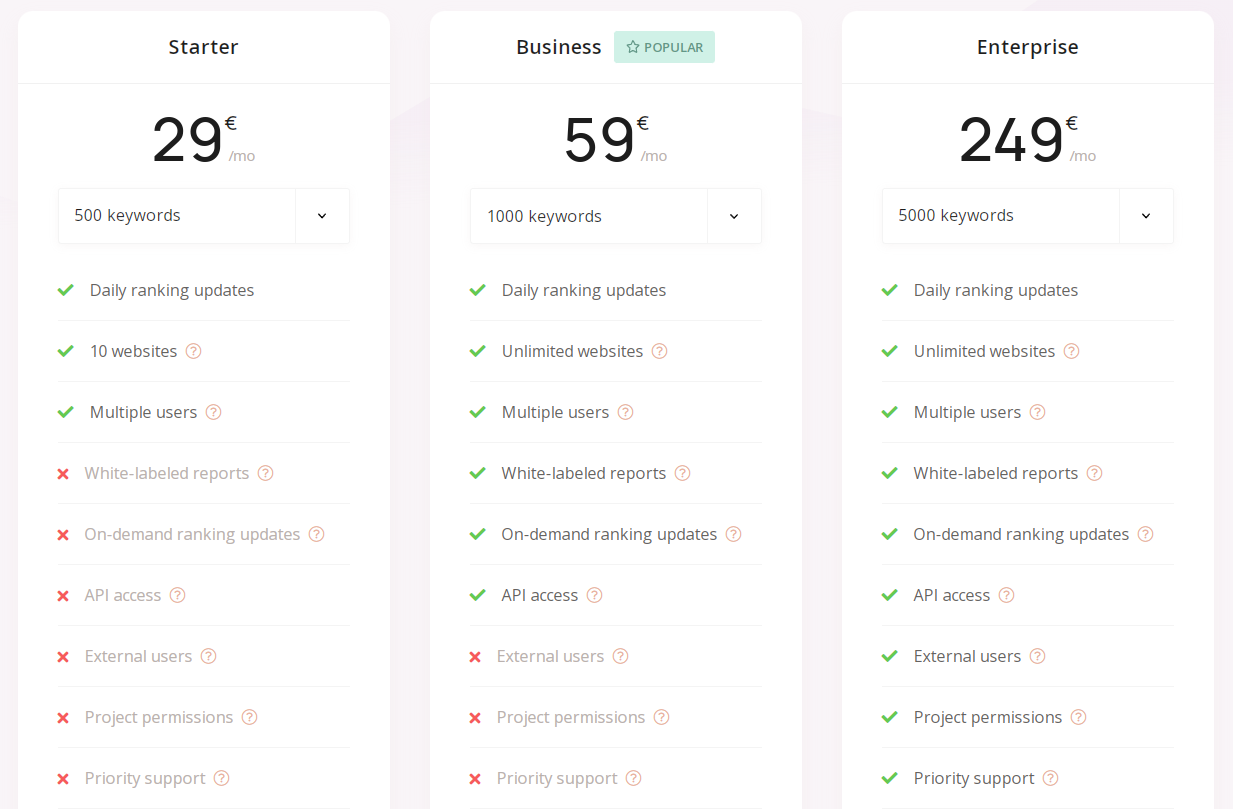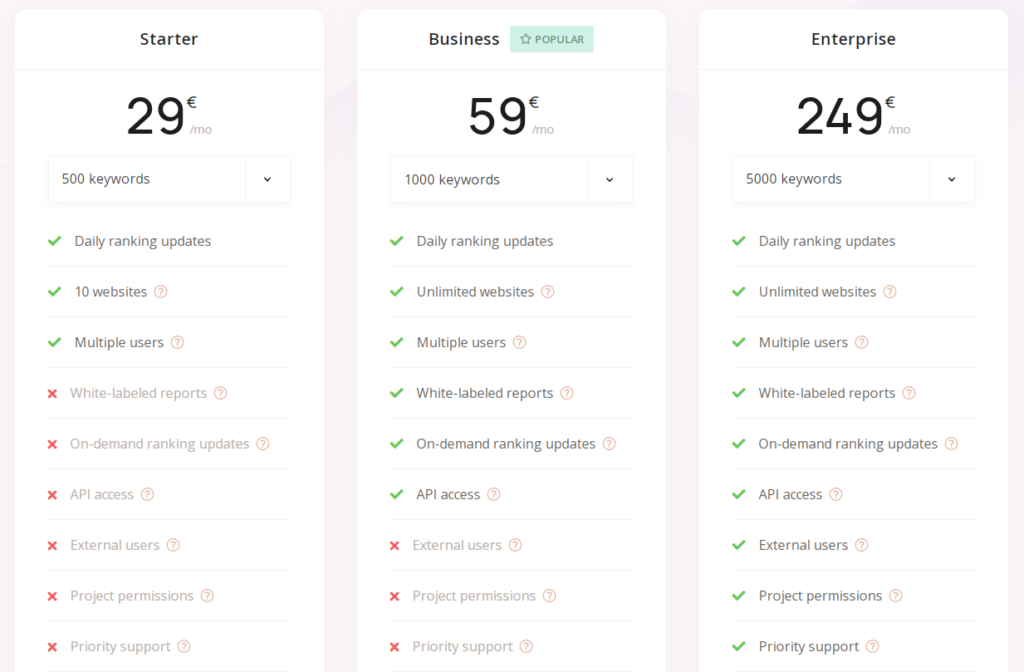 All the plans include: daily ranking updates, local rank tracking, and multiple users.r.
Starter Package €29
This plan allows you to monitor 500 keywords and up to 10 websites. The starter plan costs €29 monthly or €24 if you pay annually.
Business Package €59
The business plan allows you to track unlimited numbers of domains and up to 4,000 keywords. You will have access to white-labeled reports, on-demand ranking updates, and API. The plan starts at €59 (€49 on an annual plan) and can go up to €199 (or €165) depending on the number of keywords you wish to track.
Enterprise €249
This plan unleashes all the professional functionality. Besides the features mentioned above, you'll be able to invite external users and set up advanced project permissions. It's a perfect solution for SEO and digital marketing agencies. The plan starts at €249 (€199 if paid annually) if you're tracking 5,000 keywords and €449 (or €374) if you're tracking 10,000 keywords.
As you can see, if you're tracking just one or a few websites, Wincher's pricing is pretty darn reasonable.
What features does Wincher have?
Wincher offers all the essential features to measure your online performance and track the positions effectively. Here's what they are:
Daily Ranking Updates
Wincher updates your search engine position each and every day as well as those of your competitors to make sure that you're always completely up to date. This also allows you to act quickly should your ranking suddenly plummet for some reason.
Besides that, you can update your positions manually.
Local Rank Tracking
If you need tracking your rankings not only nationally, but in the specific areas or cities, Wincher allows you to be aware of all the changes regardless the region. The tool covers 10k locations across 180 countries. It's a must-have for any kind of business that wants to grow online.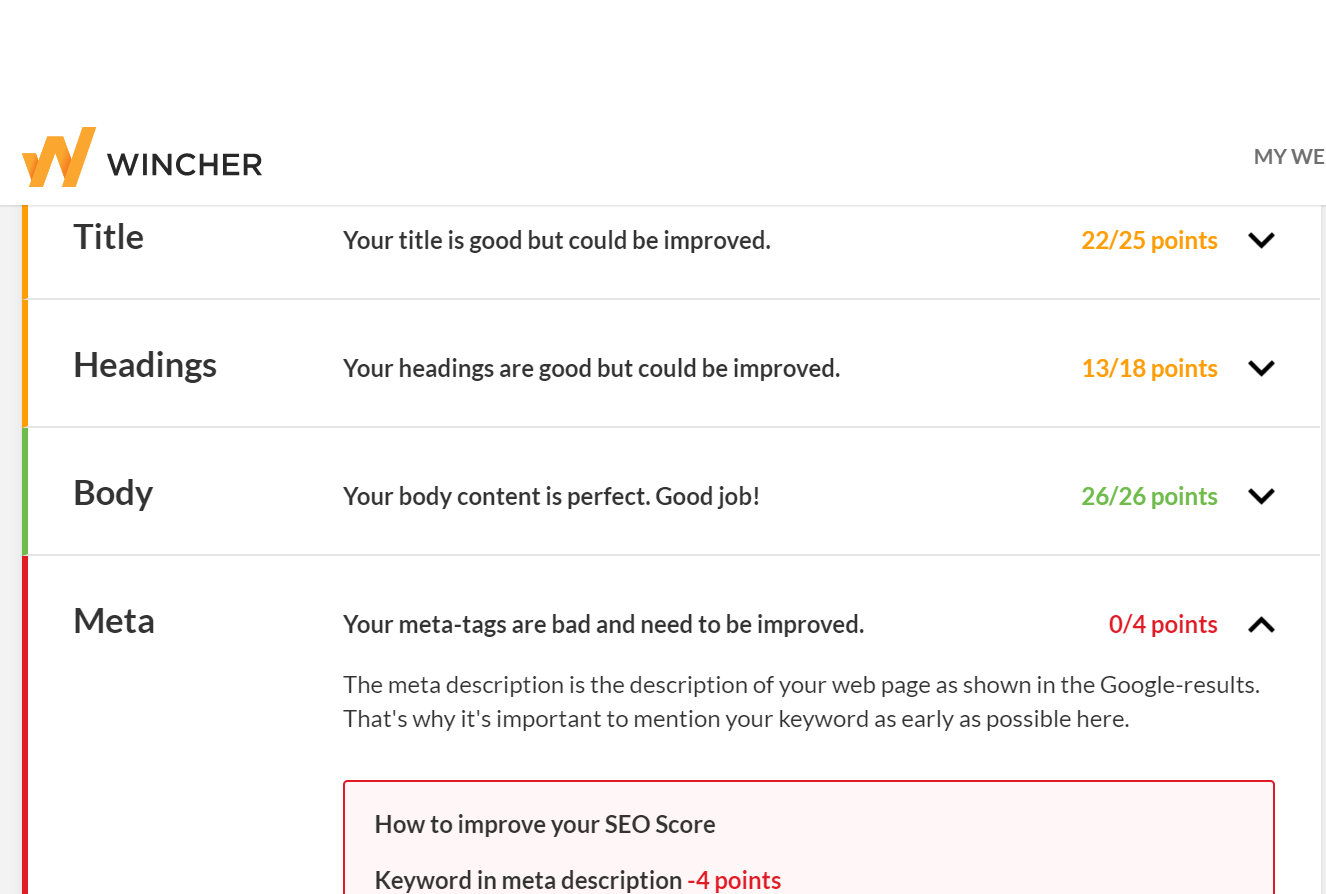 Ranking Alerts
Wincher sends you alerts whenever an important change to your ranking occurs. This is super handy as it means that you don't have to constantly log on to the site to find out what's going on with your ranking.
Keyword Research
Probably Wincher's most important feature, the keyword research tool helps you to identify the words and phrases that your target audience are searching for. In turn, this allows you to supersize your SEM and SEO content in order to increase your profile and sales.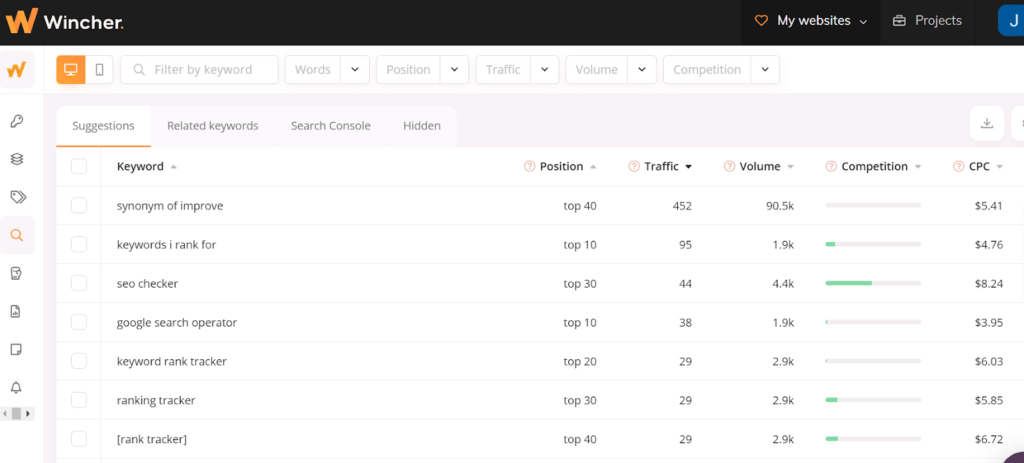 You can also import the keywords from Google Search Console and hide the keywords which are not relevant to your website.
Data And Auto Reports
Wincher gives you access to insights and allows you to produce comprehensive reports and export them to PDF or CSV. You can also choose to have these reports sent to any email address weekly or monthly.
If you run the agency or provide solo SEO services, you can add your logo and create white-labeled reports.
Keyword grouping
This feature lets you group your keywords together in different categories of your choosing in order to give you a clearer view of your ranking progress.
Annotations
Wincher's annotations feature is handy as it allows you to create notes within your account in order to serve as a reminder regarding, for example, why you created a link to a particular page.
You can add annotations not only to the website, but also to a specific group of keywords to track the changes properly.
Wincher Integrations
Wincher can be integrated with WordPress really quickly and easily through the plug-in and, you can find step by step instructions HERE.
Also, Wincher is integrated with Google Search Console, so you can import the data from there in a few clicks.
Project Permissions
If you manage a few websites or run a large number of projects, it's essential to invite external users and set up the project permissions that you need.
Wincher allows you to create as many projects as you need in order to group websites. Then you can assign external users to a specific project and set up the type of access.
Wincher Wins And Woes
Into every life a little rain must fall and, it's very rare that an online tool is perfect and, so, here, we'll take a look at some of the pros and cons of Wincher.
Wincher Wins
Price – Wincher really does offer excellent value for money, even for those on a super tight budget. Comparing with other SEO tools or competitive rank trackers, Wincher offers flexible pricing model. Even with the cheapest plan you can get daily(!) ranking updates and track your local positions.
Simplicity – Wincher is super-focused in that, instead of offering a huge number of bells and whistles, it, instead, concentrates on what it does best – keyword tools to improve a site's ranking.
Keyword grouping – This is a really nifty tool which I find myself using all the time. For example, I created a content cluster for Google AdSense which means that I can group together all the Google AdSense terms that I'm trying to rank for and, then, quickly and easily check on the progress of that group.
Accuracy – As I've used a few similar tools, I ran some checks when first using Wincher and, have found it to be extremely accurate in terms of results.
Alerts – Wincher's notification feature is really useful as it saves the time and hassle of having to log onto the site to check your progress. Also, this allows for super quick reaction if ranking suddenly undergoes a significant change.
Support – I've found that Wincher's support system is extremely responsive and really effective. This has been important for me a couple of times when I've just needed a really quick answer to a simple question.
Wincher Woes
Graphs – Although the graphs are pretty clear if you're just using one or two keywords, they can get a bit messy and confusing if you're adding a lot more.
On demand rank check – Unfortunately, Wincher doesn't currently offer on demand rank checking, however, the daily rank check is usually enough.
Competitor scores – There were a couple of times when I found that the competitor scoring wasn't completely accurate but, to be honest, this hasn't been a huge problem.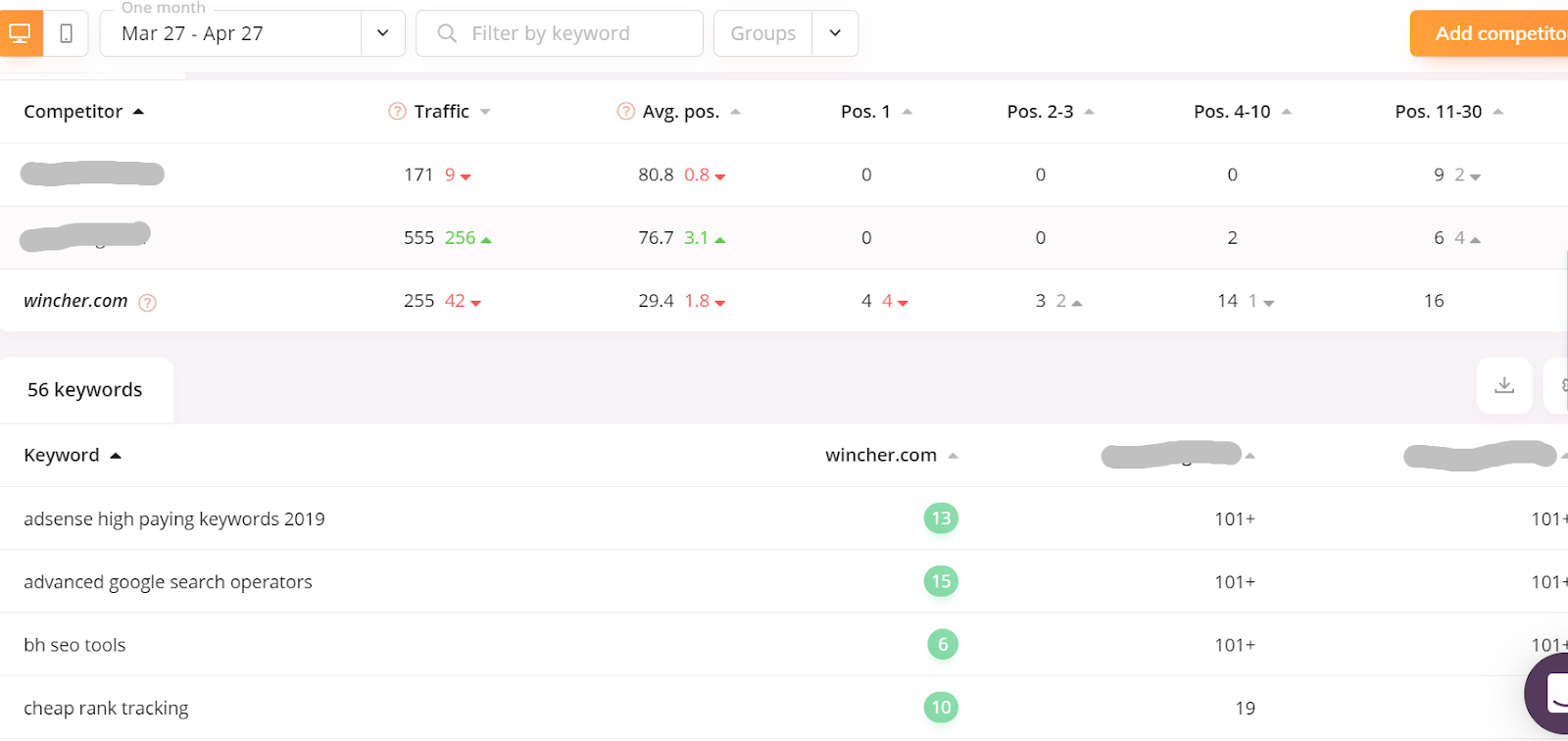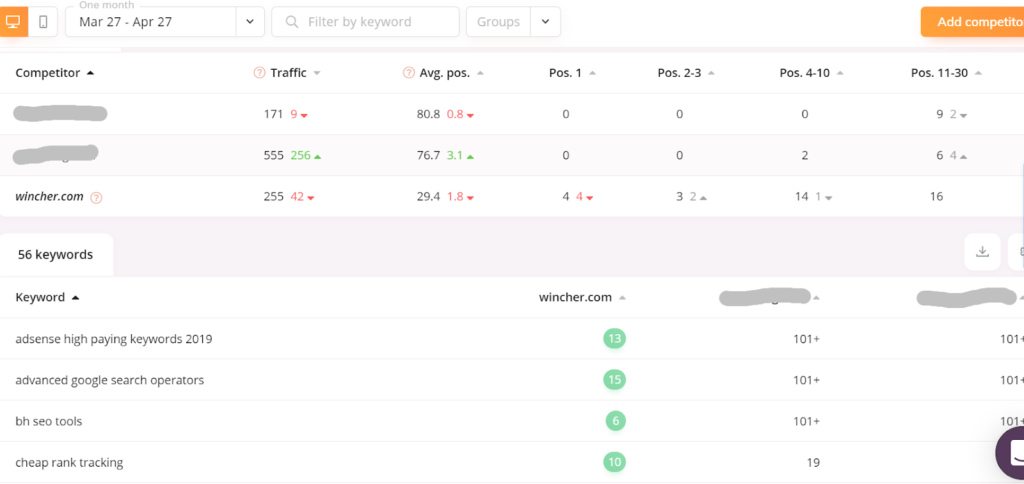 Are there alternatives to Wincher?
Sure are. While Wincher gets the job done, it may be that you're after some more fancy features or you're just not won over by Wincher then, here's some other great tools:
Palo Alto based SE Ranking is a cloud based SEO platform and marketing tool which includes site audits, competitor analysis, keyword suggestions, website ranking and backlink monitoring. SE Ranking has three price plans which cost $18, $42 and $89 per month.
Authority Labs
Founded in 2009, Authority Labs is a great tool for monitoring rank trends, gaining insights and researching keywords for yourself and the competition. The Pro plan also allows you to add your company logo to your reports and to create custom URLs to send to your clients. Authority Labs can be integrated with Google Analytics and costs between $49 and $450 per month.
Founded by Oleg Shchegolev and Dmitri Melnikov, SEMRush is a hugely popular platform with over 20 features and reporting tools. Boasting the largest keyword database around (8.3 billion in 118 countries), SEMRush's suite of tools includes keyword research, backlink management, rank tracking and, on page SEO as well as a technical SEO audit tool. SEMRush can be yours for between $99 and $399 per month.
Madwire
Launched in 2009 in Colorado, Madwire is an SEO marketing platform with some really powerful analytics including content generation, keyword tracking and ranking analysis. Great for increasing conversion, MadWire provides intuitive analysis for businesses. Madwire pricing is available on request.
Hubspot
Massachusetts based Hubspot uses intuitive SEO tool to make measurement and optimisation easy. Tools include keyword research, ranking, organic searches and competitor research. An impressive tool for insights and conversions, Hubspot costs between $33 and $2624 per month.
Chia Lab
A content and SEO platform, Chia Lab helps you to create and optimise your content as well as researching that of your competitors using real time search data. Chia Lab also has some great keyword tools to help you on your way in gaining organic search traffic. Chia Lab pricing is available on request.
Conclusion
I've said it before but, it's worth repeating. Wincher is seriously good value for money. It's a professional SEO tool with all the necessary functionality, but it's still very simple and can bring the value even for beginners.
To begin with, I was really impressed with Wincher's accuracy. When your ranking is essential to your business, it's really important to be able to get really accurate results and, this tool is more than up to the job.
Wincher is also really easy to use from your dashboard which guides you around the site in a common sense way. This is backed up by really effective and reactive customer service which is a major bonus for me.
Finally, the extras like the local rank tracking, on-demand data update and annotations make this a pretty powerful tool for anybody who is serious about improving their ranking and nabbing those conversions.
I personally think that Wincher is well worth the wee price and, with a free 14 day trial, you've really not got anything to lose by giving it a go.