I know what you're thinking – another review about a product which is allegedly going to take my conversion rate to the next level. Sort of. As an entrepreneur and SEO superstar, I'm always on the lookout for tools which actually work for myself and my clients.
Because of this, I've tried a fair amount of the products out there; some of which are great and some of which are a waste of money. Today, I'm going to be talking about one of the great ones; here's my Clickfunnels review.
Clickfunnels is a sales funnel builder that makes it easy for businesses, large or small, to list and sell their products online. With its drag-and-drop feature, you can easily customize your designs without any coding skills! This means you won't have to wait around for someone else to build your website because you can do it yourself.
Click what?
This nifty software lets you create landing pages that really do convert and, includes lots of features to help you do it. To date, nearly 300 entrepreneurs have created million dollar funnels using Clickfunnels – as testimonials go, that's a pretty good one!
Who uses Clickfunnels?
This software is used by thousands of people from a wide range of industries. As well as startups and entrepreneurs, Clickfunnels is used by some pretty big hitters including Market Traders Institute, Inc, Synoptek, Bursys and Precision Marketing Partners.
Basically, anybody with an online business will benefit from this online marketing tool. Whether you're a small business owner or a giant enterprise leader, ClickFunnels will surely come in handy.
How much does Clickfunnels cost?
Clickfunnels is available in two different plans which are as follows:
Basic Plan $97 per month
A free trial is available
With this basic package, you'll get 20 funnels, 100 pages, 1 user, 3 payment gateways and 3 domains. You'll also get customer support and, will have the ability to share your funnels with others.
Platinum Plan $297 per month
A free trial is available
With a bit more power in its pocket, the Platinum Plan gives you unlimited funnels and pages, 3 users, 9 payment gateways, 9 domains and unlimited follow up funnels. You also, of course, get your mitts on the customer support and sharing facilities.
A free 14 day trial is available before you start either of the plans so that you can try before you buy.
How does Clickfunnels work?
In this clickfunnels review, I'll take you through the ins and outs of this great tool including its amazing affiliate program as it can be a bit of a steep learning curve if you're brand new to it with your online business and it is so much more than just landing pages and funnels. Clickfunnels allows you to create a number of different kinds of funnels:
Depending on your requirements, you can choose from the following super-effective funnels:
Basic Funnel
These are used when you're looking to capture basic lead information from email or Messenger.
Longer Form Funnels
This kind of funnel is ideal when you need a lot more information about your leads, including name, phone number and profile information.
Sales Funnels
Tripwire Sales Funnel
Often used for low priced products, this kind of funnel is a great way of getting new customers with a discount or incentive in order to then upsell at a later time.
Sales Letter Or Video Funnel
A bit more sophisticated, these are used when you need to give potential customers a bit more information about a product or service.
Launch Sales Funnel
This is the perfect tool for those looking to hype up the launch of a new product, service or event.
Using ClickFunnels
Using this tool is pretty straightforward even if you're not very techy – here's how it's done:
The Classic Sales Funnel Builder
The simplest way to build your first funnel is to use the Classic Funnel Builder and you can do this by waltzing over to your dashboard and clicking on 'New Funnel'. From here, select the Classic Funnel Builder. Next, follow three easy steps:
Choose your Goal (Collect Emails, Sell A Product, Host A Webinar).
Choose a Type (Name Your Funnel and, if you like, enter a group tag.
Click onto 'Build Funnel'.
If you want to drill your funnel down to more relevant to your industry:
The Funnel Cookbook
Go to your dashboard and click onto 'New Funnel'. Next, select 'Cookbook' and follow these steps:
Select your chosen Industry.
Choose the kind of sales funnel that you want to create.
Choose a Goal.
Select one of the funnel templates
Choose a template (select free or paid).
Download or buy the template.
Integration and products
There are a few options available here –
You can set up a custom domain in order to brand your funnels.
If you're using email marketing, you can set up SMTP integrations.
If you're selling products, you can set up a payment gateway.
How do I get started with Clickfunnels?
Quickly and easily, that's how! Getting started with Clickfunnels is a breeze and, here's how it's done:
Click on over to Clickfunnels.com
On the Home Page, you'll see a big blue button – 'Start Free 14 Day Trial Now' – you know what to do
Next, you'll need to create your account so it's time to hand over your name and email address and, choose a password
Click onto the blue 'Start Building My First Funnel' button
Choose between the Clickfunnel Plan or the Platinum Plan and click on the appropriate box
You'll now be asked to input your payment details – at this stage, you can also opt to have a demo call and / or advanced training
Once you've created your account, you'll receive the usual verification email – get that out of the way and, you're all done!
What are Clickfunnels' features?
Clickfunnels is all about the features – and it's got plenty of 'em to help you supersize your product or service sales Let's take a look at what they are:
Funnel Builder
Super easy to use, the sales and marketing funnel builder is accessed from a simple drop down menu and allows you to choose between a funnel to generate leads, to generate sales or to run a webinar event. As well as being user friendly, the funnel builder lets you put together an impressive sales funnel in just minutes with the really simple drag and drop function. When it comes to ease of use, this one is second to none.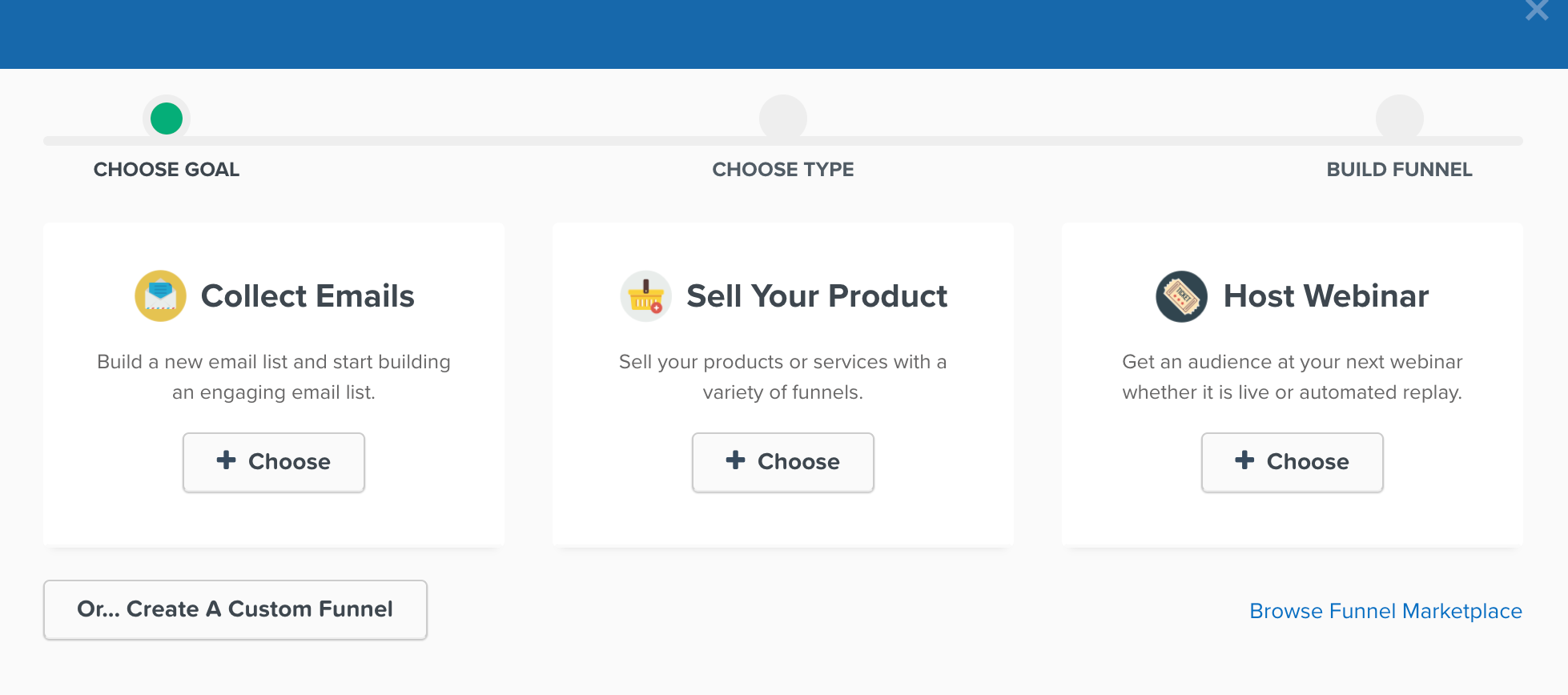 Hangout Funnels
Clickfunnels lets you integrate your account with Google hangouts to create bespoke, responsive funnels to get your product or service in front of as many people as possible.
Follow Up Funnels
Its really important to be able to follow up on customers in the case of shopping cart abandonment. ClickFunnels lets you do this by creating SmartLists for specific rules such as 'customers who bought a product and have a large following on social media' or 'customers who read all your content but have yet to make a purchase'.
You can also use SmartLists to keep tabs on those super buyers who regularly make purchases from your site. Setting these lists up is easy – simply go to your Email Lists tab and click onto 'Add New List' and then follow the instructions.
Webinar Funnels
Clickfunnels' webinar function includes three main page types: Registration, Thank You and Broadcast Room. The Registration page type helps you to speedily capture contact information from users. clickfunnel even has Auto Webinar Funnels for extra convenience!
In 2020, online events have been super important and, ClickFunnels helps you to get on your way with these quickly and easily by choosing one of the following options:

Live Webinar
For those who run live events, ClickFunnels can be integrated with software like Zoom or GoWebinar and can help you to increase conversions by customising the registration process.
Evergreen Webinar
You can use ClickFunnels to create an automated, on demand webinar by using your existing presentations and running them 100% on the ClickFunnels site.
ClickFunnels allows you to create one of the above frameworks and then to add extra pages, add one click upsells and to customise the pages to your branding.
Sales Funnels
Probably one of Clickfunnels' most used features, sales teams can get their game on in a jiffy with this perfect sales funnel builder and get going with making great sales pages.

Order Pages
From the Sales tab on the top menu, Clickfunnels allows you to create professional order form pages quickly and easily – simply choose a template and get cracking. ClickFunnels is pretty generous in its choice of page templates – all of which can be customised with your own logo, colours and fonts for a more personalised and uniquely branded experience for your customers.
Upsell Sales Page
This clever tool allows you to create products and to then put together upsell and downsell pages for them without any fuss.
ClickPops
It may sound like some kind of candy but, a click pop is an opt-in pop up which Clickfunnels allows you to add to your pages for extra oomph.
E-mail List
Collecting leads by email is an area in which ClickFunnels excels and, users can choose to do this one of two ways:
The automated way
ClickFunnels' automation tab lets you set up email messages and sequences to follow an opt in or sale.
The manual way
You can also add a new email and then choose the page that you want to send a message out for by clicking onto the 'Add New Email Button' and then adding your name, subject line and SMTP configuration plus timing details.
Capturing leads is an essential but time-consuming endeavour which ClickFunnels really does make short work of and I think this tool is worth the price for this feature alone!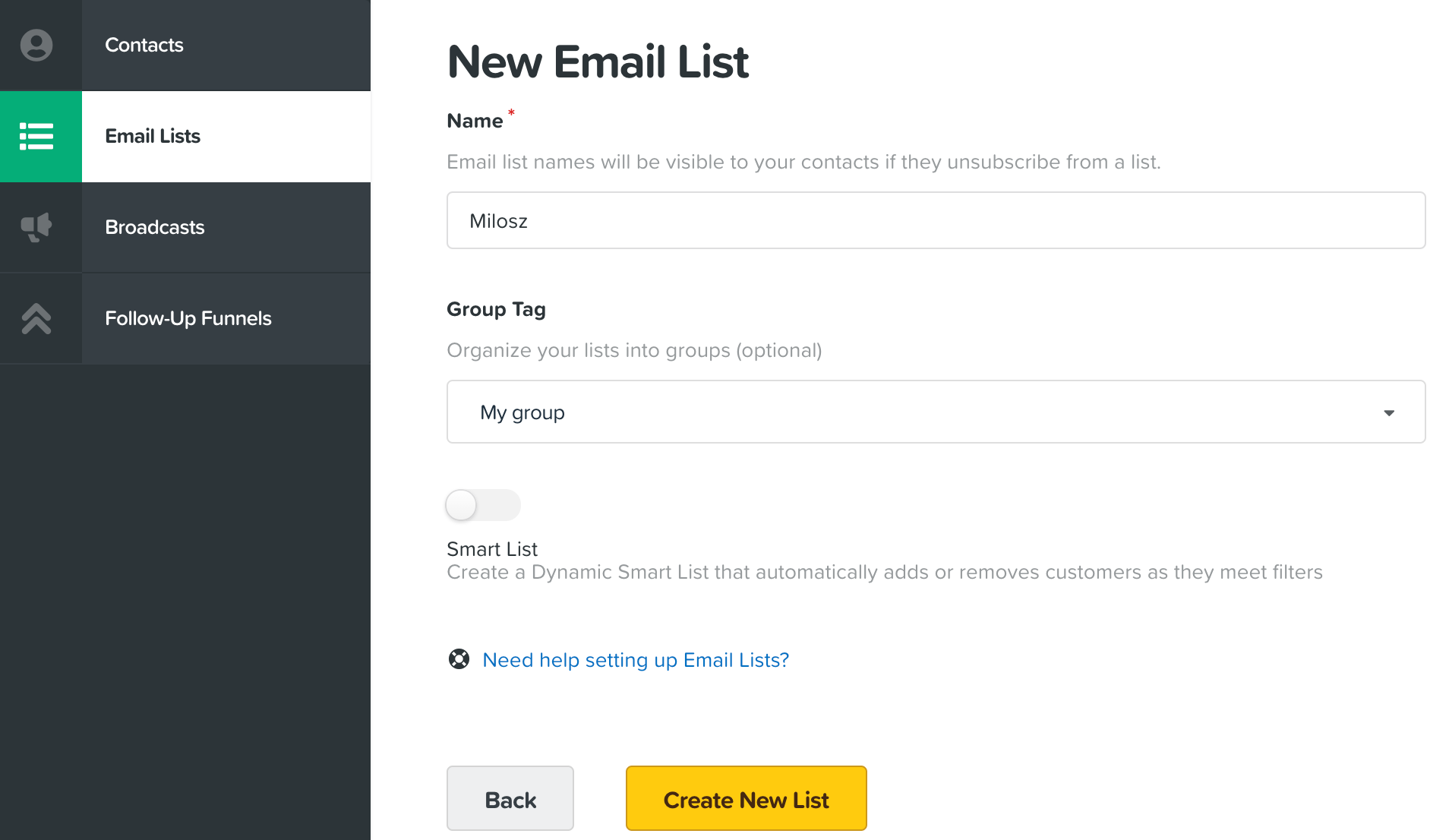 Membership Areas
ClickFunnels membership areas are a fantastic tool for customer retention and you don't even need third party management software or tools.
With the unique membership area, your customers can create a personal login to give them access to all of your upsells and content which makes for a much more streamlined and user friendly checkout process which cuts down on cart abandonment and helps with that all important conversion.
You can also add customised forms as well as adding instant order bumps to supersize the number of impulse purchases received from your customers.


Customisation
These days, its essential that tools allow users to customise different bits of their site to suit their branding and, this is something that ClickFunnels does really well. Within each page, you have a number of customisation options including:
Replacing logos in templates with your own
Replacing the headline area with your own message
Replacing video placeholders with your own video content
Customisation of colours and fonts
ClickFunnels probably has more customisation options available than any other tool that I've tested recently and, these really help to create a professional, branding experience for your customers.
A/B Split Testing
We all know how important testing is for any campaign and Clickfunnels's test feature is easy to use and provides accurate results.
Setting up conversion busting split tests is easy with ClickFunnels and, unlike a lot of tools, you can pretty much test anything part of your operations including\;
Headlines
Videos
Pages
Buttons
Images
Copy
This is an incredibly useful tool as it means that no stone is left unturned when it comes to comparing and contrasting to find the different elements that turn visitors into conversions for your site.
Reporting
All this clever funnel stuff is great but, of course, you'll want to be able to monitor your funnels and to figure out how you're doing. Thankfully, with ClickFunnels, this is really easy. The straightforward dashboard provides visual charts which allow you to see exactly where your leads are coming from.
The reporting feature also allows you to look at:
Opt in comparisons
Page views
Sales for multiple funnels
People who have joined your lists
For even deeper insight, you can select different time elements, for example, by week, month or all time to allow for easing tracking and reporting of all of your most important stats. Even better, Clickfunnels makes this all pre-formulated so you won't have to worry about any fiddly set up processes.
…….And Integrate
I know, I know – when it comes to any kind of online tool, what you really want to know is, are there any integrations. The answer to that is, yep, there are tons of them and, here they are:
Stripe
Mailchimp
Clickbank
Infusionsoft
Ontraport
Maropost
Go To Webinar
Constant Contact
Webinar Jam
Ever Webinar
Twilio
Sendlane
GetResponse
ActiveCampaign
Integration With ShipStation
For e-commerce users who use an order fulfilment company like ShipStation, integrating your ClickFunnels with this is surprisingly easy – here's how it's done:
Head on over to your ClickFunnels dashboard and choose 'Integrations'
Click onto 'Add New Integration'
Click onto the ShipStation logo and name your integration for ease of finding
Enter the API key sent to you by ShipStation
Connect ShipStation to your funnel
Connecting ShipStation to your funnel
After following these simple steps, you can set up your order form, create products and choose the matching SKU from ShipStation.
Clickfunnels – The Pros And Cons
So, we've talked about Clickfunnels fabulous features and interesting integrations – but, is it any good? Let's have a look at some of the pros and cons for this tool:
The Pros
Funky Features – You really couldn't ask for more features than Clickfunnels offers – and most of them are high value for marketing and sales teams. Furthermore, it's fairly easy to learn and even somebody with a novice skill level can take a shot at it.
Integrations – With 15 (count 'em) current integrations and more in the pipeline, you'd be hard pressed to complain about the integrations offering.
Professional Pages – Clickfunnels really does make it easy to create perfect web pages which look like they've been put together by a professional with their drag and drop Etison Suite editor.
Customisation – Clickfunnels is incredibly generous when it comes to the ways in which you can personalise your pages with its customisation tools.
Affiliate Program – Well worth getting on board with, the Clickfunnels affiliate program pays you a whopping 40% recurring commission for referrals.
Affiliate Centres
Affiliate programs have been really popular in the last few years and, many brands are keen to take advantage of these in order to increase sales, improve reputation and to crate brand ambassadors.
In my opinion, ClickFunnels' affiliate centres are most definitely a bonus as you don't need any other tool in order to put these into place. Quick and easy, you can add your own affiliate program to the back of any of your ClickFunnels sales funnels. But, of course, that's not all. Clickfunnels Affiliate centres allow you to:
Change commission plans
Make payouts
Create affiliate areas
Generate affiliate links
Collect sales
This is probably the easiest way of setting up an affiliate program that I've come across – and I've tried a fair few!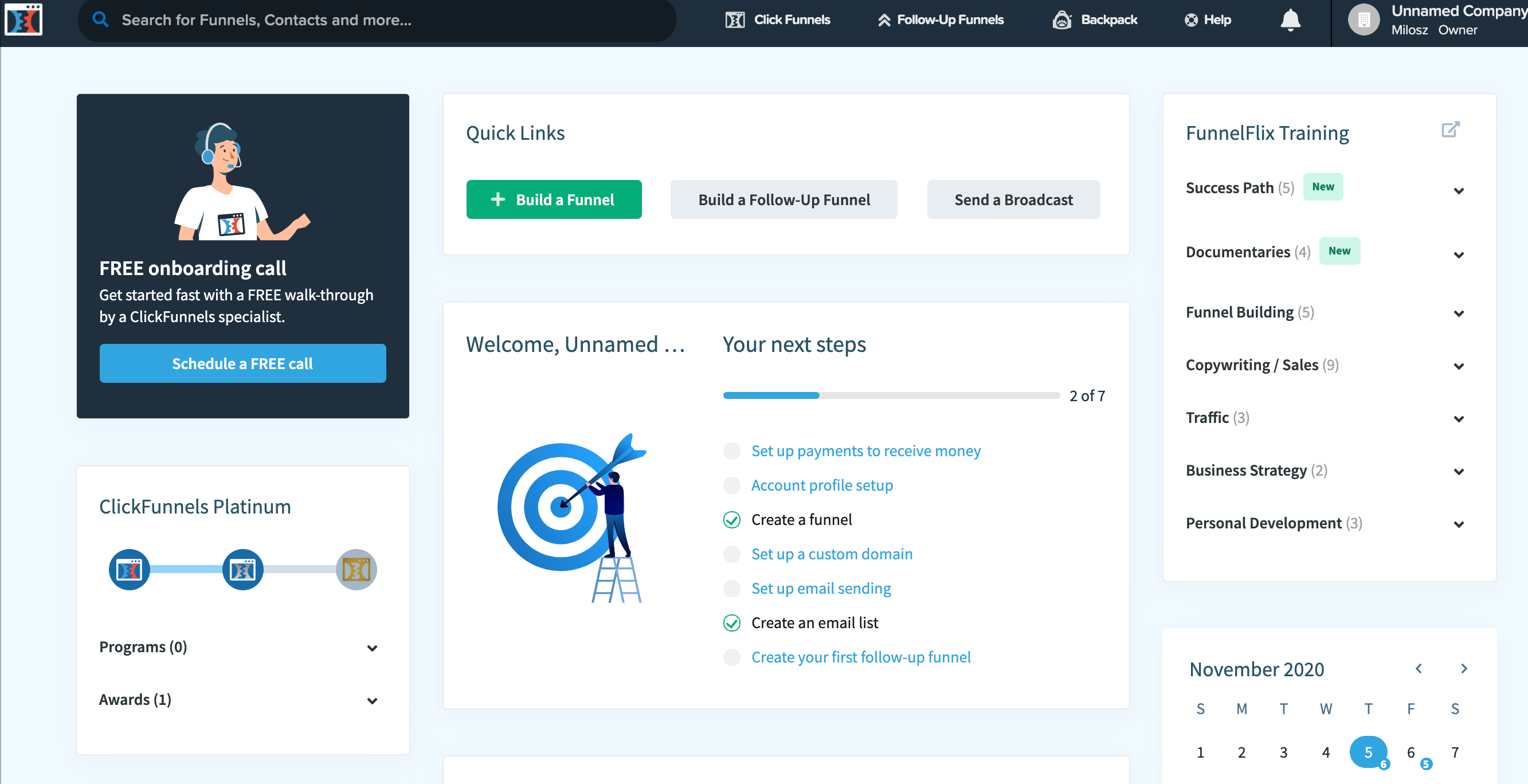 The Cons
Price – Clickfunnels is a little bit on the pricey side, although this is kind of justified by the number of features included.
Membership Area – At the moment, Clickfunnels' membership area is a little basic and could do with being jazzed up a little.
Customer Support – Some of Clickfunnels' customer service seems to be outsourced and, therefore, communication can be a little tricky. They do have a well-populated Facebook group, though, so reaching out to other users is relatively easy.
Affiliate Reporting – The reporting portal for the Clickfunnels' affiliate program can be a bit confusing and it's not always possible to get a clear overview of your referrals.
Are there alternatives to Clickfunnels?
I'm glad you asked. There are, in fact, a few decent alternatives out there such as:
If you're just after a solid, no-fuss landing page software, this Minneapolis based app is up to the job. Simply great, professional landing page builder with excellent customer and technical support. Leadpages costs between $25 and $199 a month and a 14 day free trial is available.
A sales funnel superstar, Convertri offers landing pages, video, shopping carts and sub-accounts – all wrapped up in a common sense, easy to use platform. Convertri costs a super simple $75 per month.
A popular choice, this software was launched in 2006 and is a visual campaign builder tool capable of creating awesome funnels. It also has some pretty darn good performance reporting tools too. Ontraport will set you back between $79 and $497 a month.
Claiming to be 'Conversion Intelligence', Unbounce is based in Vancouver and offers a great drag and drop editor for landing pages without the need for coders or developers. It also has a whole ton of integrations to keep things moving. Unbounce can be yours for between $80 and $299 per month with a 14-day free trial.
Conclusion
While the Two Comma Club Plan price is a little bit eye-watering, you don't actually need to opt for this one to get the most out of Clickfunnels. For startups and SMEs, the basic and Platinum plans have more than enough horsepower to get you where you're going.
In my humble opinion, anybody who is committed to improving their conversions through landing pages would do well to give Clickfunnels a go. The pages are really professional looking and, the long list of features provide an excellent toolbox help you stand out from the crowd.
One of the things that makes ClickFunnels stand out is that it really is a multi-faced tool with a lot of different value-adding features which don't require any further tools or add ons; making it exceptional value for money. If you're a ClickFunnels user, I'd also advise you to try their CEO Russell Brunson's One Funnel Away Challenge, which is a $100 course, dedicated for business owners. It's a month of lectures, helping with driving traffic and generating leads, and I believe that it's well worth the money.
I wouldn't hesitate to recommend Clickfunnels to any marketing or sales professional and, with a free 14 day trial, you'd be mad not to give it a go!