These days, we're all focussed on getting on top of our SEO and nabbing those all-important conversions. While many brands spend their time (and money) on lots of weird and wonderful tricks to try to collect leads, the answer is really much more simple.
As an SEO and marketing expert, one of the most important weapons in my arsenal for myself and my clients is the landing page. Let me explain; say you've spent a lot of time and effort on putting together a killer campaign on social media – one which is almost guaranteed to have those leads clickety clicking to find out more.
Where do you send them once they've clicked? If the answer is to your Home Page, there's a good chance you'll lose those leads straight away as your Home Page no doubt contains lots of content that's irrelevant to those leads.
Instead, a landing page focuses the lead's attention on the matter at hand and, therefore, is much more likely to convert. There are tons of landing page builders out there and, I'm slowly working my way through as many as possible but, today, I'm going to be introducing you to another one – here's a Leadpages review.
LeadPages is an online tool that you can use to design landing pages and capture email subscribers. It provides templates and hosting for your landing pages, so all you need to do is provide the content. You can use LeadPages to give away lead magnets, register people into webinars, or just drive traffic to your website or blog.
What is Leadpages?
In case you weren't paying attention, Leadpages is a landing page tool – but that's not all.
Founded in Minneapolis in 2008, Leadpages is the brainchild of entrepreneur, Clay Collins, and was created to not only help people to build professional looking pages but, also, to optimise them effectively.
As such, it contains lots of clever features which help users to get on board with landing pages quickly and easily – even if you have no technical skills whatsoever.
How does Leadpages work?
All you need to do is sign up in order to have access to an easy to use dashboard which will guide you through all of Leadpages features. 
How do I get started with Leadpages?
This bit is super-easy – just make sure that you have your payment details handy:
Go to www.leadpages.com
Click onto the blue 'Start A Free Trial' button
Choose your package and click onto 'Start Free Trial'
Fill in your vital stats (you know the drill)
Click onto the blue 'Continue' button
Choose your payment method (card or Paypal)
Verify your email address
That's really all there is to it – just remember that payment will be taken from your payment method at the end of your 14 day free trial if you don't cancel. You'll now have access to your Leadpages dashboard and you're all set to create your first landing page.
Leadpages' Pricing
How much does Leadpages cost? You can take your pick from three Leadpages price packages after your free 14-day trial and, these are:
Standard Package $49 per month
With this 'economy' package, you'll get your hands on:
Unlimited pages, traffic and leads
Unlimited pop-ups
Unlimited alert bars
1 Domain
Free hosting
Over 200 templates
Over 40 integrations
Facebook & Instagram Adbuilder
Technical support
Group coaching
Pro Package $99 per month
If all the goodies in the Standard Package aren't enough for you, you can choose the Pro Package which gives you all the stuff from Standard, plus:
Online sales and payments
Email trigger links
Unlimited A/B testing
10 opt in text campaigns
Offers and discounts
Advanced Plan – Price on request
This pricing plan offers all of the features from Pro, plus 5 client account, advanced integrations, and a 1-on-1 onboaring call.
Package prices are subject to change, valid on the leadpages.com/pricing website.
What are Leadpages' features?
There are a fair few of these so we'll break them down into easy-to-digest chunks. To begin with, Leadpages has three core features which are as follows:
Landing Pages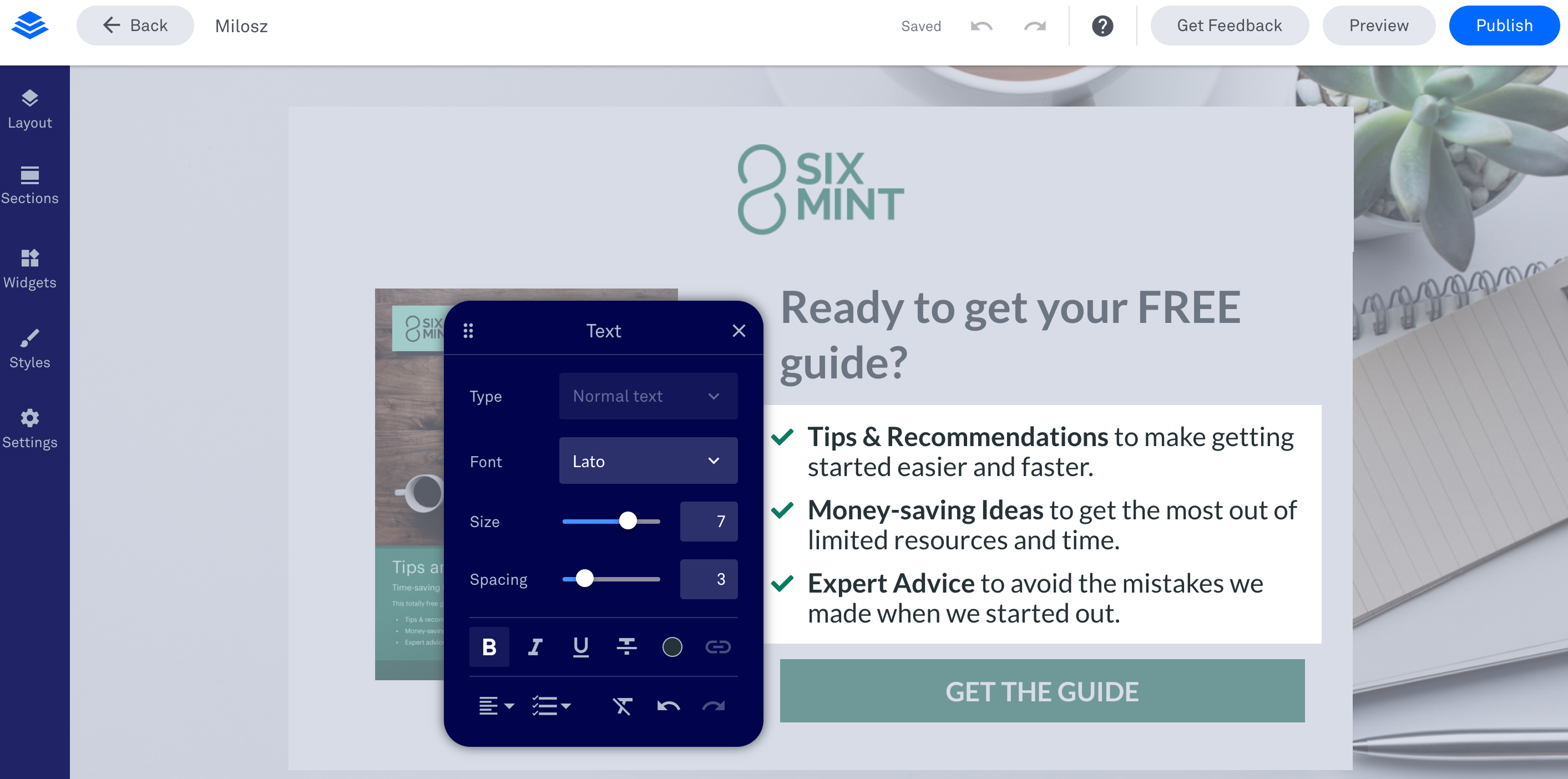 This is, of course, Leadpages' star feature and, Leadpages allows you to create landing pages with its super-simple drag and drop landing page builder. This straightforward builder lets you add and remove elements from your page and, also, to customise them to an extent in order to create a more personalised look. As far as different drag & drop editors go, I believe that Leadpages is among the easiest, most user-friendly landing page builders.
Website Builder
Leadpages, apart from your regular landing page creator, allows you to build whole websites from scratch. The Website Builder feature uses the same drag and drop editor as the one for landing pages, so the options and usage are more or less the same.
Pop-Ups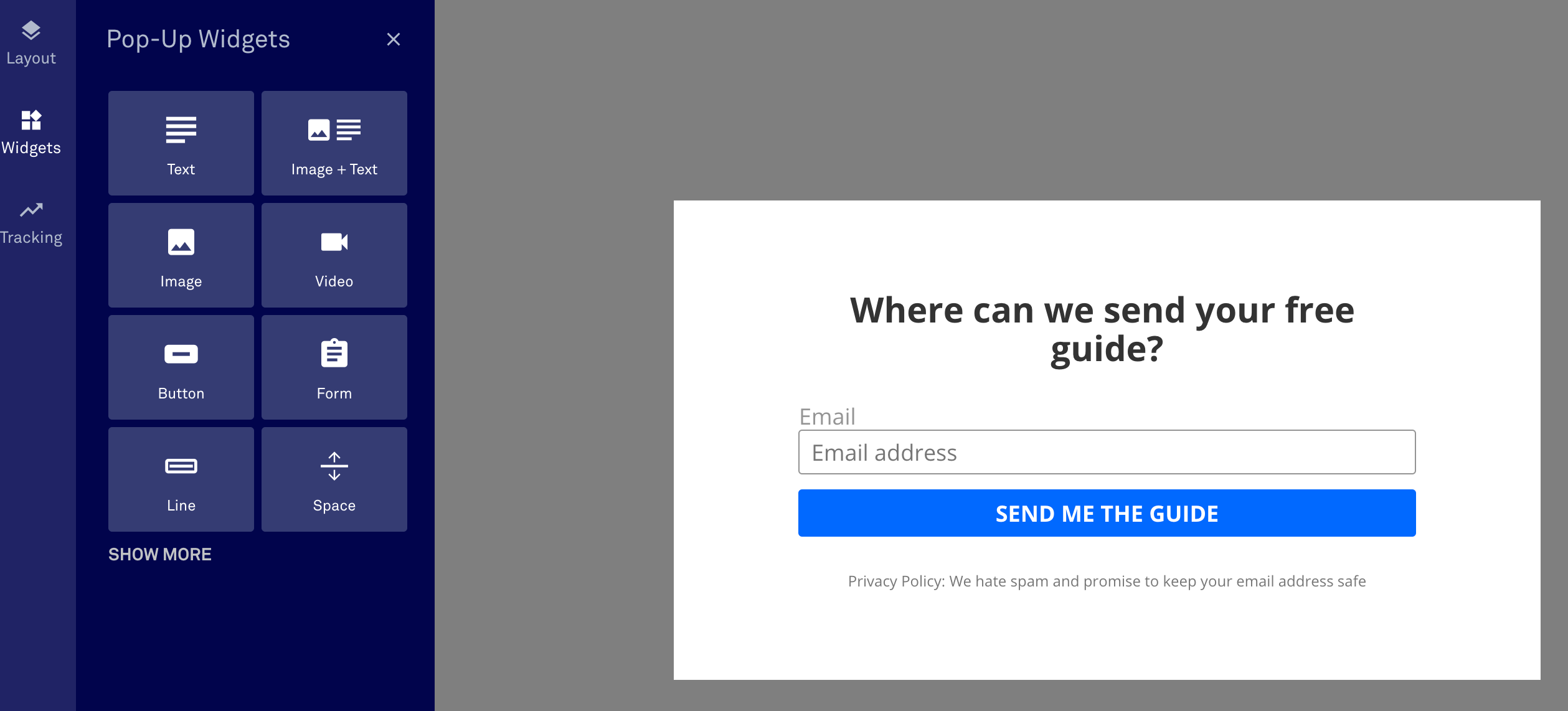 This feature lets you add a bit more clout to your landing pages by producing pop-ups to grab the attention of those leads and grow your email list. These can be implemented and added not just to your Leadpages landing pages but, to any page on your website. As a bonus, these are exit-intent pop-ups which basically trigger whenever it looks like a user is about to exit your site.
Alert Bars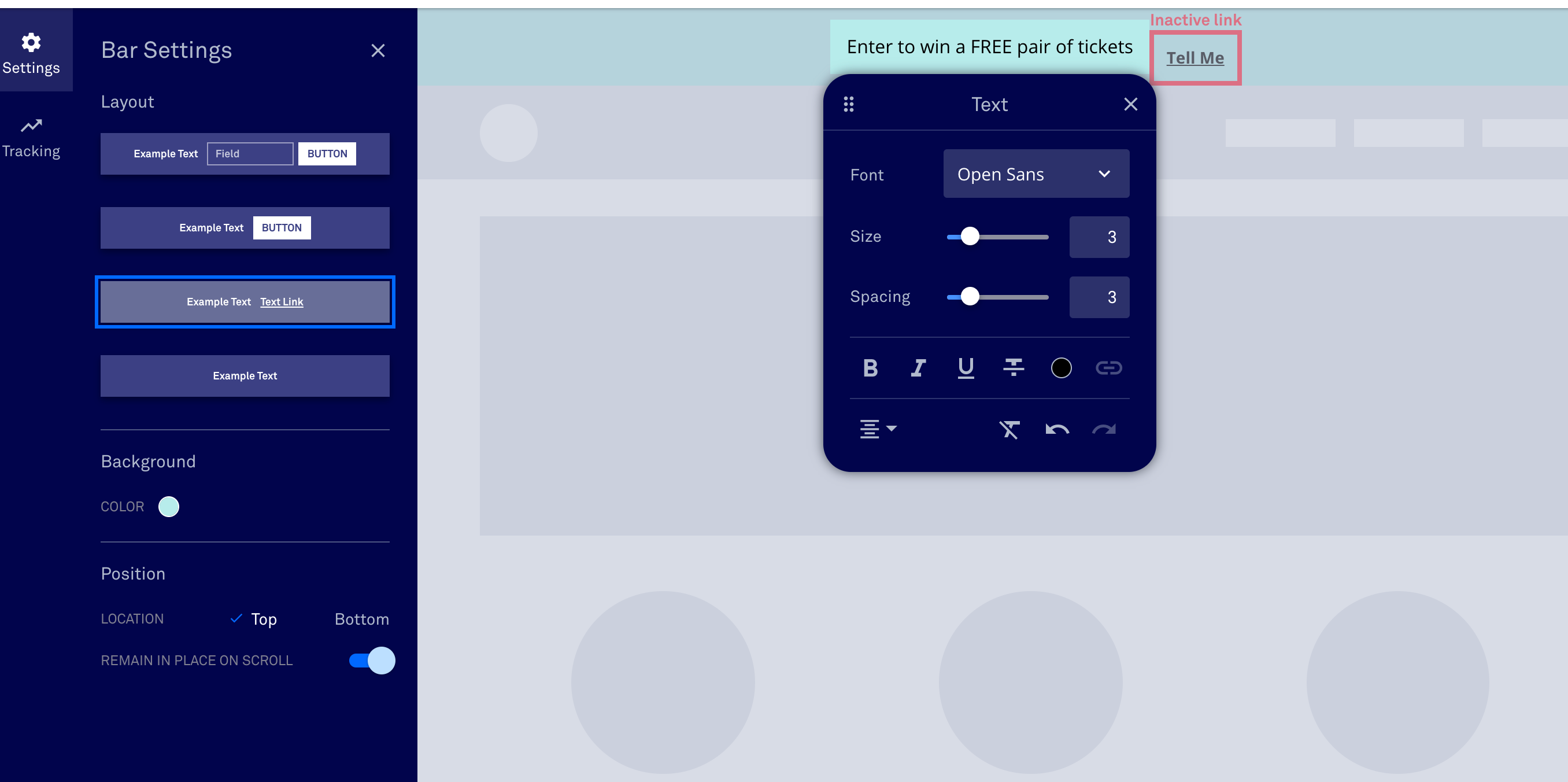 Alert bars are a slightly less invasive way of attracting attention than pop-ups as they don't disrupt the user experience (and therefore can be considered a little less annoying). Leadpages lets you create mobile-friendly alert bars with a call to action to help you to generate leads keep them on your page for longer.
Now that we've had a look at the three main functions of Leadpages, let's drill down further and examine the individual features:
Templates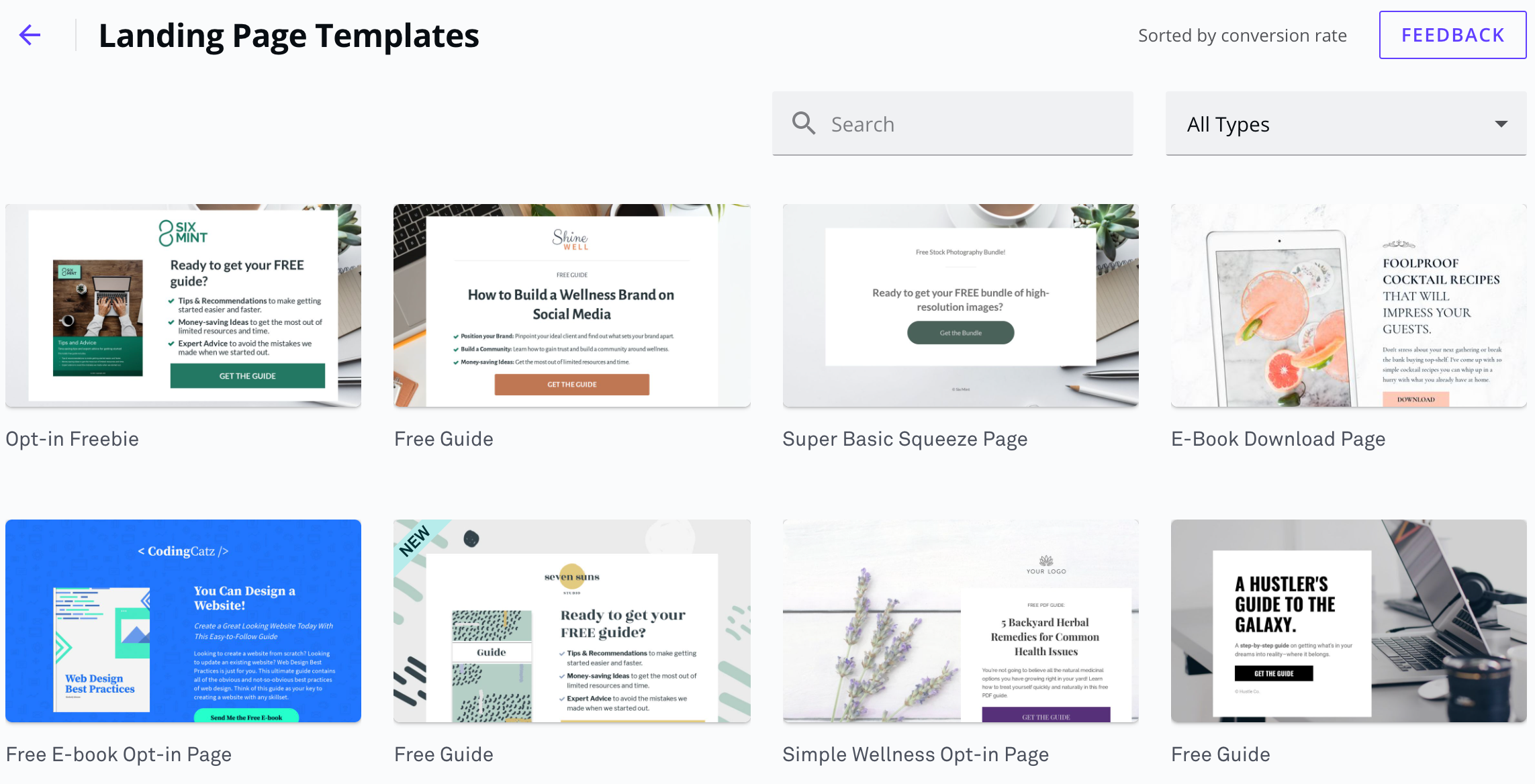 Leadpages has over 200 standard landing page templates to choose from and, while some are fairly basic, others are pretty impressive. If you want something a bit more special, you can go for a premium template – but this will cost you extra.
As well as having more templates than you can shake a stick at, one area in which Leadpages stands out here is the fact that you can actually sort the templates by conversion rate – which is a really handy tool as this, basically, tells you which templates are gaining the most sales for other customers. Leadpages also includes a standard template editor which, while quite basic, allows you to customise your templates a little, including:
Text and font
Element colours
Images
Video
Adding of hyperlinks
Affiliate links
Content
Lead magnets
Checkout creation
A must for those e-commerce customers, Leadpages gives you the ability to drop a checkout onto any page – in fact, you can even add these to your pop ups for extra flexibility.
Leadboxes
This feature gives you the option to add opt-in-forms which can be triggered by a single button click. These can also be used to add a two step opt in option to your email service provider distribution lists. Again, these are really easy to create and can really help save you time.
Leaddigits
SMS marketing campaigns are increasingly popular these days and, Leadpages is all over that. The Leaddigits feature helps you to collect email addresses by text. How? Users are asked to text a simple phrase to a five-digit number and then receives a response requesting an email address which, hopefully, they then do.
This is great for events like exhibitions and conferences whereby you can put a sign on your stand which offers visitors an incentive for getting those digits clicking in order to text the phrase to the five-digit number and help you to quickly collate more contacts.
Leadlinks
One of my favourite Leadpages features, Leadlinks help you to super-size your conversions by letting you create links to be included in your broadcast emails. The great thing here is that these automatically convert every time the link is clicked on
Ad Builder
Leadpages helps you to put together great looking social media ads with its Facebook and Instagram Ad Builder.
A/B Testing
Any marketer worth their salt knows that A/B split testing is essential if you want to get the best out of your campaigns and ensure business growth. Leadpages allows you to display different versions of a page or pop-up for a quick and easy view of how each is doing.
What integration options does Leadpages have?
Some pretty darn good ones, that's what. A thoroughly modern Millie, Leadpages can be easily integrated with a number of platforms including:
Facebook
WordPress
Stripe
Aweber
Calendly
GetResponse
Google AdWords
Google Analytics
Hubspot
LinkedIn
Mailchimp
Marketo
Paypal
Salesforce
Shopify
Twitter
These days, a choice of integrations is essential and, in my opinion, Leadpages has a really solid selection which should satisfy most people. Whether you need them for your email marketing efforts, social media, or analytics, they're here for you.
Leadpages – The Pros And Cons
Now that we've examined some of the goodies that Leadpages has to offer, what you really want to know is, is it any good? As with most tools, there are some good bits and, some not so good bits and, here they are:
The Pros
Price – I believe that Leadpages' pricing is adequate – the Standard Package offers really good value for money as it really does deliver rather a lot of great features and tools for the price. Whether you're a small business or a larger one, the packages will surely match your needs.
Ease of use – One of the most important elements of a tool like this is that it's easy to use – and Leadpages really is. The dashboard, drag and drop editor, and navigation are really straightforward and set out in a common-sense format which will guide you along. Even if you have limited or no techpertise, you can use Leadpages to its full potential. Small businesses and marketing agencies with no dedicated web development team could gain a lot with that.
Templates – While Leadpages may not have the most unique templates in the world, the conversion template feature more than makes up for this. Being able to quickly sort templates by conversion rate has saved me a huge amount of time already.
Landing Page builder – Leadpages drag and drop editor makes it amazingly quick and easy to put together your pages and get them out there.
Effective – In short, Leadpages' landing pages really do convert.
Integrations – Leadpages has a really solid selection of integrations available which will save a lot of time and hassle in the long run.
Traffic – Refreshingly, Leadpages doesn't impose any limitations on traffic on its platform.
Responsive customer support team– The customer service Leadpages offer is top-quality.
The Cons
Customisation – At the moment, the customisation options for Leadpages are pretty basic and, I'd really like to see this addressed in the future as it can be somewhat limiting for somebody like myself who tends to create multiple pages on a regular basis.
Options – As somebody producing a ton of stuff for myself and clients, I was a little disappointed to discover that Leadpages doesn't have an Enterprise option. Again, it would be great to see this added in the future. If you're a small business, though, you're probably good to go.
A/B Testing – Although the Standard Package has quite a lot going for it, its A/B split testing feature is, unfortunately, quite limited compared to the other packages.
Forms – At present, Leadpages has fairly limited options available when it comes to opt-in forms; which I found a little frustrating as, for me, landing pages and forms go hand in hand.
While the cons here aren't necessarily deal-breakers but, are certainly things that would add value to the platform. There are, however, some really great pros to help balance this.
Are there alternatives to Leadpages?
Yep. In fact there are quite a lot of them. Want to know what they are? Here goes:
A bit of a leading light for landing pages, Instapage is a 'Whole Advertising Conversion Cloud' which offers great value as well as some amazing features and tools, along with a drag and drop editor. Instapage is used by some big hitters including Uber and Spotify and is a fantastic tool for creating landing pages with a great conversion rate. You can get your hands on Instapage for $149 per month.
A really popular sales funnel and landing page software, Clickfunnels was born in the USA in 2014 and now has tons of users all across the globe including Market Trading Institute, Synoptek and Bursys. A subscription to this platform will cost you between $97 and $297 per month.
Ontraport
California based Ontraport was launched in 2006 and is a business/marketing automation software platform used by some prestigious brands like AppShark Software, SeeThroughWeb and the Columbia Insurance Group. A nifty drag & drop landing page builder with a good set of tools and features, Ontraport costs from $99 to $499 with a one-off $500 set up fee.
Another solid alternative to Leadpages is Landingi. It was created in 2011 by entrepreneur, Blazel Abel. An end to end landing page building tool, Landingi doesn't require much technical expertise thanks to their intuitive drag and drop builder. Landingi is not only an effective option it's also a cost-effective one as prices start from just $29, rising to $79 for the Automate Package.
Optimizely
Founded in San Francisco in 2011, Optimizely is a whole suite of features and marketing tools designed to help you to create landing web pages that really convert. Prices for Optimizely are available on request.
Unbounce was founded in 2009, so it's a player that's been in the game for quite some time now. It's one of the most popular landing page builders out there, founded by Rick Perreault. Businesses such as Helix, Zola and Later have entrusted Unbounce. The pricing starts at $80 and goes up to $300 monthly.
Conclusion
While I'm more than happy to give you the low down on all these alternatives, I'll now turn my attention back to Leadpages. In my opinion, the combination of value for money and features (including some pretty unique ones) makes Leadpages a really good investment. It's definitely something that will help you grow your business via digital marketing efforts.
As you've seen in this article, Leadpages has some really strong points including a list of integrations as long as your arm and some great added extras such as the Leadboxes and Leadlinks. In such a competitive market, Leadpages very much holds its own in terms of price and the goodies that you get for your hard-earned cash.
While I have talked about some downsides to this tool, I'm confident that these are things which the owners will address sooner rather than later. Still, I'd advise anyone looking for a landing page builder to try out and use Leadpages. This is certainly my hope as I believe that, with a bit of tweaking, this platform could be a world-beater – and is definitely one to watch!