Creating an effective landing page for your marketing campaigns is essential – but it is also time-consuming and frustrating. Consequently, lots of marketers find themselves spending huge amounts of time putting together landing pages – time that could be much better spent on other pursuits.
Therefore, I am always on the hunt for ways to make life easier for marketers and, in that spirit, I set out to find the best landing page tool out there. During our journey around the internet, I came across Landingi – and here's what I found:
And, just what is Landingi?
Launched by Blazej Abel in 2011, is an end-to-end landing page platform for business or simply landing page builder.
It offers over 200 different templates as well as lots of personalisation options to allow brands to quickly and easily create professional landing pages, pop-ups and more. Additionally, the tool also has lots of added extras including audit logs, testing domain, as well as HTML and CSS script support.
Who is Landingi Landing Page Editor for?
This SaaS-based solution is perfect for any marketer or business owner who is serious about email marketing along with pay per click. Above all, a good marketing campaign needs a great landing page and, Landingi allows these pages to be created quickly and easily – even with very little technical knowledge.
What are Landingi's features?
A one-stop shop for landing pages, Landingi has a lot of weapons in its arsenal to help get your page up and running.  These include: 
Over 200 templates.
Thousands of royalty-free stock images
Drag and Drop Creator
Cloud Hosting
Integration with third-party apps
Forced SSL
Lead Inbox
Fully Customisable Mobile View
Custom Domain
WordPress Plugin
Email Support
And the big one A/B Testing…
See how you can improve your page with the split A/B testing function. Use the option to integrate forms into your page to collect leads, whilst the stats package will show you some critical results, such as conversion rates.
Landingi has an incredibly comprehensive list of features and, these are as follows:
Landing Page Templates
When it comes to the most important part of building a landing page, you have three options:
Choose one of 200+ ready to use, well-designed templates,
Import your own landing page file, or
Create your landing page from scratch.
Selection: If you want templates tailored for various goals and industries, you've come to the right place! No matter what plan you choose, you have access to every available template. Select the purpose of your landing page or your industry, pick the template, and start building!
Customization: All template pages are easily customizable. Click the drag-and-drop option to add or modify anything you need. The object highlights the blue options button, allowing you to tweak from there
Drag and Drop Landing Page Creation
Landingi understands that all businesses, big and small, want a unique and personalised landing page. For this reason, Landingi offers a simple to use drag and drop creator which allows you to build your own landing page, even if you have zero coding experience.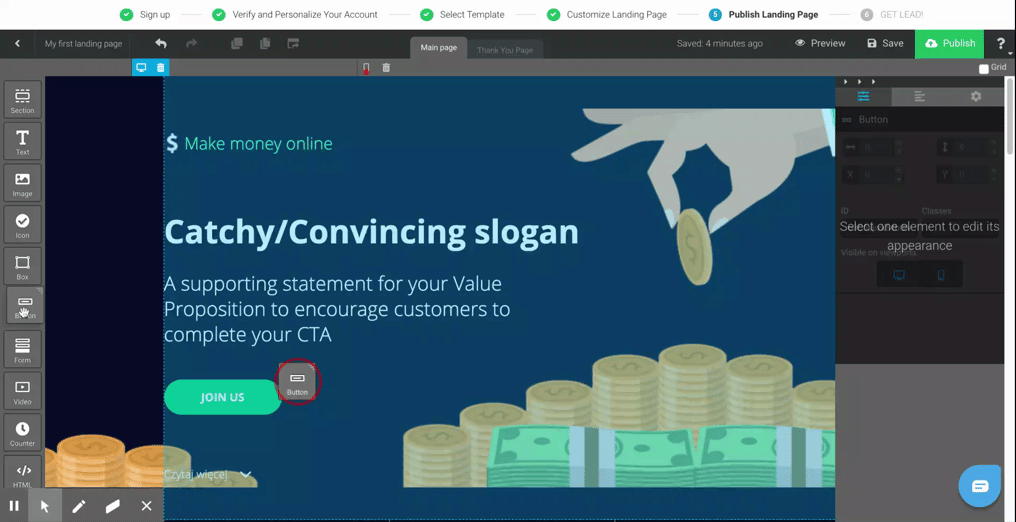 Getting Mobile
With more and more of us using our phones for, well, pretty much everything, Landingi's Rebuild Mobile View option is an incredibly important feature. To clarify, this tool allows you to rearrange a number of elements of your landing page to ensure that its super-optimised for mobile – which equals more customers.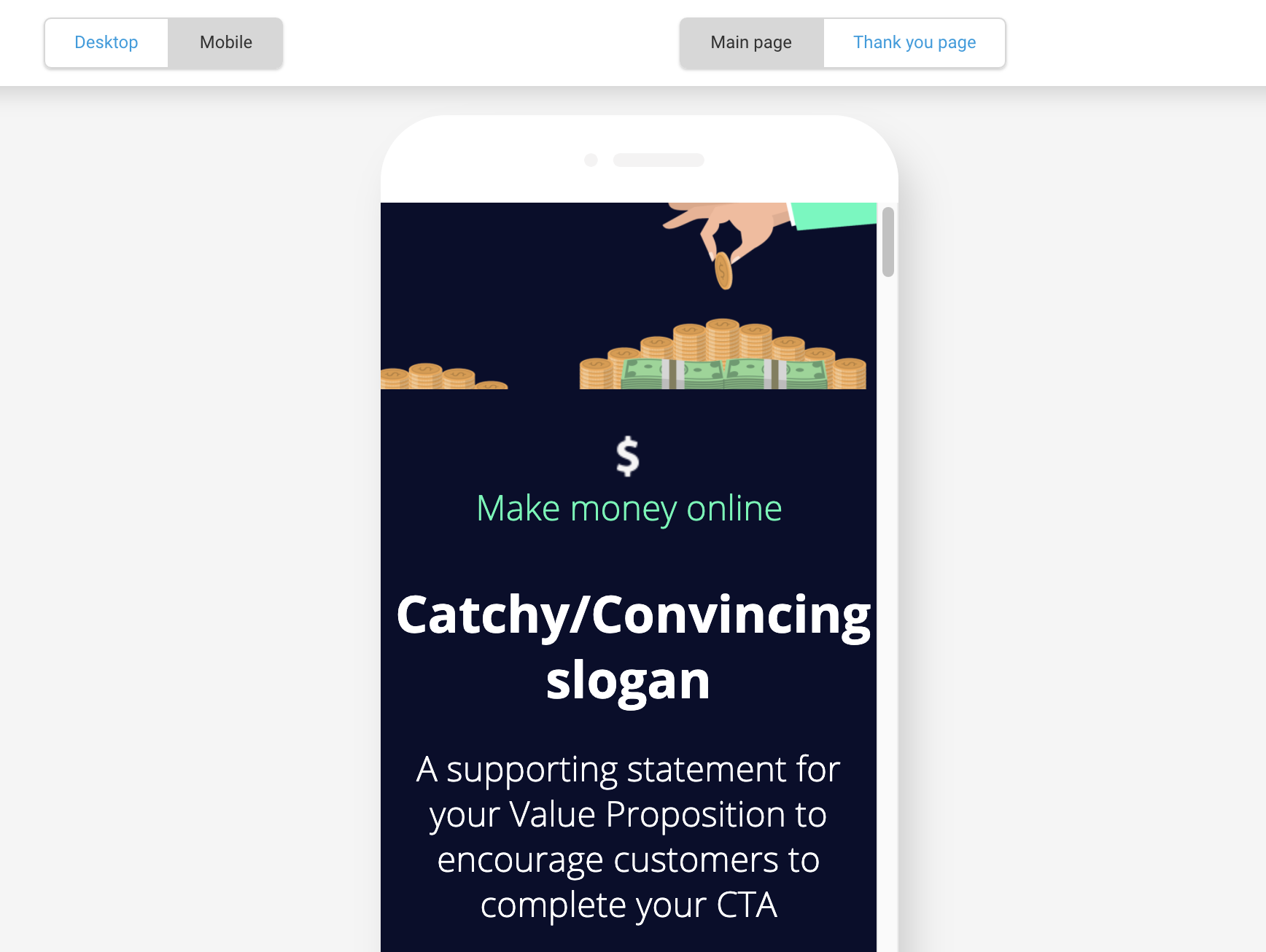 Image and Icon Libraries
I've talked about the importance of a personalised page and, Landingi takes this one step further with its libraries. Therefore, users can choose from a huge number of different images and icons (all of which are free of charge) to make sure that their landing page is as unique as possible.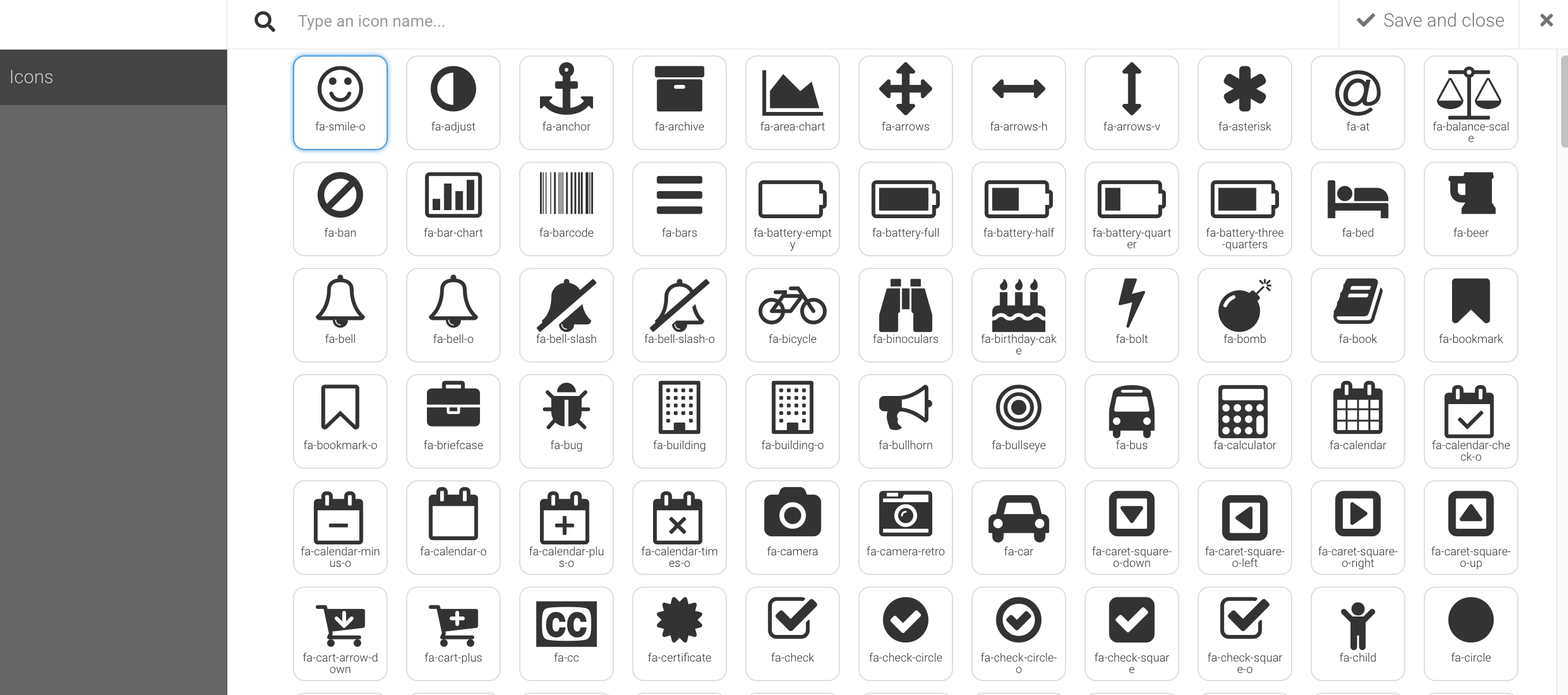 One Click Duplication
Got a great page? Landingi allows you to duplicate any of your pages with a simple one-click process – saving you a ton of time if you have more than one page to create.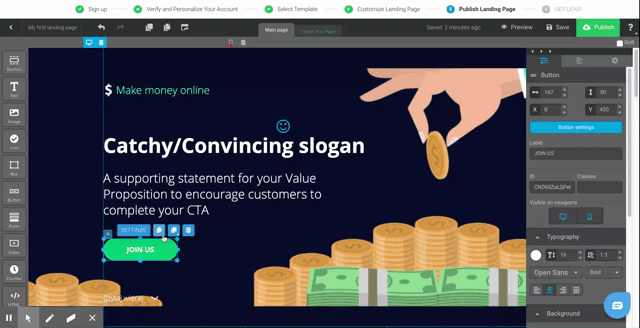 User Collaboration
Next, it's really easy to get your whole team involved when creating your new landing page. User Collaboration allows you to share the platform so that others can review and make suggestions.
One Click Publishing
As easy as it is to create your page, it's even easier to publish it. Landingi walks you through the process – all the way through to a one-click publishing option so that you get your page live in super-quick time.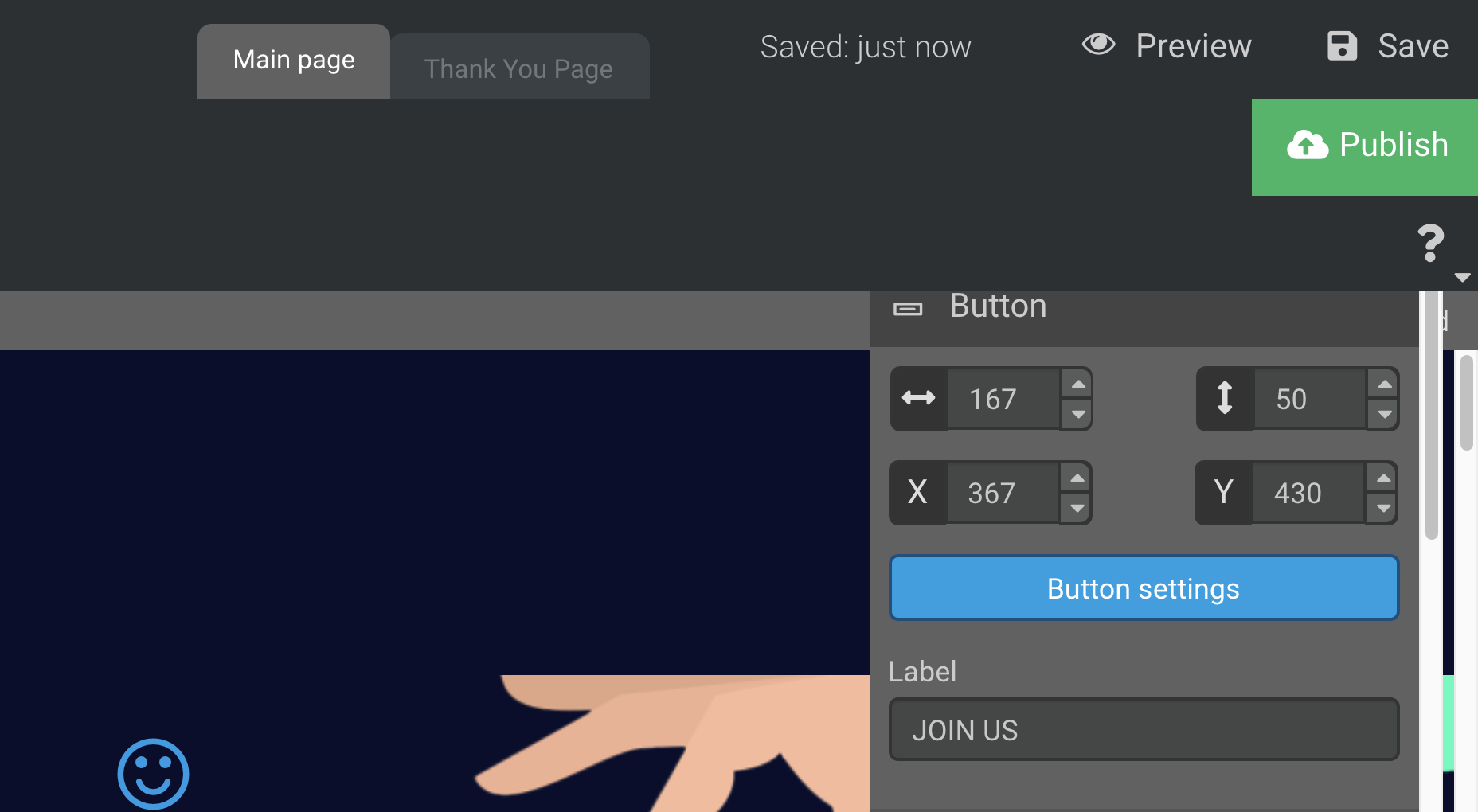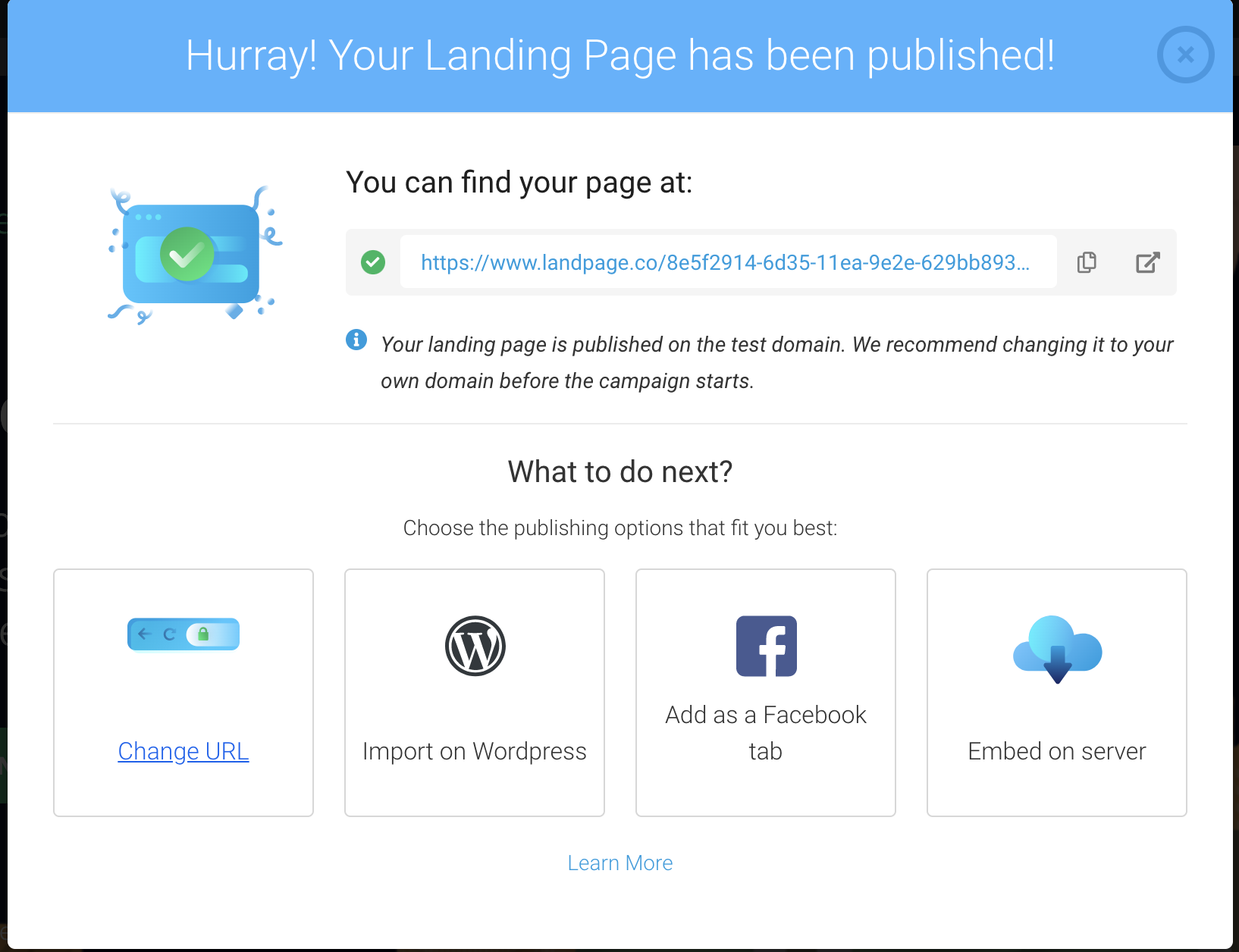 Compatibility
If you already have existing domains, it's really quick and easy to add these to your Landingi account for added flexibility. Additionally, it is compatible with pretty much every widely used browser.
As if that's not enough, it is also Facebook compatible with the option to embed a landing page as a tab on your Facebook page. Finally, this landing page builder can be easily integrated with solution like MailChimp, HubSpot and SalesForce.
Leads
Landingi's lead generation software is kind of like a mini CRM which allows you to organise your leads and analyse them quickly. Moreover, you can export your leads to CSV or Google Sheet with just one click in order to integrate them with your existing processes.
Autoresponder
When looking to snag new leads, it's really important to be responsive. Accordingly, this landing page builder has got your back with automated email responses which means that your customers will get a reply from you whatever time of day and night they get in touch.
Analytics
I don't need to tell you how important analytics are to your business. This landing page builder has more analytics tools than you can shake a stick at and, is fully integrable with Google Analytics.
In fact, this means that optimising conversion rates is super-simple, helping them to grow their business with invisible 1×1 landing page pixels.
Sub Accounts
For SMEs, Landingi's sub-accounts feature means that multiple clients can be managed all from a single account. Beyond that, you can also duplicate and move landing pages between sub-accounts for added flexibility.
Unbranded emails
When you're looking for a slick and professional image, you probably don't want Landingi's logo all over your communications. That's why Landingi's agency service offers unbranded emails to ensure that your communications are all your own.
Similarly, the White Label feature is a brilliant way of reinforcing your own branding whilst taking advantage of Landingi's service.
All of the above features are available even with Landingi's most basic plan (don't worry, I'll come to packages and plans shortly). Those choosing the more expensive plans will find that they get even more bells and whistles for their hard-earned cash. All of Landingi's features are designed to help users to create great, high converting landing pages from an easy to use dashboard.
What's the damage?
It offers four separate pricing packages for business which are as follows:
Core – $29 per month. The Core package contains all the goodies included in the Basic pack, plus a Popup Builder, Email Integration and Custom HTML.
Create – $45 per month. The Create package has everything that the Core package has and more – specifically, 50 Premium Templates, Email Integrations, Lightboxes and an Image and Icon Library.
Automate – $59 per month. The full package for business, Automate's additional features include Funnels, A/B Testing, Campaign Scheduler, Advanced Integrations and Autoresponder.
The tool offers three separate pricing packages for agencies which are as follows:
Consultant – $145 per month.  The Consultant package includes all the goodies you would expect, plus sub-accounts, an Unbranded WordPress Plugin and, Unbranded emails. 
Agency – $149 per month. The Agency package sees the Consultant package and raises it with Audit Logs, Custom Templates and Image Libraries and, Priority Support.
Agency Pro – $245 per month. The ultimate agency package, this one has everything that the Agency package boasts, plus a Landingi platform under your own domain and with your own branding, plus API for creating sub accounts.
All packages are billed annually and, seven day free trials are available.
Who uses it?
Based in Gliwice, Poland, this SaaS based landing page builder has a long and distinguished list of clients including:
Paypal
Unibet
Credit Agricole
Aviva
Campus Warsaw
Booksy
The wide range of clients is testament to the fact that this SaaS tool really does offer a package for every budget and requirement.

To Landingi or not to Landingi?
With its impressive list of clientele, the product seems almost certain to impress – or is it? Quite frankly, I wouldn't be doing my job if I didn't delve a little deeper to bring you the lowdown on winners and losers when it comes to Landingi so, here goes.
The Winners
Choice – It offers a really great choice when it comes to pricing packages; meaning that there's something for everyone, regardless of requirement and budget.
Price – The Basic package at just $29 per month means that even those on the tightest of budgets can get their Landingi on. On the other hand, businesses who have a little more financial clout can get their hands on a completely comprehensive package.
Foolproof – You really don't need any super-tech skills in order to put together a great landing page. It offers really straightforward instructions and handy templates to allow even the biggest technophone to get up and running.
The Losers
Support – Although Premium Support is available with the more expensive packages, those at the cheaper end get the short end of the stick with Landingi.
Although their websites states that telephone support is available from 8am to 8pm, waiting times can be pretty long – which is frustrating for those needing immediate assistance.
Exit Strategy – The lack of an Exit Intent Builder can be a little frustrating for those looking for a super-professional landing page.
Publishing Lag – Landing pages can be slow at times and, there can often be quite a significant time lag between publication and a page going live.
Landingi alternatives
Landingi vs. Unbounce
Unbounce is an industry-leading tool that provides all of the tools needed to create great, converting landing pages. It does analytics, A/B testing and has a landing page builder that is foolproof. Companies such as Helix, Zola, Within and Later have put their trust into them.
Landingi vs. Instapage
Instapage is another platform that enables you to create converting landing pages. With it, you get to create landing pages on your own, experiment with them to see what gives the best results, personalize them, and conduct virtual campaigns. Furthermore, it allows for great page load speed and collaboration between teams.
Leadpages is a piece of software that not only lets you create effective landing pages, but also entire websites. It features templates, data analytics, A/B and split testing, real-time optimization tips and creation of SEO-friendly webpages.
Conclusion
As I said, I am on duty bound to root out and highlight the bits where this landing page builder falls down. Having said that, the bad bits really are minor and, not much of an inconvenience.
On the whole, Landingi is a really efficient, affordable and user friendly solution for businesses who don't want to spend a huge amount of time and money on creating somewhere for their customers to land.