Believe it or not, there are still small business owners out there who are trying (and failing) to get conversions without using landing pages. If you're one of them, listen up!
Unlike sending your potential leads to your home page where they'll encounter all manner of stuff that is likely to be irrelevant to them, a landing page focuses their attention by showing them only the product or service which caught their attention in the first place.  
A lot of people drag their heels when it comes to getting with the program on landing pages as they think that putting one together will be complicated or costly – I'm here to tell you that's just not so.
In the wonderful world of the 2020s, there are oodles of tools out there that allow you to build your own converting landing pages really quickly and easily.  I make it my business to try as many of these tools as possible and, right now, I'm going to give you the lowdown on one of the good 'uns – here's an Unbounce review.
With Unbounce, marketers can quickly and easily create landing pages for their marketing campaigns, so they can spend more time creating content that converts. It also has AI-powered A/B testing features, allowing users to make changes based on customer behavior.
What in the blue blazes is Unbounce Landing Page Builder?
I could tell you that Unbounce is a landing page builder – and it is – but, that would be doing it a disservice as it really is so much more than that.
100% online, Unbounce makes life easy by doing away with the need for any fiddly plugins or extras. It's an all in one landing page platform.
Founded in Canada in 2009 by Rick Perreault, Unbounce is one of the building landing pages tools that I've come across (and I've come across a fair few).
How do I get on the ball with Unbounce?
That's a great question – and one that deserves an answer. If you want to use Unbounce, you have to:
Bounce on over to https://unbounce.com
Click onto the blue 'Start My Free Trial' button in the top right hand corner
Choose your package
Agree to the terms and conditions (yes, you have to) and fill in your details or sign in with Google
Add some more details in order to complete your account
Click onto the blue 'Start My Free Trial' button
Verify your email address
That's it, you're ready to get started with Unbounce!
Unbounce pricing
Unbounce offers a pretty generous free 14 day trial to give you a feel for the platform to see if it's right for you. Once your trial is finished, you can choose from four monthly packages which are as follows:
Launch Package $90 per month
This small but perfectly formed package, gives you up to 500 conversions, 20,000 visitors and one connected domain – indeed plenty to get you started.
Optimize Package $135 per month
Coming in second, the Optimize Package gives you access to up to 1000 conversions, 30,000 visitors, 5 connected domains and even 30% more conversions.  If you're a startup or a small business with your own marketing team, it's perfect. 
Accelerate Package $225 per month
Start your engines for this slightly pricier package which lets you get behind the wheel with up to 2500 conversions, up to 50,000 visitors and 10 connected domains.  
Scale Package $300 per month
Heading up the pack is the scale package which offers up to 5000 conversions, up to 100,000 visitors and 25 connected domains. 
All of the above packages can be paid for monthly or annually and, you'll receive a small discount for paying for a whole year up front.
What are Unbounce's features?
This is where things get interesting. Unbounce has a whole ton of features to help you to create fully optimised, super converting landing pages and, here they are:
Landing page builder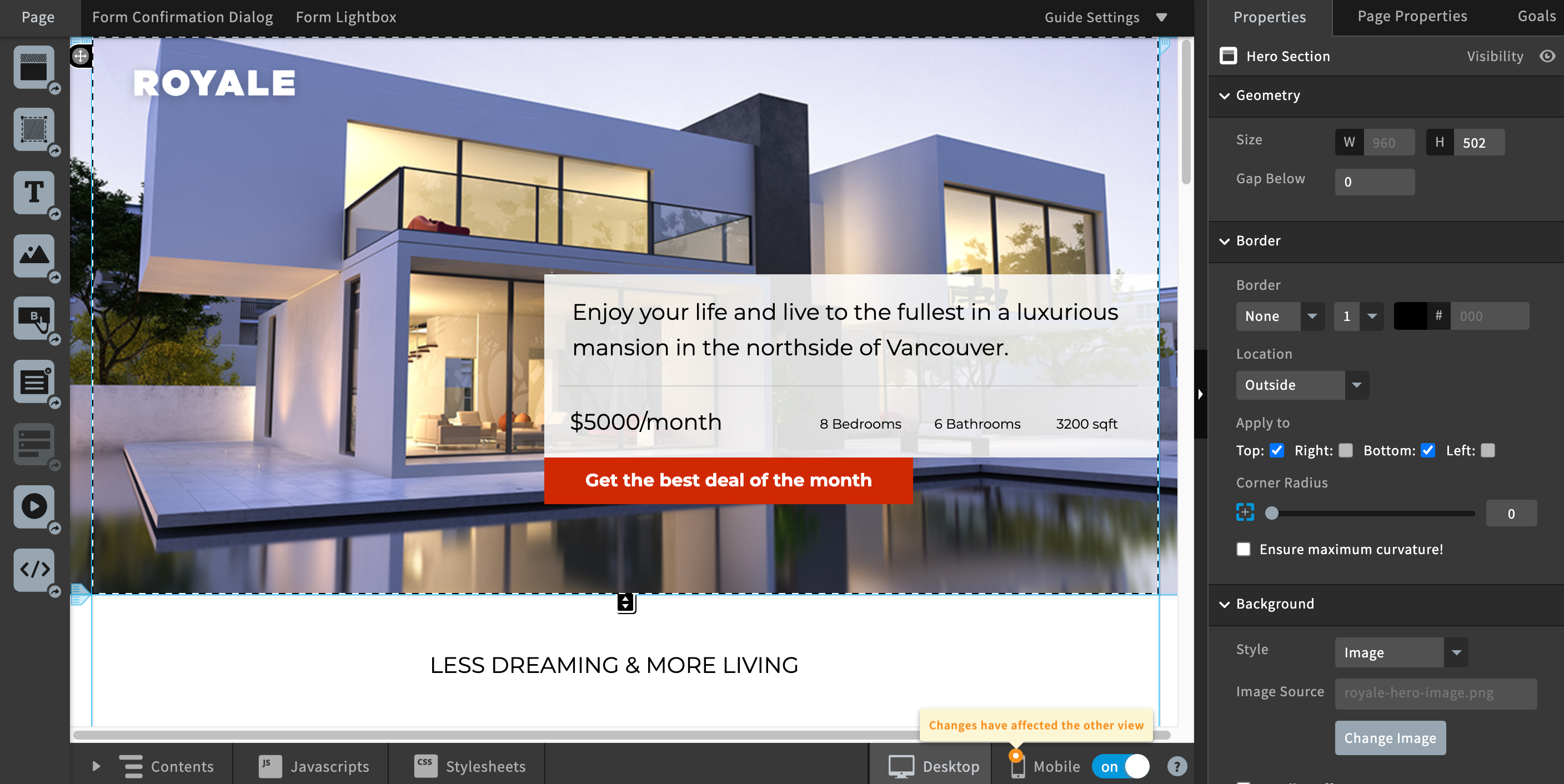 The piece de resistance of Unbounce is, of course, its landing page builder which has a few tricks up its sleeve to help you on your way, including:
Drag and drop editor – Unbounce's straightforward editor makes it a doddle to create landing pages without needing any programming skills. You can easily add elements to them and customise them for a more personalised, pixel-perfect landing pages approach.
Clone and edit – One of my favourite tools, this one will save you tons of time as it lets you duplicate and edit your best landing pages in order to quickly create new ones. 
Copy and paste – All page elements can be speedily copied and pasted which – say it with me – will save you loads of time. 
Landing Page Templates – Unbounce has lots of really great, professional-looking templates to make sure that your page looks the part. 
Full customisation – Unbounce lets you pretty much customise every element of your page – so it won't look like one of those tacky 'off the shelf' ones you've probably seen on the internet. The CTA (Call-To-Action) customisation possibilities are especially extensive.
Quick publishing – Once you've finished getting all creative, Unbounce's no-fuss publisher lets you share to your WordPress site or custom domain with just a few clickety clicks. 
Popups and sticky bars

While landing pages are great, sometimes you need a bit more to help you grab the attention of those leads. Which is where Unbounce's popups and sticky bars come in. Great for boosting conversions, these added extras are easy to use and include the following tools:
Drag and drop builder – As you would expect from Unbounce, its oh-so-simple drag and drop builder extends to its popups and sticky bars; allowing you to create these within just minutes.
Templates – Unbounce does, of course, give you a choice of templates to make your popups, landing pages and sticky bars really stand out from the crowd. 
Targeting and triggers – As not all leads are created equal, Unbounce lets you choose who sees your popups as well as when and how they are triggered.  This really clever tool is invaluable for those looking to keep to their budget with super-targeted digital marketing. 
Scheduling – Unbounce lets you schedule your campaigns so that your most relevant promotions are always up front and centre. 
Mobile-Responsive Landing Pages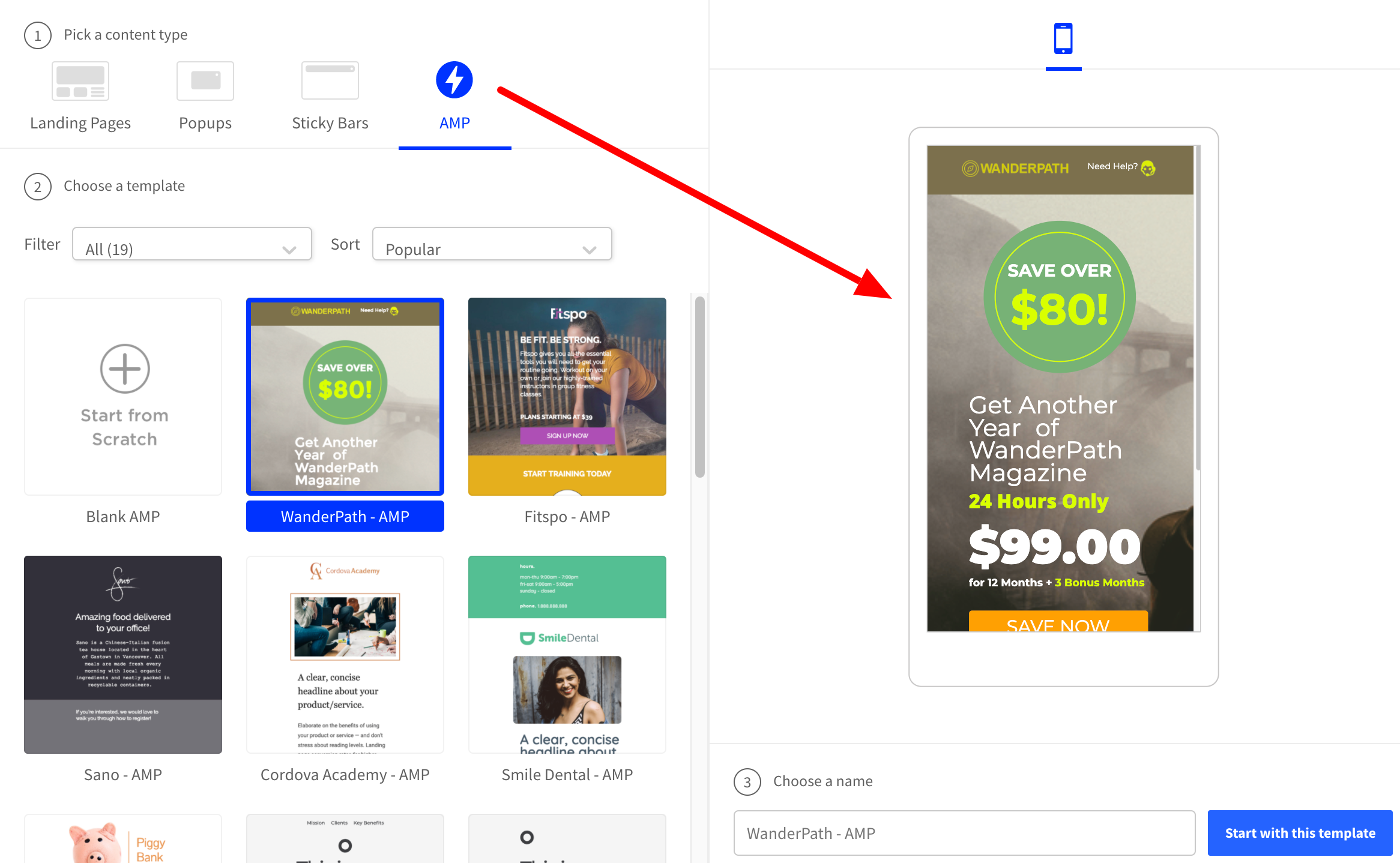 Accelerated Mobile Pages are going to be a new landing page trend in 2021 and, Unbounce is already set up for these. Unbounce provides professional looking AMP templates. Furthermore, it also uses the latest AMP standards to keep your landing pages and code up to date. I believe that it's huge, as AMPs are the most mobile-friendly pages out there.
A/B Testing New Landing Page Variants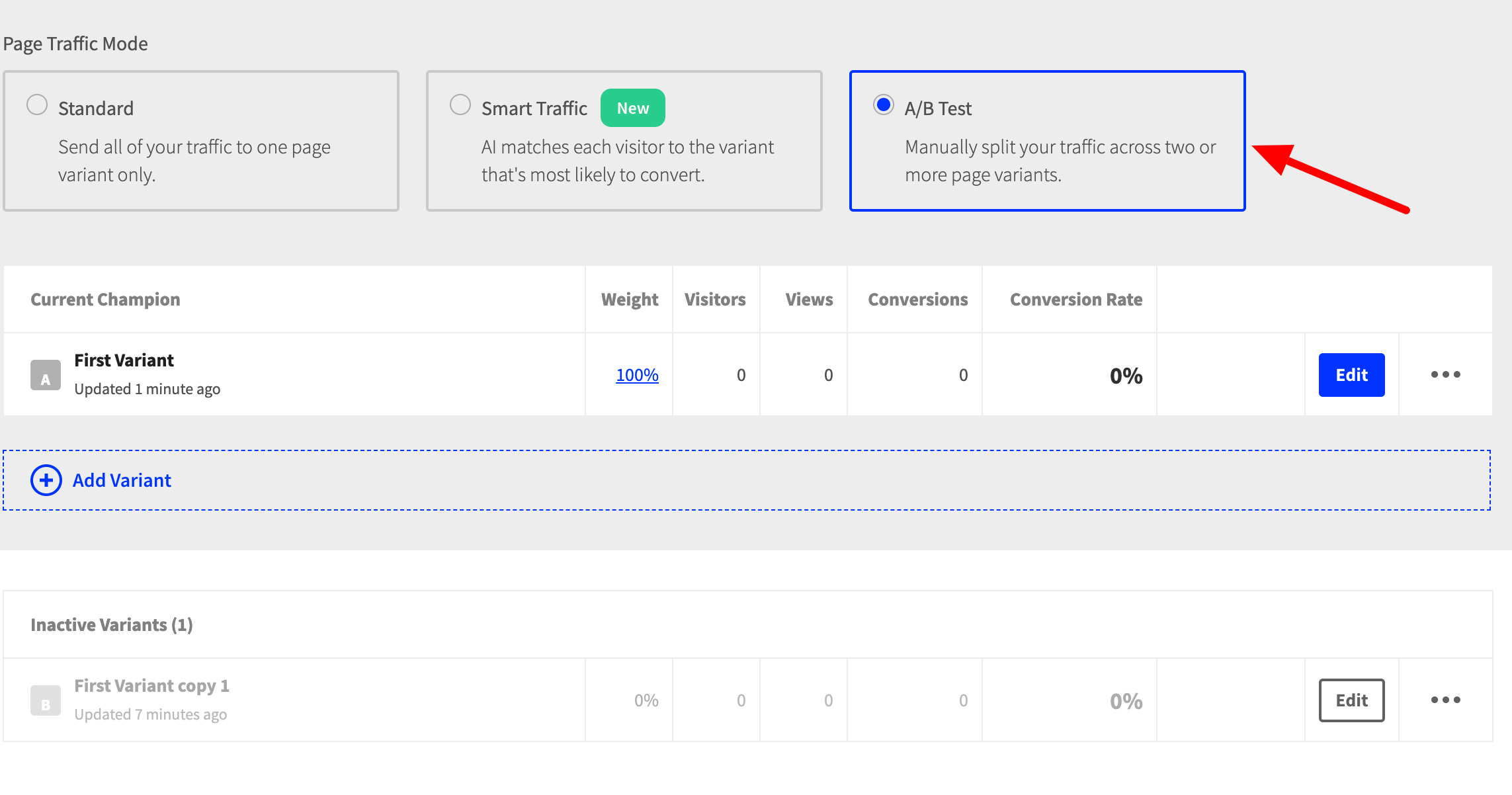 A/B Testing involves creating multiple iterations of the same landing page. Testing is a hugely important part of any digital marketing and advertising campaign and, should always be carried out as standard.  Unbounce offers comprehensive A/B testing on all of its plans and, includes its popups and sticky bars.  Setting up A/B testing with Unbounce is really easy and offers a number of different options for different landing pages. Smaller variations allow you to really drill down to get the best results. 
Dynamic Text Replacement
A fantastically handy tool, Unbounce's Dynamic Text Replacement allows you to further personalise your landing pages. It matches the copy on your web page to the keywords used in the searches by users who clicked on your PPC adverts.  Setting this up is so simple, it's child's play. Just select the text that you want to use it with and then press the 'Dynamic Text' button.  For me, this is one of Unbounce's star features and I'll be using it on a regular basis. 
Smart Traffic
Unique to Unbounce, this feature is powered by artificial intelligence and helps with your conversions. It examines the attributes of each of your visitors and, then, directs them to the most relevant landing page for their needs.  The algorithm works its magic by looking at factors such as location and the kind of device used in order to determine which of your multiple landing pages will turn that visitor into a buyer. 
Lead Form Builder
Forms are really important for marketers and can be an excellent conversion tool. Moreover, they help you to collect all that important customer data. Unbounce's form builder allows you to build great-looking forms and add these lead gen forms to any of your pages.
Analytics and reporting
Any online platform worth its salt will provide analytic and reporting tools and, Unbounce is no exception.  From the comfort of your own Unbounce dashboard, you can get your hands on all kinds of insights with just a few clicks. You can also customise your settings and download your reports. 
Unbounce's reporting also includes some advanced features which let you see how long users take to fill in your forms and, specific places where they may be running into problems. All of this data makes it far easier to keep track of your conversion optimisation ROI.
Customer support
Just like any reputable tool, Unbounce has a great customer support team. I found them very responsive and able to help me with any issues I had fairly quickly. I decided to test the customer service a few times and usually, the response was there the same day. The live chat feature works quite well, too, as the responses here were pretty quick as well.
What are Unbounce's integrations?

Unbounce has over 100 integrations on offer (I know, really, that's just showing off). I'm not going to list them all but, these include:
Zoho
Woodpecker
WordPress
Simple Funnel
Rocket Responder
Outgrow
Nutshell
Go To Webinar
Gmail
Google Ads
Google Sheets
Zapier
This is probably one of the most impressive lists of integrations that I've ever come across. I would defy anyone to say that they're not happy with them.
Unbounce – The Ups And The Downs
Let's face it, there are pros and cons to every tool and, in the interests of fairness, I couldn't publish a review of Unbounce without listing some of these so, here they are:
The Ups
Pricing plans – Unbounce offers a good variety when it comes to price packages which makes it easy to find one that suits your requirements and budget.  In my opinion, the basic package is an absolute bargain at just $80 a month. 
Features – The sheer volume of features offered by Unbounce makes it exceptional value for money as well as doing away with the need for lots of fiddly extra landing page tools to get the job done.  Not only does Unbounce have a lot of features but, it has a lot of really clever ones. 
Templates – The range and professional look of Unbounce's landing page templates is unparalleled. In my experience and has really helped me to create multiple unique landing pages. 
Speed – As Unbounce is eminently user-friendly, building and publishing landing pages takes no time at all. That's is perfect if you're a one-man band with a million different things to do. 
Customisation – With Unbounce, there's really not much that you're not able to customise in your landing pages. This is great if you're determined to have landing pages that don't just look exactly the same as everybody else's. 
Testing – Unbounce's testing tools are really comprehensive and, more importantly, really accurate.  For me, this is invaluable as I'm constantly running A/B testing to make sure that my digital marketing is on-point at all times. 
Ease of use – Unbounce is relatively simple and has a steep learning curve. Getting a grip on all of the features doesn't take very long.
The Downs
While this may be a somewhat shorter list, there are still a few things that I feel duty-bound to mention:
Form building – I'm grateful that Unbounce comes with an in-built form builder. Though, I have found that this lacks some key features which would help to make life easier.  Although this is frustrating, it's not, in my opinion, a deal-breaker. 
Split testing – Yes, I know I've already mentioned testing in the Up section but, hey, life isn't always simple.  Unbounce's testing is pretty darn great for landing pages created within the platform. Although, you can't, as yet, A/B test on landing pages that have been created elsewhere.  This can be a little annoying as I have pages that I would have liked to test against my Unbounce landing pages. 
Buttons – Unfortunately, Unbounce doesn't allow you to add custom classes to its buttons so, you'll be stuck here unless you have some HTML building skills. 
Google Analytics – For some reason, my Unbounce landing pages were lost as a data source in Google Analytics so, again, you'll need some existing skills if you're going to workaround this issue. 
Are there alternatives to Unbounce?
Yep, if you're a little Miss or Mr Fussy and you've decided that Unbounce doesn't float your boat then there are some really good alternatives out there and, here are some of the other landing page tools:
Founded in Minneapolis in 2008, Leadpages is a popular platform which lets you build code-free websites and custom landing pages that convert with the usual bells and whistles such as pop-ups, alert bars and more. Leadpages is used by an impressive rosta of companies worldwide and costs between $25 and $199 per month.
Another incredibly popular platform, Instapage describes as a Whole Advertising Conversion Cloud. Used by some major brands including Uber and Spotify, Instapage includes all sorts of features and tools to help you create professional-looking landing pages to help you boost your conversion rates. You can get your hands on Instapage for $149 per month.
A leading landing page and sales funnel platform, Clickfunnels was launched in the USA in 2014 and has grown super-quickly since that time. Fans of Clickfunnels include Market Trading Institute, Synoptek and Bursys and. A subscription to this platform will set you back between $97 and $297 per month.
Ontraport
California's answer to Unbounce, Ontraport was founded in 2006 and is a business automation software platform which is used by AppShark Software, SeeThroughWeb and the Columbia Insurance Group. An impressive landing page software with a good set of tools and features, Ontraport costs from $99 to $499 with a one off $500 set up free.
A veteran of landing page builders, Landingi was created in 2011 by entrepreneur, Blazej Abel and is used by customers across the globe. An end to end landing page building tool, Landingi is a cost-effective option as prices start from just $29, rising to $79 for the Automate Package.
Optimizely
Born in San Francisco in 2011, Optimizely is a veritable treasure trove of tools and tricks to help you build and optimize landing pages that really convert. It has all you'd ever need to help your company grow. I'd love to be able to tell you how much Optimizely costs. Unfortunately, you have to make an enquiry in order to get your sticky hands on this information. Which, in my experience, means that it's probably not cheap!
Conclusion
So, just as you asked, I've given you the low down on Unbounce. I've also told you about some perfectly acceptable alternatives even though, in my humble opinion, you won't need them.
To begin with, Unbounce is really fairly priced with many packages to suit even the teeniest of budgets.  As you can see from the list of alternatives, Unbounce really is competitively priced and, extremely good value for money.  
For me, though, the real beauty of Unbounce is in the outstanding range of features and tools on offer. All of which you can get hold of even with the cheapest package.  I've literally saved hundreds using Unbounce as I've been able to cancel my subscriptions to some other tools. As well as having a lot of features, Unbounce's creators have really put the work in to make sure that all of these features are of high value and, that all templates are really professional looking. 
If you're looking for a really solid, good value builder to help you with creating high-converting landing pages, you really shouldn't look any further than Unbounce.  It's affordable, forward-thinking and easy to use. Even if you have absolutely no tech skills whatsoever. Unbounce is, without a doubt, my top recommendation for landing pages.