Screen recording is quite popular as it can make things easier for you when showing others how to use something online, or taking them through a project. A screen recorder extension means that you can access it quickly and easily when you are in your browser, and the most popular of these tools is made by Screencastify.
Compatible with Google Chrome, it is one of the ultimate pieces of tech and can benefit a massive number of people. In this review, we go through what it is and what makes it so fantastic – it might just be the next tool you install.
What is Screencastify?
The reason it is so popular is that it is easy to use and install, offering you the ability to record content and annotate it for your audiences. It had never been so effortless to record your screen.
It can be used by individuals and businesses and is also very popular in schools for video-based learning.
It has over 7.2 million users, which is an incredible amount for an extension, and still remains the number one option for screen capture – especially because you can also upload to Google Drive, as it has an integration with Google. It provides a better way to communicate within schools and businesses, as well as creating a more interactive way to share ideas.
It works online and offline as well, offering a lot more flexibility than some of the other screen recording tools out there.
This screen recording Chrome extension has been used for everything, from professional media to footage of UFO hunters (no joke). Here are a few examples of the industries that use Screencastify, as well as the ways in which it benefits them:
Schools: can be used across universities and kindergartens. Great tool for flipped classrooms, saves teachers time and makes lessons more effective. Perfect for practicing public speaking and language comprehension.
UX Designers: capture detailed user experiences, track facial reactions on camera, find and demonstrate bugs with videos.
Marketers: customers love video most. Perfect for creating ads, presentations, and how-to videos. Allows you to share an engaging brand message.
Account managers: speed up communication to save time and money. Can create short demo videos for clients. No more repetitive emails.
Corporate training: practice skills like pitching and presenting. Can uncover strengths and weaknesses.
Who is Behind Screencastify?
The founder of the Screencastify extension is Manuel Braun, and it was created in 2013. Its headquarters can be found in Chicago, and in such a short amount of time it has gained and kept massive popularity.
Currently, the company remains small and efficient with around 65 staff to keep things running smoothly.
In 2016, a majority shareholder stake was acquired by LearnCore, and since then it has been a subsidiary of the company, although still remaining very successful. They don't have a massive social media presence, but with so many amazing Google Chrome Store reviews, they don't really need it.
How Does Screencastify Work?
The system isn't very complicated in its basic form, but it is important to know that there are loads of tutorials provided by Screencastify that will take you through the more intricate features that this extension has to offer. In this section, I look at the basics and the ways in which they can work for you.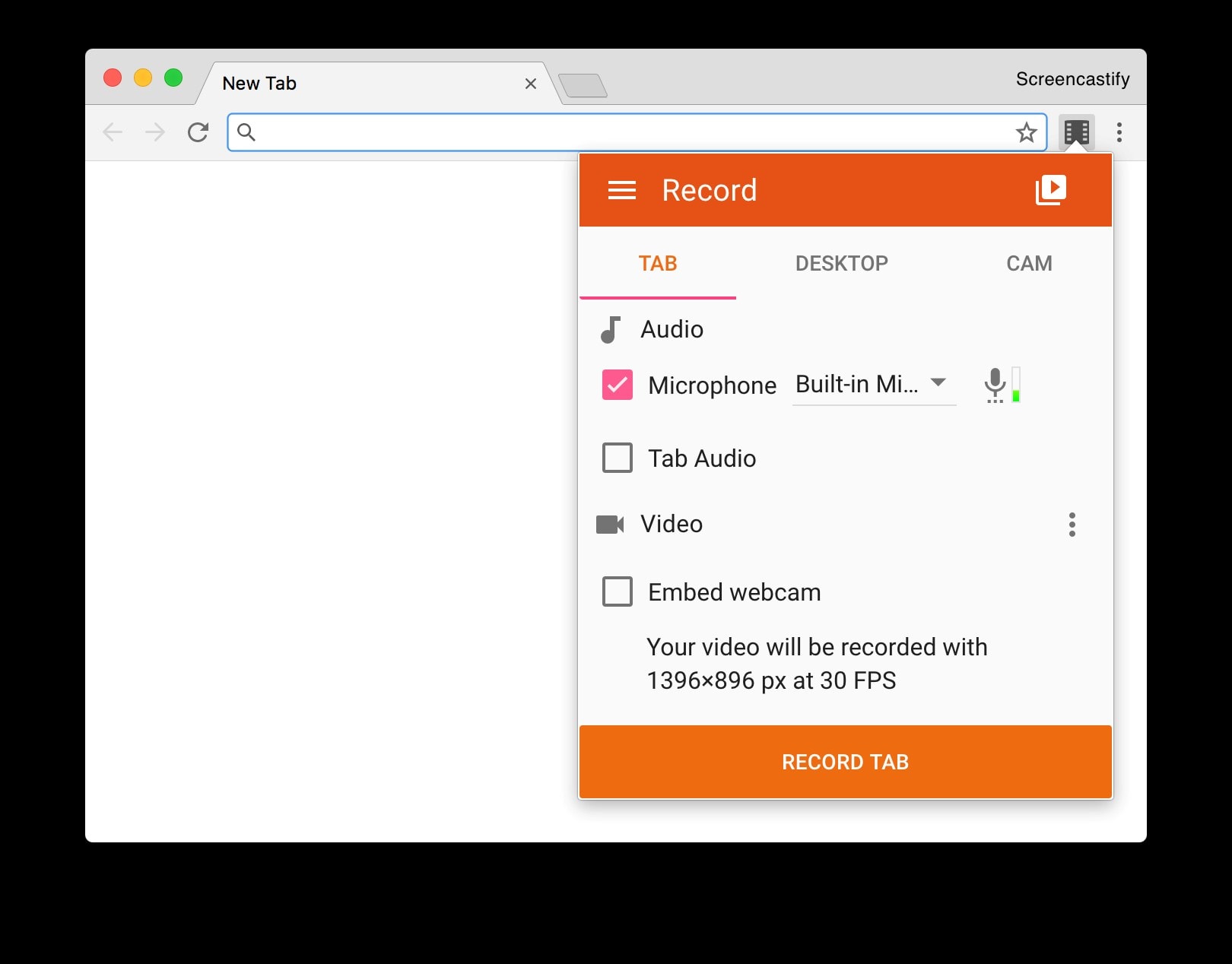 When you open up the homepage for the Screencastify chrome extension, you are immediately met by a download button. Once you hit that, the process begins, but you will also be left wondering "how does Screencastify work?"
When the extension has finished installing, you will find it on your nav bar next to the address bar on the right-hand side. (image required or gif)
All you need to do is click the little icon, and you will get a little settings window that allows you to choose your options.
The basic ones allow you to choose whether you are recording your browser window, your desktop as a whole, or using the webcam. You can also choose whether or not to use your microphone or embed the webcam – meaning that it shows up in the corner of your choice throughout the recording.
You can use these features to create video tutorials, advertisements, presentations, to give notes on assignments, and so much more. This is why it is such a useful tool for workplaces and schools, and it can do so much to enhance learning and communication experiences.
You can utilise Screencastify Video Recorder to enhance the user experience tests in business by tracking their facial expressions and reactions, their mouse movements, and also listen to the commentaries and comments as they browse.
It also makes emails a lot easier as well, as you can use screen recordings to reply to customer questions and show them where to find items – eliminating language barriers and creating a clear visual response for them to follow.
Screencastify can also be used for business meetings and presentations, making sure that everything is laid out clearly, and providing a more interactive session.
It allows for the free flow of ideas, and also takes away a lot of the preparation time as you can record yourself in advance so that you don't have to give a speech on the day.
For schools, there are also a massive number of benefits, and 97% of teachers that use the Screencastify extension have found that it makes lessons smoother and also saves them a lot of preparation time. Both teachers and students benefit from the app.
Teachers are able to record full classes or bite-size sessions for their students to work through, leaving more time for one on one time with each student to prevent anyone from falling behind.
It provides the opportunity to give detailed feedback on assignments, with video footage of you going through the piece and explaining which parts were good, and which need a little more attention. It also means you can answer questions easily and go through solutions with those that are stuck on certain areas.
Screencastify doesn't just make things easier for teachers and more interactive for children though; it also allows you to share each child's progress with their parents.
They love being involved and kept in the loop, so this is the ideal way to show them exactly what their child is learning and how they are doing with things like homework assignments.

Does it Cost Money?
One of the best things about Screencastify is that it doesn't always cost money, and downloading the Chrome browser extension is completely free. However, they do offer a number of excellent and reasonable plans for individuals and schools, each of which we will go through in this section.
Screencastify Lite is the free plan for individuals, costing you nothing while still offering you a good number of perks. It is free for life, but you have the choice to upgrade at any time – here is what the plan includes:
10-minute video length
50 videos per month
Screencastify watermark
Screencastify Full, or Premium, costs $24 per user per year and is for individual use. It unlocks a lot more than the free plan, and is billed on an annual basis. For this low price, you are able to gain access to the following:
Unlimited video length
Unlimited number of videos
Unlimited video editing
No watermarks
MP4 and animated GIF exports
The first plan for schools is the 5-pack, and it costs $100 per year, and is billed on an annual basis. It is a great way for small departments to start implementing video-based learning, and comes with access to the following perks:
Unlimited recording
No watermark
Export as MP4 or animated GIF
Crop and trim videos
License reassignment at any time
Pay with offline PO or credit card
The 25-pack is the second plan for schools, and this one has an annual fee of $300. This one is perfect for more widespread class learning through video, and is able to cater to multiple departments. Here is what this pack gives you access to:
Unlimited recording
No watermark
Export as MP4 or animated GIF
Crop and trim videos
Usage data available on request
License reassignment at any time
Pay with offline PO or credit card
Bigger savings
Finally, you have the schools and districts plan, allowing for incredibly widespread video learning and access to the software. It's ideal for self-paced learning as well as formative assessments.
This plan requires you to give Screencastify Screen Video Recorder a call to get a quote, but the price should be very reasonable, and you get access to all of this:
Unlimited recording
No watermark
Export as MP4 or animated GIF
Crop and trim videos
Access for students, teachers, and staff
Usage data available on request
License reassignment at any time
Pay with offline PO or credit card
Bigger savings
Custom agreements
Whether you go for Screencastify Lite, or one of the Screencastify Full packages, the prices are incredibly good, and you get so much with each of the plans. It really is a product that offers massive value for money.
Screencastify alternatives
Camtasia
You can call Camtasia a granddad of screen capturing apps, as they've been in the business for 30 years. It's the most popular application by far, with more than 65 million users worldwide. Apart from screen capturing, they also offer an extensive app that has great video editing capabilities.
Loom
Loom focuses more on the workspace aspect of screen capturing. They were founded in 2015 and have 7 million users worldwide. They have video capture integrations with Chrome, iOS, Windows, and Mac. Again, the Chrome extension makes capturing video a breeze.
CloudApp
CloudApp is an award-winning application, whose headquarters are in San Francisco. They have over 4 million users and professionals from companies such as Mozilla, The New York Times and Mashable choose to use the app.
Screencast-O-Matic
They have a history dating back to 2006, so it's a long time since they've come onto the market. Screencast-O-Matic provides hassle-free sharing with their integrations with YouTube, Google Drive, Vimeo and Dropbox. Additionally, Screencast-O-Matic has a built-in video editor.
To Conclude
Hopefully, this review has taught you more about what the Screencastify Screen Video Recorder app has to offer, and shown you some of what this extension is able to do in order to make your life easier.
If you think this might be the next best thing for you, you can visit www.screencastify.com and try out Screencastify Lite free version to see how it works and whether or not it will be the right fit. It offers so many features and a great deal of flexibility, so we are positive that you are going to love it as much as we do.