ContentKing is a cloud-based service that improves and maintains search engine visibility by auditing changes in real-time. Just like Google, ContentKing has an index that it continuously updates to reflect the current state of your website. Any time you publish new content or make changes, ContentKing evaluates it.
A successful web-based business needs visibility with full situational awareness, intelligent and effective SEO to keep it relevant. It also needs to constantly monitor and analyse the site to ensure that its performing the way it should. Remember search engines never sleep.
If you're a small business with one simple website, then it's quite easy to keep an eye on aspects of its running, however, if you have more than one site – and each site has several pages – keeping on top of everything becomes a bit of a juggling act.
In the modern world, there are a number of tools available to help businesses get ahead and, our aim is to road-test the best of them to figure out which are worth getting on board with. Today, we're looking at ContentKing, with offices in The Netherlands and the Czech Republic.
What is ContentKing?
ContentKing is a revolutionary, in-depth 24/7 monitoring and alerting tool which provides real-time SEO auditing, content change tracking and proactive alerts.
Contentking is an enterprise grade cloud platform for real time SEO monitoring and content change tracking. While search engines are visiting your website numerous times per day – the tool simply tracks website changes in real time and sends notifications alerting users about any technical problems or unexpected changes to their website. In a nutshell – awareness at all times!
Content King allows for easy team collaboration to ensure that a business has a firm grip on their entire SEO process. The Slack integration plays an important role in that as it alerts you directly within Slack about high-impact issues and changes. You can also integrate ContentKing with Google Analytics.
Who is ContentKing for?
This tool is ideal for businesses who rely on intelligent data to tell them what's going right – and wrong – with their website. If your website is important to your business, Content King is worth investing in. Maintain your search visibility in full.
We do a lot of migrations @type_a_media here is a handy in-depth guide so your new website is search friendly from @contentking https://t.co/kAQqOOrFDi

— Ross Tavendale (@rtavs) March 20, 2019
CK is perfect for SEO specialists, Content Marketers, Marketing Managers and Developers as the tool is specifically designed for use within teams as it allows multiple users to quickly and easily create tasks and share information and issues (and you don't pay extra if you want to add multiple users).
Through its different pricing packages for brands and agencies, CK can be used by businesses with just one website with a few hundred pages through agencies and enterprises managing dozens of large sites with millions of pages.
If you want to automatically monitor some of the most fundamental SEO related configurations I highly recommend you check out @littlewardenapp, @contentking and @seomonitor 👌🛠 https://t.co/FS8K7twaYl

— Aleyda Solis (@aleyda) September 28, 2018
How does ContentKing work?
One of the great things about it is the fact that the app is entirely web-based – which means no tricky installation or downtime. Simply open an account online, pay your monthly, quarterly or annual fee and you're up and running..
After signing up, you'll receive a login and will be directed to a page where you can set your password.
Dashboard overview
Once you're signed in, you'll be directed to your very own ContentKing dashboard – which is kind of your control panel (kind of like on the Starship Enterprise but without the funny uniforms).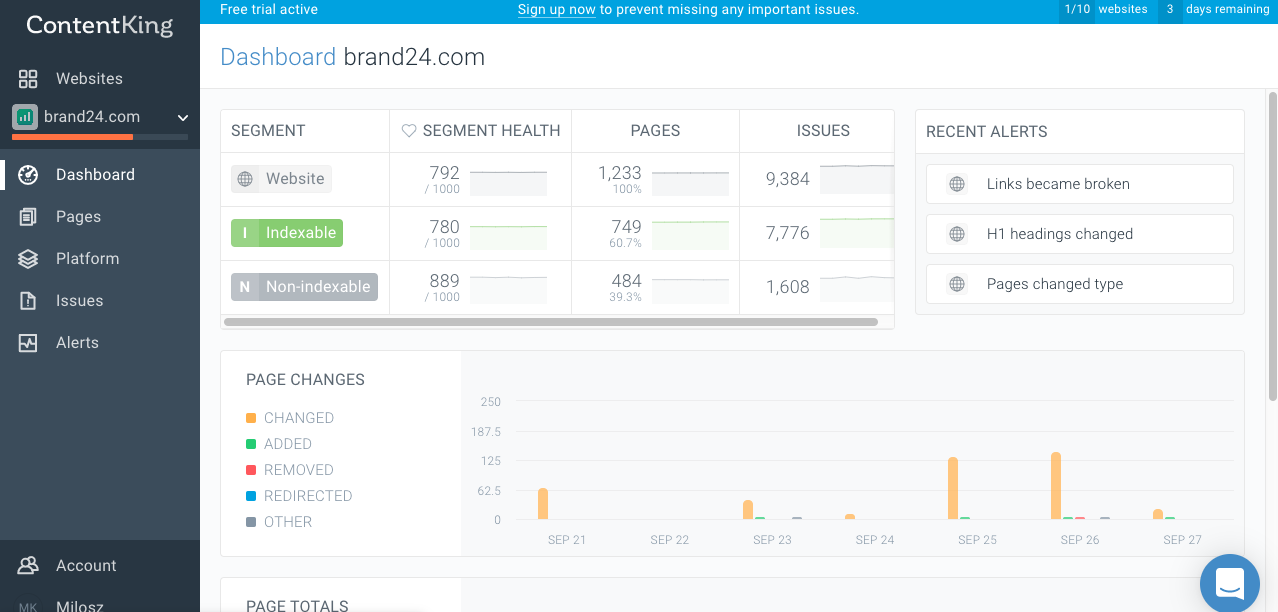 From your dashboard, you'll immediately get an overview of:
The SEO performance of your pages, split up by  segments (that you can define yourself)
Page changes that were recorded.
The development of the amount of pages and non-pages.
The development of your website's health score over time.
Pages overview
On the pages overview you'll see an overview of all of your URLs and its data. You can add or remove columns, and save your "view" for later use. That way, everyone can just set up their own "view", specific to their needs. You can choose to share it within your team, or just keep it to yourself.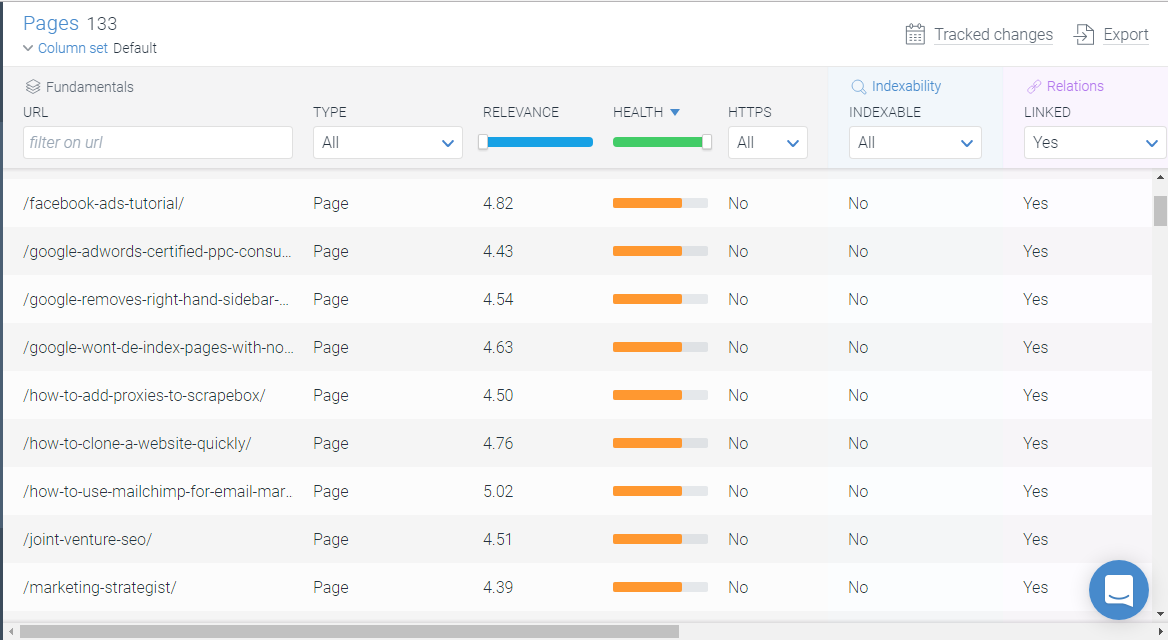 The pages overview allows for blazingly fast filtering on any field so you can quickly drill down to the information you need. The filters allows for advanced filtering using an easy to use interface, or if you want to get fancy you can just use RegEx.
If you're more visually oriented, you can switch over to the "Graphs view" (whatever floats your boat) and trawl through your website's data that way.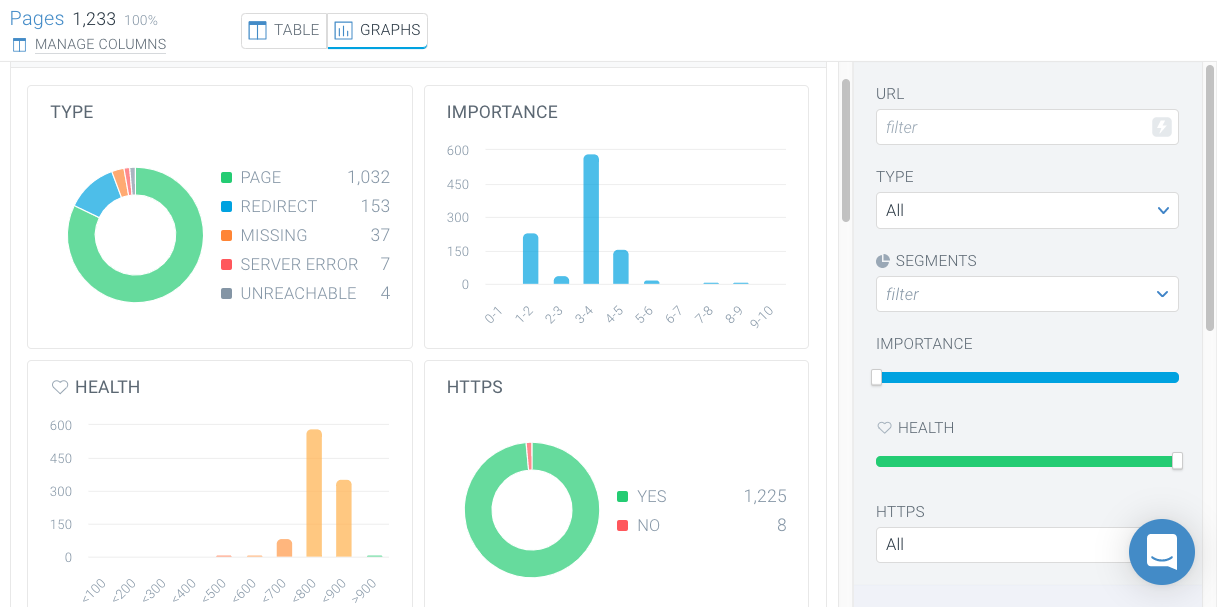 The "Compare dates" functionality here is massively powerful. It's one of the features that's truly unique to Content King. This feature allows you to compare the state of your website on two different dates. So for instance, if you want to see pages were added, changed and redirected within the last 7 days, or 4 months (or longer, depending on your plan) for that matter, you can just pull up that information.
No more sweaty palms during migrations right?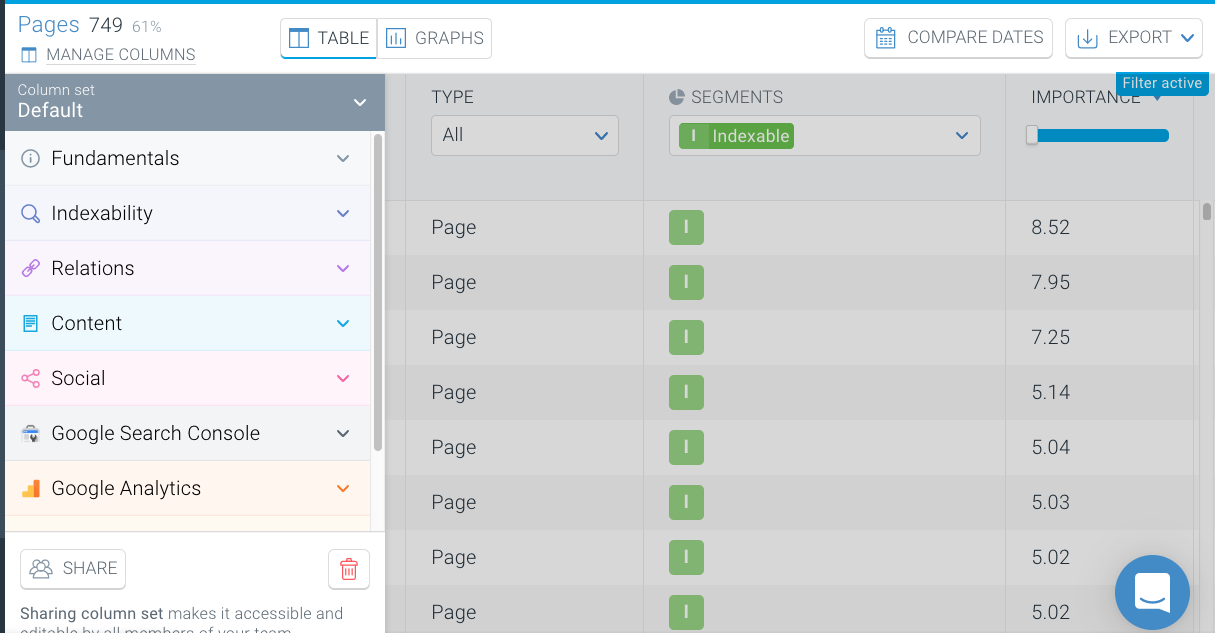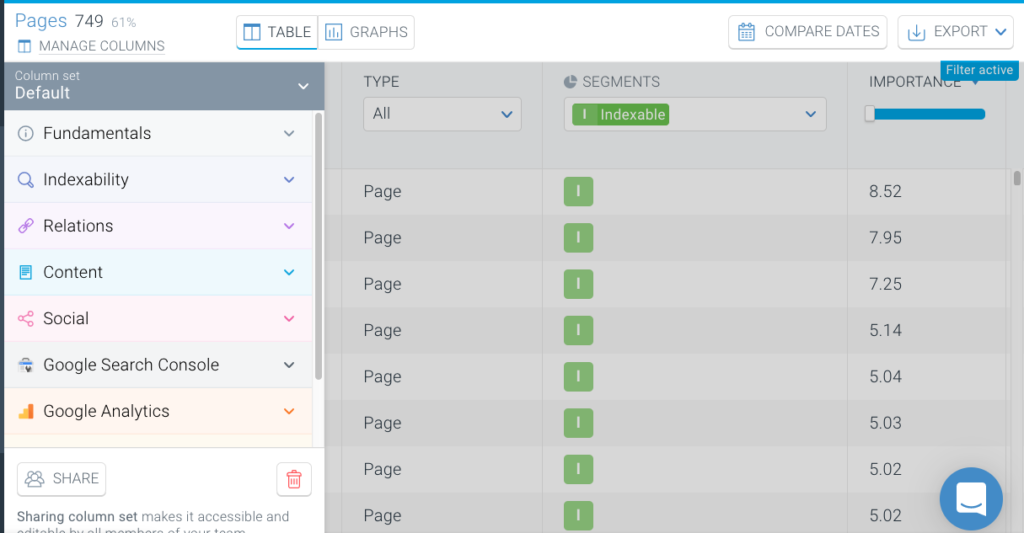 Everything that's on your screen here you can export to CSV, if you want to slice and dice the data set in Excel or Google Spreadsheets—by al means, go for it.
I love this chart! @contentking's auto-throttle algorithm detects slowness on customer's website (timing suggests a nightly back-up job), we immediately pause monitoring and then carefully ramp up monitoring speed as we see webserver perf improving.📉 > 📈 pic.twitter.com/7N3GgzkQ6y

— Vincent van Scherpenseel (@vincent_io) August 21, 2018
Platform checks
Below the dashboard you'll find the platform screen, which shows you in case there's anything wrong with your robots.txt file, XML sitemaps, domain redirects (HTTP, HTTPS, non-WWW, WWW redirects) or SSL-certificate.
The platform screen also has a neat feature showing you a change history of your robots.txt. So when you get into an argument with the development team about who added the "Disallow: /" directive, you'll have the data to show what changes were made, and when they were made.
Issues overview
The issues overview combines the platform issues with all SEO issues you'd expect, such as broken links, empty meta descriptions, duplicate titles, missing canonicals and much more.
I love ContentKing (@contentkingapp). Their alerts help me save clients from themselves – like adding a redirected page with 20K inbound links as a disallow command to robots.txt. Sigh.

— Jenny Halasz (@jennyhalasz) November 16, 2018
It's important to note that these issues are updated continuously, because of Content King's ongoing SEO performance monitoring. So while you're working on fixing issues on your site, ContentKing is already checking in the background whether you've done a good job, giving you near-instant feedback.
You can filter the issues based on the page segments that you've set up. So for instance if you have 10 segments, one for each product category of your eCommerce site, then you can zoom in specifically on the issues in one category.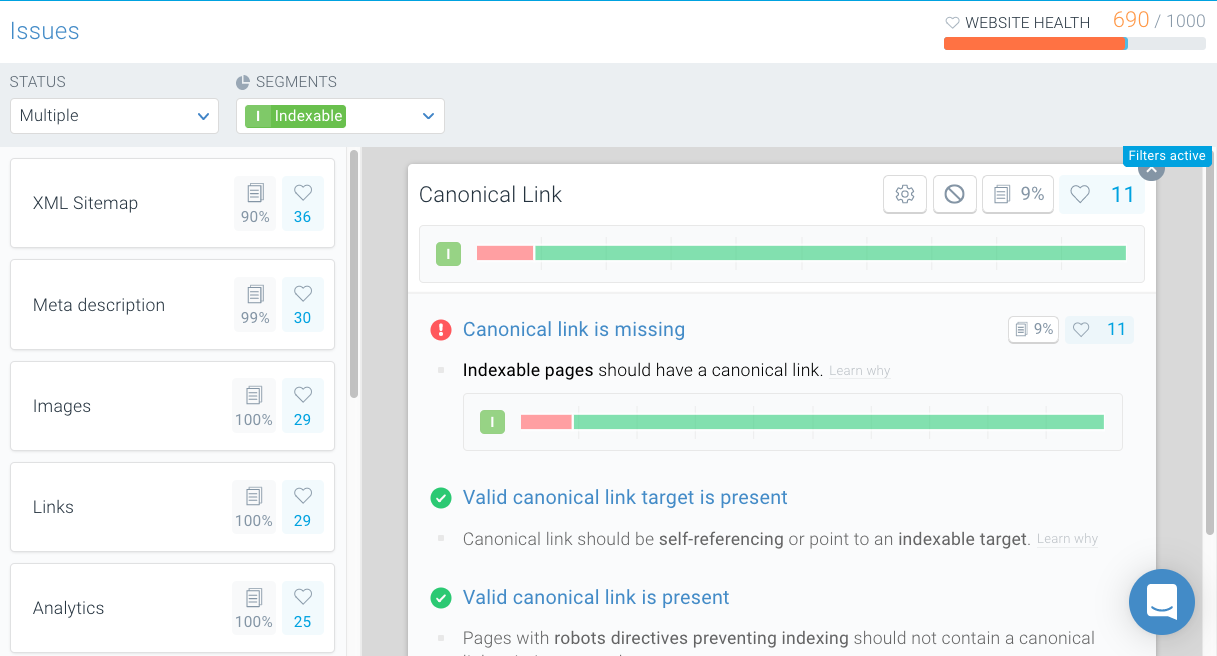 Alerts
CK's unique monitoring system allows for them to send you proactive alerts when they detect high-impact changes and issues. So for example, when someone on the team changes a bunch of title tags on important pages, hreflang references are removed, the robots.txt is accidentally emptied or your entire site becomes non-indexable: ContentKing will send you an alert. Through email, Slack or both.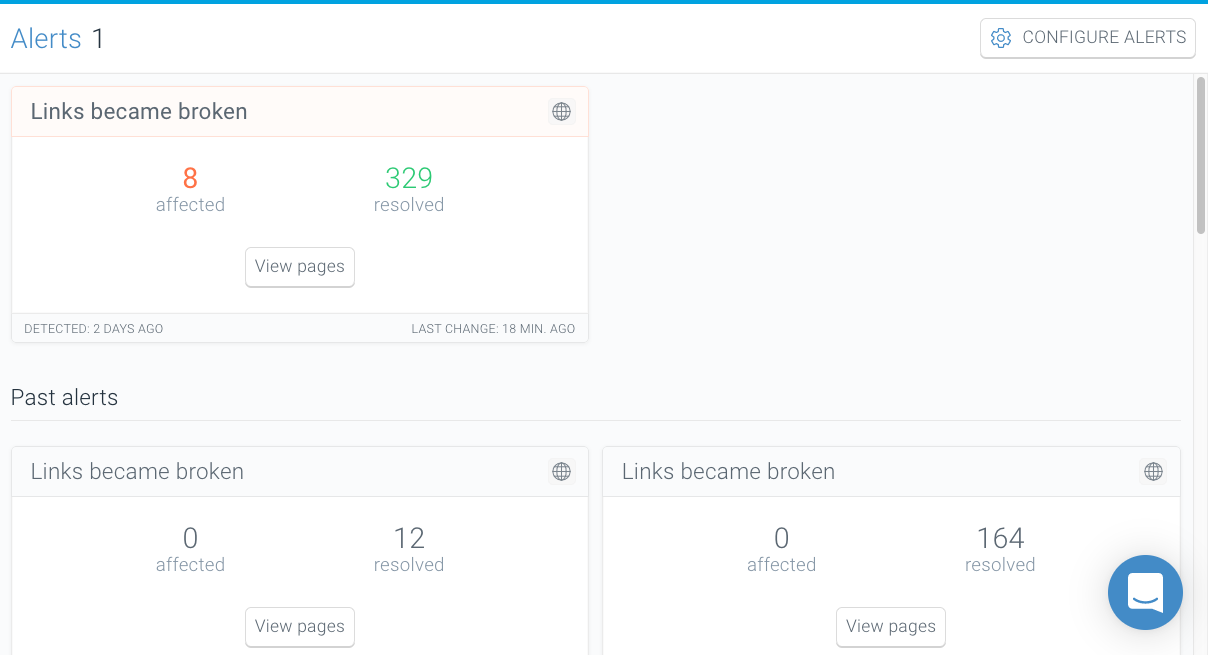 The beauty of this feature is that you can set up custom alerts for each website so the alerts are sent directly to the right channel so the right people can jump on it if need be.
CK – The Jewels In the Crown
Staying on track with your site's changes
Change tracking is one of the most significant features and, without a doubt, the most useful. Unique to this tool, this feature tracks changes to your website in real time – for example, should you decide to migrate your website to HTTPS, CK's real time auditing will display this change immediately, along with the date and time that the change occurred. This then allows you to filter your statistics and analyse changes by clicking on any page. Your statistics will be displayed as four main categories: Content, Social, Indexability and Relations.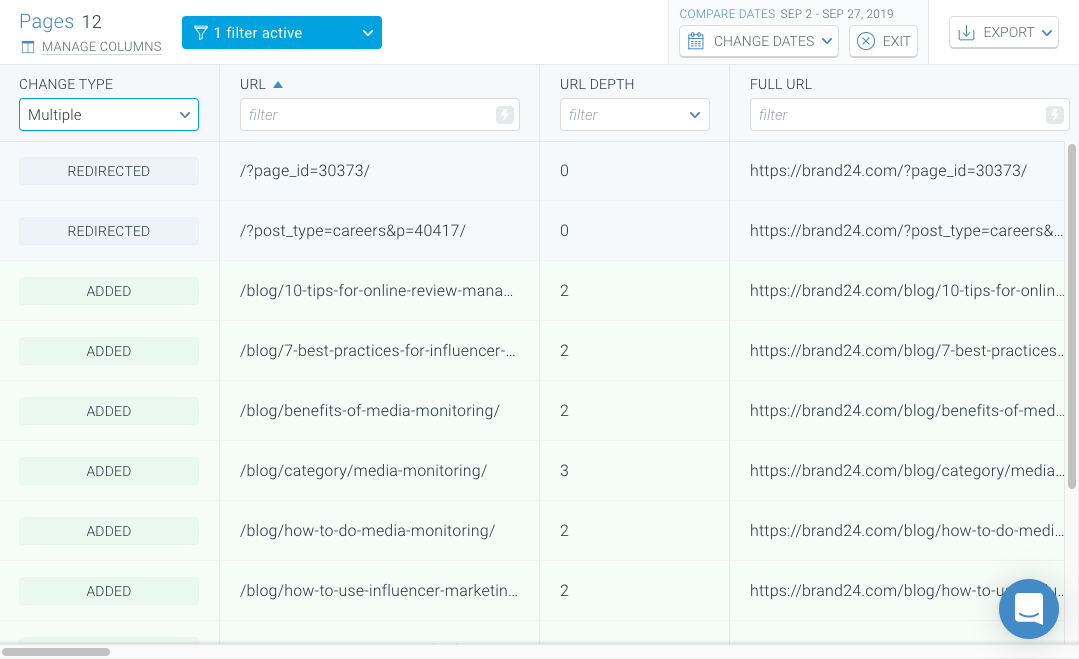 On the right hand side of the page you'll see the issues which CK has identified for your site, along with the suggested resolution along with your all important health score.
You can click onto any issue to see more detailed information about the problem and an explanation as to why this is important and should be fixed. ContentKing will often provide you with a specific solution, allowing you to take immediate action.
Quickly finding big issues
One of the major benefits is the ability to identify issues within your site in order to allow you to improve them.
A dedicated section allows users to gain an overall impression of all of the issues flagged, which may include meta details – for example, one of your pages is missing a meta description, CK is all over that – and will flag this as an issue, allowing you to take the appropriate action.
Detailed information on these issues can be accessed by simply clicking on the pages icon for each issue flagged.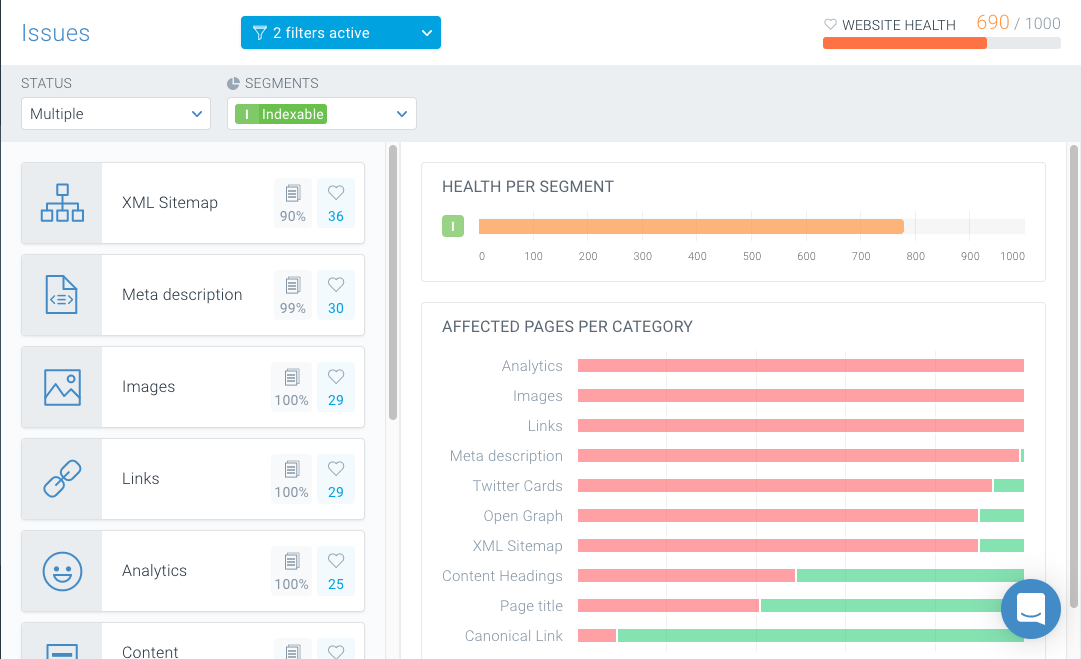 Analytics
This feature is particularly useful for those whose site doesn't already include analytical tools. By setting up analytics, you can easily access a whole load of different statistics relating to your site. This feature is incredibly important for those with multiple pages – and who don't have time to trawl through the site themselves.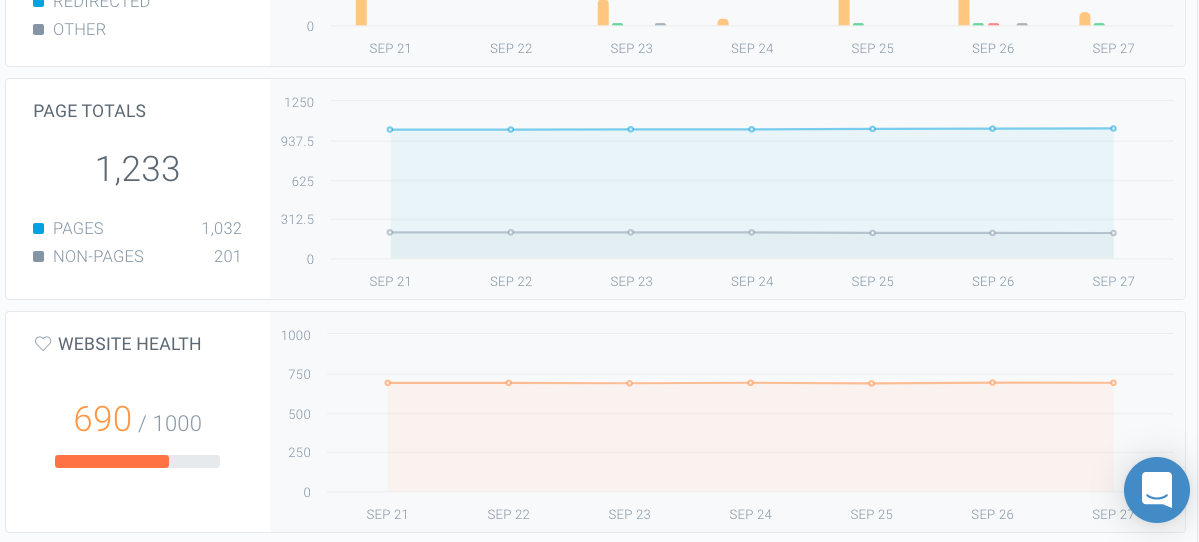 The Missing Link
It's impossible to over-stress the importance of internal links within your website. These help Google to navigate your site and, should your site contain errors and redirects, these will hamper Google's progress and affect your score. CK's Link feature will give you the lowdown on any errors and redirects as well as letting you know about any canonical links (the link which alerts search engines to the fact that another page exists) and broken links, helping you to fix errors and help Google on its way. ContentKing will track canonical tags within your site to help you avoid duplicate content issues.
Content Headings
ContentKing will let you know if any of your pages are missing their H1 tags. Content headings are extremely important as they allow Google – and your customers – to understand what your text is all about. Think of your headers as road signs directing drivers to the right place on your site.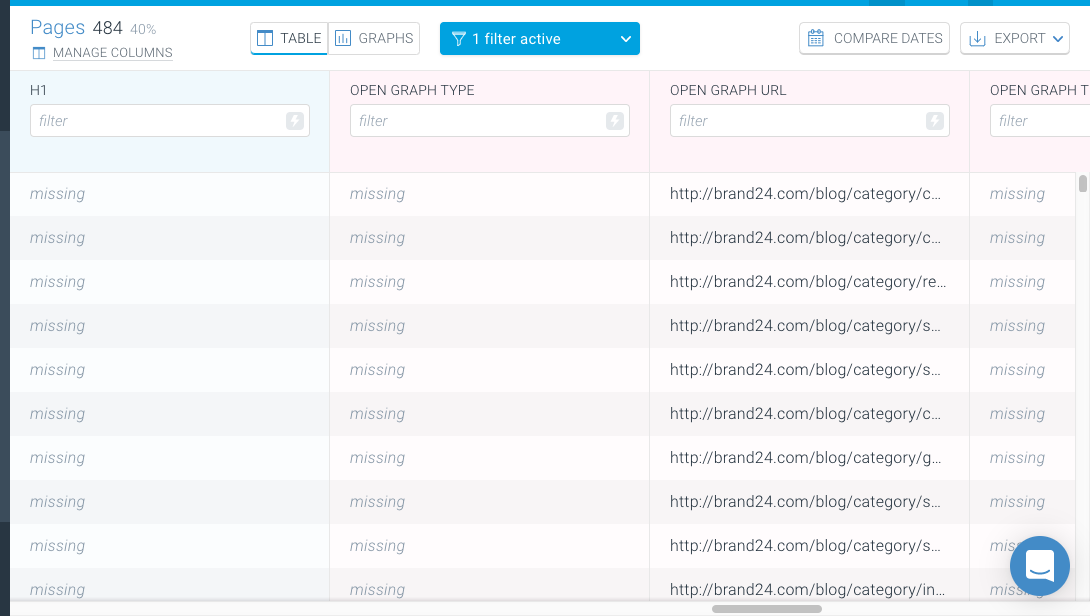 Similar to the content feature, ContentKing will flag up any missing titles and alt attributes in any of your images. Image titles exist, essentially, in order to help search engines figure out what an image is about – you've probably seen these on social media where an image hasn't displayed properly and the text will read, for example, 'may contain people, nature or animals'. This feature is really important as you need to know if images on your site are not displaying as this will affect the user experience.
Getting social
Any errors within your all-important social card elements won't be able to sneak past the eagle eye of Content King. Your social media cards are vital as ensure that your social media info is up to scratch. Content King will quickly let you know of any issues in this area, allowing you to get it sorted faster than you can hit 'share'.
Satnav for your site
Content King will alert you to any problems within your sitemap, including duplicate pages. Your sitemap is the all-important bit which allows the search engines to concentrate on your new and updated content, allowing the newer content to be seen first. This feature allows you to receive notifications about sitemap issues, thereby minimising problems being flagged by Google.
Stop, Collaborate and Listen
For many, this is one of ContentKing's most important features. Team Members allows you to include multiple users on your account quickly and easily (all you need is their email address) so that you can set permissions and get cracking with sharing information and tasks within the app. For many businesses, collaboration is beyond important and, Content King allows team members to connect without any fuss.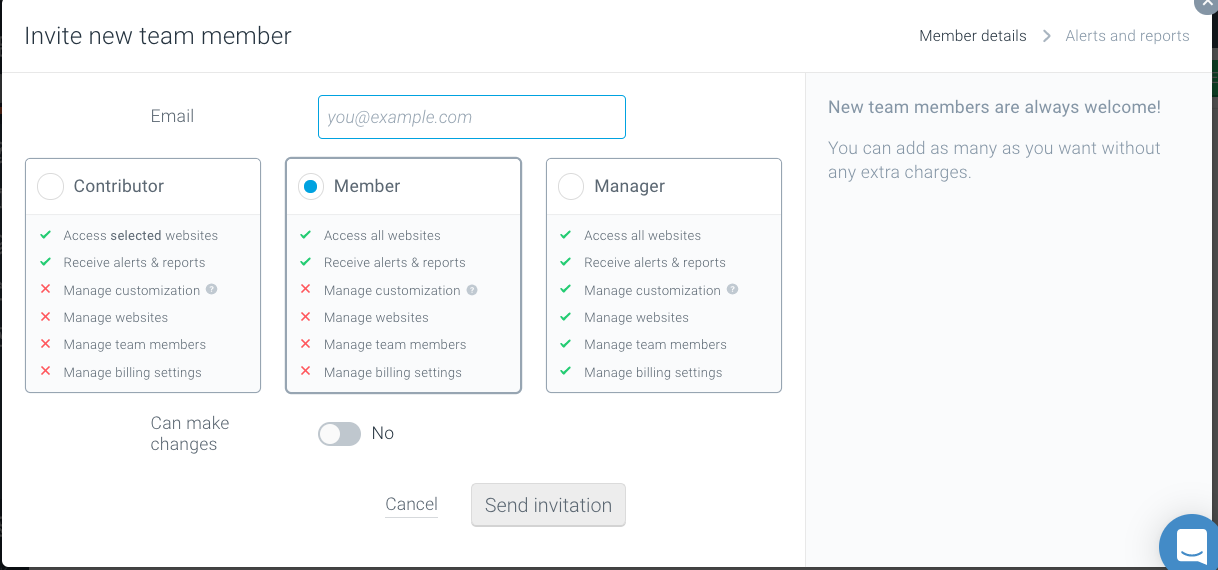 Email reports and alerts
These new features for 2019 make it even easier for you to keep on top of your site's performance – even when you're not logged onto the app. This means that, wherever you may be, you'll stay informed of what's going on with your site. This gives you the opportunity to fix problems before your rankings drop.
What's the pricing like for CKing?
The tool offers four pricing options as follows: Basic, Standard, Pro, and Enterprise.
The pricing is based on the total number of monitored pages on all of your websites altogether. You can read more about the bundles in this article.
There are lots of misunderstandings in the SEO community about what is actually meant by 'crawl budget'. This article from @contentking is an excellent primer:https://t.co/UemdY4FJ6j

— Barry Adams (@badams) August 22, 2018
Pros, Cons and………..more pros
ContentKing is almost unique in that the downsides of the app are almost non-existent – but a review wouldn't be a review without this section so, here goes:
The King Of The Castle
The (many) pros of ContentKing are as follows:
Impressive accuracy
The accuracy of ContentKing's results is second to none and easily beats any other similar tools that you might come across. In addition to being accurate, the notifications sent by ContentKing are always up to date and relevant.
Real time – real results
For busy startups and SMEs, the fact that Content King works in real time is invaluable – and almost worth the price in itself. This great feature means that changes and errors are spotted – and resolved – quickly; which is incredibly important for those whose business relies on their site.
Some of the tools I use are, @semrush @deepcrawl @contentking @ahrefs @Majestic but there are many tools used for different areas (1/2)

— Craig Campbell (@craigcampbell03) September 11, 2017
User friendly
One of the outstanding benefits of this great tool is the ease with which you can get up and running. The fact that the instructions and navigation are straight-forward and non-techy – means that even technophobes can get on board quickly and easily.
When it comes to set up, the fact that this is entirely Cloud based is a major plus.
Customer service
The Content King customer service team is friendly, proactive and efficient – which means that any issues are dealt with comprehensively to minimise any downtime. Customer service is usually the bit where most apps fall down so, this is another gold star for Content King.
Quick plug: The guys from @contentking are doing cool things. They let you track SEO changes in your website.https://t.co/sd3pamxrbG pic.twitter.com/N8JEUNJf8v

— Bas van den Beld (@basvandenbeld) June 26, 2017
Princely sum – not a King's ransom
The choice of pricing packages allows for easy budgeting – with the option to easily upgrade as your business grows.
The dirty rascal
As I've said, I struggled to find any major downsides but, here goes:
JavaScript issue
The tool does not currently have the ability to render Javascript but this is hopefully something which is in the pipeline as the app is continually evolving and adding new features and benefits.
Price per page
Although the pricing for the packages is clearly laid out, the price per page option can be a little awkward – particularly for those who may not currently know just how many pages they're likely to be dealing with. Good thing there's a 14-day trial to tackle this!
A time machine for your #SEO efforts – https://t.co/c4tQkKhzab
Track content changes across all your websites

By @contentking pic.twitter.com/HpHCTRaqAr

— Omi Sido (@OmiSido) June 14, 2017
What's a ContentKing alternative?
SE ranking is a tool developed to help users measure the SEO progress of their website. The tool provides data on a number of key metrics, including keyword rankings, organic traffic, backlinks, and more. The SE ranking tool can help users to track their progress over time, identify areas of improvement, and compare their performance to their competitors. In addition, the tool can be used to generate reports that can be shared with clients or management.
Ahrefs
The Ahrefs tool is a powerful SEO tool that can help users to improve their website ranking. It provides users with detailed information about their website, including backlink data, keyword rankings, and traffic data. Additionally, Ahrefs offers users a variety of features to help them improve their website ranking, such as site explorer, rank tracker, and backlink checker.
SEMrush is a powerful competitive research tool that helps users improve their online visibility. The platform provides detailed insights into the SEO of competitors, allowing users to identify opportunities and optimize their own campaigns. In addition, SEMrush offers a range of other features including keyword research, backlink analysis, and site audit.
Conclusion
We'll be honest – if website is important to your, you really need to get your hands on ContentKing. In addition to the many useful features – including some which are innovative and, pretty much exclusive, the ease of use and super simple installation make the app a dream to use.
For anyone who has spent time, money and effort trying the various SEO tools out there, this one really is the only one you'll need going forward.