How much time do you spend each week chasing up new leads? I'm going to take a wild guess that the answer is almost certainly 'too much'. When I first started my business, I would spend an extraordinary amount of time finding and following up on new leads only for them to amount to nothing in the end. As I'm sure you'll agree, this time consuming process is not effective.
For this reason, I decided to look for a tool for generating leads or prospects, and to try a few out and let you know what I think so that you don't have to – you're welcome! Today, we're going to be looking at a pretty cool bit of kit coming out of Bangalore, called Aeroleads.
AeroLeads is the go-to solution for sales intelligence and prospect generation, especially for businesses in B2B industries. By utilizing the Chrome plug-in, AeroLeads can quickly gather data from social networking websites like LinkedIn, GitHub, AngelList, Inbound.org, and CrunchBase to create targeted leads lists that are perfect for your business goals.
Aero what now?
What that means in plain English is that it does a great job of helping you to identify possible leads and even hands over contact details which you can collate within your Aeroleads account.  A great tool for generating leads, I'll take you through the ins and outs of this platform in this review.
How does Aeroleads work?
Aeroleads is a web-based software solution and, it finds the email addresses and more of all those shiny new relevant prospects by scouring platforms such as LinkedIn, Crunchbase, AngelList based on the info that you plug into the system. Where available, the tool will also provide website addresses and contact details including phone numbers and email addresses for each new contact which you can then collate and export as a CSV file for use in your prospecting.


With anything data related, there are always concerns regarding regulations and legality in terms of the requirements of GDPR. Happily, Aeroleads' outstanding legal team are constantly on the case to monitor new guidance and to implement best practices to ensure that Aeroleads' services are in full compliance with GDPR guidelines – which means complete peace of mind for its customers.
Who uses Aeroleads?
This popular software is used by thousands of businesses worldwide who are looking to improve their marketing strategy through lead generation. Aeroleads' client list includes some big hitters including IBM, Adobe, GrubHub and Dominoes (yep, the pizza guys).
How would one get started with Aeroleads?
This bit is super simple, here's how you get started with Aeroleads tool for generating leads:
Tap on over to https://aeroleads.com/
Click onto the green 'Free Trial' button in the top right hand corner
Enter your name and email address and choose a password
Click onto the orange 'Create Account' button
Click onto the green 'Install It Now' button to get your mitts on the Aeroleads Chrome extension and follow the instructions
Aaaaaaaaaand, you're done – you're now ready to start hunting down those leads!
From your dashboard, you can now get started with building your leads or prospects. Simply use the 'Search Prospects' box on the top right hand of your screen to begin your Aeroleads adventure.
What is Aeroleads' pricing?
Aside from the custom Enterprise option, Aeroleads offers four separate price packages and, these are:
Take Off Package $49 per month
With this option, you'll receive 2000 credits and the following services:
Find Emails
Full Names
Company Names
Phone Numbers
URLs
Title of Prospects
Import Data From CSV and Export To CSV
1 User
Climb Package $149 per month
With the Climb package you can build your leads with 8000 credits and you'll also get all of the services from the Take Off Package plus:
5 Users
Transfer to Salesforce, Zoho CRM, Mailchimp, HubSpot, FreshSales, Zapier and other platforms
Cruise Package $499 per month
You get an easy ride with the Cruise Package with 30000 credits, all the goodies from the Take Off and Cruise packages plus:
Unlimited users
Chat, email and phone support
Enterprise Package – Custom price adjusted to your personal needs
One Aeroleads credit is equal to one contact added by yourself.
You can start yourself off with Autoleads with a free trial.
What are Aeroleads' Features?
Aeroleads has some pretty cool features to help you on your way and, they go something like this:
Prospect And Lead Generation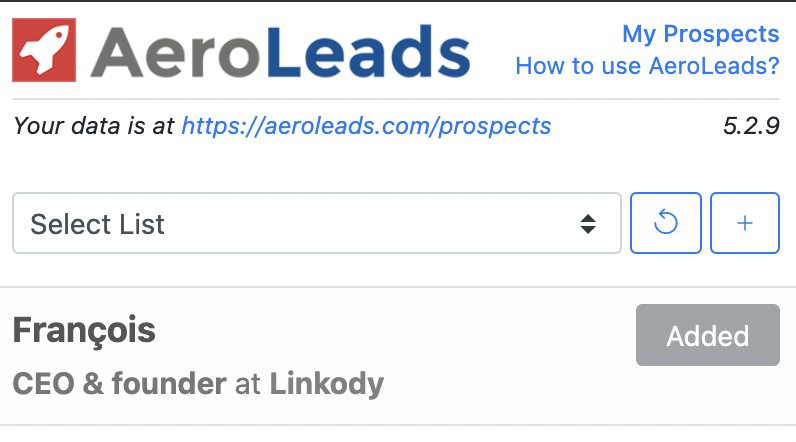 This is, of course, Aeroleads' main feature with a few starring roles included. This feature uses the search parameters that you have chosen to sweep popular social media sites, including LinkedIn to identify leads or prospects who may fit the bill for your requirements. These are presented to you along with any available contact details in order to allow you to quickly build up your database of leads.
This feature enables you to drill down search parameters such as size of business, skills and experience of employees and other requirements in order to make sure that you get the most accurate results possible from your search. This feature includes a number of sub-features such as:
Lead Capture
Lead Database Integration
Lead Nurturing
Lead Scoring
Lead Segmentation
Lead Verification
Pipeline Management
Prospecting
Company And Individual Profiling
With the Cruise and Climb packages, you can take advantage of this clever feature which essentially puts together a profile of a company and even staff members to allow you to get a better idea of what they're about and, whether they're likely to be a good fit for your requirements. This feature can be invaluable when it comes to reaching out to your new contacts.
Exporting
This feature lets you export the results of your searches to CSV (and also your own CRM) to give you a ready to use database of contacts for your lead generation processes. This also gives you the ability to share your contatcts with other members of your team quickly and easily.
Team Collaboration
Aeroleads' Climb and Cruise packages allow you to add multiple users to your account which means that different members of your team can work on your lead generation at the same time.
Email And Phone Number Search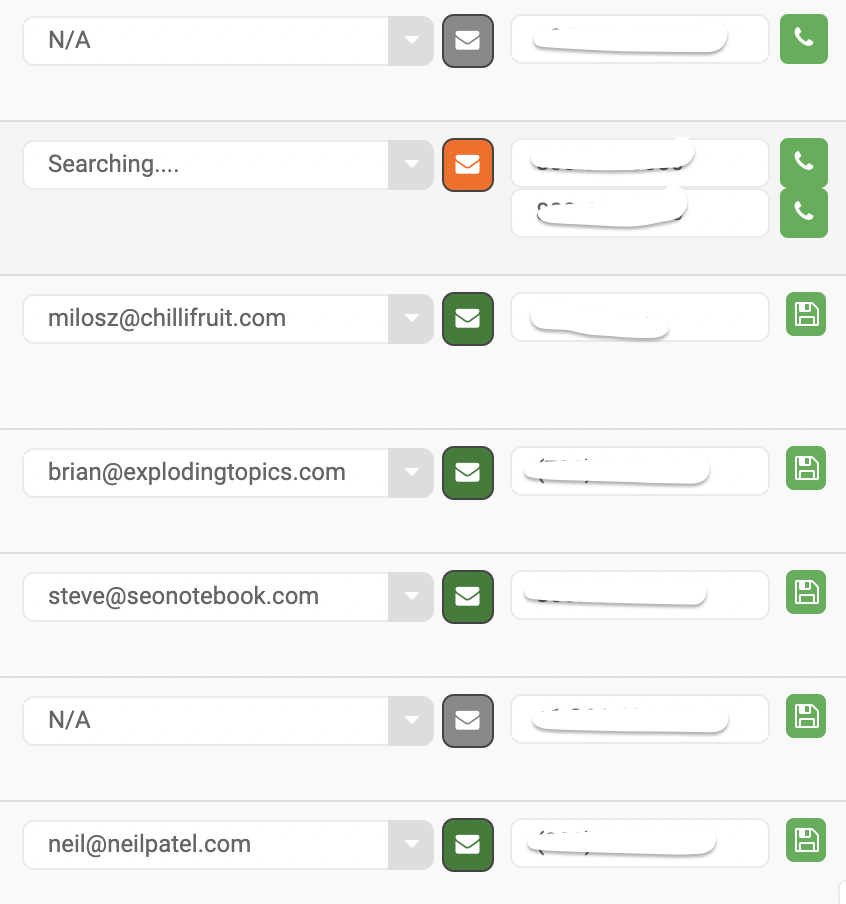 As well as finding brand new contacts, this feature allows you to search for contact details for known contacts, specifically phone numbers and email addresses.
Training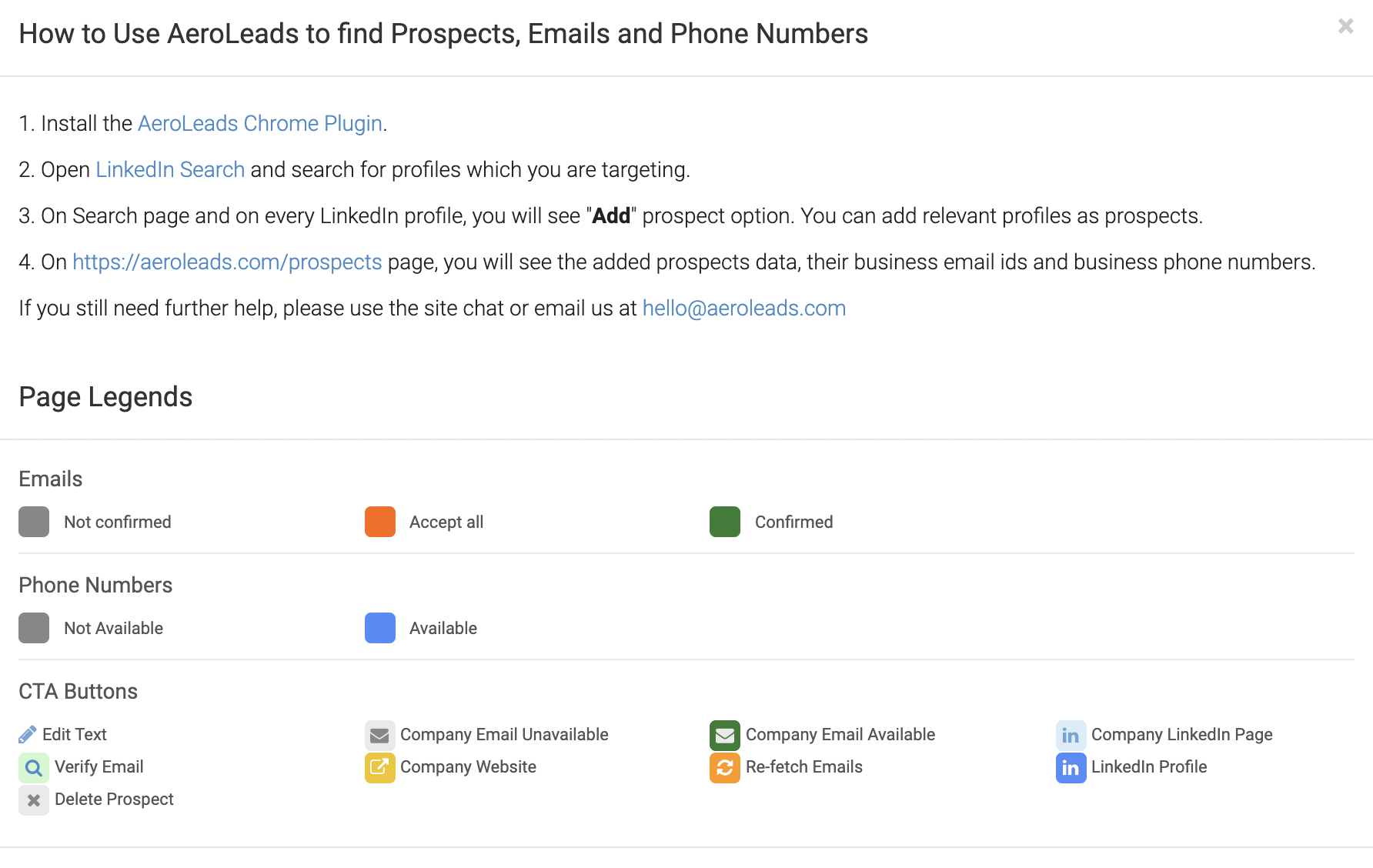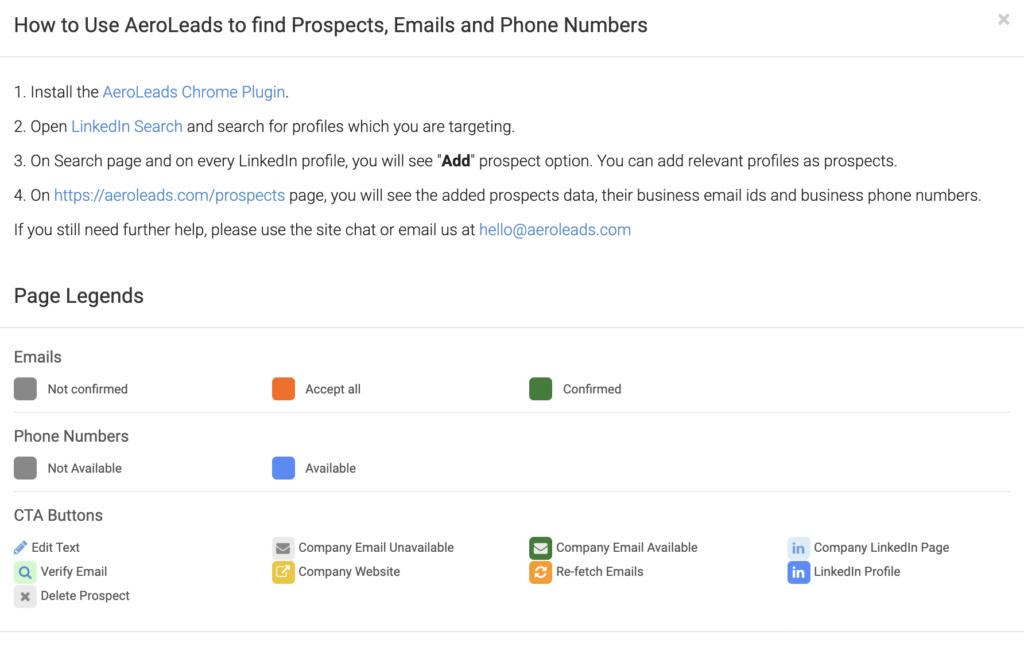 Depending on the package that you choose, Aeroleads offers a number of different training opportunities to help you get acquainted with the tool and find leads or prospects including:
In Person
Live Online training
Webinars
Documentation
Customer Support
As with any decent online tool, Aeroleads offers different ways of gaining vital customer service. With the Take-Off and Climb packages, you have the choice between email and chat support and, with the Cruise package, your options are email, chat and phone.
Email Verification
This is the part where Aeroleads really does get a chance to shine, above and beyond its competitors. Aeroleads' verifier tool makes validations at a number of different stages including format, domain information, mail server response and comparison against its huge database of over 100 million professional addresses. For businesses, this means that you're getting properly verified email addresses and won't be wasting time with dud ones.
Contact Information Database
Aeroleads prides itself on its massive company databases of professionals and it works hard to collate as much contact info as possible. In fact, in most cases, this lead email finder touches on 15 different data points which includes full name, company name, job title, location, business emails and phone numbers, personal emails, and much more. In some cases, the tool also provides a mini-profile for individuals for even more insight.
Aeroleads' Pros And Cons
As with most online tools, there are some good bits and some bad bits so, let's take a look at some of these for Aeroleads:
The Pros
Rollover – As mentioned, the pricing for Aeroleads works by credits and, refreshingly, any leftover credits are rolled over to the next month, which provides a better value for money.
Email Verification – Aeroleads uses four layers of email address verification before calling it good so you rarely get a dud address that bounces back at you.
Easy to Digest Data – Aeroleads presents prospect data in a really sensible, straightforward way to give you an at a glance overview of your results.
Ease of Use – Aeroleads is super easy to use which saves tons of time when makes finding new sales leads a breeze.
Accuracy – Probably one of the most important pros for Aeroleads is that the results it hands over are incredibly accurate; more so than many similar tools that I've tried prior to this one.
The Cons
Information loading – I found that the loading of information for Aeroleads could be a little slow at times which is a minor frustration.
Price – Starting at $49 per month for the Take Off package, Aeroleads is certainly not the most cost-effective lead generation tool on the market at the moment. Still, it does provide decent value for money.
What are Aerolead's Integrations?
Aeroleads is constantly working on adding integrations to make its platform even more effective and, currently, these include: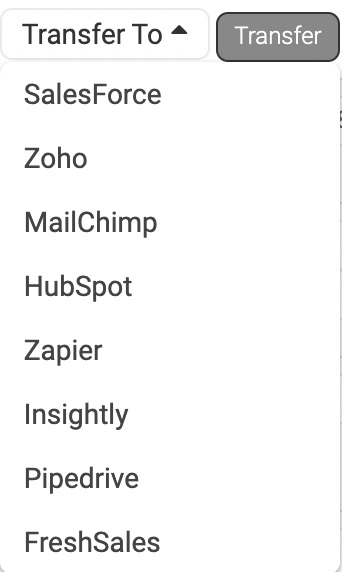 Are there alternatives to Aeroleads?
Yep, if you don't like what you see here, there are some pretty competitive alternatives out there and, some of these are:
DiscoverOrg
Launched over 10 years ago, DiscoverOrg is a great alternative to Aeroleads and offers a ton of features and functionalities which give businesses access to more insights and data coverage. Ideal for businesses of any size and type, DiscoverOrg is constantly updating its intel to ensure up to date results. DiscoverOrg's pricing is available on request.
Lusha
Founded by Yoni and Assaf in 2016, Lusha has over 100 employees and is a fun and effective tool for snagging new leads along with their contact details. Lusha costs $39 or $49 per month with a basic free package available.
Used by 30% of Fortune500 companies, London based ContactOut is a B2B sales intelligence business platform which allows users to quickly identify and get connected to new customers using the app's outstanding prospecting tool. The fact that ContactOut's team is made up of developers and marketers means that its always one step ahead when it comes to reliable data. Sales teams will find this one particularly useful. ContactOut pricing starts from just $19 per month.
Clearbit
A marketing software for businesses, Clearbit is a suite of tools which help users to identify prospects and to personalise their sales and marketing interactions. Clearbit's pricing is based on company size and requirements and is available on request.
Voila Norbert
Founded in Austin, Texas by Sujan Patel, the curiously named Voila Norbert is an email finder tool which helps to improve cold emailing by allowing you to find business contact information instantly. Voila Norbert costs between $49 and $499 per month.
Swordfish AI
Launched in 2015 as a data mining tool, Swordfish AI now boasts customers across the globe and specialises in creating data partnerships to bring its customers the most accurate and up to date results possible. Swordfish AI has two packages priced at $79 and $99 per month.
Zoom Info
Massachusetts based Zoom Info is the brainchild of entrepreneur, Henry Schuck, and is used by some prestigious brands including Panopto, LeaseQuery, Savantis Solutions and DN Anexus. An advanced B2B phone number finder database for sales and marketing professionals, Zoom Info allows users to make short work of finding and engaging with qualified prospects. ZoomInfo pricing is available on request.
Conclusion
When looking at a tool like this one, your first question is likely to be 'what can it do for my business?' The answer to that is, quite a lot, if you're after growing your database of leads quickly and easily.
One of the biggest selling points of this tool is that its really accurate in the kind of leads that it finds for you through its prospecting tool. All in all, Aeroleads is a good tool for generating leads, although there are some downsides. I've mentioned that this isn't the cheapest tool of its kind out there, however, it is worth keeping in mind the fact that your $49 a month for the Take Off package does give you 2000 credits – which is, potentially, 2000 leads with this email and phone number finder.
The ease of use of this prospecting software makes it a really good choice for those who are not used to working with online platforms as it really is so simple to use and navigate.
I've also mentioned some more cost effective alternatives and, some of these are great, however, if you're looking for a lead generation software which will find you leads, is super simple to use and really gets results then I would urge you to at least give Aeroleads' free trial a go before making a final decision.