Anybody with a website will tell you that a big number of links (backlinks, right?) are essential to the success of their site or search engines – no doubt about it.
Essentially, backlinks are pathways from another site or online outlet which lead to your site – bringing with them potential new customers. In terms of website ranking, strong backlinks are essential to move your site up the page.
For this reason, it's incredibly important to be able to keep an eye on your backlinks – where they are, how they're working, what their parameters such as Domain Authority are, and most importantly, tracking those which go missing. Is that clear?
There are a few tools out there that help you to check not only your own backlinks but, also those of your competitors and, I am on a mission to road-test these tools – starting with a Netherlands-based Linkody review.  
Linkody helps you track your link-building progress and find new growth opportunities. By collecting data from many sources, Linkody gives you the most complete picture of your domain's link profile. You can easily spot toxic links and disavow them, discover new link-building opportunities, and see where your links are located on a page with one click. Plus, you'll receive notifications of any new or lost links.
What the heck is Linkody?
Linkody is a backlink checker and monitoring service in the form of a SaaS. The main feature of Linkody is its ability to help you understand why your site is losing backlinks. Then, on that basis, you can conduct link building campaigns more effectively.
A handy dashboard allows you to keep track of all of your backlinks including follow links, nofollow links and site-wide footer links.
You can also alert Linkody to alert you to upcoming links for more wide-ranging insight.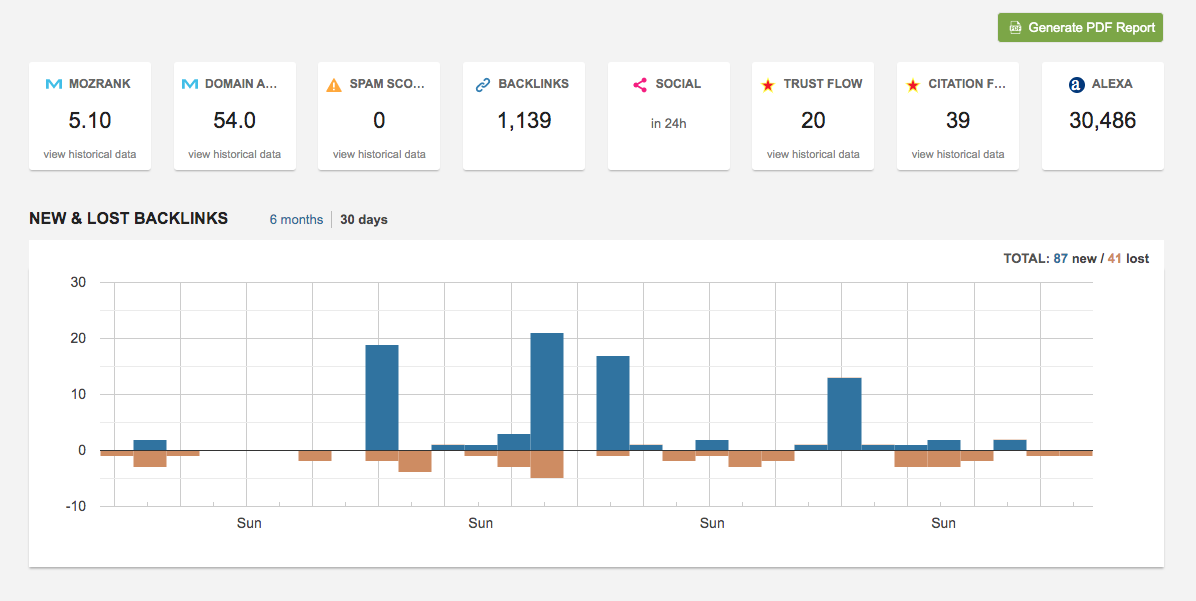 The Main Features – Linkody's Starring Roles
Link Analysis and Monitoring in Links Tab
Linkody's main – and most useful – tool is the backlink checker and monitor. This tool allows you to keep an eye on all of your backlinks quickly and easily – including both those important lost links and the new links. Keeping your eye on your link profile feels like a breeze.
Remember ⚠️ backlinks are important to a business as they expose your site to unlimited new customers by introducing it to users of other websites. 
Startups, affiliates, SMEs and many more put a huge amount of work into gaining backlinks in order to improve visibility and ranking.
Lost backlinks can be damaging to your business as well as affecting your Google ranking. Similarly, large numbers of spam links can also damage ranking.
Linkody allows you to set up daily notifications of changes to your links; meaning that you'll know of any lost links within 24 hours – giving you the chance to quickly get in touch with website owners in order to resolve the situation.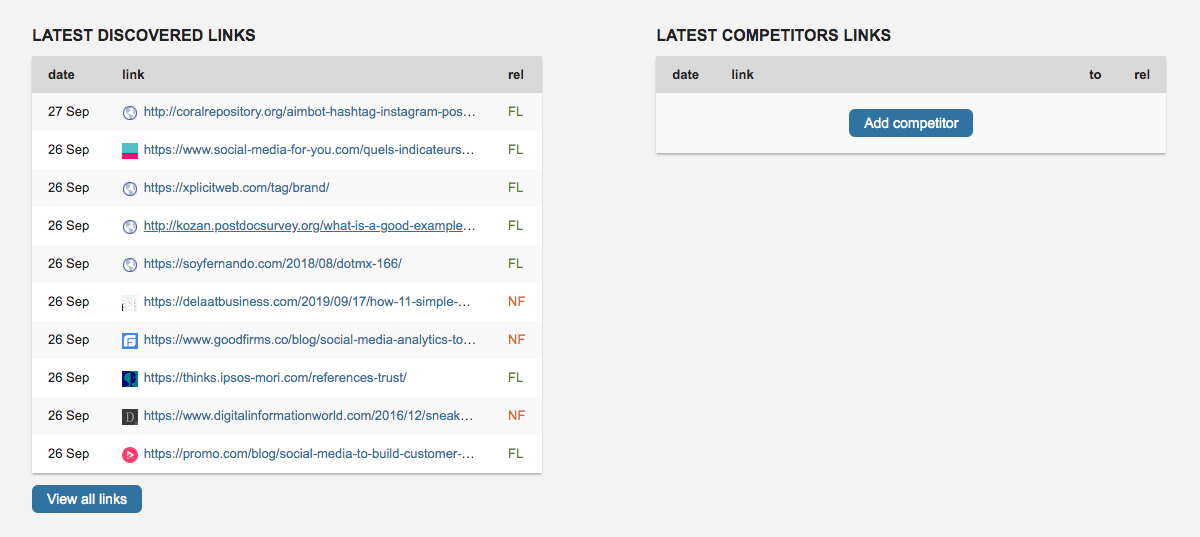 Competitor research – compare and contrast
As important as it is to keep track of your own backlinks, it's equally important to know what your competitors are up to and what's their link building strategy. You can also see their backlink profile and their new backlinks, and compare yourself to them. This can further improve your link building strategy, as you'll be able to discover new linking possibilities.
Linkody allows users to check out competitor links in order to understand where they're coming from – and also, to give you an idea of why you may be losing your own links. 
This can also help you to revise your backlink strategy and look at the possibility of replacing your competitor links with other resources on your site.

Within the competitor research feature, you can view the highest-ranking pages of your competitors by navigating to these pages and clicking on 'View Top Pages'.
This will allow you to easily identify links, and view all kinds of useful information such as the average page metrics (e.g. Moz DA a.k.a Domain Authority, Spam Score), content length and type and, the links that are associated with their highest performing work. 
In order to achieve the best results, select competitors from the same or similar industry to yourself to narrow down the results.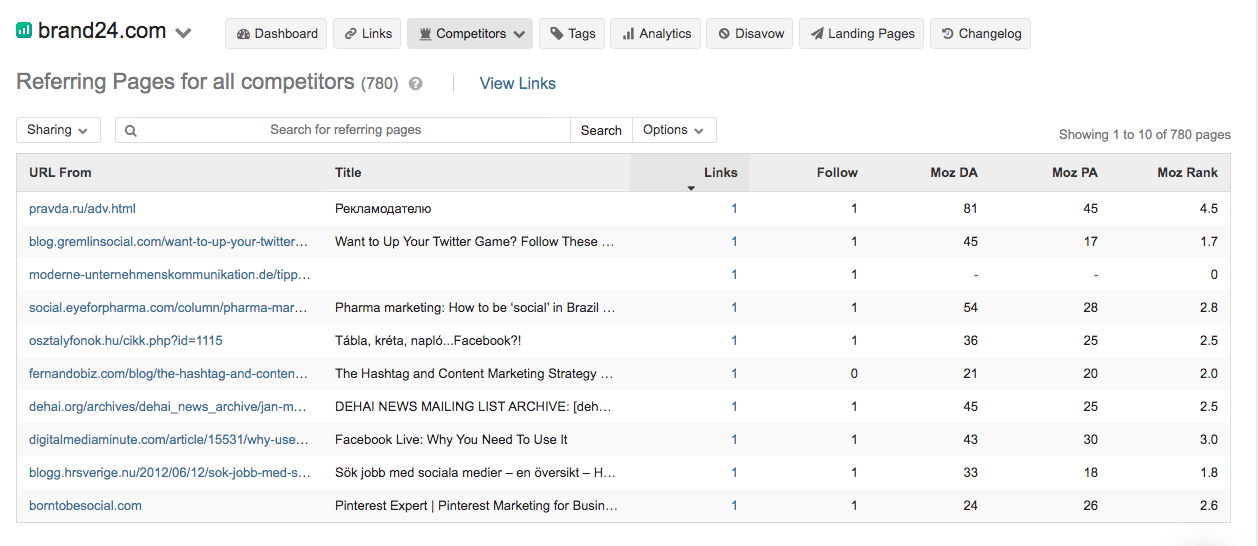 The links section allows you to perform the following competitor research:
Check for pages and links which you share with your competitors
Check for pages and links which your competitors have but you don't
For the best results, use search terms 'Review', 'Blog' and 'Tools / List'
Disavow Rule Generator – an extra pair of eyes

Even if you're a whizz with SEO and Google's best practice when it comes to backlinks, this is still a really useful tool.
Many people make the mistake of believing that, after Google's last Penguin update where it was stated that spam links will be devalued, there's no longer any need to manually check spam links.
On the contrary, this is still incredibly important – as huge as Google is, it's not infallible – and its algorithms aren't always 100% perfect.
Linkody's Disavow Rule Generator (it's connected to GSC disavow tool) allows users to quickly and easily check your spam links and remove them in order to keep your site updated and in line with spam guidelines.
Crunching the numbers – Linkody's SEO Metrics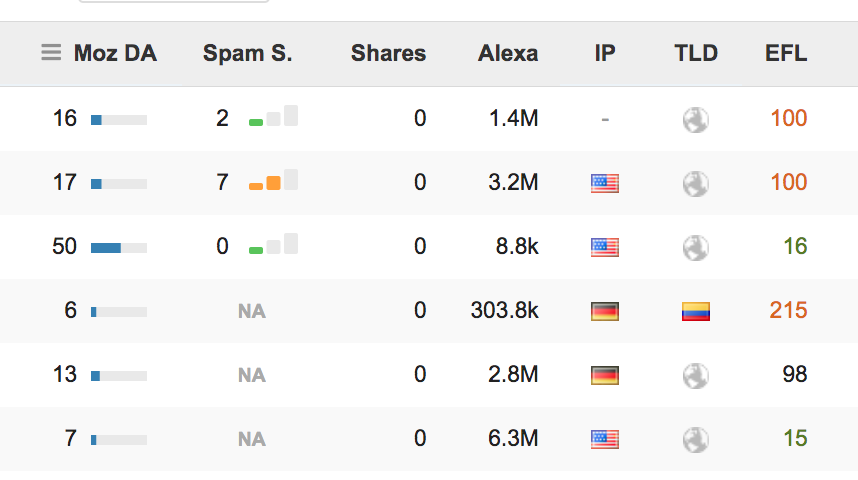 Yes yes, we know that you're an SEO guru but, there's no harm in getting a little help.
Linkody uses Moz and Majestic to calculate the SEO value of your website based on your backlinks and internal links.
Using industry standard metrics, Linkody shows you the whole picture of your site's SEO to allow you to make improvements.
Linkody – is it for me?
Any business or individuals who will benefit from knowing the score when it comes to backlinks may benefit from using Linkody.
Whether you have just one website or a whole host of them, Linkody is a great tool for checking for lost links and removing spammy ones to keep your site link-healthy.
Who currently uses Linkody?
A huge number of customers already use Linkody – with more joining the site every day. As well as SMEs and individuals, Linkody also lists some impressive names on its client base including True NL, Weboref FR and stock exchange company Etoro.
Tell me more – How does Linkody work?
The great news here is that there's no mucking about with any complex or fiddly installation – just visit the website and get started.
First sign up for an account at Linkody.com, enter your name, password and email address. At this stage, you can take advantage of the free 30 trial or proceed directly to a full account.
After submitting your details – and assuring Linkody that you're not, in fact, a robot, you'll receive a confirmation email with a code. Enter the code onto the site where specified.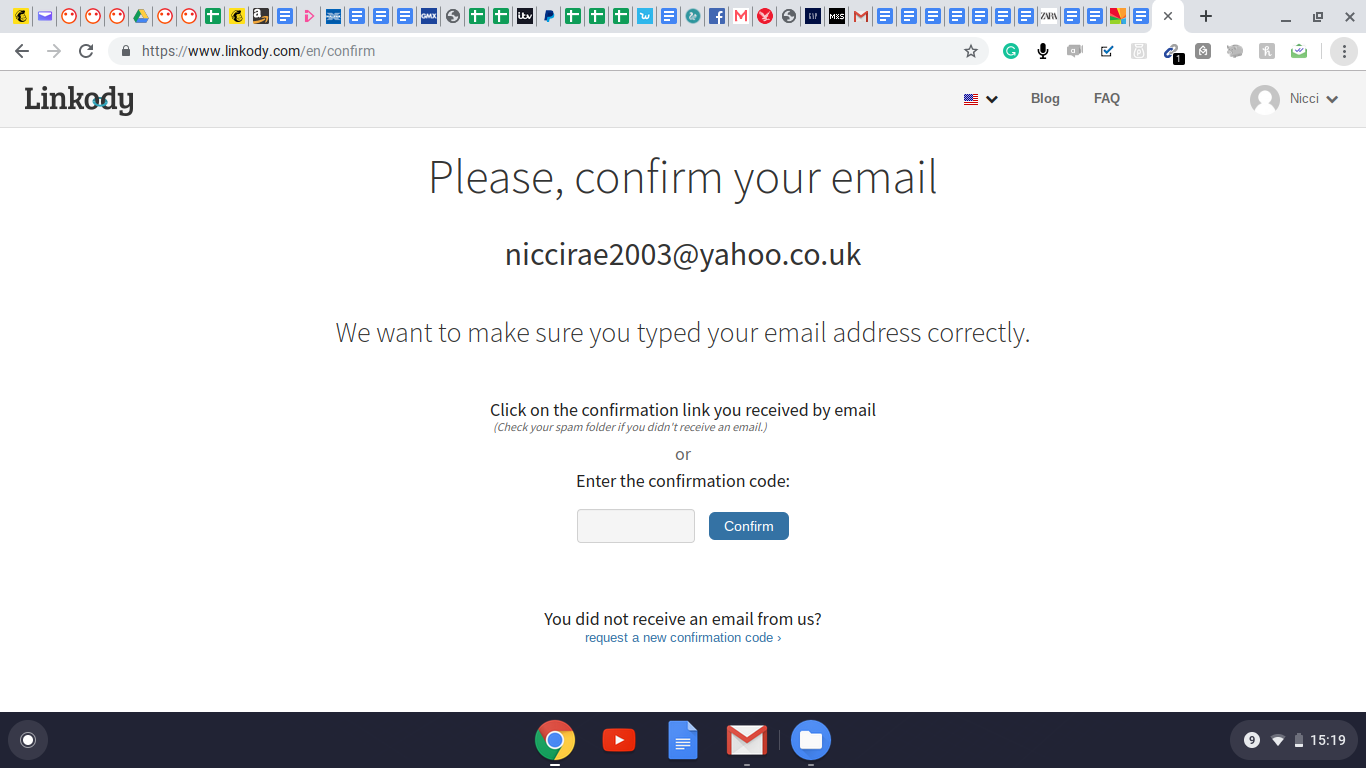 Once your account is set up, you'll have access to your account Dashboard which is straight-forward and user friendly.
From your Dashboard, access the Domains page and then click onto 'Add Domain'. You can now enter your domain (or any other website which you wish to monitor).
From the dashboard light
All of your backlink checking and monitoring can be controlled from your account dashboard.
The link section lists the latest backlinks which Linkody's software has found on your site, along with the date of discovery and linking URL.
For a more in-depth analysis of a link's status, you can click on 'View All Changes'. Google tends to disregard footer links and so concentrates on one link per URL.
Links to be checked include follow, nofollow and site-wide links, The 'latest link' section displays the most recent backlinks that the software has found.
From the dashboard, you can also access a list of links that have been subject to recent changes.
Users can click onto 'View All Changes', from which Linkody will display 'old status' and 'new status' columns. From here, you may come across 'Link not found' which will indicate that a site owner has removed a link to your site.
Second sight – Linkody's analytics

The great thing about Linkody is that you can choose the depth of the insights you wish to see – from very basic to in-depth analytics including:

Relationships – Linkody allows you to access narrowed graphs based on relationship filters which you choose. You can then download this data as a CSV (comma separated values) sheet and conduct a link analysis fairly easily.
Graph information includes:
Moz Metrics Distributions (aka Domain Authority and Page Authority)
Spam Score Distribution
Your Top TLDs
Link location
Your most linked landing pages
Do/No-follow distribution
Class C Distribution
Domains with most links to your content

How much? Linkody pricing
Linkody offers a great range of pricing to allow businesses to budget according to their requirements.
As with most subscription plans, the more expensive the package, the more goodies (users, domains and links) you have to play with.  Here are the overviews of the plans:
WEBMASTER 13.90€/mo
2 domains
500 monitored links
1 user
ADVANCED 22.90€/mo
5 domains
2,000 monitored links
1 user
PRO 45.90€/mo
20 domains
5,000 monitored links
3 users
AGENCY 90.90€/mo
50 domains
20,000 monitored links
5 users
AGENCY XL 138.90€/mo
100 domains
40,000 monitored links
10 users
For those still figuring out if Linkody is right for them, a handy free trial is available which you can access for 30 days without having to hand over your credit card details.
Note that, when choosing a yearly plan, the full amount will need to be paid up front so you'll need to factor this into your budgeting. To see a full list of features and detailed pricing, make sure to visit this page.
Once you're ready for more bells and whistles, it's easy to upgrade to the next level of package.
The good, the bad and the ugly of Linkody
The good
Price – Linkody's transparent pricing plans make it easy to choose the right plan for your needs.  The impressively low $9.99 price of the Basic package is perfect for those looking to experiment with backlink checking as a beginner. 
Clarity – Linkody presents its results in a clear and straight-forward way which is easy to understand – even for non-techies. The easy to use dashboard makes for great, at-a-glance viewing. 
Notifications – Regular notifications mean that you don't need to keep checking back on the site to see updates on lost links or changes to backlinks. 
Personalised reporting – Users can choose which fields are used to generate reports – meaning that reports can be kept refreshingly simple, or, more complex for more technical minded clients. You can easily keep track of lost and new links.
Staying ahead of the competition – Linkody really shines when it comes to highlighting your competitors' backlinks and allowing you to compare these with your own.  
Great customer support – I found their customer service excellent – the response time is relatively quick and the answers are always thorough and problem-solving.
The bad
Power – Linkody is not the most powerful tool available for backlink monitoring or tracking your link building campaign. Although it is great for light to medium use, it may not quite have the oomph necessary for those with a large number of sites/domains. 
Daily reports – Linkody only generates one report within a 24 hour period.  Although this will usually be fine for light users, those wishing to monitor a large number of sites may find that they need to check back on the site in between reports. 
Linkody alternatives
If you're not convinced that Linkody can keep your backlink profile healthy and one step ahead of your competition, here are some alternatives:
Majestic
Majestic is a toolset that enables you to monitor backlinks, conduct link building campaigns, compare domains, check and generate keywords, and many more things. Besides that, they have their own API. You can get their product for €46.99 monthly up to €379.99 for their API version.
Sitechecker is a suite that offers backlink checkers, website health checks, on-page SEO checker and more. Their intuitive interface, ease of use and guides on how to optimise the website makes SEO straighforward even for unexperienced business owners or marketers. They price themselves at as little as $9 for 1 website and 500 URLs up to $69 monthly for 10 websites and 50000 URLs.
Ahrefs
Ahrefs is a large platform that is an all-in-one suite of tools needed to see your company's online presence grow. Among all of the software, they have a backlink monitoring tool, which lets you do all the things you need in terms of your link building campaigns. Their price is $99 monthly, although it's for the whole platform, not just the backlink tool.
SEMRush is similar to Ahrefs – it's a widely known platform among SEO marketers. Likewise, they offer a backlink tracking tool as well, among all the other useful things. Pricing starts at $99.95 monthly.
Conclusion
Linkody is a fantastic tool for users with up to a handful of sites who wish to keep on top of their backlinks (and maybe find some competitors free backlinks).
As I mentioned in this review, Linkody may not be the first choice for huge corporations looking to monitor hundreds of competitors pages but, for individuals and SMEs, it really is the perfect choice.
With a great pricing package, Linkody is an accurate, inexpensive and easy to use tool even for those who are not 'techy' and, the white-label PDF reports are a great feature. 
Linkody is well worth the price as a monitoring software alone and so the reliable metrics such as Domain Authority and disavow rule generator are a welcome bonus for those using this clever tool.