Like myself, you're probably constantly seeing blogs and articles telling you that, these days, the social media way is the only way when it comes to effective marketing. You're probably also being told that, in light of this, email marketing is so over. I'll let you into a secret – this is entirely untrue.

There are currently almost four billion email users around the globe and, according to research by Campaign Monitor, 72% of them would prefer to receive marketing content by email.  For the prudent marketer, this means that focussing on email marketing is very much still the way forward.  

Email marketing can be time-consuming and can often fall by the wayside for a busy brand. If only there was a tool that was easy to use and could help…….oh, wait! In 2020, there are of course lots of tools available to help you with your email marketing. For the last couple of months, I've been on a mission to try as many of them as possible and, in this review, I'm going to tell you about one of them, ConvertKit.

What is ConvertKit?
ConvertKit is an all singing, all dancing email marketing service created to help businesses to build audiences and improve conversions. Founded by Nathan Barry in 2013, ConvertKit has 49 members of staff across 40 cities with further expansion in the pipeline for the near future.

Author, software designer and entrepreneur, Nathan Barry, began his ConvertKit journey by challenging himself to go from $0 to $60,000 in revenue in 180 days.

Who uses ConvertKit?
ConvertKit is used by thousands of small and medium businesses worldwide and, since its inception, has bagged some pretty impressive clients including:

Coursecraft
Liftus
API
Go For Launch
ConvertKit is suitable for any size business that is looking to get serious about its email marketing and audience building. Even if you're a solo content creator wanting to promote themselves, it really is worth it.

How do I get started with ConvertKit?
With a super easy sign up process, your kit is just a few clicks away. Here's the drill:

Get yourself over to https://convertkit.com/about
Click onto 'Sign Up For Free' (Green button in the top right hand corner)
You'll be asked if you're moving to ConvertKit from another tool, click onto Yes or No
If yes, you'll be asked which tool you're moving from – click onto the relevant tool
You'll now be asked how many subscribers you will be bringing to the party, click onto the relevant number range
The next stage is to enter your email address and choose yourself a password, followed by ticking the box to agree to the terms and clicking onto 'Get Started'
ConvertKit will speed a verification email to your inbox – click onto the button in the email to verify your account
……..and that's it – you'll now be whizzed over to your very own ConvertKit dashboard where you can get started with creating emails and landing pages and, upgrade to a paid package if you choose to add more subscribers.

How much does ConvertKit cost?
ConvertKit is priced by the number of subscribers that you have – which is great as it means that each package contains the same features; so you don't miss out even on the cheapest deal. This works as follows:

When starting out with ConvertKit, you'll be gifted 100 email sends (known as broadcasts) – so, you can send an email to 100 subscribers without paying a single cent.
You can then continue sending emails by either paying for one of the packages above or, by referring friends. For every friend referred, you'll be allowed free sends for up to 100 subscribers – so, the more social you are, the better!

How does ConvertKit work?
Once your account is up and running (and provided you have enough credits), you can start to create emails and landing pages from your dashboard.
You will also use your email marketing software dashboard to upload your subscribers and you can do this either manually, or by importing them directly from an existing account with another provider, such as Mailchimp.

What are ConvertKit's Features?
We'll drive you through this convertKits fabulous marketing software features and tools like automations – and, buckle up, as there are a lot of them!

Email Templates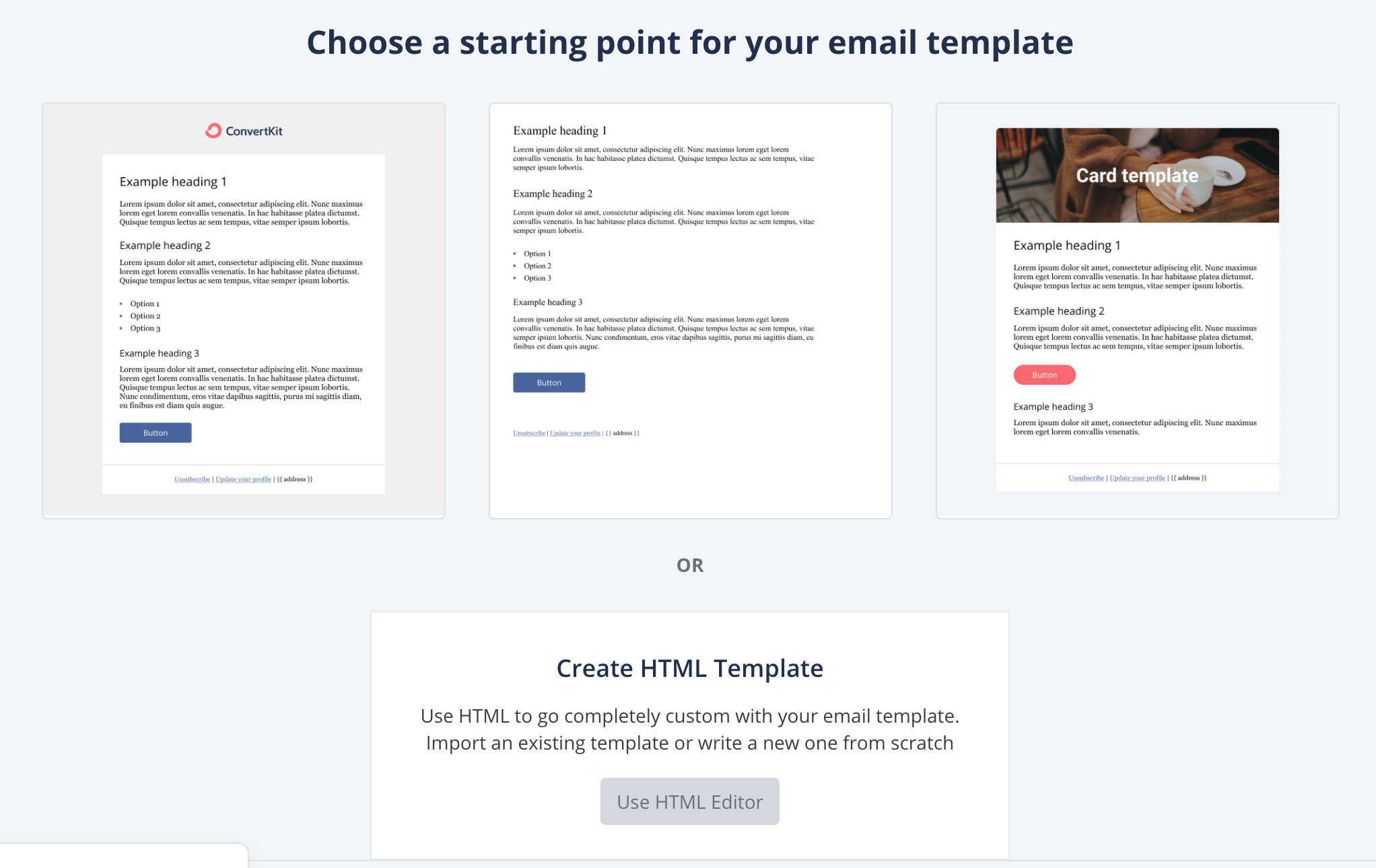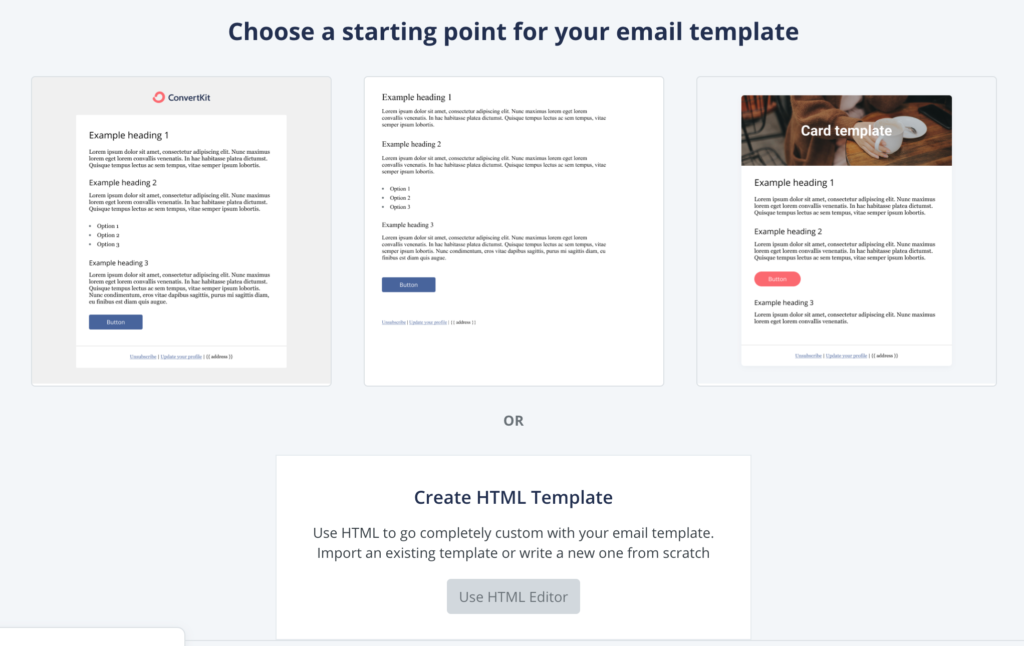 ConvertKit offers five different templates for creating your emails which include a classic version and a framed version. Although the templates do not contain customisation options, if you have HTML skills, you are able to make adjustments to the templates through your account settings.

Landing Page Builder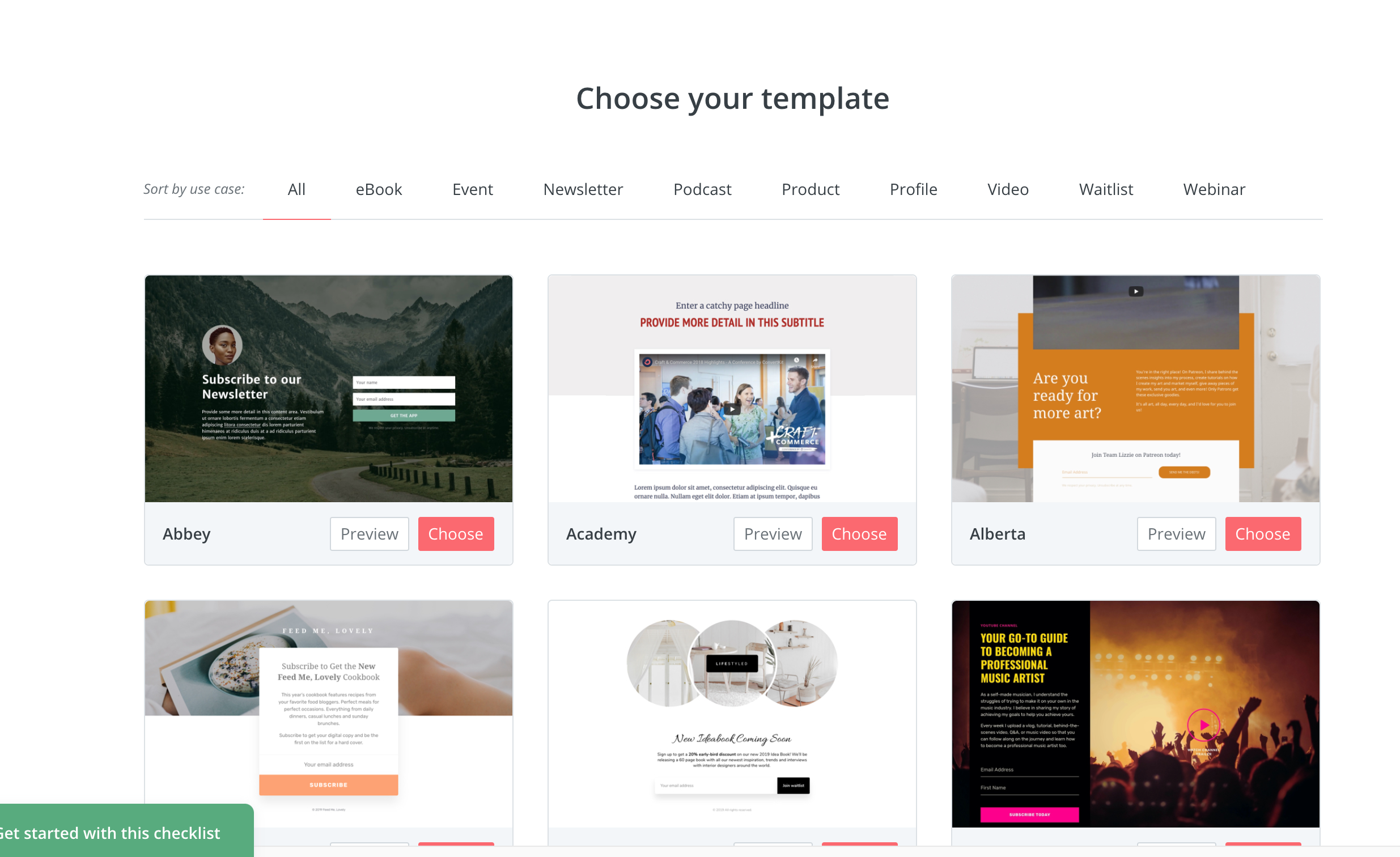 Tools like ConvertKit's landing page creator allows users to build basic landing pages using landing page templates on the site and export them to their own websites in order to 'land' more customers. The landing page templates are probably a big selling point for convertKit.

Visual Automations
One of ConvertKit's most popular features, the Visual Automations system is fast and easy to use and displays your workflows into the context that users are trying to achieve.
Marketing automation is increasingly important and, this is something that convertKit does well.

Form Builder


Obviously you can't have an email marketing system without important automations such as a form builder and, ConvertKit has a pretty good 'un. The system offers a number of form options including inline, modal and slide-in and custom CSS choices. Users can embed the form from within the tool for extra convenience.

Integrations
ConvertKit has an impressive array of integrations you can toggle – almost 100 of them in fact – in a number of categories such as e-commerce, lead capture, webinars, affiliate management and FB ads – integrations include:
Zapier
Used by Buzzfeed, Adobe and Spotify, Zapier is a quick and easy way to connect your web apps and automate your workflow. Apps include Twitter, Gmail, Slack and Google Sheets. Zapier costs between $0 and $599 a month.
Crowdcast
Crowdcast allows you to conduct live interactive Defi conversations at scale. Crowdcast's pricing ranges from $20 a month to $139 a month and includes a free trial. Annual payment includes a 30% discount.
Teachable
Created for educators, Teachable is a platform which allows you to build professional online courses quickly and easily. Teachable is currently used by 124,000 educators and, prices start from $29 per month.
Shopify
Well known ecommerce platform, Shopify, allows anybody to build their own online store to sell their products. Shopify costs between $29 and $299 a month.
WP User
WP User is a whole bag of WordPress tools for business including plugins, themes and broadcast tools.
Stripe
A popular online payment platform, Stripe is used by thousands of customers globally including Booking.com and Kickstarter. Percentage based pricing runs between 1.4% and 2.9%
SegMetrics
All about the metrics, SegMetrics is a suite of tools for lead tracking and segmentation and promises to help improve ROI on sales funnels. SegMetrics offers a 7 day free trial, after which prices range from $27 and $347 per month.
Integromat
An advanced online automation program, Integromat is a powerful automation and integration tool. Integromat offers a free basic package after which prices run from $9 a month to $299 a month.
Outgrow
An all in one marketing toolkit, Outgrow is designed to help increase traffic and increase lead conversions. The platform features some great analytic tools and costs between $14 and $600 per month.
Listgoal
This free Chrome app allows you to quickly build your email subscribers and to monitor the performance of your email campaigns.
Shoelace
This integration tool connects your email campaigns with targeted ads to help you find more leads. Shoelace costs between $249 and $2000 per month.
Tracking and Reporting
ConvertKit's reporting system is refreshingly simple. From the comfort of your dashboard, you can quickly view your subscriber acquisition and break it down by time frame.
Users can also quickly and easily access reports on particular email campaigns and, these can be drilled down to the different entry points and forms. Finally, you can also get hold of very basic autoresponder reports.
System and segmentation
This means that tags can be applied to subscribers based on characteristics and behaviour. Merge tags can also be used to put together dynamic emails and assist with email sequences.

A/B Testing
ConvertKit offers opportunities for a/b testing which, in 2020, is of course of vital importance to marketers.

Kit Pros and Kit Cons
ConvertKit is a relatively new tool and, as such, I'm sure that there will be many updates and improvements in the near future. In the meantime, let's take a look at some of the ups and downs of the system as it stands right now:

Kit Pros
Ease of use: Not only is ConvertKit easy to get started with but, it's also really simple to use, including navigation to get you where you need to go.

Subscriptions: Bringing over your subscribers couldn't be easier – and being able to do so directly from an existing email account is super convenient.

Support: ConvertKit's customer service really is second to none. From the personalised welcome videos to its super-responsive email support, ConvertKit ticks all the boxes. ConvertKit's customer service is now also available as live chat support.

Deliverability: ConvertKit scores consistently highly in terms of deliverability which, of course, is massively important in an email marketing software system!

Kit Cons
Templates: A choice of just five templates is, quite frankly, just really stingy and, it doesn't help that these aren't customisable without HTML skills.

Integration: Although Zapier opens the door to other integrations, ConvertKit could really do with offering more in this department.

Landing page builder: As it stands at the moment, ConvertKit's landing page builder is pretty darn basic and doesn't allow for super-professional looking – or personalised – pages.
The landing page templates are sufficient but not amazing. This is most definitely something that ConvertKit needs to look at in the near future to compete with marketing automation from competitors in terms of landing page building.
Cost effectiveness: Most people would agree that $29 per month for up to 1000 recipients isn't the most generous of offers from an email service provider. Additionally, ConvertKit only offers 100 free sends which is really low in comparison to other providers.

What are the alternatives to ConvertKit?
Having perused my pros and cons, you may be wondering about your other options in terms of email service providers. Here are some of them:

Mailchimp: Probably one of the best known email marketing systems, Mailchimp allows up to 2000 recipients and 10,000 sends free of charge. Paid plans are priced between $9.99 and $299 per month.

Sendinblue: This little known provider offers 300 emails a day free of charge with paid plans costing £15, £23 and £39 per month.

Campaign Monitor: A professional set of email marketing tools, Campaign Monitor has three packages priced at £9, £29 and £139 per month.

Fresh Works: A one stop shop for email marketing, Fresh Works has a forever free package with some great features which allows up to 500 contacts and, paid options at $49 and $99 per month.

Conclusion
I'm not going to lie – ConvertKit is neither the most sophisticated or the most cost effective option when it comes to email marketing. Although the refer a friend feature is a good incentive, the lack of a free subscribers and sends is extremely limiting.

Similarly, the landing page templates and email templates are less than inspiring. Having said that, if you're just after a basic but effective system with fantastic customer service, the $29 per month option is not a bank breaker for the small or medium business.