Hunting for new leads can be tough – and time-consuming. Email marketing is a great way of introducing yourself and your brand to potential customers but, first, you need to know how to reach them.
In the past, most business owners and sales managers have found themselves trawling the internet to find email addresses for particular contacts. This process can be endless – and endlessly frustrating as you find yourself hitting one brick wall after another.
Thankfully, you can now call off the search as technology has given us some great tools to take the strain out of finding email contacts. One of my favourites is Hunter.io and, here, I'll take a look at how it works.
Hunter.io, also known as Email Hunter, is a tool that helps marketers find associated contact information for any domain. This makes it perfect for companies that use cold emailing to fill their pipeline. Additionally, Email Hunter can be used to verify emails and perform bulk tasks.
What is Hunter.io ?
First of all, Hunter is an email finder tool which allows you to perform domain search for email addresses.
Launched in 2015 by Francoise Grante, this San Francisco based company's offering is available as a Chrome extension and Google Sheets add on.
Furthermore, hunter.io can be used to quickly find email addresses for businesses and / or individuals within that business.
Who uses Hunter?
Hunter.io is suitable for any individual or business looking to build a database of email contacts. Sales and marketing teams in particular can benefit from this tool which speeds up the process of hunting down contacts and utilising cold email outreach. Marketing pros can make great use of Hunter to outreach to journalists or editors (for example, the ones from HARO.)
Hunter has become a fan favourite among link building professionals due to its accuracy, speed, and cheap pricing. Link building outreach and lead generation using Hunter is nothing short of amazing.
How does it work?
The tool works by scouring the internet for the email results that you're looking for. It's completely legal to use Hunter but, you do of course have to abide by data rules when using the results in your marketing.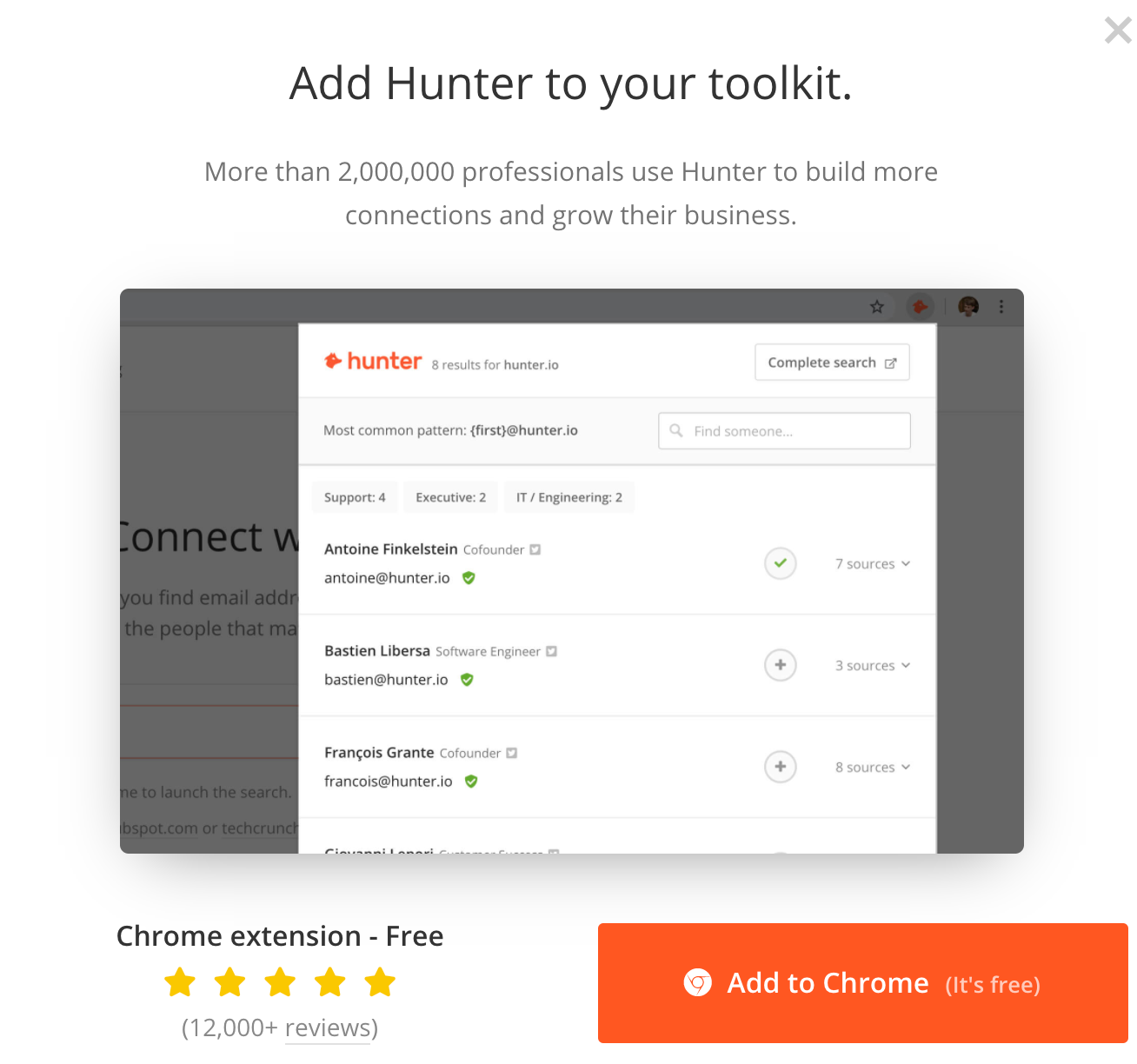 Using the search bar, enter the website address you're interested in and, then click onto 'Find email addresses'. You'll then be presented with a list of available professional email addresses for that site.
You can then export these addresses to add to your database. Hunter also allows you to verify the email addresses found which means that you're able to dismiss any which aren't valid.
How do I get started with Hunter?
It takes literally minutes to get started with Hunter and here's how to do it:
Whizz on over to https://hunter.io/users/sign_up
Enter your work email address or click onto 'Sign Up With Google'
Click onto 'Continue'
Enter your name and choose a password then click or tap onto 'Create Account'
Scoot over to your email account and click onto the 'Access My Account' button
You'll now be redirected to Hunter and will be invited to start your first search
After entering your search details, you'll then be asked to add your telephone number for security
Enter your number and click onto 'Send Verification Code'
The code will be sent to you by SMS and you'll need to enter this in the box that you now see on your screen
You can now perform 50 free searches or choose a paid plan
How much does Hunter.io cost?
You can choose to pay for your Hunter.io subscription monthly or annually and, your pricing options are as follows:
Free 0€/mo
With the free package you will get the following features:
25 monthly searches
50 monthly verifications
1 email account
500 recipients per campaign
Unlimited users
Starter 49€/mo
The starter package offers:
500 monthly searches
1000 monthly verifications
5 email account
2500 recipients per campaign
Domain Search full results
Attachments & images in emails
Link tracking
Growth 99€/mo
The Growth packages offers everything from Starter, plus:
2500 monthly searches
5000 monthly verifications
10 email account
5000 recipients per campaign
Domain Search downloads
Custom tracking domain
Pro 199€/mo
This pricing plan offers everything from Growth, plus:
10000 monthly searches
20000 monthly verifications
20 email account
7500 recipients per campaign
Business 399€/mo
This plan offers everything from Pro and:
30000 monthly searches
60000 monthly verifications
40 email account
10000 recipients per campaign
Enterprise plan – price on request
This plan can be specifically tailored to your needs. On top of the features from Business, you will get:
Dedicated account manager
Higher rate limit
On-Demand quotas
Flexible quotas
When paying annually, users can save 30% off the advertised price. To see the full list of features and pricing details, visit this page.
What are Hunter's features?
Hunter.io has a few tricks up its sleeve when it comes to helping you grow your business databases; let's have a look at them:
Hunter Domain Search

This feature allows you to search for the domain of any business and then export it as a spreadsheet or load it into your software or CRM.
Email Finder Tool
Undoubtedly the most popular of Hunter's features, as the name suggests, this allows you to find the publicly available email addresses of individuals and businesses. It does this by searching the website URL entered for any relevant email addresses associated with it by accessing its huge email database.
Not only does this feature give you the email address, but also it's sometimes able to find other contact information such as the phone number or social networks. You may also search for the author of a specific article via the Author Finder.
Email Verifier Tool
Once you've conducted your email search, the email verification tool lets you verify email addresses. This is useful as it cuts down on the number of bounced emails – which will stop you from getting into trouble with your email sender. Hunter.io has a metric called confidence score, which lets you get a grip on how much chance you have to contact the lead using the email address the app has found. Usually, anything above 90% works.
Of course, the confidence scores are sometimes a superficial metric, and they're not entirely accurate.
You can check any email address by simply entering it into the system.
Bulk Tasks
This feature gives you the power to conduct a bulk domain search and verify the addresses quickly and easily. This is exceptionally handy for businesses dealing with large amounts of data.
Leads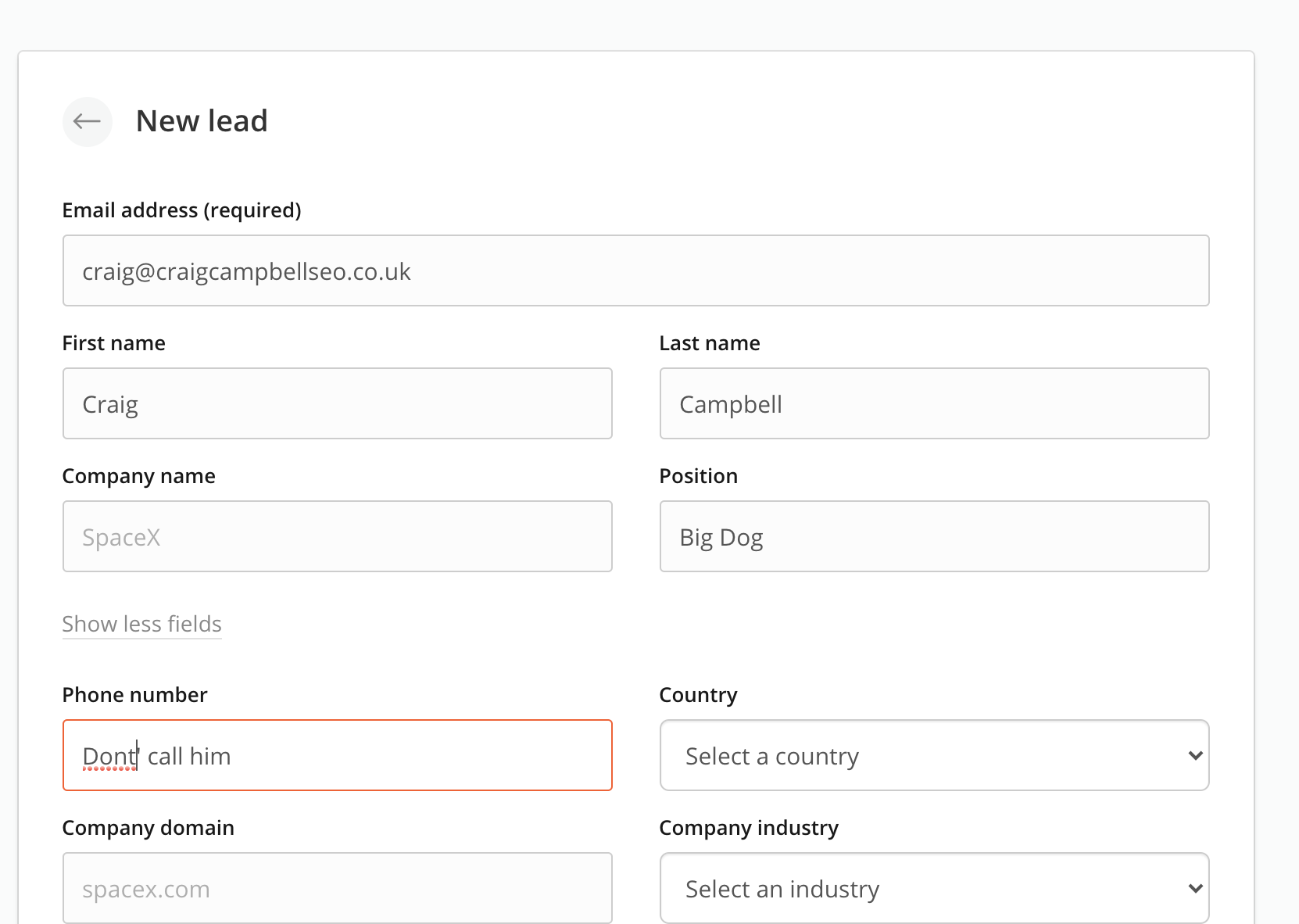 The lead management feature allows you to import leads or add them manually. You can also connect with another email marketing platform and export them out. The tool lets you filter your leads by company, position, website and industry for each organisation.
Outreach
This clever gizmo lets you connect Hunter to your Gmail account in order to seamlessly gather your emails to professionals and perform your email campaigns.
You can quickly create email templates from here and add them to individual campaigns for fuss-free email marketing. It acts as an entire campaign management tool.
The entirety of the experience provided by Hunter is in accordance with data protection protocols, so you don't have to be worried about security. It's an invaluable tool when scaling your link building efforts.
Hunting High Or Low?
I've shown you a few of the things that Hunter.io can do for you and your business but, I'd be remiss if I didn't tell you if it's any good. In that spirit, therefore, I'll walk you through some of the pros and cons of Hunter:
Hunting High
As is traditional, I'll start with the good news first and, with Hunter.io, there's a lot to celebrate:
Free searches – Hunter.io offers a very generous free version of 50 free searches – which is great for those who want to try it out before committing to a paid package.
Ease of use – This tool really couldn't be easier to use. All of its features are set out in a really sensible way with simple navigation.
Reliability – On the whole, the search results provided by Hunter are extremely reliable. This is partly because users are able to use the search function and the verification function in tandem to weed out bad or irrelevant results.
Integration – Being able to connect Hunter with Google Sheets makes for a streamlined email marketing system. It's rumored that Hunter is working on more integrations so watch this space for updates.
Hunting Low
Let's take a look at a couple of downsides to Hunter.io:
Price – Although it's great to have the free 50 searches with Hunter, the price packages are quite steep with the cheapest starting at 49 Euros per month.
LinkedIn – Hunter no longer allows for LinkedIn integration which is a shame as this was a good resource for email addresses.
Limitations – Hunter can only search for business email addresses and not personal ones. This may mean that search results are populated by addresses like '[email protected]' rather than an individual's address.
Hunter.io Alternatives
As great as it is, Hunter is not the only kid on the block when it comes to searching and verifying emails.
For that reason, if you decide that Hunter isn't the one you're looking for, take a look at these other email finder tools:
GetProspect
GetProspect email finder can amaze many outreach and B2B lead generation specialists. Before all, this software has a clean and simple design and provides essential functions such as single and bulk email verification and extraction. The obvious advantage is the LinkedIn email extension that gets email addresses from a LinkedIn search and leads' pages.
In the end, it has a vast B2B database backed by filters and CRM features, adding to leads' management. The free version offers 50 valid emails, while the Starter Pack costs 49$ monthly.
Snov.io
New York-based Snov.io is an email finder and verifier. Even more, it features outreach automation and a database that users can browse by company size, location, name and much more. Snov.io pricing starts at $29 per month.

ContactOut
ContactOut primarily features a Chrome extension that fetches the email addresses of anyone with a LinkedIn or GitHub profile. This is perfect for companies looking to supercharge their recruitment, as 30% of the Fortune 500 companies can attest to. This tool also features a dashboard that lets you manage your leads and a comprehensive search engine that lets you find anyone who is not on LinkedIn or GitHub.
Silk
Silk is a high-quality lead finder. It is used by some of the big boys including Google, IBM and Oracle. Silk's database has over 70 million contacts and accuracy is at around 95%. Silk's pricing starts at $70 per month.
Any Mail Finder
As you've probably guessed, this is an email finder. Furthermore, the tool allows you to check lists before buying and, you only pay for verified email addresses. Silk has three paid plans which cost $49, $99 and $149 per month.
Get Email
Used by Monster and Shopify, Get Email does exactly what you'd expect. Get Email has four paid packages price at $49, $99, $199 and $399 per month and, free tests are available for each package.
FindThatLead
FindThatLead is a powerful email automation tool that can help you manage your prospect list with ease. With its bulk processing feature, you can upload your list of prospects in CSV format and quickly validate their email addresses. Additionally, FindThatLead's email search feature allows you to build targeted email marketing automations for your campaigns in minutes. These automations will help you save time and ensure that your messages are delivered to the right people.
FindThatLead's pricing starts from $49.99.
RocketReach
RocketReach is the perfect tool for finding personal and professional email addresses and phone numbers. With just a few clicks, you can narrow your search by dozens of criteria, allowing you to find the perfect match for your needs. Once you've found your match, RocketReach will automatically append up-to-date contact information, including email addresses, direct dial phone numbers, and titles.
RocketReach starts at $421 annually for 1500 lookups.
Conclusion
As I've said, there are a good number of email finders out there and, to be honest, they all do more or less the same thing. Having said that, Hunter does come out ahead in a couple of ways. Firstly, the free plan is an attention grabber and is something that isn't offered by many providers.
Secondly, the ease of use is a winner in our book as it makes searches simple and quick. The one area in which Hunter lets itself down is on the minimum price, which may be a little high for some small businesses.
Above all, Hunter would really benefit from also offering a pay as you go option which would make it more affordable. Otherwise, this is a really good – and reliable – finder and verifier.
Ah check this awesome B2B lead generation guide