One of the biggest conundrums for businesses in 2020 is figuring out how to get decent links for their websites. Good quality links increase traffic, raise profiles and add credibility to a site but, how do you get your sticky mitts on them?
A quick look at the world wide web will give you a whole tangle of conflicting advice when it comes to link building and it's easy to become disillusioned. Don't worry though, we've been working our way through some of the fantastic link building tools out there and, today, we're going to be talking about Big Apple based, Dibz.
With Dibz, link-building and influencer research are automated, faster, and simpler. This link building tool allows users to search and filter through options to find the best ones while ignoring the poorer prospects.
What the devil is Dibz?
Launched in 2015, Dibz aims to take the complexity out of link building for businesses in order to improve organic search rankings. The brainchild of 34 year old SEO professional, Radomir Basta, Dibz is considered a game changer in the SEO industry.
Basta is a veteran of the industry with almost a decade of experience and, is a regular lecturer at the Digital Communications Institute in Belgrade, as well as being the founder of Tarzanija.com. Dibz currently has offices in New York, Boston, Dublin, Novi Sad and Sydney.
Who dabbles with Dibz?
Dibz is used by a significant number of SEO professionals and agencies but, it's not exclusive to these people. Anybody individual or business with an interest in gaining links and improving their website's organic search ranking can benefit from this time-saving tool.
How do I get started with Dibz?
It's exceptionally easy – and free – to get dabbling with Dibz – here's how:
Head on over to www.Dibz.me
Click onto 'Free Trial' in the top right hand corner
Enter the number of credits you're after (minimum number of credits is 5 and, these are priced at $1 each)
Click onto 'Start Free 15 Days Trial Now'
You'll now see the Registration page – enter your name and email address and choose a password. If you have a coupon code, you can also enter it at this stage
Accept the terms and conditions and click onto 'Register'
Your new account is now set up and you will be redirected to your dashboard
You'll also receive an email with tips on getting started
Once your 15 day trial is up, Dibz will give you a nudge by email and, you can then choose a paid package if you wish to continue.
How does Dibz do it's thing?
From your brand new dashboard, there are two simple options for getting started; Create A New Search and Upload CSV. We'll take a look at how to use the first option:
Click onto the 'Create A Search' button
Enter a name for your search
Enter a client name
Enter a campaign name
Enter the keywords for which you want prospects
Choose your research method: These include Reviews, Guest Bloggers, Giveaways and Donations
Refine your research from the choice of tick boxes which include drilling down to specifics
Click onto 'Next Step' and choose your language, date range and additional data
Click onto 'Start Scrape'
You'll now be taken back to your dashboard – you'll see a blue bar with a link to your search results
View your results
Note – during your free trial, you won't able to download your results unless you subscribe
As you can see, Dibz has been created with ease of use in mind – even if you're a complete beginner with link building prospects. 
So, how much dough does Dibz cost?
As we've said, there is a free 15 day trial available with Dibz and, for this, you'll get one user and 20 results. Once your trial has ended, you can choose from the following three paid packages:
Starter $25/mo
This package gets you 25 credits a month.
Pro $110/mo
With this pricing plan, you get 110 credits monthly.
Enterprise $270/mo
The most expensive package gets you 270 credits every month.
You can also freely adjust the number of monthly credits with the slider in the Dibz pricing tab. You can start from 5 credits and go all the way up to 1000 credits a month.
But what about the features?
Dibz has some great features to help you on your link prospecting journey and, these are:
Research

Dibz features some really comprehensive search tools to help you to narrow your results to those which will be the most helpful. Search results can be modified for extra clarification and relevance.
Research & Filtering
As well as comprehensive searching, Dibz allows you to filter your results in a sensible and clear way by sorting and searching web pages.
Spam Metric

Keeping spam to a minimum is hugely important when link building – luckily, Dibz has a really useful custom Spam metric which shows you the spam factor for each link presented.  This helps you to dismiss irrelevant links for a cleaner approach to your link building campaigns. 
Prospect Contact Retrieval
Getting your list of links is great but, of course what you're really after is contact information for those links. Dibz's contact retrieval tool allows for quick and easy contact by supplying email addresses with the search results.
Social Statistics
Each web page result comes with handy information about associated social sites for extra contact options and insights into the brand's trust scale.
Data Management
Dibz is second to none when it comes to managing your data collection. This feature allows you to set user management data by downloading relevant results for use now or later.
Language options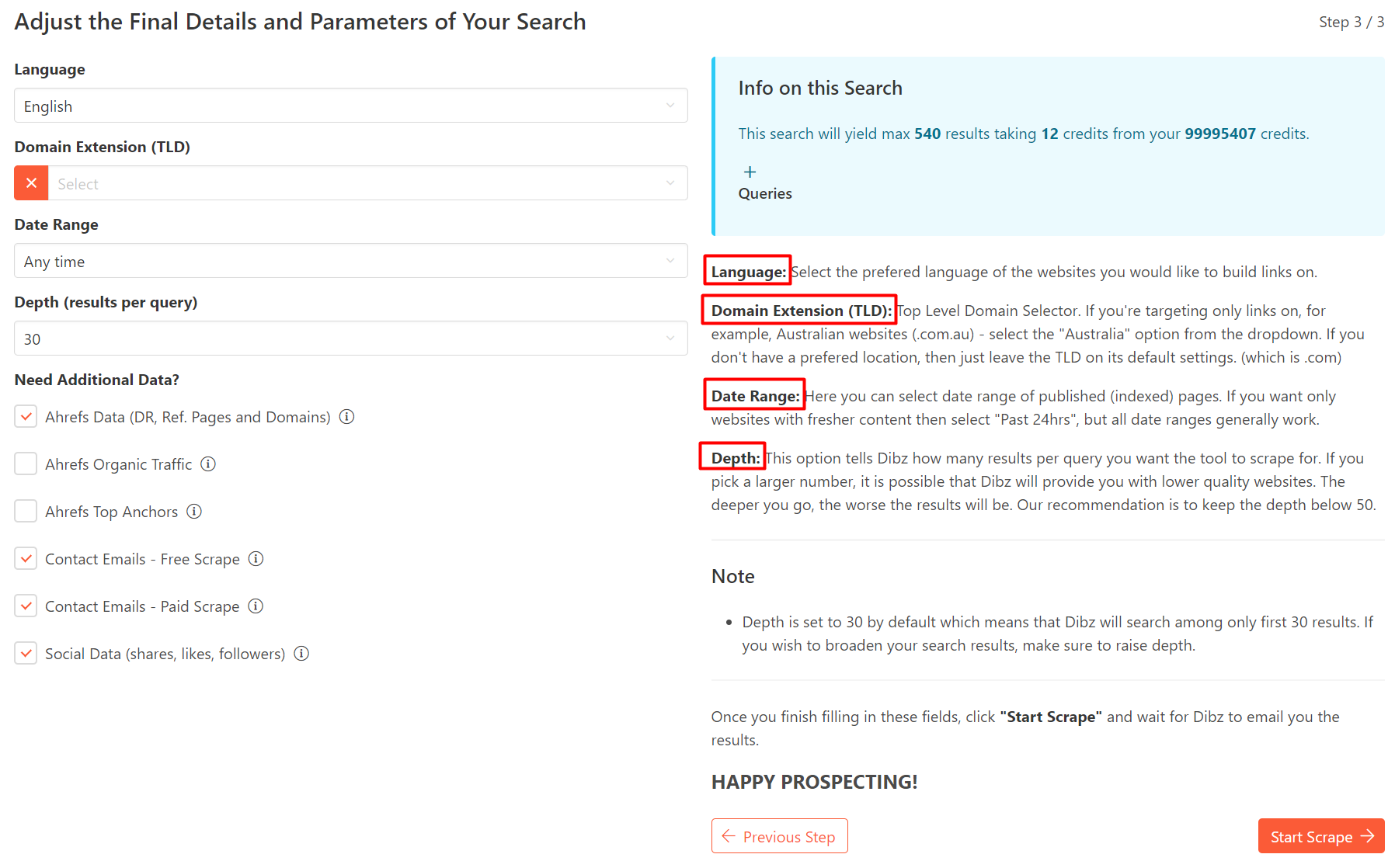 Dibz is available in almost every language used worldwide for ease of use whatever your lingo.
SEO Tuition
Dibz includes some great guides and tutorials to help you make the most of the tool.
Dibz – The Pros and Cons
When it comes to good news, bad news, it's always best to start with the good – so here we go:
So, Dibz sounds pretty great right? There's no doubt that this is a really useful tool but, now, we'll dive a little deeper and take a look at some of the pros and cons:
Dibz – The Pros
Price options: Dibz offers a pretty comprehensive set of options for pricing and credits, which means that it caters for more individual and business budgets.
Affordability: With 5 credits starting at just $5, Dibz is affordable for everybody – and you can always buy more when you need them.
Contacts: With Dibz, it's really easy to get hold of – and keep – contact details for the prospect results. These can be quickly downloaded and then uploaded into your CRM system for added ease.
Locality: Dibz has the capability of searching globally or by region which is really handy if location is a major factor in your desired results.
Dibz – The Cons
Now for the not so great bits of Dibz:
Exclusive: Although, in theory, Dibz is good for everyone, it really is a tool for professionals and, those with no SEO experience at all may struggle.
Support: Unfortunately, Dibz customer support is more or less non-existent and relies almost solely on the tutorials and guides available on the website.
Integration: At the moment, Dibz's integration is limited to PitchBox which can be, well, limiting really!
Mobile: Dibz does not yet have a mobile app, however, you can use the browser in mobiles.
Are there alternatives to Dibz?
Although the Dibz website boasts that it doesn't have any competition, that's not strictly true. Some alternatives to Dibz are:
Sopro: UK based prospecting tool, Sopro helps you to search for suitable sales prospects quickly and easily. Pricing is available on request.
Ahrefs Site Explorer: This popular tool offers quick and effective analysis of search results. Pricing ranges between $99 and $999 per month.
The Upper Ranks: This is a simple but reasonable link prospecting tool and is completely free to use.
Ontolo: A serious prospecting tool for search engine optimization professionals, Ontolo is available in packages priced at $97 and $297 per month. 
Conclusion
Link prospecting can be a tiresome task as well as a time consuming one. Dibz takes the strain out of the link prospecting process by doing the leg work for you and presenting the results in a way that's easy to view and understand. 
At the moment, Dibz lets itself down in a couple of quite major ways – namely a complete lack of available support and, no mobile app. In 2020, it's a little baffling as to why these have not yet been addressed – particularly as the competitors have got them covered.
On the whole though, if you're simply looking for a few good leads and don't want to pay too much, then you can do much worse than Dibz which is reliable, affordable and really easy to use.