Your journey to digital?
I've been a digital fanatic since I was a child quite honestly. I started playing with my first computer at age 9 that initially sparked my interest in this new kind of technology. I would create programmes on floppy disks, wait for the next "Hacker Magazine" to be delivered to my home so I could play around with new scripts and other cool stuff.

So much so that my dad could no longer find icons on his desktop! I created my first website at age 12 when I was in school. It was all about video games and Lara Croft as you can imagine, so I guess I would say that I've always been interested in the digital world and wanted to make an impact in this sphere.
Around 8 years later, as a determined young adult, I ventured into London for my internship. I got really lucky there because I found literally the only guy there who was crazy enough to hire a French guy with poor English back then, in the UK.
He was really great, he taught me a lot of new things and introduced a rage of new concepts to me that helped me get into Hetic for my undergraduate degree. Back then, Hetic was a new school based in Paris that had a unique course surrounding Web and Digital as well as Project Management.
Hetic was just the best school there was to learn about web development, design, project management, and of course, SEO and web analytics.
With this knowledge, I started off as a Junior Web Developer but gradually wanted to manage projects.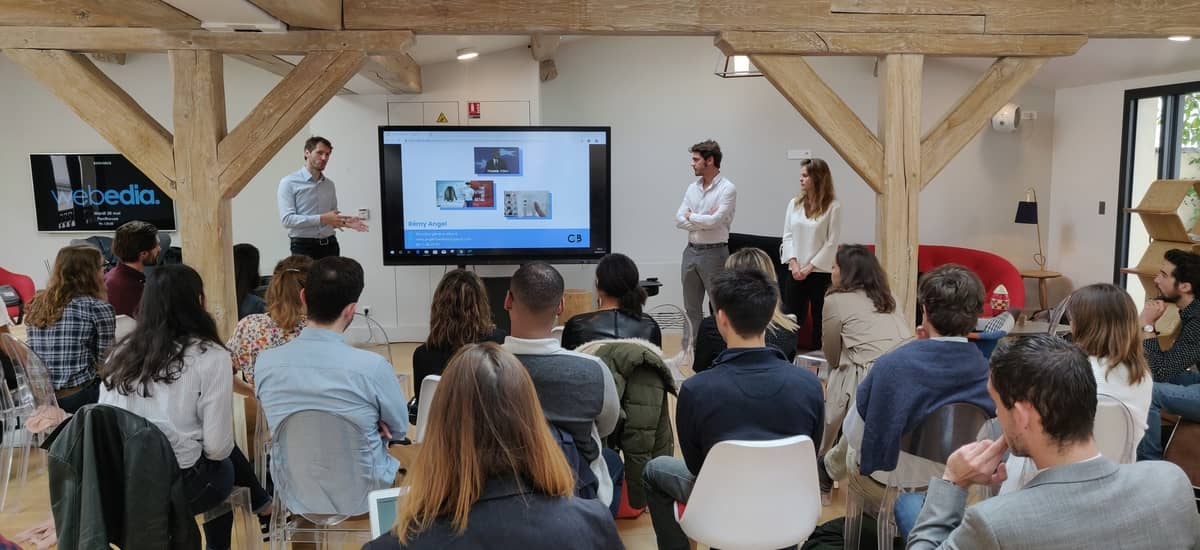 The coding experience I got here would help me with the creation of Myposeo in the future as it taught me the intricacies of web development which let me staff the development of the platform to the right people with the correct qualifications which made it possible for a proper timeline to be made to understand when the platform could expected to be finished.

My other roles before creating Myposeo, were more people-oriented and focused largely on me interacting and coordinating with other departments and people and managing multiple teams.
As a people-person, I enjoyed this a lot and realised that to be happy in my career I needed to find a way to balance out the two things that made me happy – people and technology.

I've always been entrepreneurial and soon realised that there is never a right time to be ready to start your own business. I now had all the experience I needed, so I decided to take the plunge and create Myposeo during my studies and with a couple of students.
My interest in IT and all things digital coupled with my passion for SEO definitely paved the way leading to where I am today.

What made you build Myposeo ?
Back in 2009, I was in charge of a small client's website for whom I had to work on an SEO strategy. To achieve this, I created a process and the first thing I tried to do was to find tools to automate certain tasks. What I noticed was that most of these SEO tools were softwares, with poor UX, old school design and were not usable on my Macbook. It was a real shame from a user's perspective.

Honestly, I hadn't even looked at what other countries were doing but I knew that Moz and SEMrush existed. What I knew for sure was that the French market was a real disaster, but in every gap there's an opportunity.

I started to talk about this with 3 other students in my class, one of whom was a good developer who had already created a ranking script using Python if I recall correctly. As our discussions continued, we became more and more serious about the idea of creating an all-inclusive SEO tool.

Finally, whilst completing our internship, we decided to take the leap and create Myposeo – working day and night, weekend after weekend until May 2010 when we launched Myposeo officially.

We were fortunate enough to have the opportunity to test out the platform with teachers and experts in the SEO and Web-Analytics industry with over 10 years of experience backing their expertise. They gave us some great advice and feedback about what data would be most useful to see in a platform like Myposeo.

I remember in our second update to the platform, we added a Google Analytics data synchronisation option so all key external data could be integrated into one interface – the Myposeo interface. We were definitely the first platform in France to ever do this, and maybe even the first in the world since the concept of an API was still new back then.

The Myposeo platform was capable of analysing thousands of keywords on a daily basis and complemented the analysis with visually pleasing and easily comprehensible graphs on the interface, built in javascript with an appealing design. This is why people were choosing Myposeo.

SEO consultants were testing the platform and giving us their feedback, which we took into account and developed new features quicker than our competitors. Myposeo being an online tool allowed us to make changes quicker as it didn't require an update download.

Our first major step was when one of the leading SEO agencies started to work with us. I remember we had to track a volume of 11,000 keywords on a daily basis. We were really killing it but of course, with quick growth you make some mistakes which you learn from in the future which we of course have but that was really the turning point for Myposeo so its an interesting part of our story I would imagine.

Can include if needed:

But the one thing that was really lacking, in my opinion, was the depth in which this data would go to. I think the devil lies in the detail, once you have all the intricate and granular details of what's being tracked, you catch onto things that you would've otherwise missed. You can then turn them into opportunities.

Some of the key features and elements that I believe were missing from the market at the time included the following:
Keyword intentions – a look into the consumers' minds to understand why they're using those keywords. This will let you get into the mind of your target customer and deliver the right content to them, and directly address their needs. In my opinion, it's not just enough to create any content with high-traffic keywords with large search volumes. What really matters is that you are addressing your own customers' needs and giving them some kind of value with your content that will directly help them.

For this reason, the Keyword Master tool has a tab dedicated specifically to Intentions. Here, the platform extracts the keyword data from the search engine and categorises the keyword phrases and expressions according to their search intention – Question, Transactional, Informational etc. alongside their search volumes.

It also graphically presents this data for easy viewing that allows managers to understand where they are in their customers' minds in one look. It also allows content teams to curate the content according to customers' needs and create content addressing their intentions, with high traffic keyword phrases and expressions.

SERP Analysis: In order to create any successful strategy, it is imperative that one assesses the competitive environment in which they wish to compete. It is the same with search engines.
We live in a digital age where ads, stores, market places and even payments are done online. So it is important to do the same research and analysis for the SERP environment as one would do entering any market.

Myposeo does a complete SERP analysis and scan of the environment so you know which other competitor sites are triggered by the keywords you use. The platform will also tell you where exactly you rank within the Google SERP features, Universal Search and Rich Snippets or if you do not.

By analysing the SERP environment and knowing which SERP features rank above you and who the other players on the results page are, you can adapt your SEO content to ensure you achieve maximum online visibility above the fold by understanding what kind of content you need to rank higher than your competitors.

Pixel Ranking: To properly understand the SERP environment and how you're really doing it is important to track your ranking. However, other SEO tools that i came across would not give you that in-depth analysis that was needed to understand your true organic ranking.
Myposeo therefore shows you the number of pixels between your actual ranking on the SERP and the top of the page. This way, you know if you rank above the fold i.e. have ample amount of visibility and if not, our SERP analysis will tell you how you can change your content to rank in the SERP features taking up the space above you.

What would you do differently if you could start from the beginning?
I never liked this question because this means I wouldn't be here now, knowing everything I know, being the version of myself that I am answering this question. So I first would say, nothing 😉

However, if I did have the opportunity, I would definitely start to think about international expansion a bit earlier. In 10 years I've seen a lot of SEO tools prosper and then eventually die on the market but the ones that really grew like hell like Ahref & SEMrush for example, were always thinking about operations on a much larger scale while we were just thinking about the French market.


Another thing I would probably want to change would be the way division of tasks per role with my beloved co-founder, Thomas Skowronski. I feel if we reversed roles in some way or just divided the tasks in a different manner, it would've helped us grow much faster as we would have stayed focused on what we were good at instead of focusing on dividing all tasks 50-50.

Finally, I think I would ask more questions and seek out more help from older and more experienced individuals as this is where the value truly lies. They know the best way of doing things that we don't necessarily know and have more valuable insight that comes with the experience that you don't have as a young entrepreneur.

The biggest fail when building the tool?
I think we've made 2 big mistakes while building the tool.

I think the first and biggest mistake we made was thinking that one tool wouldn't be enough to make more money. So in 2012 we released a crazy tool that was competing with SEMrush, Old PPC bully and Adgooroo. Ahref was just a backlink tool competing with Majestic back then so we didn't pay much attention to that area. We started working on a new brand which was one of our biggest mistakes.

After one year we had so much to do with 2 brands and not enough money to do it so we arrived at the second big fail: we ran out of money and we had to fire half our team. This was a stressful and difficult situation for us, young entrepreneurs.

Any SEO 2020 predictions?
I know that about 50% of what I predict will probably not happen but 50% definitely will. Seriously, I looked up SEO predictions over the last 10 years from major SEOs and it's funny to see that we were saying the exact same things in 2012 about content strategies, 2014 about mobile and 2016 about authority.

We can see good old tricks still working and being employed for backlinks. I am actually really surprised that Google still has to impose penalties manually quite honestly, as they talk a lot about machine learning and AI that can be implemented on identifying spammers. I believe that this is the next big thing we can expect from Google.

Google has started to make some really great algorithmic improvements recently so it would not surprise me that the search engine giant will no longer be a place where spammers can "cheat". I think this cheating will either go down significantly or be completely gone.

With regards to content, I've seen a couple of amazing things on automated content production (real life application of machine learning). This could be a massive game changer for SEO and search engines in the next couple of years and is probably something people should keep in mind. Google is looking for good content, but when you cannot produce high quality content as frequently as technology, someday a robot is going to replace you.
How is SEO industry in France?
They care most for pagespeed and backlinks! Although the market is not that large, we aren't the best marketers in comparison to other markets like the UK and USA.

It's clear that the French market holds technological superiority with regards to SEO, you can see it since we have companies like OnCrawl and Botify originating from France. However, there is a gap with marketing that other countries perform better. That said though, the best froggy crawler is from the UK, which is fun actually so they got us there 😉

Best SEO conferences ?
I've done mainly conferences in France and only a couple in the UK (Leeds, Brighton, SMX) so I will wait to see Seattle or Vegas to tell you where to go 🙂

You should come to WeLoveSEO in Paris (October each year). It is an event organised by Myposeo that brings together influential people from the SEO industry to share their expertise and network with each other. If that doesn't convince you then you should know that the food is amazing (French of course) and alcohol is free (for me at least).

If you could change how Google works what would that be?
Never thought about that really. Honestly, in my opinion, I think they have proven that it's working great just the way it is. They keep their users first so it's not just about the revenue for them but everything surrounds relevancy in the results and value to the user

I've tried to use different search engines sometimes and always come to the same conclusion which is, I really want to give you my personal data so you can give me a better experience when searching. Other search engines just simply don't know how to give you what you need so seamlessly.

If I had to pick and choose one thing that I would change, maybe I would hope they stop showing 4 ads right at the top of the page and display a white on white "ads" label so we can organically rank in position 1 above the fold again!

What would change in the SEO industry?
Nothing would ever change in the SEO industry, no matter how much Google changes. You will always see people trying to sneak in and find bigger and better ways to rank higher and higher and get the best visibility!

People to follow and why?
I could recommend a couple of French people but as good as they are in the French industry, they don't really speak or write in English.

The best at this are probably : @loukilaymen, because he holds some really interesting conferences and gives great insight and advice about new occurrences that you never have time to work on. Or my friend @francoisgoube because he runs @OnCrawl and what they do is just amazing.