You already know how important backlinks are for your business site (and, if you don't then, quite frankly, you have no business having a business site). Whilst you may have nailed the art of acquiring backlinks (and are probably feeling reasonably pleased with yourself), that's only half the job.
Knowing the status and quality of your backlinks is essential for the health of your website and the success of your brand's profile. So, now, you're probably wondering how you would go about checking these things – in which case, the good news is that there's a tool for that.
Although there are oodles of tools out there which will check your links for you, I wanted more and, so, I set out to find a backlink checker with added extras and, one of the best that I found is Monitor Backlinks.
What in the blue blazes is Monitor Backlinks?
This easy to use tool allows you to check backlinks, track ranking and perform competitor analysis – all from the comfort of your own straightforward dashboard.
How do I get started with Monitor Backlinks?
I'm glad you asked. Getting going with Monitor Backlinks really is child's play – here's how it's done:
Head over to https://monitorbacklinks.com/
Click onto the blue 'Start Free Trial' button in the top right hand corner
Enter your email, choose a password, assure Monitor Backlinks that you're not a robot and then click onto the orange 'Create Account' button.
Those kind folk at Monitor Backlinks will then send you a verification email – click onto the link in the email to confirm your account. Once your account is activated, you'll have access to your dashboard and can get started with super-sizing your link building.
How much will Monitor Backlinks set me back?
Monitor Backlinks has seven (count 'em) pricing packages which makes it really easy to find one which fits your requirements – and your budget. These plans are:
Plus Package $49.90 per month
The most popular of Monitor Backlinks' packages, the Plus option gives you:
2 monitored domains
4 competitor domains
12,500 links
200 keywords
4,000 daily rows
SSL, hacking and encryption protection
Plan Package $99.90 per month
A slightly more pricey option, the Plan Package comes with:
4 monitored domains
4 competitor domains
25,000 links
400 keywords
8,000 daily rows
5 users
SSL, hacking and encryption protection
Start Package $25.00 per month
Great for those on a budget, the Start Package lets you get your hands on:
1 monitored domain
2 competitor domains
2,500 links
50 keywords
2,000 daily rows
10D4C Package 249,00 per month
For the big spenders, the 10D4C Package includes:
10 monitored domains
4 competitor domains
62,500 links
1000 keywords
20,000 daily rows
5 users
SSL, hacking and encryption protection
7D4C Package $174.90 per month
For those who need a little more oomph, the 7D4C package hands over:
7 monitored domains
4 competitor domains
43,750 links
700 keywords
14,000 daily rows
5 users
SSL, hacking and encryption protection
5D4C Package $124.90 per month
The reasonably priced 5D4C Package includes:
5 monitored domains
4 competitor domains
31,250 links
500 keywords
10,000 daily rows
5 users
SSL, hacking and encryption protection
Custom Package Price on request
If none of the above packages do it for you, you can contact Monitor Backlinks to enquire about a bespoke package to suit your requirements.
What features does Monitor Backlinks have?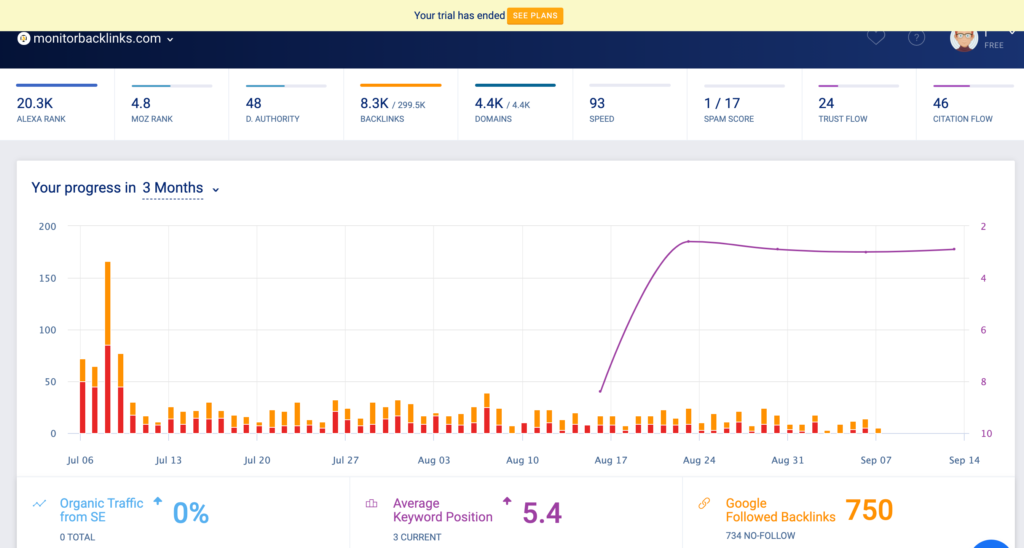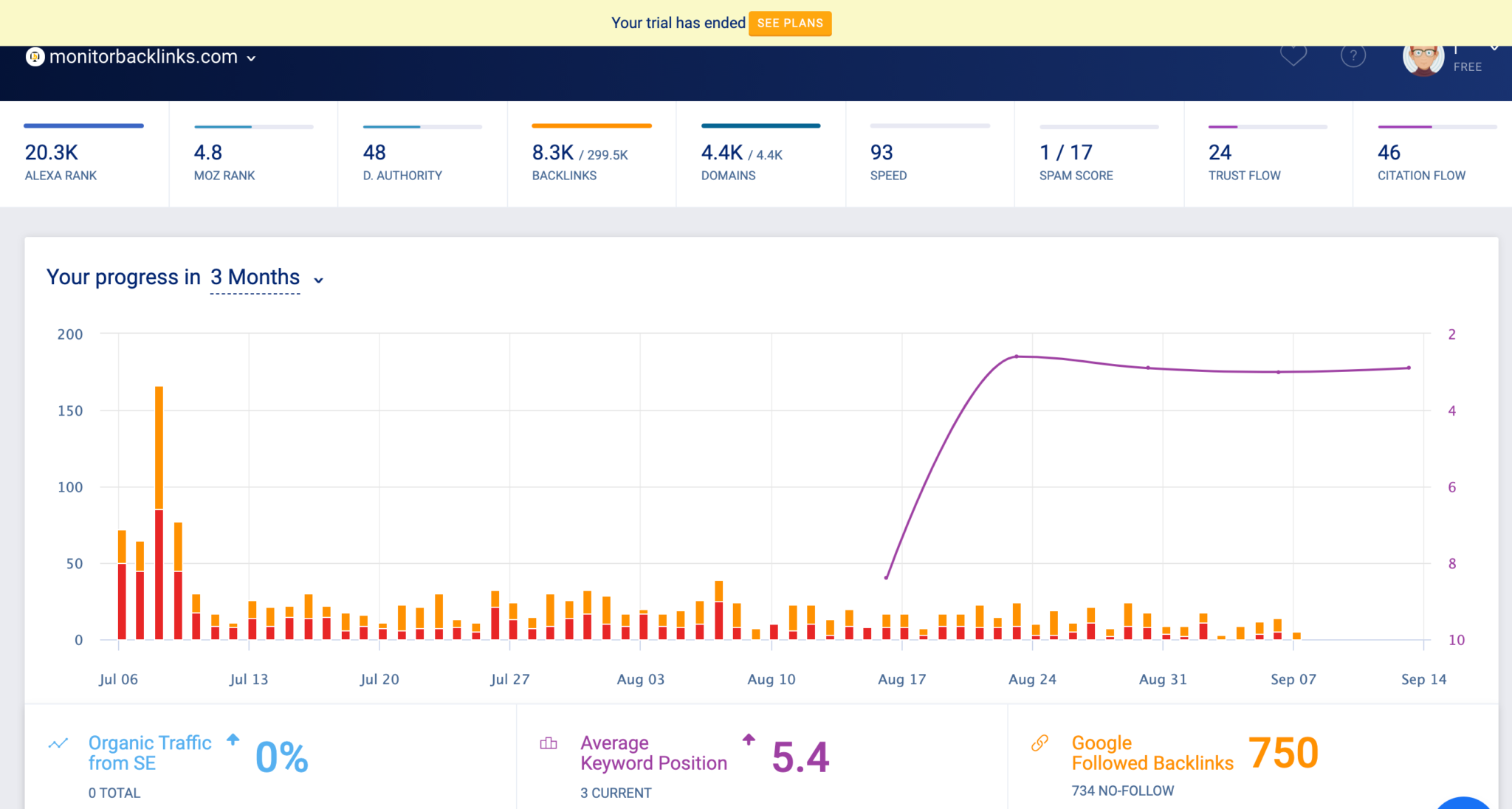 The beauty of Monitor Backlinks is that it's so much more than just a backlink checker. Let's take a look at some of those fabulous features:
Backlink Manager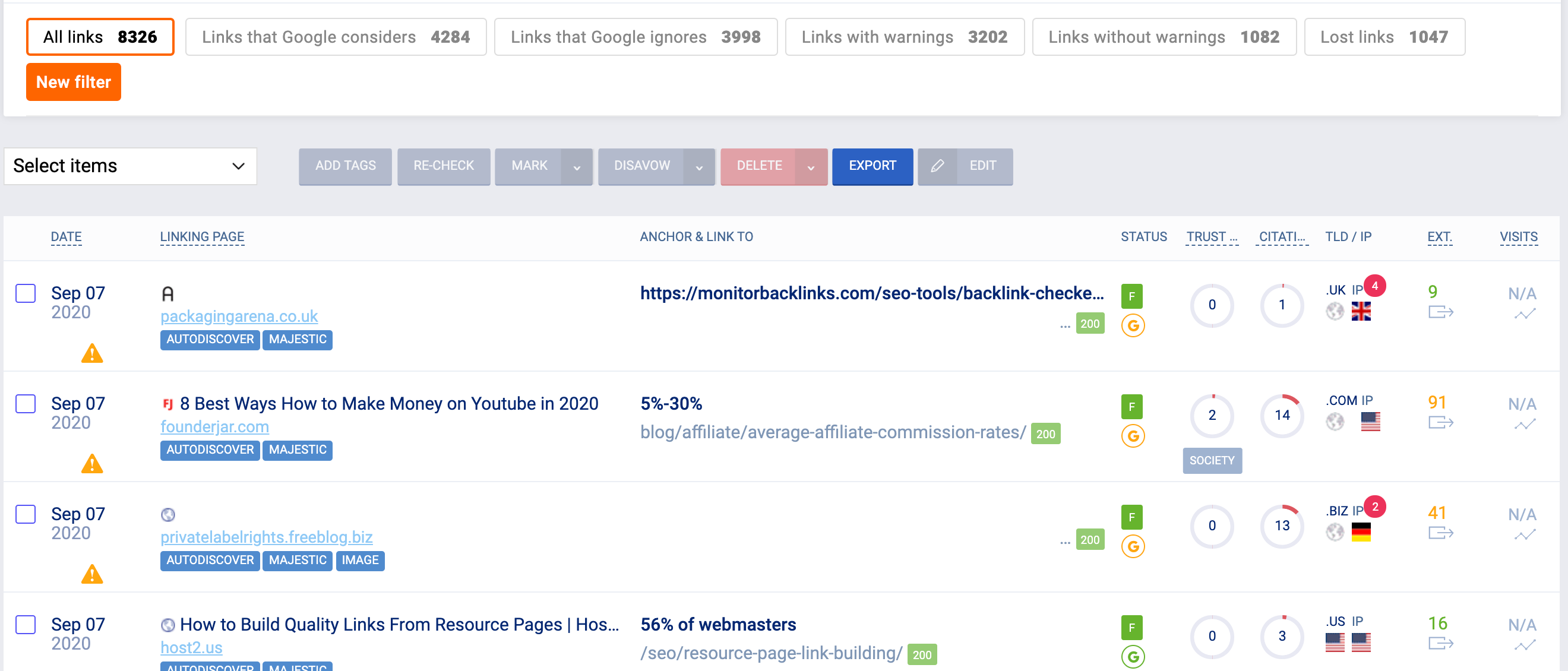 We'll start with the obvious one. As the name suggests, Monitor Backlinks has a pretty darn good backlink management system. This feature helps you to:
Build good quality links
Check the links on your site for bad or spammy links
Check for removed links
Check out your competitor's backlinks
Full backlink management
This comprehensive backlink management system is really all you need to keep on top of the backlinks on your site and make sure that all is as it should be.
Keyword Rank Tracker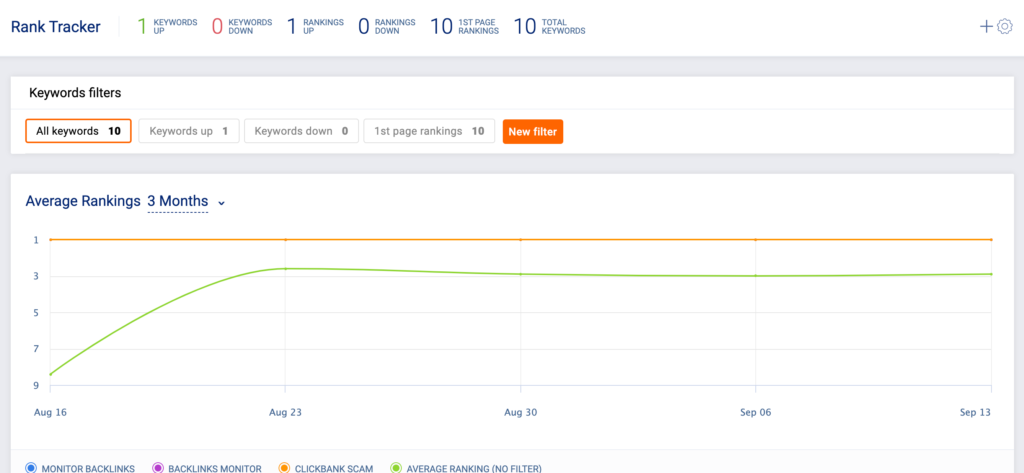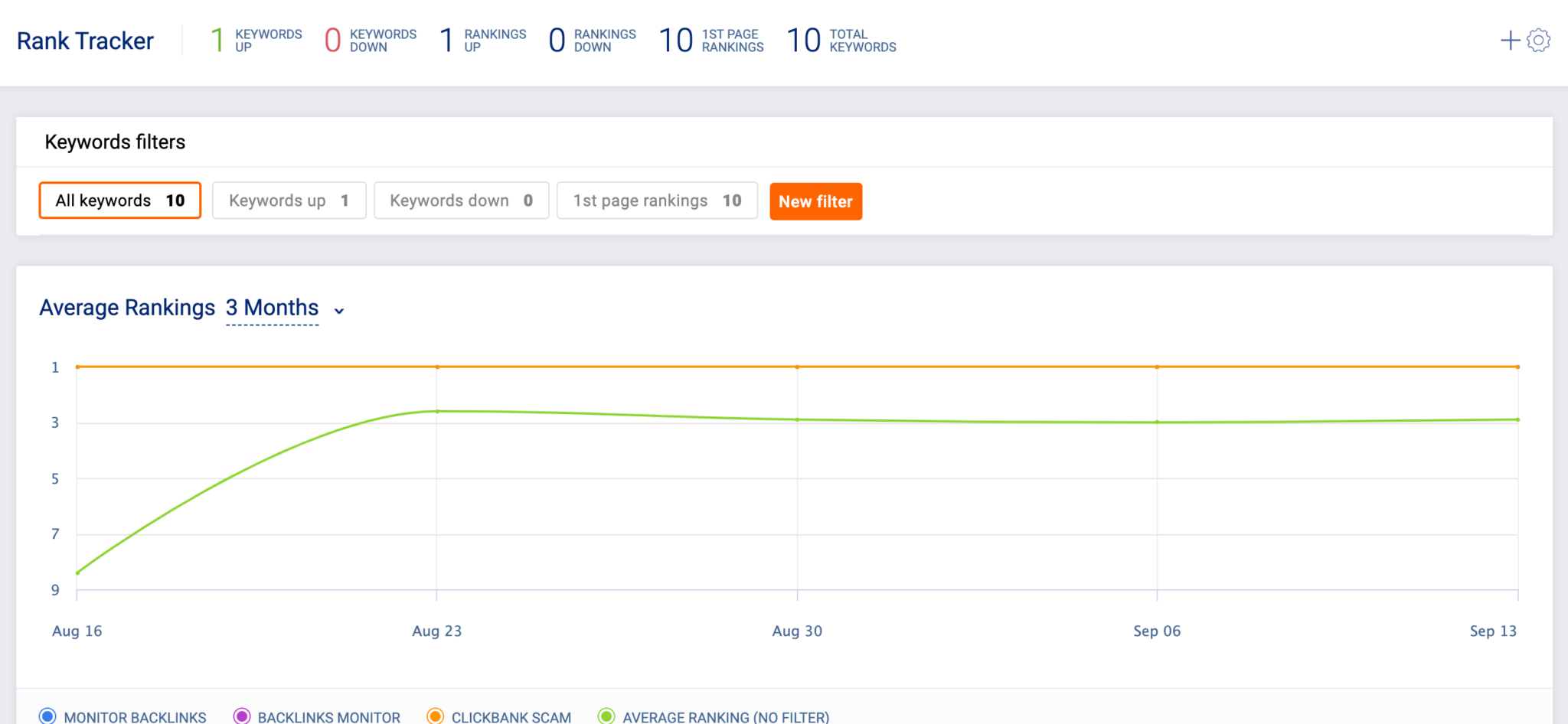 Knowing how you're doing on Google is super important for any brand. Monitor Backlink's Keyword Rank Tracker allows you to:
Check out your ranking on Google
Track keyword changes
Track keyword changes and the effect on your backlinks
Check out competitor keywords
Disavow Tool

This really useful tool lets you:
Identify bad links
Disavow bad links
This feature is incredibly handy if you are, or have ever been, susceptible to negative SEO.
Email Reports
Monitor Backlinks sends your reports whizzing to your inbox – so you don't even need to log onto your account to find out what's going on.
What can I use Monitor Backlinks on?
Monitor Backlinks is supported by:
Windows
Linux
Android
iPhone/iPad
Mac
Monitor Backlinks – The Pros And Cons
Nobody's perfect – that's a fact and, so, as such, we're going to shine our spotlight on the good bits and not so good bits of Monitor Backlinks:
The Pros
Value for money – The great choice in price packages for Monitor Backlinks means that there's a package for requirement and every budget, starting from just £25 per month.
Free trial – Monitor Backlinks offers a very generous 29 day free trial – so you can really get a good feel for the tool before committing to a paid package.
Effective backlink management – This tool's backlink checker and management feature is extremely comprehensive and 100% accurate and effective.
Keyword tracking – Monitor Backlink's keyword finding and tracking tool is really useful – particularly as it negates the need to pay for a whole other tool to do this for you.
Support – Monitor Backlinks' support is reliable and reactive – meaning that you can always get hold of help when you need it.
The Cons
Email reports – Currently, Monitor Backlinks sends reports every seven days or so and, unfortunately, real time email services are not available so you have to wait a while to find out that a low quality link has been uncovered.
Keyword tool – Monitor Backlinks doesn't currently allow you to create organic keyword ranks for words in specific categories.
Are there alternatives to Monitor Backlinks?
You bet – if the above hasn't convinced you that Monitor Backlinks is a good fit for you then you might want to try one of the following;
SEMrush
A full suite of SEO tools, SEMrush is used by a whopping 6,000,000 worldwide. Launched in 2008, SEMrush has a lot of tricks up its sleeve including backlinks, keywords and marketing tools. SEMrush costs between $99 and $399 per month.
SE Ranking
London based SE Ranking is a great little all in one tool which includes backlink checking, keyword research and social media features. SE Ranking costs between £23 and £112 per month.
Rank Watch
Mainly a ranking tracker, international brand, Rank Watch, also features a really effective backlink checker. Rank Watch costs between £19 and £294 per month.
Conclusion
Unusually, Monitor Backlinks is a tool which is perfected suited to any size of company as is mirrored by its large range of packages. Firstly, it needs to be noted that this is, in my opinion, the most comprehensive and effective backlink management tool out there and, makes it really easy to identify and get rid of any dastardly links and to pinpoint lost links.
Secondly, and in tandem with this tool being great value for money, the fact that I didn't need to use a second tool for keyword researching and tracking was absolutely a bonus. I've been using Monitor Backlinks for a while now and wouldn't hesitate to recommend it – in fact, I can't imagine being without it now!