In 2021, brands have a lot going for them when it comes to different ways of connecting with customers and stretching their reach as far as possible.
As great as that is, one sticking point that a great many brands come across is getting their foot in the door when it comes to the media.
This is no surprise as those good folk in the media and the press are notoriously difficult to get hold of and to connect with – until now.
Warsaw-based Prowly is a thoroughly modern user-friendly tool that forms a kind of digital bridge between marketers and the media so that professionals and PR teams can manage media in order to reach a much wider audience and, in this article, we're going to take a closer look at this handy tool.
What is Prowly?
The brainchild of Joanna Drabent,
The online tool offers a broad suite of tools for marketers to improve their content and build their own relationship path with important press and media outlets.  
Who is Prowly for?
Prowly is suitable for businesses of all sizes in all industries – basically any business which needs a helping hand in getting noticed.
Prowly is available in a number of territories including the USA, Canada, the UK, Australia and China and is used to manage media relations effectively while saving time by some major players including Access Ventures, Lift, WSB and more.
How much does Prowly cost?
Prowly offers two different pricing packages for individuals and two for agencies.
Essential Package starts at $189 per month
Prowly's perfectly petite Essential Package gives you:
Media Monitoring
PR Reports
Up to 3000 media contacts
2 users
Unlimited PR CRM contacts
3000 emails a month
Professional Package starts at $259 per month
To put a little more pow in your pocket the Professional Package delivers:
Media Monitoring
PR Reports
Up to 3000 media contacts
5 users
Unlimited PR CRM contacts
15000 emails a month
If you want to know the agency pricing, you will have to contact Prowly personally. You can find all of the features and the current price list here.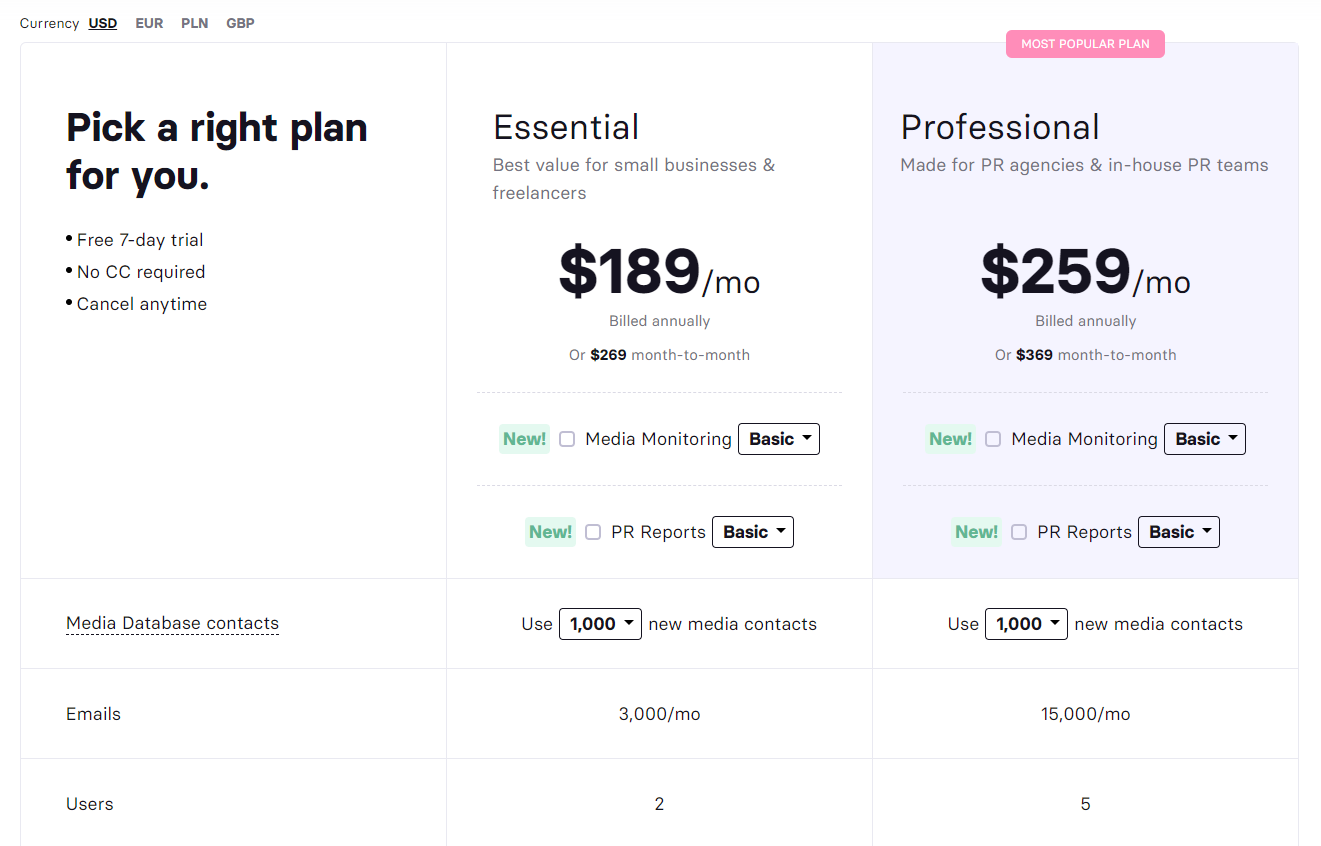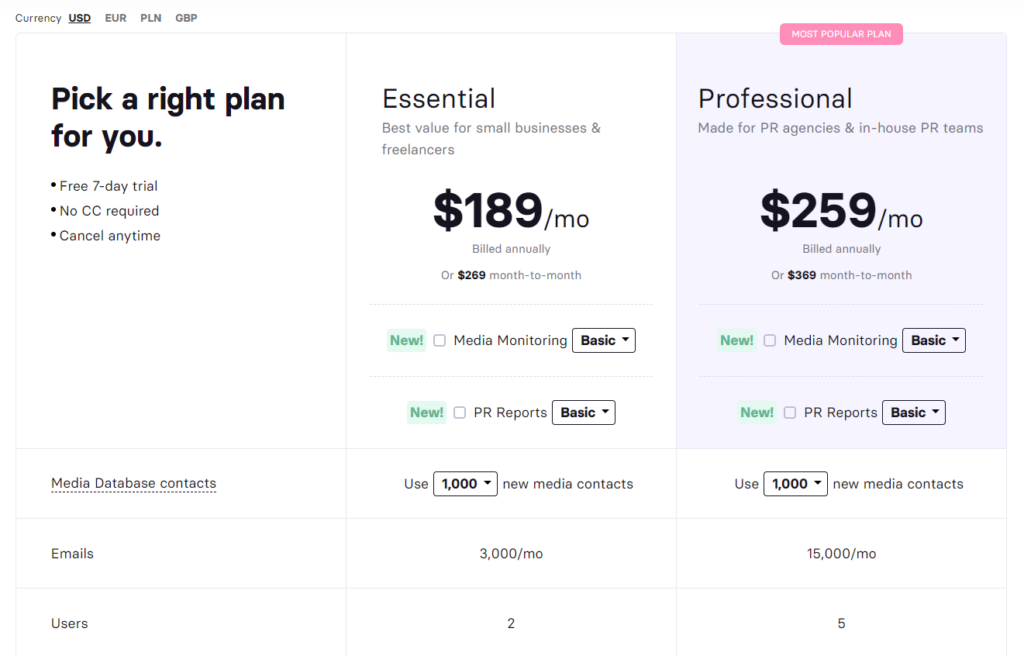 How do I get my paws on Prowly?
Getting started couldn't be easier – and you'll even get a free trial to allow you to figure out if Prowly is for you before making a final decision. Here's how it's done:
Pop on over to https://prowly.com/
Click onto the black 'Sign Up For Free' button in the top right hand corner
Hand over your business email address and choose a password (or sign up with SEMRush if you have an account).
Fill in your name, telephone number and business name
You'll now be offered the opportunity to book a call with Prowly's PR professionals
You'll now be redirected to your very own dashboard and you're ready to go!
What are Prowly's features?
Prowly has a whole pack of public relations features to help you to nurture and grow your media relationships and, some of these are:
Campaign Planning
An important aspect for any marketer is campaign planning and Prowly can help you to get this on track in a way which will engage with members of the media.
Content Management
In 2021, it's all about the content and Prowly helps to make sure that your content is perfectly optimised every time.
Finding Relevant Media Contacts
Prowly's star of the show is its comprehensive contact database which hands over those all important deets for the influential folk in the media. The database contains a wide range of contacts from both print media and the online variety. This is extremely useful when gathering new editorial contacts, for example via HARO.
Communications Calendar to Manage Media Relations
Helping you to keep all your ducks in a row, Prowly's communications calendar is a really handy feature.
Creating Visual Press Releases
Because looks matter, Prowly makes visual press releases sending really easy. Prowly's proactive design management feature lets you make sure that your email and content designs are perfectly placed. The tools features lots of customisable templates and features to help you make sure that your releases and content are attractive and engaging. You can also create sites via Prowly for maintaining journalist-friendly newsrooms. The so-called PR agencies can then post relevant news, social media links, and contact details there.
Customer Segmentation
Prowly's segmentation feature allows you to divvy up your audiences to make sure that you're reaching out to the right people with the right message.
Email Distribution & Tracking
Prowly has a really effective email feature – not only does this work really well but you don't need to use a separate online tool for this – win win! The feature includes optimisation of emails, distribution to relevant outlets and all sorts of analytical goodies for monitoring and tracking your campaigns.
Lead Generation
In 2021, hunting down and gaining solid, useful leads is of paramount importance and many brands spend considerable time and money on this. As well as putting you in touch with the right people in the media. Prowly can also help you to generate client leads too with its handy lead generation tool.
SEO Management
Prowly can help you with that all-important SEO for your content and your digital presence as well as creating visual press releases.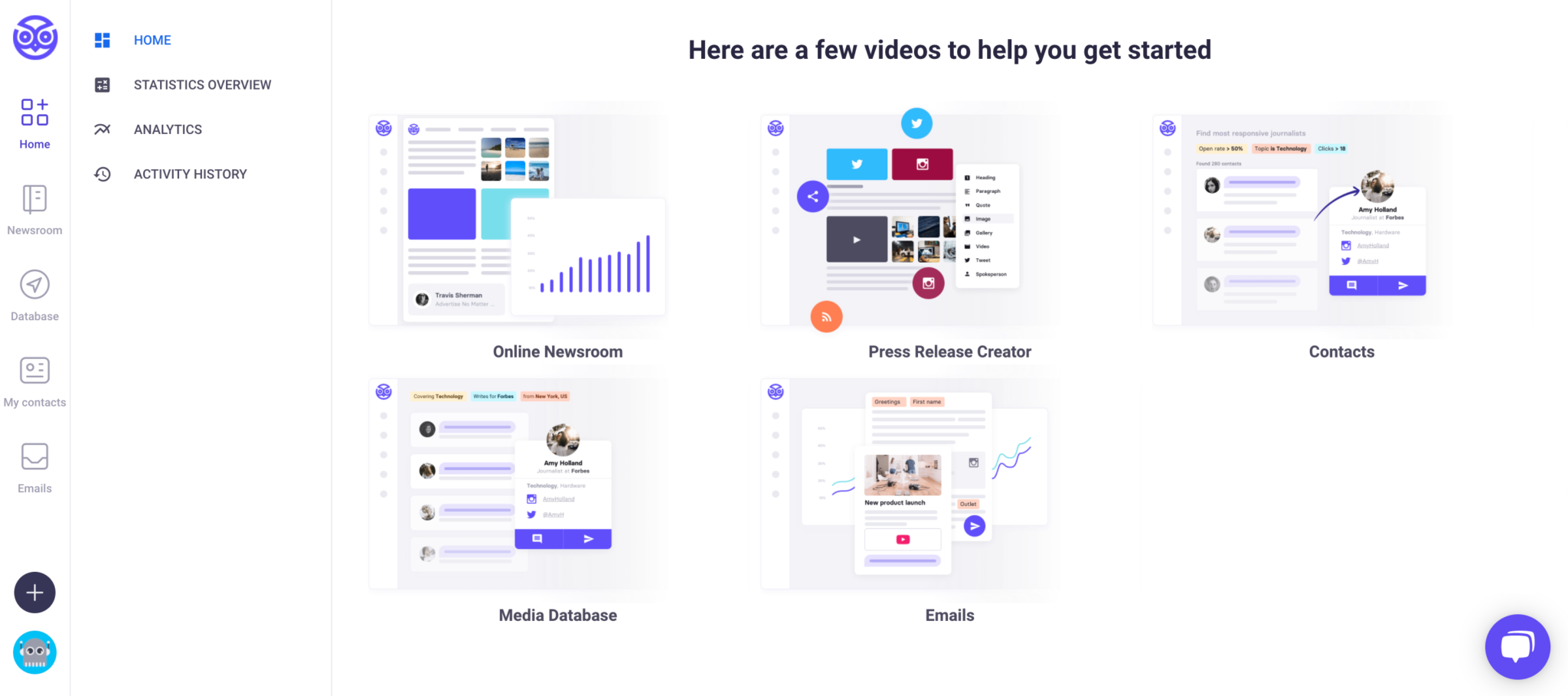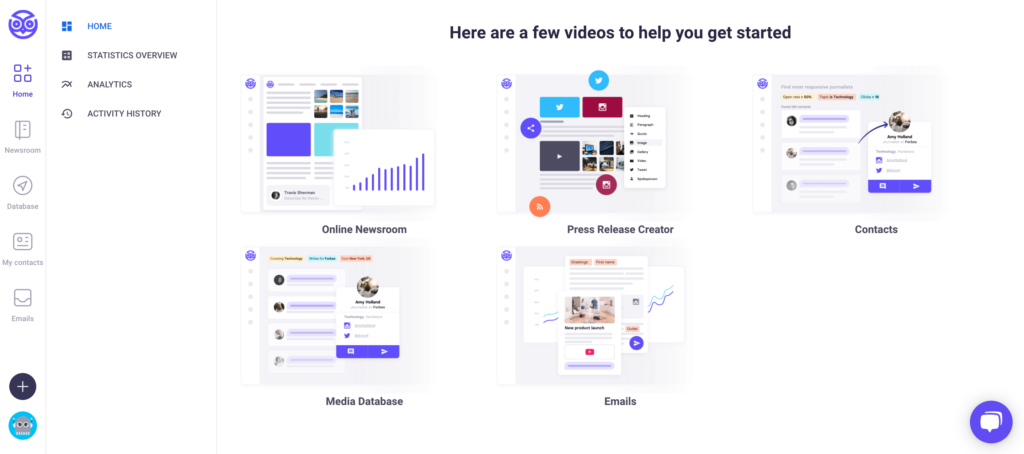 What integrations does Prowly have?
Prowly has plenty of integrations to help you on your way in managing media relations more effectively and some of these are:
Social media platforms:
Instagram
Twitter
Google Analytics
Prowly Pros And Prowly Cons
Prowly may be pretty near perfect but, as is traditional with any review, its time to list some pros and cons:
Prowly Pros
Price – Prowly's price is pretty great and the choice of packages means that there's something to suit every budget.
Metrics – Prowly's metrics are really useful in being able to show clients proof of the coverage which you've gained for them.
Notifications – This tool notifies you whenever you get a mention so there's no need to chase it up.
Email – The email features are definitely an added bonus in what is already a pretty great online tool.
Prowly Cons
Volume – While Prowly's database is impressive it's not yet in the realm of huge, however, this is likely to change with time.
Response – Although you can send emails in bulk, you'll receive responses to your email address and will need to respond individually.
Contact – While Prowly provides contact details for the media, its not a newswire service and so you will have to work on your campaign and distribute yourself.
Prowly Social Proofs
"The Customer Success team is another big plus of Prowly. They are responsive, helpful, and have a level of professionalism that instantiates Prowly's commitment to their customers."

Chris Zelig, Partner at Medstar Media
Prowly is a critical tool for us and our communication activities

Diogo Ferreira da Costa
Prowly was a no brainer, I didn't even have to consider other options. I didn't need to try other software because Prowly has worked so well for us.

Tim Harris
We had a newsroom on another platform, but it was purely a blog and it didn't meet our expectations. Prowly provided us with an easy way to have a complete and professional newsroom.

Teresa Llobet
Are there alternatives to Prowly?
If we don't yet have you convinced by Prowly, there are some pretty great alternatives out there and, some of these are:
Cision Communications Cloud
One of the most well-known communications platforms, cloud-based Cision allows marketers to gain contact details for journalists, editors and influencers and to engage at scale. Cision also has some great insights and analytics for integration into marketing strategies and, Cision's pricing is available on request by filling out a simple form on the website.
Prezly
No relation to Elvis, Belgium based Prezly is a communication tool which has been created specifically for teams looking to up their game with PR, publish stories, build newsrooms and manage email campaigns. Prezly really shines with its multiple and beautiful visual presentation options and will set you back between $50 and $140 per month.
Meltwater
Founded in 2001, Meltwater is a data-driven PR platform which offers hyper-targeted searches, pitching, social media features and journalist relations features. Like Prowly, this platform is all about PR analytics and influencer targeting and pricing for this all in one tool is available on request through the website.
Muck Rack
Founded by Gregory Galant, Muck Rack enables marketers to create and tell stories and pitch them to relevant journalists and media outlets as well as measuring the impact of their work. This tool also allows for tracking of articles to see how they are viewed and shared. Muck Rack's pricing is available, you've guessed it, on request from the website.
Signal AI
One of the lesser known PR tools, Signal AI offers a trustworthy database of useful contacts as well as lots of handy tools and features to help you put together your campaigns and to pitch them effectively to the relevant media. A comprehensive and professional PR tool, prices are available on request but, we warn you, Signal AI doesn't come cheap!
Newswire
Known as the original online PR platform, Newswire is primarily a news distribution site which allows marketers to upload their press releases and stories and distribute them globally to the press and media outlets quickly and easily. Used by a huge number of businesses and individuals around the world, Newswire can be yours for between $199 and $799 per month.
Agility PR Solutions
Launched in 2003, Agility PR Solutions is used by both PR agencies and in house communication teams and offers a suite of tools and services for creating, distributing, monitoring and analysing PR efforts as well as making new contacts. Pricing for Agility PR Solutions is available on request.
TV Eyes
Optimised for quick response, TV Eyes is a PR distribution and monitoring service for TV and radio and includes detailed search functions and metrics to help marketers reach broadcast contacts. Pricing is available on request and a free trial is available via the website.
PRgloo
An all in one platform for communications, crisis management, social media publication and contacts, PRgloo allows users to set up their own responsive newsroom in order to gain coverage in international media. London based PRgloo costs between £3000 and £6500 per year.
Business Wire
Another incredibly popular PR tool, Business Wire is similar to Newswire in that it allows marketers to upload and distribute press stories to the international press and track results and analytics. Business Wire will set you back between $475 and $940 per month.
Conclusion
Gaining media coverage and building media relations in 2021 is both essential and incredibly difficult for a large number of businesses. With so much news saturation, particularly in light of the pandemic, most businesses find it almost impossible to gain the kind of coverage that they need to make a splash.
There are many benefits to using Prowly to gain that all-important coverage and, the first of these is price. As you've seen from our list of Prowly PR alternatives, Prowly is extremely competitively priced with a good choice of packages.
For small businesses, Prowly has all the right features, and proves to be really effective in terms of gaining new contacts and easily pitching news, press releases and stories. While this platform may not have the same kind of clout as platforms such as Newswire, this is very much balanced by the price and the ease of use.
If you're looking for an affordable, easy to use tool which will help you to get hold of some really useful media contacts and help you to put together and distribute optimised content then I suggest that you look no further than Prowly.