We all know that having a great website is crucial for the success of a business and, most companies spend a lot of time and money on making sure that they have a fancy pants design and some catchy call to action copy. While all of that is great, it won't do you much good if you're not on top of your technical SEO. A lot of the time, brands aren't even aware of the technical website SEO issues that might be costing them customers. Sounds like a big deal? Damn right, but help is at hand with Siteguru's online SEO tool.
What's that you say?
Founded by Rick van Haasteren in 2017, Siteguru helps brands to identify and investigate a number of SEO issues which may be blocking the way to more customers and more profits.
Who is Siteguru for?
Siteguru is suitable for companies of all sizes and in all industries, and provides most value for SEO consultants. A variety of price packages means that there's a suitable option for all businesses, no matter what their budget.
What does Siteguru cost?
Great question! Siteguru's easy to use site has four different price packages which means that even the pickiest of brands will find one to suit them. The packages are as follows:
Free Package
While basic, the free version is a good starting point for those wondering if Siteguru is right for them. With this package, you get Siteguru's basic features with two websites with ten pages per website.
Small Package
If the free package doesn't have enough bells and whistles for you, then the Small Package may be right up your street. Costing just $23 per month, this package hands over two websites with up to 500 pages per site, CSV exports and PDF reports too.
Medium Package
With a touch more oomph, the Medium Package delivers five websites with up to 1000 pages per website, CSV exports and Word reports, all for just $39 per month.
Large Package
For the big spenders, the Large Package costs $119.20 per month, for which you get 20 websites with up to 2500 pages per site and, you'll also be able to get your hands on:
Alerts and notifications – Siteguru will let you know automatically if anything changes on your website
Automated crawling – Siteguru will scan and index your pages for you
Page quality analysis
Document sharing – Quickly and easily share your stuff with your team
Broken link scanning – Siteguru takes the strain out of finding your broken links
Support
How would one get started with Siteguru?
Really quickly and easily, that's how. Here's how it's done:
Walk your mouse over to https://www.siteguru.co/
Click onto the green Start Free Trial button in the top right hand corner
Fill in your website address and email address
Click onto Start Free Trial
Follow the instructions to get up and running with Siteguru
That's all there is to it, there's nothing to install and no hoops to jump through, you can now get on with fixing those broken links and getting your site in order.
What are Siteguru features?
Siteguru has more features than you can shake a stick at and, here, we'll take a look at the main ones:
SEO Audit for broken links
Probably Siteguru's most important feature, the SEO audit tool allows you to check out those pesky 404 error messages on your website and other SEO issues as well as prodding you towards the best way of fixing it. Siteguru comprehensively analyses www. And non-www. URLs to help you banish those annoying error codes. Siteguru also tackles meta description page titles for an all-round great service that allows you to improve your website pretty easily.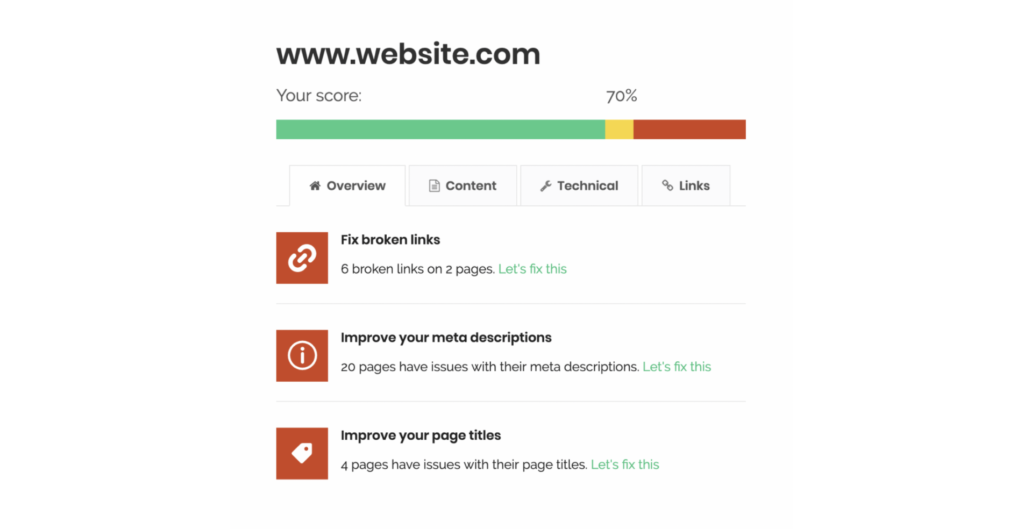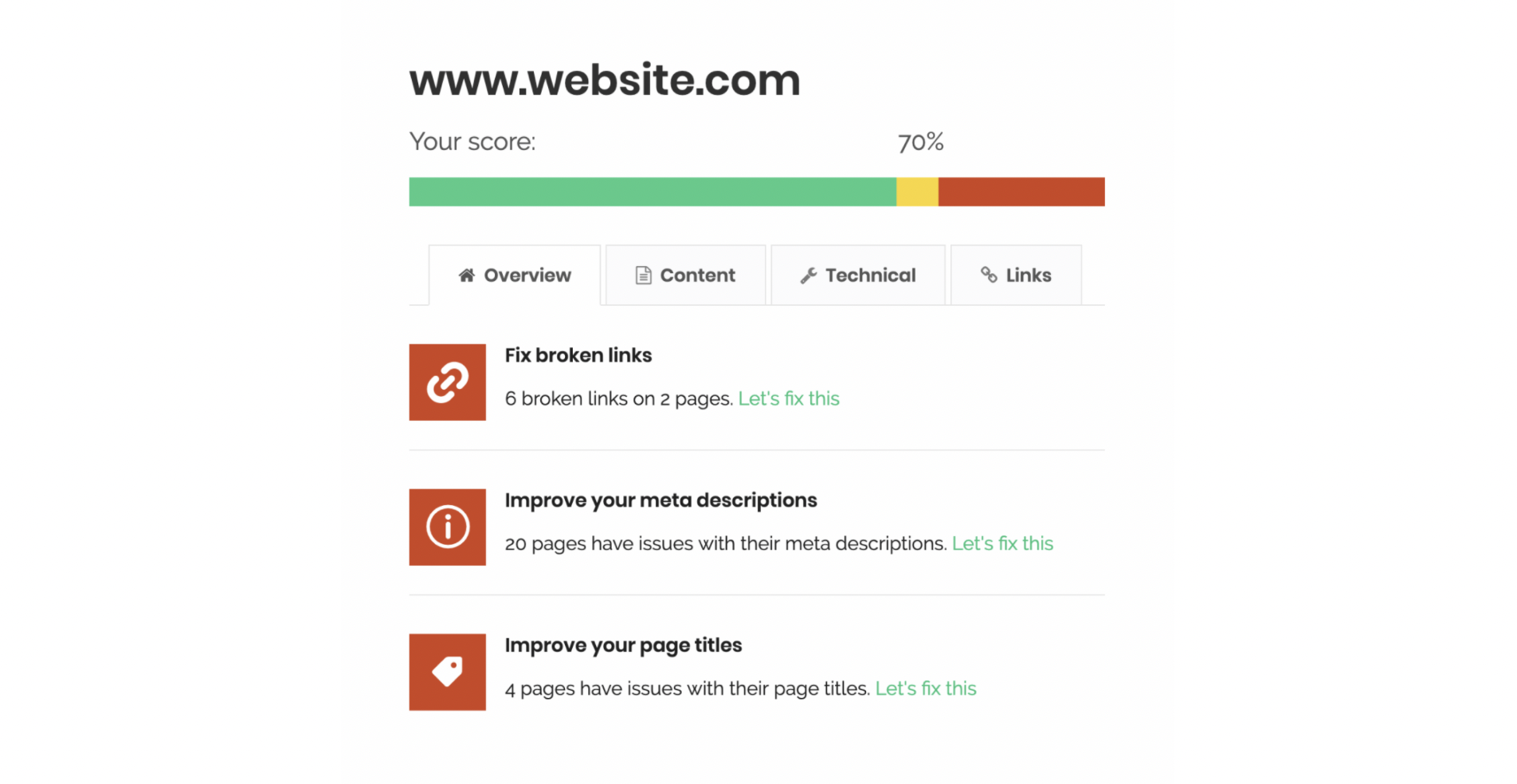 Page Checking
Equally important is Siteguru's page performance checker which zips through all elements of your pages including meta descriptions page titles, headings, page speed, alt tags and titles to make sure that everything is working as it should be.
Content Management
This tool allows you the subscriber to see how your content is performing across a spectrum of platforms as well as helping you to connect with sites that your competitors have been reaching out to. This is perfect for those looking to improve their search engine rankings.
CTR Curve Calculator
This clever feature uses your Google Search Console Data in order to get you more traffic from Google search pages.
Keyword Research
You wouldn't expect to find an SEO tool which doesn't touch on keywords – and Siteguru is no exception. Siteguru has really forward thinking keyword research and tracking features to help you take your content to the next level.
Ranking
This important feature lets you check your SEO metrics and track your ranking in order to build on and improve your SEO goals. When conducting SEO campaigns, tracking is a must.
Google Analytics Check
Siteguru can run an automatic check of your Google Analytics setup and provide you with ways of fixing it.
Siteguru – The Pros And Cons
Now that we've walked you through the features of Siteguru, you've probably got a good idea of what this tool can do so, should you buy it? Decide for yourself:
The Masters
Price – With four price packages, including a free option, Siteguru is affordable for even those with the tightest of budgets.
Effective – Refreshingly, Siteguru actually delivers on its promises in that it's a really effective tool for getting into the nooks and crannies of your website to find out where the issues are.
Easy to use – Siteguru's set up is very much based on common sense meaning that you can easily find your way around, even if you're not particularly tech savvy.
The Amateurs
Limited detail – While Siteguru is pretty comprehensive, it doesn't go as deep as some would like with aspects such as link analysis.
Timing – Preparing audits can sometimes take a while so you'll need to pack your patience before using.
Off Page – At present, Siteguru doesn't offer off-page analysis but we'll keep an eye on this.
Are there alternatives to Siteguru?
There certainly are – here are some of the best of the rest:
SEO Audit – A thorough site audit tool, SEO Audit is the brainchild of Maqsood Rhaman. This pretty comprehensive tool allows you to fix your website and therefore improve your search rankings. You can get hold of SEO Audit for between $49 and $199 per month.
Siftery – Founded in 2012, Siftery is an all singing, all dancing suite of tools which includes SEO, web forms, email marketing, web analytics and more – and this little lot can be yours with a quick sign up process (prices on request).
Data For SEO – New York based Data For SEO offers real time analytics and profitability analysis for businesses, including leave tracking. Founded by Rob Bucci, Data For SEO costs between $50 and $10,000 per month.
Serpstat – One of the better known SEO tools, Serpstat gets the job done through website management, keyword research and tracking and backlink opportunities. Serpstat's prices are available on request.
SE Ranking – An all in one suite of SEO tools, California based SE Ranking helps customers to up their game by improving the user experience and lending a hand with a variety of SEO tasks.  SE Ranking costs between $23 and $112 per month. 
Conclusion
For businesses of every size, Siteguru is a cracking tool at a great price. While we've mentioned that there are some limitations to Siteguru, these won't be deal breakers for most users. If you're after an tool which will quickly allow you to spot any issues with your websites via quick SEO audits – and you don't want to pay a fortune – Siteguru is a great choice in my book.